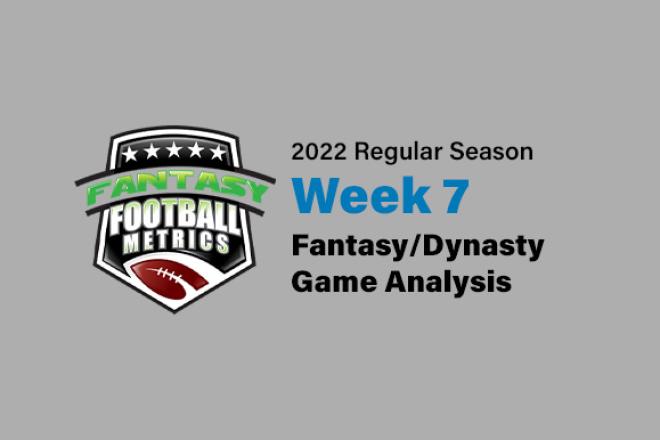 R.C. Fischer
Total Football Advisor
28 October 2022
2022 Week 7: Chiefs 44, 49ers 23 (Dynasty/Fantasy Analysis Game Report)
Wild game.
The final score looks like a blowout, and it was ultimately, but the 49ers came out and seized the game right away…10-0 lead eight minutes into the game. But KC stayed patient and got right back in the game, taking the lead 14-13 halfway into the 2nd-quarter. Both teams had TD shots before the half and blew it.
The Chiefs would win the 2nd-half 30-10.
What happened? It was a frenetic game with a lot of offense and scoring, but eventually Jimmy Garoppolo couldn't keep up…as you'd expect. The 49ers played emotional and like an underdog…while Kansas City just stayed calm and cool, never blinked, and just went up and down on the 49ers pretty much at will.
Kansas City is now (5-2) and will win the AFC West with ease and likely be a #2 seed in the AFC, headed for a rematch with Cincinnati and/or Buffalo in the playoffs.
San Francisco falls below .500 to (3-4) and if they lose to the Rams this week they could be in some trouble. The schedule seems to want the 49ers to win 10 games, no less than 9 and as high as 11-12. The 49ers are the best team in the NFC West, but they cannot afford to lose to the Rams this week, then go to a bye with a three game losing streak and then face Justin Herbert, and if they then lose to LAC there could be some panic in SF. I don't think it will happen, but time's-a-wastin.
The biggest news from these two teams right now…the Chiefs trade for Kadarius Toney. We'll go through my reaction to that below.
*Note any fractional numbers in parentheses (4/2) or (2/3), etc., are a 'quality start' or not marker on a player using 14 PPR points in a game for RB-WR-TE and 21 for a QB…point levels that are good/productive/well above average starts for a Fantasy week. Trying to identify trends, consistency (or not) in players we might not normally realize.
A (3/2), for example, means: 3 times the player hit at/above the mark, and 2 times they did not.
Fantasy Player Notes…
   -- The big Isiah Pacheco (8-43-0) start! Not too exciting.
The Chiefs are not committed fully to Pacheco…he's still on kick coverage (defense). I guess this whole thing was a message to Clyde Edwards-Helaire (6-32-1, 0-0-0/0)? I don't know why, but…OK.
Jerick McKinnon (2-12-0, 2-26-0/3) once again played more snaps than any KC RB…but takes the least amount of touches.
I wouldn't like to have to deal with this for FF purposes. CEH is getting dissed, and gets lower and lower touches and status each game, and yet is the only RB that scores TDs…and he does about every week. CEH started (4/0) and has been (0/3) since. I don't know what happens coming out of their Week 8 bye.
Pacheco is going to be 8-10 carries with no real pass targeting…which is him becoming an A.J. Dillon…meaning = useless for FF. It's cool that the rookie has risen from 7th-round rookie to Week 7 starter, but this is not a good FF-situation in an RBBC. Great hold for Dynasty…I don't know what he is for redraft right now.
 -- Jimmy Garoppolo (25-37 for 303 yards, 2 TDs/1 INT) doesn't often throw 35+ times in a game or for 300+ yards in a game, but he did here and almost did so the prior week -- but the 49ers are usually not down by 2+ scores in games and having to try to throw back into them.
With that, all the receiving numbers are inflated and unusual…so, I'm not going to hard examine them or think it's some new trend. It's been a two-week spike for Kittle-Aiyuk due to the game script, as they say. And it's not a normal script at all for the 49ers.
 -- What the 49ers want to be is a run-based team that throws as little as possible…thus, the Christian McCaffrey (8-38-0, 2-24-0/2) trade.
Once fully integrated, CMC is going to run the ball about 10+ times a game and take a chunk of the targets in a typically low volume passing game…an easy, simple, desired throw by Garoppolo -- and I think the CMC show begins Week 8/right away.
Jeff Wilson (7-54-0, 0-0-0/1) will take 6-10 carries in games, spelling CMC…until Elijah Mitchell returns and then CMC will take a few less carries, Mitchell a few more (8-10) but CMC will still be a big part of the pass game.
 -- 44 points, 400+ yards passing for the Chiefs…so, all the main receivers were 'fed'. The one that stands out as 'unusual' is…Mecole Hardman (2-28-2, 4-32-1/4) who had 3 TDs!
Do you know how many rushing TDs Hardman had in his 55 prior career regular season games? Zero. So, we have a lucky/fortunate two rushing TD day, and he caught a TD…but only 4 targets. It's just one of those games. Mecole is not breaking out…he's just a random flex option. You could do worse.
 -- Skyy Moore muffed another punt, so he then never saw a touch in the offense. His muffed punts are burying him.
Even worse news for Skyy…the Chiefs traded for Kadarius Toney. Now, we all love Toney…many of you are holding him in Dynasty. This is great news…going from Daniel Jones to Patrick Mahomes. However, 2022 Kadarius might not be as FF-exciting as you think…it could be the same fireworks when they signed Josh Gordon last year and everyone went bonkers, and then it was nothing.
Toney will take 2-3 weeks to get comfortable with the playbook…and then he's just part of a rotation of players that KC does -- they love to rotate guys in and out. It could week before Toney sees some interesting touches and then he won't be a starter, he'll be a rotational #4. Eventually, he could be so good that he's their new/different Tyreek…but there could be a lot of time go by in 2022 before we have an FF-useful asset, if we ever get it for 2022.
This is also assuming Toney can stay healthy and out of trouble.
If Toney gets his head right here…you're talking about one of the most gifted athletes in the NFL paired with Patrick Mahomes into the future. Wow. A possible FF-dream come true. But this maybe be more about getting him ready late season.
…but then in 2023+, the concept of Mahomes with Skyy and Kadarius, wow! KC's backup WRs are better than most NFL teams' purposeful starters right now.
 -- I keep mentioning this Chiefs defense…they just held a very good 49ers team to 23 points in a blowout win and they sacked the QB five times and got a pick and a safety. This DST will be dropped many places during their bye…or was already on waivers. Not a great schedule ahead…until Weeks 14-17: DEN-HOU-SEA-DEN.
Snap Counts of Interest:
26 = J Wilson
23 = CMC
13 = Ty Davis-Price
40 = Hardman
35 = JuJu
25 = MVS
14 = Skyy
10 = J Watson
28 = McKinnon
19 = Pacheco
17 = CEH