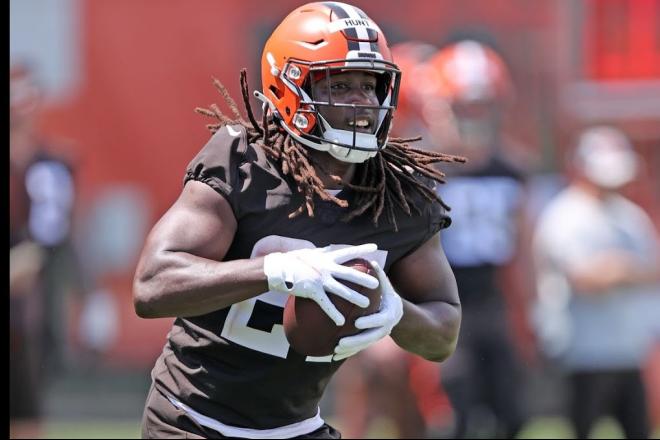 R.C. Fischer
Total Football Advisor
26 October 2022
2022 NFL/FF News Tidbits: Week 8 Wednesday 10/26/22
So many little, interesting news items hitting around the league, I am doing a quick hit report out on them for my take on the situations…
 -- All these Kareem Hunt trade rumors…I'll say it again -- the Browns are not trading Hunt if they think they're in the playoff hunt…and they ABSOLUTELY think they're a playoff/division winning contender right now. Had they won against Baltimore last week, and they should've, they'd be a game out of first playing the 1st-place team in Week 8 (CIN).
If the Browns really thought they were done, then these rumors of 'a 4th-round pick in exchange' would not be rumors anymore -- the Rams would have pulled the trigger already. It's a piece of cake trade to make for that price. SO, we should assume it's not that easy.
Again, as I've mentioned before, the Browns can just hold Hunt the rest of the way and get a compensatory 4th-round pick. They don't need to trade him just to trade him.
If the Browns lose Monday night, then it really probably is 'game over'…and that trade likely goes down to the Rams. BUT if the Browns win, then they are a game behind Cincy in the standings just having beaten them. Why trade Hunt then…for a pick the same level they're gonna get next year anyway?
For FF:
If you think Hunt is going to be traded, then…
He'll be traded Tuesday of Week 9 and need a week to get integrated into L.A. and then he'll be an RB1 hopeful in PPR Week 10-11+.
D'Ernest Johnson would be Nick Chubb's handcuff. But not as used as Hunt was…so more just a handcuff.
 -- All this Kyren Williams talk for a 'big role' with the Rams is total nonsense. If you think the Rams are trading for Kareem Hunt...or some other RB, and they are, then with Hunt-Henderson, how will a terrible rookie RB with no NFL experience be thought of to walk right into a 'big role'.
It's not gonna happen.
If you got Kyren to trade him…trade him fast, real fast.
Kyren likely won't join the team for a few weeks as it is, he's coming off a longer stint on IR.
 -- Robert Quinn NFL trade to the Eagles…utterly brilliant of Philly, and extra-brilliant for our Eagles-DSTs!!! Love it!!!
 -- Every week seems to bring us new and/or exciting Fantasy opportunity RBs midweek/post-waivers. Today we got…
D'Onta Foreman…Chuba Hubbard likely out this week, so Foreman goes from 'should I play him?' to 'you probably should'.
Tony Pollard…Zeke very likely/is missing Week 8 and maybe more -- Pollard goes from 'should I play him?' to 'I'VE GOT AN RB! BABY!!!'
 -- With Mike Williams down for several weeks, Josh Palmer is a natural winner for those weeks ahead. Keenan Allen will be back but now he'll get double-teams -- this is Palmer's time to rise and shine.
Palmer clearly in position for the jump…with a small bump to Gerald Everett (because Parham returning too) and DeAndre Carter will play some more and maybe Michael Bandy can get some looks?
Palmer is hiding on many free agent lists because he has no Week 8 projections due to their BYE…you gotta search for him you won't see him top of normal available lists.
 -- I scoffed at Brandin Cooks being traded because of his monstrous contract, but apparently there is some NFL contract/salary cap trickeration to allow the receiving team some flexibility in the situation. If I read it right, it means Cooks goes from my 'no chance' to be traded to 'possibly traded'.
Watch him go to LAC and ruin the Josh Palmer move…
 -- IDP item… Seattle signed former Denver ILB Alexander Johnson to their practice squad. He was a high graded ILB in the NFL last season, but injuries kept him off the free agent scene this season, apparently. He's getting a shot in Seattle.
 -- Kyle Philips went on IR, that's why he was inactive last week and may be out for a whole (shoulder).