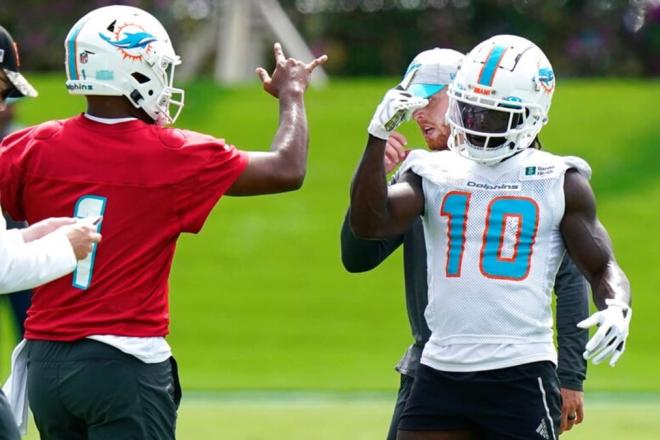 R.C. Fischer
Total Football Advisor
17 October 2022
2022 Fantasy/Dynasty Monday Executive Summary: Week 6
Well, not too bad across the FFM globe this week. A 60-65+% win-rate week tracking across all platforms and scoring systems. Possibly 65-70% if Herbert really has a nice game and Mike Williams could also get a good game and get more over the hump, and it would also boost if Josh Kelley does NOT put up a zero-type effort…for those that had to use him in the bye week hell at RB.
Scoring was down across the FF-land, as expected during byes…plus the top QBs didn't go crazy and among the few players who scored at/above 30 in PPR…highly FFM-possessed Tyreek was one of them. It was a solid depth/everyone-contributed win for many but there's always some tough losses or bad losses in the mix for some.
Unless you're (0-6) after this week…you're still in the race, most likely.
This season, being a hard luck (2-4) is pretty solid footing going forward to try and make the playoffs. (1-5) teams, and I see a minimal amount, if (3-3) is the playoff line today, you're only two games out with like 8 games remaining…a possible week away from being a game off the playoffs.
In this crazy season, I don't know that (0-6) is really even out of the mix. If you somehow won two in-a-row, you could be like two games out of the playoffs with like 6 games to play.
Everyone, no matter their record, is looking at their FF-teams mostly scared to death…thinking: there's no way this collection can get through/over -- but didn't we think that last year coming down the stretch? Due to COVID last year, and due to mass injuries this year…teams are gonna look funny. You want to look down and see a team full of health with a bunch of magical rookies leading the way, but the reality is a bunch of 3-4-5th+ year forgotten players getting their shots are coming through to support the stable players and can help you through -- you just have to embrace them and not have a brainwashed rejection of them.
Most people look at their Fantasy teams like my wife looks at her weight -- she's never happy at any weight level, she's always got "five more pounds she should lose." It's not just you thinking your FF team looks like a mess. It's mostly all in your head…and probably true at the same time.
We gotta win ugly this year.
One minute you're screwed at RB, then Deon Jackson and Darrell Henderson fall into your lap. Marquise Brown is flying high as your #1 WR1, and then you lose him for a long while. Everything changes so dramatically one week to the next. The FF title winner is not going to be the one who drafted the best team and rode it to the title. The best FF team in your league in 5-10 weeks is gonna be one that looks like an unplanned Frankenstein consisting of 1-2 obvious players mixed with a bunch of players who you didn't originally draft and/or weren't even drafted by anyone in your redraft.
Fantasy Football is now a one week at-a-time game of maneuvers and survival…and that plays to our strengths, our depth, our scouting…especially during these BYE weeks. But you have to have patience because it might be next week when the real magical trade or genius waiver or just some lucky maneuver starts to click in with the other players you've acquired the last several weeks starting to rise. For some, it happened last week…or the week prior. It's gonna happen if you keep fighting and add-dropping and trade offering.
Stay in the game.
Stay focused in the game.
Don't hate your entire team after a loss…because you might have half-a-new team two weeks from now. Don't think everything is finally safe from the storm if you won this week…there's a-storm-a-comin' next week. The task this week remains the same for everyone, no matter your record -- improve the team…buy low, sell high, smart waivers, and be ready for anything to happen daily. It's what makes this game fun…the game you love to hate…it's a nonstop, catch-a-serial-killer drama you're living in for 5-6 or 12 months.
You love it.
This past week (pre-MNF), Week 6…
Seven of the top 10 scoring FF QBs were mostly on people's benches or waivers.
The top 3 WRs were money WRs (Chase, Diggs, Tyreek)…then six of the next 7 highest scoring WRs were on benches or waivers.
Six of the top 10 scoring TEs for the week were on people's benches or waivers.
So, at QB-WR-TE = 19 of the 30 top 10 scorers at the individual positions were on benches or were unclaimed/in free agency. There is opportunity every week.
On the 2022 season, so far…
There are like 4 QBs pushed way ahead of the pack.
At RB there's 3-4 RBs really consistently hitting most weeks…and staying healthy.
At WR, then there are 7 hot producers in PPR PPG…the top five are the five names you would expect…then Amon-Ra St. Brown has been lost for the past 3 weeks and we just lost Marquise Brown.
At TE, it's Kelce and Andrews and everyone else.
There are 14 really sure-thing, ace players to own in Fantasy Football 2022, and you probably have one…like most teams in your league. You have two if you're lucky. You might have none. But weekly lineups involve at least 9 players/things…some involve 10-15 starters. And if only 1-2 players are money each week, then the other 7-8+ is where the games are won or lost.
Players get hot and cold, or have good/bad matchups, or are affected by an O-Line injury or QB concussion, etc. The majority of Fantasy is not 'draft it and forget it'…the majority of Fantasy is now depth, health, reactions to crisis, and all the involved strategy within that each week with the tough sit-start decisions and streaming option positions, etc. It's anyone's game any given week…if you can figure out the puzzle of matchups/sit-starts and getting hot 1x use players, etc.
The opportunity is in your grasp every week, and every week's lineup will look different…the opportunity is under your control and it is not in crying that you're playing the person with Josh Allen or Cooper Kupp each week (if they have both, and you're facing them, then you might cry) or that back in August you were so close/you were gonna draft 5-6-7 of the current top 14 players but you didn't. No, you weren't. No one did. And if you had, 2-3 of them will get hurt this week.
We're playing a game where we're likely not be standing with the title in the end…no matter how smart we are, the odds are against us every season. We're just trying to improve the odds daily, weekly. It's a bold thing we're going after: https://youtu.be/AviSocVyEWI
And when that's your goal…it's gonna take a lot of planning and strategizing and improvising.
You're gonna steal it.
Steal what?
The Fantasy Football title in 2022-23.
Now go STEAL it! We're not simply earning it…we're taking it by force with a lovable band of misfit players.
Time to get your strategy on! Every day. Every week.
-----------------------
This week and in game recaps, you're gonna see me referencing players with a number-slash-number in parentheses.
It's a simple code I'm testing out to see if it helps us focus on various player performance…and/or is eye-opening. Trying to keep it simple, easily memorable I'm using a TD based number to go by…the numbers 14 or 21.
21 for QBs (4pts per pass TD)
14 for RB-WR-TE
14 or 21 points, or more, in a game achieved in PPR by a player (so if you're not in PPR you'll have to adjust or the point of this is still applicable…and if you're in a non-PPR league, knock it off and get into the more joy of PPR…or at-least half).
14 or 21 points as a line in the sand of a 'quality FF start', if you will. How many times has a player scored 14 or 21 PPR points in a game this season or not…how many times were they making a greater impact.
Examples (season to date)…
Cooper Kupp is the only (6/0) player out there. Six times over 14 PPR points in a game and none where he was below.
Travis Kelce is (5/1).
Most of the players we are working with, the non-obvious top performers, are (2/4) and (1/5)…they fail to give a quality start each week, on average, so far this season…or their seasonal average is built of one big game. Example, two TD week Brandon Aiyuk is (1/5).
The high functioning quality start players are pretty obvious. The failing are usually obvious, but the ones in-between are the majority and some players are very consistent in plain sight but overlooked.
Mike Evans is just (2/3…missed a game with suspension) right now. Allen Lazard is (3/2…missed Week 1…and is a hair from 4/1). Josh Reynolds is a surprising (3/2). Garrett Wilson is (1/5), so too is Terry McLaurin.
Christian McCaffrey is the RB leader at (6/0). Najee Harris clocks in at a (1/5…and his one was .1 over the line)…as two big name examples on the extremes. Joe Mixon is at an even split (3/3). It's getting rarer and rarer to find RBs with more quality starts than not after 6 weeks, which we all feel the pain of in our lineups.
Jared Goff is (2/3) at QB. Aaron Rodgers is (0/6). Tom Brady is a shocking (1/5). Josh Allen is the only (6/0).
This is just something I'm playing around with to see if I like it, or it helps me value players better from a consistency standpoint. Helps me stay focused on recent trends as I'm looking over player performances daily.
You'll see these numbers referenced in this week's Executive Summary below and in game recaps this week.
--THREE THINGS--
SF-ATL
 -- Hey, lookee here…Kyle Pitts (3-19-1/3) scored a TD! An opportunity to sell-high on him this week if you can. Just 3 targets this game…there's no move to get him more featured. You can get a TD from Jelani Woods in a week more likely than a Pitts one. Kyle Pitts is a vaunted (0/5) on quality starts this season.
 -- San Francisco got taken out of their game by a quick, two score deficit…so, their nothing run game and the heavy receiving efforts (and ATL lost their two starting CBs in game) from Brandon Aiyuk (8-83-2/11), George Kittle (8-83-0/10) and Deebo (7-79-0/10) were a function of way more throwing than SF wants…and how bad the Falcons defense is…especially when A.J. Terrell (4 tackles, 1 PD) went down in-game with an injury. Aiyuk is now a (1/5) this season.
 -- The rise of Falcons rookie ILB Troy Anderson (13 tackles) might have begun. He should play along with Mykal Walker ahead, and be a solid IDP option as a 'do-it-all' ILB.
NE-CLE
 -- Let the QB controversy really begin…for the media. Between their love for QB controversy and love to try to annoy Bill Belichick, we'll get a ton of Bailey Zappe (24-34 for 309 yards, 2 TD/0 INT) vs. Mac Jones (DNP) debates this week. Jones isn't likely to be ready this week, so it will just be speculation -- but I think Zappe may have won this job…more on that/why in the NE v CLE recap, which will be first of the new week (besides the TNF recap already posted).  
 -- Because the Pats got up quick and huge, the Browns were taken out of their game…and this the junk run game results, especially a very down game for Nick Chubb (12-56-0, 1-14-0/2). Just the game flow. No issues/worries besides the Browns often get too cute rotating RBs when Chubb is their best player and need to lean into him more. This is Chubb's first non-quality start, he's now a (5/1).
 -- Rookie Tyquan Thornton (3-16-1, 4-37-1/5) ran for a score and also caught one…which means he'll be a hot waiver guy this week, being a rookie and all. He went from 'guy on the field' to 'two TDs in a game and exciting' in a blink. There's something here to explore…between his style of play/abilities and how much people love rookies. We'll discuss more below and in the NE-CLE recap coming out Tuesday.
NYJ-GB
 -- Randall Cobb (1-8-0/1) went down and out for the season (it looks like). If true, that may launch Amari Rodgers (1-14-0/1) into his role…but possibly it's a rotation filling Cobb's role…while pushing Rodgers even heavier to Allen Lazard (4-76-1/9) going forward -- Lazard is on the verge of being that Davante Adams for Rodgers now. I can see it on tape…and from this live watch.
 -- Zach Wilson (10-18 for 110 yards, 0 TD/0 INT) is going to kill off all the related passing game Jets things for FF…Garrett Wilson (1-8-0/5) is getting screwed by Zach. Until they replace Zach with Joe Flacco, which I think could happen in 2-5 or so weeks, Garrett is a WR3-4-5.
 -- On Breece Hall's (20-116-1, 2-5-0/2) late TD run, the Packers missed 3-4 tackle attempts with half-hearted efforts…so half-hearted it was obvious to my eyes and jarring and sickening from an NFL standpoint. Not counting the guys who stood around and didn't even try to chase him down. Matt LaFleur has lost this team, I believe…and they are collapsing. The canary in the coal mine is how bad the defense is…despite all their talent, and success last season (same group back essentially).
I'm done with the GB-DST. But I may wait to see what Washington does at QB Week 7 before I jettison them. I'm guessing this will be a hell week for GB and they will potentially be out for blood on a weak foe, for a week.
Also, Breece Hall has four quality starts in-a-row.
JAX-IND
 -- So, Deon Jackson (12-42-0, 10-79-0/10) just comes in, out of nowhere, and is a great FF RB event? That's how it works. Most backup RBs are equal to or better than the starter for any number of reasons. In this case, the entire defensive game plan isn't based on stopping the RB when Jonathan Taylor is not playing…so they let Jackson try and beat them.
Once Taylor or Hines is back, Deon goes back to being a ghost. I still think he's the proper handcuff for Jonathan Taylor, so if you have JT…DJax a hold for sure.
Once JT is back this week, if, then maybe sell Deon to the JT owner (if you have Deon free of JT, obviously). This is like that D'Ernest Johnson moment from mid-2021. Sell off the carcass now that you stripped it clean for your Week 6 feeding…if you can sell it for something decent.
 -- Matt Ryan with 389 yards passing and 3 TDs/0 INT + Deon Jackson going nuts = we can stop the Jacksonville-DST excitement that's been lingering from their Week 2 performance.
 -- Jelani Woods (2-27-1/3) keeps flashing dominance…I hope Frank Reich is not so stupid as to not push it more and more. But you know what I always say about Reich…so, it's tentative that he'll get a clue on more Jelani. Career high catches and targets here…we took a baby step forward at least.
MIN-MIA
 -- Miami got down early and was taken out of their game, but no matter what happens, no matter what QB is in…they get the ball to Tyreek Hill (12-1770-/15). Tyreek is closing in on being the new Cooper Kupp for FF (minus TDs every week)! Tyreek is (4/2) this season…just missed (5/1) with a 13-point event with Skylar Week 5.
 -- Well, I guess we gotta reconsider Mike Gesicki (6-69-2/7)? That was a pretty righteous game output for a guy who could really thrive with all the attention to Hill-Waddle. Gesicki is (2/4) this season…but his misses are all huge misses.
 -- On the other hand, I'm not taking Irv Smith (4-7-1/4) all that FF seriously. Better than nothing, but he's a TE2 talent and target desire by Cousins. Irv is (1/5) this season.
CIN-NO
 -- Taysom Hill (5-39-0, 2-4 for 16 yards passing) got a good opportunity here…just no big cash in. I'm not dismayed at all; beyond I wish he would have cashed in at least one TD. Dennis Allen had a smart package/usage of him here.
 -- I got nothing on Rashid Shaheed (1-44-1, 0-0-0/1). Didn't even know he existed, and I know every player…but not him. Skinny UDFA WR out of Weber State. Apparently, looking through my notes, I did take a basic tape look for the 2022 NFL Draft but dismissed him quickly. 7 career kick returns TDs in college is his claim to fame. He doesn't strike me as all that all-world-fast from the eye test. Didn't run any times at a Pro Day. Looks generically fast…but very skinny/thin-framed.
 -- Tee Higgins (6-47-0/10) played pretty well for a guy with a bad ankle. Not his usual self, for sure…but he fought through it to contribute. He will probably sit out a lot of practices to try to get himself healed up this week…but should play Week 7.
BAL-NYG
 -- …and then Kenyan Drake (10-119-1, 1-8-0/2) looks like Gale Sayers and J.K. Dobbins (7-15-0) stinks. What world am I living in this week?
I don't how or why or what happened. It will take some rewatch + talking to sources. Not sure what happened beyond Drake was working and they went with it -- which is a concern for anyone as a JKD holder…the Ravens are not bound to Dobbins as if he's their everything on offense.
 -- The Ravens are not committed to Devin Duvernay (1-14-0/5) either. DD got a couple TD shots, but Lamar missed each throw. DD still comes in and out of the game too much to bank heavily on for FF. I thought maybe they'd build on his solid Week 5, with Bateman still out…nope…not even any carries this week, despite how successful he's been prior with them.
I don't think I want Duvernay or Bateman (when he returns) that badly in this erratic passing game.
Duvernay is (1/5) this season with 5 non-Q starts in a row.
 -- Wan'Dale Robinson (3-37-1/4) debuted in this game, scored a TD on a simple play. He looked OK…I didn't see anything magical in his debut. He can be their top WR for lack of having any decent WRs.
TB-PIT
 -- I'm in total disbelief of this game result…perhaps, more disbelief in a game result than I ever have been in my life. Well, Jacksonville did thump Buffalo, with Urban Meyer coaching, mid-2021 season…but, with 4/5ths of a secondary out...Tom Brady is stymied by a defense that was bad at full strength? I don't understand how Tampa was whipped from the opening bell.
I have to rethink everything about Tampa Bay projections from this...knowing this type of collapse is possible...knowing Tampa Bay has revealed six cards this season and 4-5 of them were bad or disappointing. Maybe Brady had too good a time going to Robert Kraft's wedding and skipping the walkthrough practice this week.
 -- I don't want to hear it anymore about how dumb for constantly chasing Chase Claypool (7-96-1/7) for FF. I know it was dumb, as it has played out…but I was not wrong about how good a WR he is…the best on the Steelers, and I can't help it they're too stupid to use him. They did here, and he single-handedly won them the game.
Is he a thing going forward? Probably not. Claypool has already flashed his brilliance several times in his career, and they always wander away from him. The fact that people think CeeDee Lamb is a god, and that Claypool is a joke…and the fact that it is FF-true/reality, really pisses me off to no end at the injustice of it all.
All we can do is react to the reality. That's all FF is…adjustments and adjustments to the adjustments.
Chase booked his first Q-start this game…he's a (1/5) this season.
 -- Cameron Brate (2-14-0/3) was taken off the field in an emergency vehicle after he took a big hit. I'm sure he'll be out a week or two or so…which allows Cade Otton (2-23-0/3) to probably, fully take over the starting TE job even upon his return. Otton will be a fringe TE1/TE2 hopeful without Brate around.
CAR-LAR
 -- P.J. Walker (10-16 for 60 yards, 0 TD/0 INT) took a hit late and will be concussion questionable this week. If he is out, then (awful) Jacob Eason might start Week 7 vs. Tampa Bay…and that should be fantastic for TB…and bad news for all the Panthers FF options, including Christian McCaffrey (13-69-0, 7-89-0/8).
 -- Darrell Henderson (12-43-1, 2-9-0/3) took the lead for missing Cam Akers. DH will be the lead next week as well. I believe the Rams will trade for an RB this day/week, and that it could be Antonio Gibson, or someone…anyone…and DH's lead role will be short-lived -- but, for now, it's Henderson time.
 -- We got some better Allen Robinson (5-63-1/6) in this game. Are things turning the corner? It looks like a little more improvement…but also a game LAR took control of and could get cute in the 2nd-half. In a real crunch-time game, I'm not sure ARob would get these looks.
ARI-SEA
 -- Possibly the most embarrassing game of Kyler Murray's (23-37 for 222 yards, 0 TD/1 INT, 10-100-0) career. He's become a terrible 'good' QB. Talented but so dumb…so situationally unaware. I don't know that the DeAndre Hopkins return can save him or his FF status as a QB2.
 -- Solid performance from Noah Fant (6-45-0/7), our 'outta nowhere TE of the week'. Two solid games in-a-row. Facing LAC Week 7…could be a third in a row. Fant is trying to get into the BYE week TE1 hopeful list. Fant is (0/6) this season.
 -- Geno Smith (20-31 for 197 yards, 0 TD/0 INT, 6-48-0) had his first dud/weak game of 2022…thanks to an emerging Arizona-DST. The Cards-DST vs. the Saints Week 7 is on the table for those in need. I don't know, until I watch the tape, if Geno got figured out…or if Arizona's D is just that good.
Geno is a shocking (3/3) this season.
 -- *EXTRA* Marquise Brown is likely done for the year or most of it. So, today, the Cardinals traded for Robbie Anderson…furthering one of the worst locker rooms in the league. DeAndre Hopkins now returns as the clear, the instant #1. Rondale Moore is really helped by this, jumping up as the probably #2 check down throw. Robbie Anderson as the erratic #3 WR…same as he has been for years, better off with Kyler than Carolina but still nothing spectacular.  
BUF-KC
 -- Isaiah McKenzie (2-9-0/5) took the first step to losing his job to Khalil Shakir (1-14-0/2) here…key drops/feet or hands out of position on some throws this game. McKenzie is a nice weapon #4 WR…he's not a great every down slot WR. He was the best slot they had to start the year, but now that's changing.
It will probably take a few weeks, but the first step was taken here. Shakir is better than McKenzie, for sure…just less experienced. Buffalo has a bye Week 7 and an easier schedule ahead that would allow them to get Shakir more up to speed for the stretch run. Could be 2-3 weeks from now…could be 5+ weeks from now…could be the first serious sign of change we see is after their bye Week 7/begins Week 8.
McKenzie is (1/4) this season.
 -- Skyy Moore (1-24-0/3) took a few more baby steps in the direction of being KC's #3 WR over Mecole Hardman (3-42-1/4). I saw Skyy in and out of the first (long) series…we've not seen that before. He was also going in-and-out all game…and once again was in the game in the late game critical time. He's going to be a star eventually…just not sure when.
 -- Dawson Knox (3-37-1/3) finally got his first TD of the season…but, still, just a 3-target game. Knox is a TE1 hope for bye weeks…he's not your serious starting TE. You should've moved on to greener pastures weeks ago…and it's also time to replace him as your #2 TE, for anyone holding on, if there are better options to play with/invest in. Knox is OK, but his TE1 days appear over. Quinton Morris, among other things, has changed the game with Knox.
Knox is still (0/5) this season.
DAL-PHI
 -- Ezekiel Elliott (13-81-1, 1-5-0/1) is starting to get some of his reputation back. He ran hard here and is starting to have moments of looking like old Zeke. When Dak gets back, even better for Zeke for FF…they have a way better connection than Zeke-Rush. Zeke has been a (2/4) this season…Pollard a (3/3).
 -- Two out of last 3 games for DeVonta Smith (5-44-1/5) have been lower targeting: Week 4 with 4 targets, Week 6 with 5 targets. That trend may make DeVonta a bit more available as people still see him as the #2 to A.J. Brown. He is the Eagles #1…and that's a good thing, if you can poach him for a bargain. Smith has been a (4/2) so far this season...(4/1) the past 5 weeks.
 -- The Eagles-DST started out like firestorm…a couple early picks and shutting down everything, but then they let up and tried to cruise to victory but Cooper Rush (18-38 for 181 yards, 1 TD/3 INT) played really well considering the circumstances and slow start…he got them methodically back into the game, and then the Eagles-DST lit back up and shut Dallas down.
The Eagles-DST goes on a BYE this week…but DO NOT DROP THEM…and PICK THEM UP if someone cuts them, which they might, the last two weeks haven't been special for FF. Checkout their remaining schedule after their BYE…you can start them right to the finish line.
DET (bye): D'Andre Swift should be back Week 7, after missing 2 games + having a bye week. The Lions are desperate and should push him upon return…but there was a little friction between Swift and the staff the week of his injury.  
Swift is (2/1) this season…and Jamaal is (3/2).
Jamaal Williams's stock will fall if they push Swift hard Week 7+.
TEN (bye): Robert Woods is the clear #1 WR for the Titans now. How great that is in the Titans weak pass game is suspect, but it could be some WR2-ish work in PPR on higher catch counts.
Woods is an (0/5) this season but close to (2/3).
LV (bye): Darren Waller could be on a 'watch' this week for missing Week 7. He left Week 5 early with a hamstring…and he was out for several weeks with a hamstring this preseason. Foster Moreau could get on the radar if he's back healthy (missed games pre bye too) and Waller is lingering with his hamstring.
Waller is (1/4) this season.
HOU (bye): Nico Collins is starting to step up into a more prominent role/targeting…reducing Brandin Cooks' target levels with hopes of Collins starting to become like a #1-ish WR before this season is done.
Nico is an (0/5) but he's been building closer and closer to quality…double digit PPR the past two games.
  ===== FIVE PLAYERS =====
*** FIVE WAIVER PLAYERS TO TRUST***
*Looking at players owned less than 50% on average in leagues across the whole FF-landscape. Your league, obviously, may be different/deeper.
**Adding a school grade to show my interest level (A-F)…and I don't mean that a D-F grade is 'bad'/just showing how pressing/important to me, your situation may differ due to injury, etc..
***IF FAAB% mentioned at any time below is based on a 16–20-man roster league. And it's hard to predict the right bid % because every league, situation, and lineup needs are so different. So, doing the best I can to 'project' (i.e. 'guess') what they will be based on early chatter.
*Again, note…not a grade on talent…just how important/urgent/great the waiver move is in context.
**Not as fruitful a waiver week this week. Tread lightly with low expectations…opportunity may knock later in the week for whatever bizarre things pop up.
1a) WR Wan'Dale Robinson, NYG (Grade: C+)
Can be the Giants #1 WR because of the simplicity of the targets thrown to him…easy throws, bubble screens, etc., for Dan Dimes. Someone has to be the Giants #1 WR? But how fruitful has that ever been on the NYG #1 lately, with any consistency?
1b) WR Tyquan Thornton, NE (Grade: C+)
This is a difficult one to evaluate…
We don't know who his QB will be ahead, but it projects WAY better with Zappe.
I don't know that Thornton will have every week consistency, but he has great homerun appeal every week…he's a big play waiting to happen. He could be the Pats best FF WR from here…or he could be their 3rd/4th-best. It's hard to set your clock around Patriots' weapons…but there is something here.
Plus, he's a rookie doing something good…so this has trade value this week if desired.
3) RB Kenyan Drake, BAL (Grade: C)
We have to take this somewhat seriously. We all know Dobbins is their preferred lead, but they seem to have him on a leash…and then Drake just busted outta nowhere Week 6 and looked like the best RB that they have. He'll have a chance to repeat working with JKD Week 7.
But Dobbins will get the push eventually…and Justice Hill is probably back this week…and Gus Edwards back in a few weeks as well. This has a limited shelf life…more those who need an RB with a pulse Week 7 due to byes.
4) WR Josh Reynolds, DET (Grade: C)
You like the #2 WR on one of the top passing volume offenses in the NFL. #2 until Jameson Williams hits the scene…but we don't know when that will be. Reynolds is a (3/2) with three quality starts in a row.
You're more interested in the rookies on this list…as you hope they are as productive as Reynolds has been for several weeks now…but that's how Rookie Derangement Syndrome works, and that's why the rookies are up higher on the list -- they have extra value because of their trade value because they are magical unicorns.
5) TE Mike Gesicki, MIA (Grade: C-/D+)
If you believe the Miami offense is high functioning, but hidden because of all the QB concussions, Gesicki could be in a spot to FF-rise due to all the attention Tyreek-Waddle draws. BUT Gesicki has mostly been ignored, lowly targeted this season…this could merely be a blip. Gesicki is a (2/4) so far this season.
6) TE Robert Tonyan, GB (Grade: D+)
Randall Cobb lost to injury in-game and Bobby Tonyan steps up into a key role with 12 targets, 10 catches and 90 yards Week 6. I like Tonyan and have all season, especially when I played him over Taysom too much last week…only to reverse that Week 6 and get battered again.
Tonyan is a legit option week-to-week for those in TE-need but this hot week was very likely matchup/opponent based…the Jets are too good against WRs now, so the TE is going to rise against them. Tonyan is a (1/5) this season…recovering from his ACL last season. Still, he has a connection with Rodgers…and a history of solid FF success as a TD maker in the recent past.
6) Robbie Anderson, (now) ARI (Grade: D)
I don't think this is anything special, but I'm speculating (from Robbie's recent several years). You could add off waivers and then either trade this week or see if he has a hot game to start then really trade hot next week. It breathes some kind of FF-value into Anderson.
7) RB Kylen Williams, LAR (Grade: D-)
People are going to try and go crazy figuring out the Rams backfield (until the Rams make the big trade)…and the theories this week are ALL going to be ways for it NOT to be Darrell Henderson.
The media, and thus the fans, LOVE ROOKIE Kylen Williams…they love Kylen more than maybe any RB from the 2022 NFL Draft…seriously…he was a #1-2-3 RB prospect for the internet scouts all early draft season, until he bombed his workouts. They still have a candle lit for him…I heard it in ESPN FF analyst's voices on their Sunday morning Fantasy show (possibly the worst, dullest FF show ever created).
I thought Kylen was awful/way overrated within one minute watching/scouting his tape, and it didn't get any better from there…and Ross Jacobs can confirm the same scouting feeling when he looked at him pre-Draft. But it doesn't matter what I think -- this is the media's boy, and if you want to get him…put him on your IR (if you have) and then sell off ASAP (before LAR's big trade) then you might squeeze some ROI in a quick flip on him this week. His hype will grow all week, as long as LAR doesn't make a splash trade.
-----------------------------------------------
***FIVE WAIVER PLAYERS TO DISTRUST***
1) RB Ronnie Rivers, LAR
Everyone wants a Darrell Henderson alternative. Some spoke of Rivers Sunday morning on FF TV shows. Umm, no. The Rams are not going to try and make a repeat run at the Super Bowl led by Ronnie Rivers.
2) WR Dante Pettis, CHI
4-84-1 on TNF…that's good, and Chicago doesn't have much else at WR besides Mooney…can Pettis be a thing? He's a flier bye-week long-shot, but the fact that he has Justin Fields as his QB kinda locks him out of any real consistency hope. Pettis is a (1/5) so far this season…the one hitting on a big play TD on TNF.
3) WR Parris Campbell, IND
Finally, Parris had a good game Week 6…no Jon Taylor and a lot of throwing, successful throwing, and Campbell among several others had FF numbers. I don't think it will keep up ahead. Campbell is a (1/5) this season…with the one being Week 6…and the five others all dreadful.
4) WR Tre'Quan Smith, NO
Once Chris Olave returns, Smith is all but toast…but if Landry gets back to work too…then it's even worse. And as Taysom Hill runs more of the offense and reduces passing TDs to WRs…then even worse. Not a lot of good news looming for a Tre'Quan revival. He did score a TD Week 6, however. He's a (1/3) so far this season.
------------------------------
***FIVE BUY LOW PLAYERS***
*NOT 'Buy at any price'…it's Buy LOW. Try to find a deal. If none to be had, walk away. It's also NOT…go immediately ask the owner 'What do you want for ____', don't telegraph your desires.*
1) TE Taysom Hill, NO
Had all the proper opportunities I wanted to see Week 6, following up from his Week 5 explosion. The Saints brought him in several times to run the wildcat…9 times, five carries and 4 passes…a season high in pass attempts. That's what I want to see -- my TE throwing passes!!!
But Week 6 was an FF-dud, so it confirms everyone's general fears that Taysom was a blip in Week 5. I don't think that at all, I'm AGGRESSIVELY buying where I don't already have him right now. He is a rare player that can change your entire FF season with his odd production for a TE.
Taysom is a (2/3) so far this season…and missed a game with injury.
He's top of the list here because of how easy/cost-effective for the impact he might be.
2) WR Tee Higgins, CIN
Burned owners Week 5…had an OK game Week 6…the memories of how good Tee is are fading. The ZERO Week 5 is helping bring his averages/comparisons down to bring his current owner's love-level on him down some. Tee has been playing great…if not for his ankle, he might be the best WR on the Bengals this season…better than Chase.
I want in on this WR1 who is trading as a possible WR1.5-2.0 with the ankle fears and averages WR2 scoring YTD because of the Week 5 dud (and Wk1). Tee is a (3/3) this season…but was three in-a-row before he hurt his ankle for the Week 5 zero and Week 6 not bad but non-quality start.
3) WR Amon-Ra St. Brown, DET
Didn't play Week 4…played hurt and was ineffective Week 5…bye Week 6…his current owner is starting to forget the great ARSB results from early on and only remembering the utter disappointment one that needs to be punished. And not being able to use him Week 6 makes the good times even more of a distant memory.
ARSB is a (3/1) this season…and the 'one' was because he played hurt and only a-third of the game. He's an elite otherwise…who might be underpriced as just 'really good' right now.  
4) RB Antonio Gibson, WSH
Obviously, his price is tanking…but his 'hidden' value will be a trade to the Rams or any place better for him in the next week or three. You would try to buy him as an RB3-4 and see what happens. He may even hit waivers this week in various leagues…not sure when the masses will make the connection of him being traded as a real possibility.
5) QB Tua Tagovailoa, MIA
Returning to action Week 7, and some FF owners will celebrate that…but others aren't sure what the future holds. All recent thoughts on him are negative… It's been a LONG time since that Week 2 4th-quarter explosion. Since then, it's been a Week 3 'meh', a Week 4 neuropathy event, and Weeks 5-6 inactive. There's really only been one quarter/half where Tua has been good/great this season.
But I think Tua, Miami, is knocking on the door of something special in that offense. I want a cheap look at it. I'm not overpaying for it because Tua has been a QB3 all season but one magical quarter…and I don't know if he'll have the yips for a week or for a lifetime from here. Tua is a (1/3) with 2 missed games this season…so like a (1/5) mentally for current owners.
A weak Week 7, and he will be near-zero cost in redraft next week…could be a reason to wait instead of chasing this week.
6) WR Curtis Samuel, WSH
His value is falling to possible 'cut' level in some places, but I suspect he'll just be put to most people's benches. Fading results…unknown QB to start the week…terrible TNF game…there's a lot not to like. I'd like to add him to my war chest and see if he perks back up. CSam is a (2/4) with four non-quality starts in-a-row, but two of the 4 close…he's close to being a (4/2).
His real value is way above his perceived value…it always is.
-------------------------
***FIVE SELL HIGH PLAYERS***
*NOT 'Sell at any price'…it's sell HIGH/sell good. Try to find someone in love with your player or seen as a neat value thrown into a multiplayer deal. If no one respects the player/buys right…then walk away.*
1) TE Kyle Pitts, ATL
Scored a TD this week!!!! Whoopee!!! He still played another game where he was not hardly a factor…three whole targets in Week 6, but a simple/sweet TD was in there -- so, if you want off the Pitts experience…between a TD and his whole being/vibe one that almost everyone loves and is willing to pay or overpay for...you have a decent exit ramp week.
I love Pitts, but I've seen enough of him with Arthur Smith. I'm done until a change happens…and with ATL winning games, there will be no change forthcoming.
The sobering truth of Pitts 2022…he's a (0/5) + missed a game, so kind really (0/6). Two double-digit PPR games but not exceeding the 14-point quality start mark yet this season.
2) RB Deon Jackson, IND
Terrific FF game Week 6, but once Jon Taylor returns it's over. But he has a good 'recent' event, so you can sell it off, perhaps, to the JT owner this week versus keeping it and waiting for a next JT injury, that may never come. DJax is the JT handcuff on 3-4 week type injury but would split/defer to Hines if the next opportunity is just like a one week thing that Taylor is out.
3) WR Brandon Aiyuk, SF
Two TDs versus a banged up ATL secondary and in a game where SF got down fast and was chasing the rest of the game, very un-SF-like. Week 6 does not represent the normal SF pass game outputs, of which Aiyuk is a WR3 week-to-week. Aiyuk is a (1/5) so far this season.
4) WR Christian Kirk, JAX
Was on his way to another FF dud but got a late TD to save his day. Good overall averages for the season, but it's all concentrated in his first 3 weeks. A nice sell opportunity here.
Kirk started the season (3/0) Weeks 1-3 but is (0/3) since.
5) WR Tyquan Thornton, NE
If you have already or will acquire off waivers this week…and you have other needs, peddling the magical unicorn rookie who had two TDs last week is always a fast maneuver. He had two TDs last week, so surely he'll have two more this week and maybe every week in perpetuity -- that's the warped tape that plays in people's rookie deranged heads/subconscious, so you might trade into it.
------------------------------
***FIVE DEEP SLEEPER WAIVER PICKUPS***
*Total flier/lowly owned or not-owned players
1) RB Rachaad White, TB
If Fournette goes down, White is an instant RB1..and with the way that lead RBs are going down….
2) RB Joshua Kelley, LAC
Austin Ekeler is on fire!! Josh Kelley would also be ablaze if Ekeler went down, because Kelley is the clear/obvious handcuff.
3) WR Skyy Moore, KC
Skyy keeps taking steps in the right direction…but they are slow, baby steps. I see the progress…I see the way that they are now inserting him into the game in key spots. Sadly, it might be 2-3 more weeks before this really heats up…and still not be really FF-worthy.
He could be an injury or back-to-back losses/a shake up of things away from hitting hard.
He could also be in a stupid/constant rotation all 2022, and never be FF-viable.
4) RB Isiah Pacheco, KC
I think if CEH went down, Pacheco would be a 10+ carry a game split role back with McKinnon. I think if McKinnon went down, Pacheco might start full splitting with CEH.
5) RB Jaylen Warren, PIT
A Najee injury away from being an RB1.5-2.0.
6) TE Jelani Woods, IND
He is a star in-waiting…just how long will you wait because of Frank Reich, is the question. He's getting closer to playing 50% snap counts…and then he'd be non-PPR TE1 possible. Woods is a (1/5) this season so far.
7) WR Khalil Shakir, BUF
Isaiah McKenzie's poor play in Week 6, and his fragile nature in general, is opening the door for Shakir to work more and more ahead. Buffalo's Skyy Moore.
8) QB Bailey Zappe, NE
I think Week 6's showing changed the game…I do think Zappe is ready to overtake Mac, but none of us knows what will happen when Mac is back healthy.
9) TE Cade Otton, TB
Cam Brate will likely be out for a week, possibly 2-3…and Otton was already making a move on the split role job anyway. Now, it's Otton's to seize.
10) RB Boston Scott, PHI
A Miles Sanders injury away from launching to RB1.5.
---------------------------------
 -- FIVE…IT'S OK TO QUIT THEM PLAYERS (for REDRAFT) --
1) WR Dyami Brown, WSH
I warned you…but some wanted to take the look last week anyway. It's fine, but on this one…I win. There's nothing here for FF for you.
2) TE Cameron Brate, TB
Could be out a week, possibly 2-3. The TE with Brady would seem of some FF value, but Cade Otton was slicing into Brate as it was…now, his injury has opened the door to an even bigger slice for Otton the ROS.
3) TE Cole Kmet, CHI
You can't rely on anything tied to Justin Fields. Yes. Kmet had a very low-level decent couple of weeks leading up to Week 6 TNF…but Week 6 was a dud, and so has Kmet been his entire FF career. Kmet is an (0/6) this season.
4) TE Mo Alie-Cox, IND
Season low snap share (35%) Week 6…Jelani coming on. It's over for MAC, probably. He's a (1/5) this season.
TE Tyler Conklin, NYJ
Was a TE1 with Joe Flacco but has died with Zach Wilson…1.3 rec. (2.8 targets), 22.8 yards, 0.0 TDs per game with Zach. Run.
Conklin was a (1/2) with Flacco, but close-ish to a (3/0)…but has been an (0/3) with Zach.
--------------------------------
***STREAMING DSTs OFF WAIVERS(?) OPTIONS***--
1) Patriots-DST
You have a run of this solid DST facing: Fields, Z. Wilson, Ryan, bye, Z. Wilson. I'd play all of those non-bye matchups for sure. The Patriots entire team is starting to gel.
Week 7 = CHI
Week 8 = at NYJ
Week 9 = IND
Week 10 = bye
Week 11 = NYJ
Week 12 = at MIN
2) Bengals-DST
Didn't fare that great against the Saints last week but has still been a pretty good defense this season…and facing ATL-CLE-CAR the next three weeks is favorable-ish.
Week 7 = ATL
Week 8 = at CLE
Week 9 = CAR
Week 10 = bye
Week 11 = at PIT
Week 12 = at TEN
3) Cardinals-DST
Did all they could to keep the team in their Week 6 game vs. Geno…including a defensive TD. Getting them vs. Andy Dalton, or even better Jameis Winston, Week 7 can work.
Week 7 = NO
Week 8 = at MIN
Week 9 = SEA
Week 10 = LAR
Week 11 = SF in Mexico
Week 12 = at LAC
Week 13 = bye
Week 14 = NE
Week 15 = at DEN
Week 16 = TB
Week 17 = at ATL
4) Chiefs-DST
It's not inconceivable you could use them vs. the 49ers this week and then they have a lot of decent matchups after their Week 8 bye. But, again, this DST is going to stay on this list for that Week's 14-17 stretch for those cruising along right now and can afford to look way down the road.
Week 7 = at SF
Week 8 = bye
Week 9 = TEN
Week 10 = JAX
Week 11 = LAC
Week 12 = at LAR
Week 13 = at CIN
*********
Week 14 = at DEN
Week 15 = at HOU
Week 16 = SEA
Week 17 = DEN
*********
-------------------
 -- Sleeper/lesser-name IDPs whose box scores or live watch caught my attention --
1) LB Quincy Williams, NYJ
Quincy is back from being injured a few games, and right back into the lineup and led the team with 14 tackles Week 6, with Kwon Alexander not really sharing time. LB1 potential back in effect!
2) LB Troy Anderson, ATL
13 tackles in Week 6…his first real full start/full play event. I'm not sure if they'll commit to him starting when Mykal Walker returns, but they're only going to be able to hold him out for so long. Anderson has all the tools to be a star.
3) LB Deion Jones, CLE
Traded last week, inactive for this week's game. He's likely to walk in as a full starter when he's ready…probably Week 7.
4) LB Samson Ebukam, SF
3.5 sacks, 5 TFLs, 5 QB hits in 6 games…he's in a good place to be a negative play accumulator.
5) LB Anfernee Jennings, NE
3 QB hits Week 6…4 QB hits his last two games after being a total ghost since being drafted 3rd-round in 2020. I thought Jennings had the makings of a serious disruptor back scouting him for the 2020 NFL Draft…it looks like he's starting to rise a bit.
6) DT Travis Jones, BAL
The talented rookie had his first real longer-opportunity playing time and had 4 tackles, 1 sack, and 2 QB hits. We'll have to see if this is the start of more playing time, or if it was a blip for the moment. Eventually, he'll be a DT starter.
OUTTRO:
So much work to do today in prepping for waivers and then Week 7 matchups, and then Week 8….and Week 9…I wish I could clone myself: https://youtu.be/JdA9_mtXYME