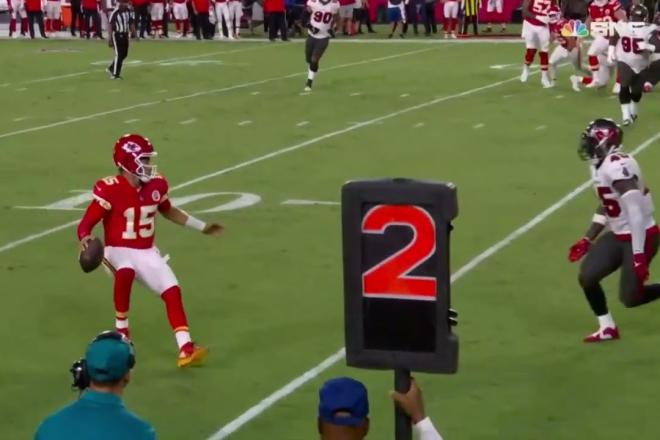 R.C. Fischer
Total Football Advisor
08 October 2022
2022 Week 4: Chiefs 42, Bucs 31 (Dynasty/Fantasy Analysis Game Report)
This was one of those games where one team was fired up, played with purpose and aggression (KC) and the other didn't know what hit them and tried to get back into the game but never really could. Tampa Bay opened up the game with a kickoff return fumble, which KC then turned into a quick scoring drive TD to take a 7-0 lead less than a minute in…and it kinda set the tone for the night.
Because the media LOVES all things KC, this is a statement game that confirms they are the best team in the league…per the media. Maybe they are, but my how quickly we forget they were held to 17 points in a loss a week prior to the vaunted Colts. Week 3? That's ancient history. Only last week matters!! If it does, KC is better than TB…that's for sure.
The Chiefs are good, and they will win the AFC West…helped along by the other three teams in the division dying off + KC is good. KC is playing for a bye week/homefield from here on in…as long as Mahomes stays healthy.
Tampa Bay is in a similar boat…they'll win their division with ease because all the other teams in their division are pathetic. Once Brady comes to your division, all the other teams must collapse into a decade long futility, apparently.
Both these teams are division winners, high seeds, and Super Bowl threats.
Fantasy Player Notes…
   -- The rise of the rookie RBs on these two teams was on display in some way this game…
Isiah Pacheco (11-63-0) has surpassed Jerick McKinnon (2-0-0, 1-1-0/1) in importance in this offense. This was a big game…Sunday Night Football, Super Bowl rematch, two top teams…and Pacheco carried the ball 11 times in various spots in this game, not late game in a blowout carries. We're getting to the point where if KC needs a yard on the run…it might be Pacheco in the game over CEH.
Clyde Edwards-Helaire (19-92-1, 1-2-1/2) took a season high 19 carries…he hadn't broken double digit carries all season until this game. CEH still has the snaps and touches edge, but Pacheco is climbing a little closer ever week…a few weeks or months from now it could be a pure split. That seems to be the way this is going.
CEH is under contract until 2023, so barring a CEH trade, these two RBs will split a role…and if Pacheco starts being more important/leading the way…CEH will throw a fit, so if KC thinks Pacheco is ready…we might see a CEH trade next offseason. Doubtful but possible. I think CEH is headed to Cincinnati in 2023 or 2024.
Rachaad White (3-6-1, 5-50-0/5) had as many carries as Leonard Fournette (3-0-0, 7-57-1/7)…but it was only '3' (each). KC took TB out of their normal game right away, and the Bucs stopped trying to run and went heavy pass…even with that White was involved in the pass side too, because he's gifted doing that.
There's no takeover coming here. Fournette will be the starter 'til he dies off/Brady leaves, but White has a role in the passing game now, and it's growing. And if Fournette goes down, White is a PPR RB1 for sure.
 -- Just a quick note on the QBs…
Patrick Mahomes (23-37 for 249 yards, 3 TDs/1 INT) played as good a game as you will see…he was on point this game, and his trick-shot throws were all landing. It's just odd to see him with so many throws and such lower yardage numbers. Three games in a row under 265 yards passing in each game, 249+ yards per game in that stretch.
In his last 15 regular season games, Mahomes has thrown for under 275 yards or fewer in a game 11 times. His output is trending lower and lower as he goes with KC…you'd think it would be the opposite.
By comparison, ancient Tom Brady (39-52 for 385 yards, 3 TDs/0 INT) has been at/under 275 yards passing in a game 8 times, about half his games.
In those last 15 regular season games, Brady has thrown for 32 TDs…Mahomes 30.
It still seems to me that KC is taking Mahomes out of the equation as much as they can, and are delighting in every changing rotations of WRs-RBs-TEs and a bunch of short/quick passes. It's fine, but it puts a lid on Mahomes' upside week-to-week.
 -- Just to note it…Chris Godwin (7-59-0/10) looked fine in his return to action. No ill-effects seen. He looks 'normal'.
 -- Skyy Moore (2-31-0/4) was nowhere to be found in the 1st-half…and then he starts in the 2nd-half, immediately gets a target/catch and looks perfect for this offense -- a quick hit/throw and then quickly off to the races.
I'll keep saying it, and you'll have to figure out how to play it -- there will be a time when Skyy is the top target at WR for this team…could happen in 2022, could be until 2023…could be a week or two from now…could be in the playoffs. I don't know when…but 'it's coming'.
That aside, this game was a big step in the right direction -- an important game and KC trying to keep the offense going, and instead of it being another game with 0-1 targets and single digit snaps for Moore, Skyy was just popped right into the 2nd-half flow and hit the ground running.
 -- Cameron Brate (4-32-0/8) is out Week 5 with a concussion, so Cade Otton (3-29-0/40 will pick up some of the slack. Is Otton usable Week 5? Maybe. Brate is averaging 2.7 rec. (4.8 targets), 25.0 yards per game with no TDs. So, Otton can get in on some of that…is this what you want?
With Julio-Godwin, etc., back it doesn't leave a lot for the stiff TB TEs.
 -- The Bucs-DST was humming along as a top play for the first few weeks, then got smacked by KC here. Do we have problems here/now?
I don't see Tampa showing signs of being up with the elite DSTs (BUF and PHI). More second tier solid, and great for FF with good matchups…like their next 3 weeks…or 6 weeks…of, really, for the rest of the season.
Tampa Bay has a cake schedule the rest of the way…one where Brady can throw for record numbers, if he wants, and where the TB-DST will be a top 12/DST1 projection each week. Week 15 v. CIN is their toughest contest remaining. Maybe Week 8 on TNF hosting BAL isn't great, but not bad/doomed.
Snap Counts of Interest:
39 = Fournette
24 = R White
43 = Otton
22 = Brate
09 = Kieft
55 = MVS
50 = Juju
37 = Mecole
22 = Skyy
14 = Watson
65 = Kelce
46 = N Gray
23 = Fortson
45 = CEH
18 = McKinnon
17 = Pacheco