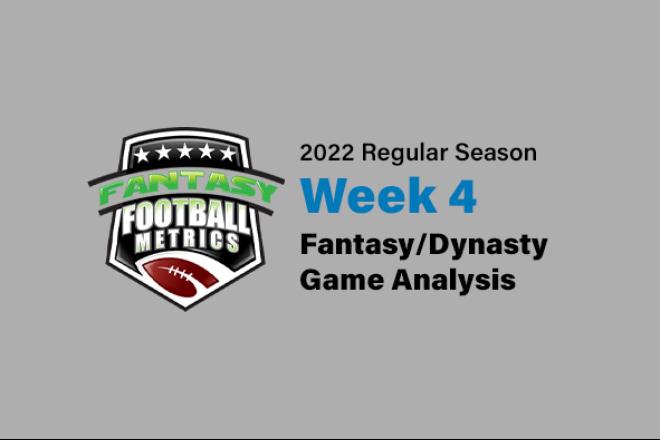 R.C. Fischer
Total Football Advisor
05 October 2022
2022 Week 4: Raiders 32, Broncos 23 (Dynasty/Fantasy Analysis Game Report)
The Raiders won their first game of 2022, but it wasn't pretty…it's the same Raiders game every week now with minor twists -- a lot of Josh Jacobs…hoping it works (it hasn't been great until this game), and then a lot of Derek Carr staring down receivers, usually Davante Adams…hoping it works. Sometimes it does…sometimes it doesn't.
Then the Raiders defense tries to be aggressive…sometimes it works, sometimes it doesn't. The Raiders are a random box of chocolates that you never know what you're gonna get -- they are impossible to bet on or against. The only thing Raiders you can count on is Daniel Carlson (4/4 FGs, 2/3 XPs)…the NFL leader in FGs made so far this season (12).
Denver is a mediocre/decent team being coached towards 'bad'. Good defense, perplexing offense. And now they lost their best weapon, Javonte Williams to an ACL. Their backup RBs tried to cost them the game…with help from just a bad offensive execution (as always, each week with Denver) and the Raiders being randomly OK this week.
Either team could've won this game, neither team deserves to be in the playoffs.
Fantasy Player Notes…
  -- The big FF news from this game is the season ending injury to Javonte Williams…and the RB fallout for FF from here. Let me present to you the RB flow in this game, and then we'll get into what it means for the RB flow ahead -- and what Denver's grabbing Latavius Murray means. It is more discombobulated than you think…and likely impossible to predict, but we'll try. You'll see why I'm saying that when you see the RB flow from this game.
So, Javonte Williams (10-28-0, 1-1-0/1) started like always and played a heavy number of snaps in the 1st-half, like has been the case…but in this game even 'heavier'. With about 5+ minutes left before halftime, the camera panned over to Melvin Gordon (3-8-0, 0-0-0/1) sitting on the bench (with a minor pout face on) while the TV analyst said (paraphrasing), "The touches have been pretty even between Javonte and Gordon this year, but Gordon has no touches in this game so far."
Week 4, 2022 season, Nate Hackett was sending a message to Mr. Fumbles…benched, no getting into the game like usual. The mood…the plan…was turning against Melvin Gordon, which is admitting there is a problem with him (the first step to recovery).
With 3+ minutes left to go until halftime, Gordon was let out of prison. Into the game, got the carry, got hit and the ball popped out…right into a Raiders defender's hands, who then ran it back for a long TD. Gordon, being held out/punished for fumbles, his first punishment under the new regime, and he gets his first chance in this game and fumbles leading to a defensive score, and in some ways costing them the game.
The next series, it was Mike Boone (3-20-0, 1-9-0/3) popping into spell Javonte a little…and then it was halftime.
Everything would change after the half. First carry for Denver, first play after the half…Javonte tears his ACL. Immediately, Boone enters the game…not Gordon. Boone reels off a few nice runs. We don't see Melvin Gordon for a while, when we do its with the Broncos backed up to their own goal line…Gordon takes a carry and almost gets tackled for a safety. Later, on the drive, Russell Wilson hits Gordon with a pass in-stride for a potential 3rd-down conversion…but Gordon botches it, clanks off his hands.
Back to Boone, but now Denver in 'deficit mode' and not really trying to run. Final minutes of desperation passes to move the ball, down 9, and Russ has everyone go deep then dumps it off to Boone with big space in front of him and Boone drops it. A few plays later, Boone is racing downfield, and Russ is desperate and fires it to an open Boone 15+ yards downfield that had 'big play' written all over it…and Boone dropped it again.
On Monday, the Broncos signed Latavius Murray off the Saints practice squad. Why?
(a) RBs are dropping like flies so you need to add them in crisis, and Denver just lost their main RB.
(b) I don't know that the Broncos trust any of their existing RBs today after watching them fumble and drop passes like crazy.
My guess on what Denver will do going forward is that they'll do the typical/safe thing but may have to adjust to curveballs. Meaning…
Melvin Gordon will likely get the full lead treatment. You'll see them talk him up this week. He'll be carrying a football around the lunchroom and locker room, etc., to show he's serious about correcting the fumbles. Denver will see Melvin as their only hope right now…experienced, productive, and before the fumbles he was being pushed equal to Javonte. They almost have no choice but to push Gordon heavy. They believe in Gordon otherwise.
…but if Gordon fumbles on the 1st-series this week…all hell breaks loose. Fumbles are the worst thing that could ever happen to a head coach…worse than losing a game is fumbling. Fumbling and recovering it is OK. Fumbling it and losing it to the other team is an unpardonable sin. Gordon has committed that sin multiple times this season…and for a defensive score in this game, the worst or the worst-case scenarios of fumbling!!!
Murray was brought in just in case Gordon fumbles his way out of the league the next week or two…they had to prepare for it just in case. The Denver GM comes from Minnesota, and he has experience with Latavius Murray there. It was a panic move in a panic moment that needed panic reactions.
Mike Boone, also from the Denver GM's time in Minnesota is likely to be the #2 spelling Gordon…but Boone doesn't have the greatest, most reliable hands either. There's a reason he's barely played for two seasons so far, despite a hefty backup RB contract in 2021. Boone flashed some really good skills, but then he fumbles them away or drops them too.
The Denver RB situation is fluid. It is likely going to be a Week 5 plan of…heavy Gordon, with Boone spelling, and Murray trying to learn the plays. However, one more fumble from Gordon and then Boone will get his chance and Murray will get worked in. Murray is there to takeover for Gordon in the next week or two if he keeps fumbling…or to be a more solid running mate for Gordon if Boone butchers his chances.
Gordon has a chance to be 'the guy'.
If Gordon fumbles, then Boone will have a chance to prove himself.
If Gordon fumbles and Boone disappoints…Murray will become the de facto lead RB -- lead RB on a team that couldn't get Javonte or Gordon really going all that well.
I'd only be willing to bet Gordon is starting clean the first series Week 5. What happens after that is a great unknown, and up to Gordon. The Week 7-8-9 starter at RB for Denver…may not even be on the team right now.
 -- It's a cleaner read on the Raiders backfield…
As we projected to start the season, all-Josh Jacobs (28-144-2, 5-31-0/6) all the time because the organization doesn't care, he's on contract for this year only and then he's gone…and JJ is trying to impress for a new contract, it's a great situation for LV and JJ.
For three weeks Jacobs has done nothing FF-exciting at all, then he has this game and everyone is in love again. Jacobs represents the Fantasy RB in 2022…and the FF owner's mindsets one everything with RBs…
A week ago, owner's hated Jacobs and the way their RB group looked.
Today, everything is fine, Jacobs is great going forward, and their RB group looks decent.
Jacobs has 4 games played…four cards dealt…three crap games/cards and one ace. 25% win-rate, but the good just happened so now it will be true 100% of the time going forward, right? Ditto Rashaad Penny.
The best you can do with FF RBs this year…have 3-4 of them, and they don't have to be the top names, to play matchups and guessing games on all year as you work waivers for a Messiah RB at the right time…as every single NFL starting RB will be on IR at some point this season, I assume.
I challenge you to identify an RB who has played 4 games this season and who has had 3 or more really good+ game results. There's Nick Chubb, and…Saquon…and somehow Jamaal Williams. Everything else is hit-and-miss, more 'miss', or out/hurt.
 -- It's hard to unsee what Derek Carr (21-34 for 188 yards, 0 TD/0 INT) is doing every drop back now…he almost always decides what side of the field he is going to before the snap, and as he drops back his head/eyes are in a direction and he's either going to throw it short or long to that side...and throw it quickly to spare his bad O-Line.
Most of the time in this game he just favored where Davante was at and was going to throw it to him no matter what the coverage was. It looks so unpurposed, unimpressive. But he's a decent thrower so he can make some numbers against less-than-great defenses. Denver's pass defense is good, so Carr sucked for FF.
 -- Russell Wilson (17-25 for 237 yards, 2 TDs/0 INT, 4-29-1) looked better this week…but still not 100% clicking. I think between bad play calls/routes and very limited WRs/TEs and now sloppy RB drops…he can only do so much. Wilson looks very average out there these days. Gone is that electric playmaker. Arrived is a generic/solid QB2…with no ace RB to help/hide behind.
Russ's numbers may bump up ahead because they won't be able to run the ball/strike fear in the defense on the ground. His pass attempt volume may be boosted a bunch in the coming weeks.
 -- Last week, Derek Carr fully discovered Mack Hollins (3-33-0/5) is really good…and started leaning on him in the 2nd-half of the game. This week, Carr saw Davante Adams (9-101-0/13) pouting about that and decided to placate Adams with 13 mostly illogical targets, but Davante still caught his share of them…there is a very low connection/cohesion between these two -- Rodgers-Adams was special, because Rodgers is special…and Carr isn't close to Rodgers in talent.
Adams will have good numbers because Carr will throw there heavy as much as he can, but it will never be like it was with Rodgers.
Carr did remember that Hollins is excellent in the end zone, so he threw him two planned fades/alley oop type throws…one Hollins caught for a TD, a highlight reel catch, but Hollins landed one inch out of bounds on replay (and negated from the record by a penalty on the defense anyway). The other TD shot was double covered and thrown away. Carr also had Hollins racing open for a 50+ yard play but it was overthrown.
We nearly had 4-50-1 at a minimum from Hollins this week…and had chances at more, but not a big target week. When Hunter Renfrow returns it's more pressure on Hollins' targets. I think Hollins as a WR3 you can use all through the BYE weeks with strong hopes he at least gets a TD and/or hits a big play is on the table. He's not a lock weekly…but what WR is?
Hollins is getting good targeting…he's getting FF-scoring targeting, especially non-PPR. He's working for now. If you don't think you'll use him Week 5…note that he's on a bye Week 6, so…do you want to hold him through for 2-3 weeks not using him? He's not an absolute must-hold.
 -- Courtland Sutton (5-52-1/7) actually ran some interior routes this game…on the 1st-series for a couple good 10+ yard pitch & catches. Las Vegas adjusted and Sutton was fairly quiet the rest of the game, but he did get a good score at the end of the 1st-quarter.
This is working because Sutton is Russ's best and only real option.
I'm getting nervous as defenses figure this out…and as a gauntlet approaches…
Week 5 v. Stephon Gilmore
Week 6 v. J.C. Jackson
Week 7 v. Sauce Gardner
Sutton is getting the targets, so you have to keep running with it until it doesn't run…I guess.
Targets the last 3 weeks:
30 = Adams (16 catches, 159 yards, 2 TDs)
28 = Sutton (20 catches, 261 yards, 1 TD)
24 = Mack Hollins (16 catches, 257 yards, 1 TD)
 -- Some week this season, Denver will realize they have a built-in Tyreek-like (very poor man's) weapon in rookie WR Montrell Washington (1-4-0/1) and they will rotate him in out as a #3 WR for bubble screens and jet sweeps.
He's a deep roster stash/hold to see…it should dawn on offensive genius Nate Hackett in the next 1-5 weeks…and then people will start to be interested in Washington for FF purposes the following week, when they see the highlight reel way it will occur.
For now, the Broncos #3 WR is the guy I was sleeper projecting it would be…Kendall Hinton (2-39-0/3). He played 30 snaps in this game to K.J. Hamler's (1-55-0/1) 4 snaps played.
 -- The Denver-DST has had a good start to the season but got roughed up here a bit. Las Vegas ran for 212 yards total and scored 25 offensive points here…still they made it tough on the Raiders offense when they invaded Denver territory…thus, Carlson with 4/4 FGs.
Denver's pass defense has been really good…no QB with over 215 yards passing in any game this season and have only allowed 3 passing TDs so far this season.
They should be a decent DST start against Indy, if the Colts are going without Jonathan Taylor.  
 -- Josey Jewell (14 tackles, 1 TFL) was flying around the field making plays, or near plays all game. He's averaging 11.5 tackles, 1.5 TFLs in his two games back from minor injury this season. He's looking like an LB1 right now.
Snap Counts of Interest:
72 = Hollins
71 = Adams
49 = K Cole
67 = Jacobs
05 = Bolden
03 = Z White
50 = Sutton
47 = Jeudy
30 = Hinton
04 = Hamler
03 = M Washington
41 = Saubert
24 = Tomlinson
12 = Beck
01 = Albert O.