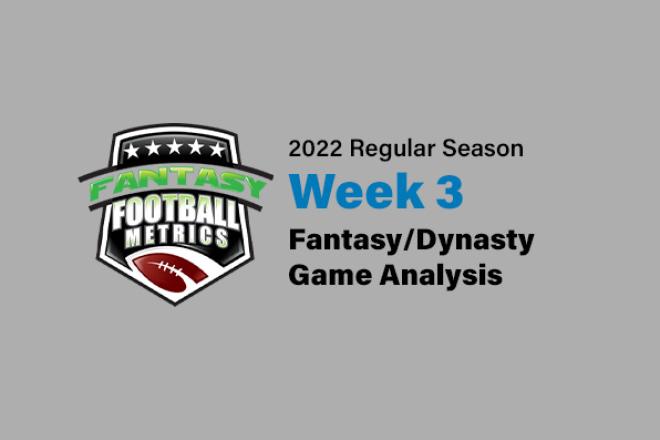 R.C. Fischer
Total Football Advisor
29 September 2022
2022 Week 3: Dolphins 21, Bills 19 (Dynasty/Fantasy Analysis Game Report)
I went into this rewatch to see how the Bills butchered this shoulda-been win. Probably was the banged-up Bills secondary that caused this, I assumed. 
I left the rewatch thinking…son of a B, the Dolphins might be for real…or they played a helluva one-time event game. 
I went in to the rewatch to reconfirm my love for Buffalo's unstoppable team. I left wondering if Miami isn't better. 
Let that breathe for a second. 
Because for that statement to be true there has to be one other big statement that needs to be made — It means that Tua might be 'good'. And we know that can't be true???
I don't know that being anti-Tua is wise anymore. And we'll explore that in the player note section. 
The Bills coulda won this late but Miami bowed up and shut them out with a goal line stand with under 2-minutes left. Then Miami did that risky butt punt move and gave it right back to Buffalo with another chance to win under a minute left and they just squashed the Bills offense again,
Miami won this game. Buffalo didn't lose it.
How much the secondary injuries and Miami heat played is a factor but also a factor — Miami played better/tougher which was a shock to me. Buffalo has been punching people in the mouth. Miami punched back and stunned the bully and put them in their place. 
Fantasy Player Notes…
  -- This was the best game I've seen Tua Tagovailoa (13-18 for 186 yards, 1 TD/0 INT). Maybe that hit to the head jarred something loose in him? Seriously, he was very good here.
Trevor Lawrence, a QB that I have mocked, I see him improving…but because he's in a protected offense…kinda like Tua has been the past few years, but Tua has caused that safe offense because he has looked like an idiot throwing the ball downfield in the NFL…great quick passes behind the line of scrimmage, not so good on 3rd & 7 from the pocket.
His Week 2 explosion against the Ravens seemed like more good fortune against a bad/wounded secondary…but it might have been before that explosion, when he was doing OK too, I didn't want to believe he was playing that well and just looked past it (because the 4th-quarter was so nuts)…maybe Week 2 was a sign of the turn -- because Week 3 has definitely showed me a turn.
For the first time ever, I watched/noticed fully Tua starting to throw medium and deep on point…even some second reads and a throw downfield, and in the face of an aggressive Buffalo defense. Yes, Buffalo was missing their secondary but that's not the whole thing here. Tua typically caves under pressure and throws with unsettled feet, flimsy-floating passes in tough spots downfield…and it was bad. Now, Tua is shaking off/ignoring the pass rush and stepping into/firing bullets 10+ yards downfield…like his best Alabama moments.
If Alabama Tua is arriving…Miami is a dangerous offense with these elite speedster WRs.
Now, I'm not cementing that everything is all clear on Tua. Week 1, he struggled on-and-off with the Patriots. Week 2, he struggled a little on-and-off for three quarters with the Ravens and then blew their doors off in the 4th-quarter. You don't throw 6 TD passes in a game because you're lucky…try as I might to think it to be true/totally lucky…to hope that my previous mockery takes are still intact. I am never afraid to turn on a dime when I see things changing…and I think things are changing with Tua…starting with this game as 'the turn'.
However, it was a limited event…only 18 passes, 13 completed…that's a half of football usually…it was 25-33% of Josh Allen's throws in the same game. It was a weird event. But within those throws…I saw the first signs of 'good' Tua. And with the WRs he has…this could be something decent/good now…not a joke.
Because the throwing/snaps were limited for Miami, Tua had weak FF numbers. He also had weak FF numbers Week 1 (270, 1/0). Then there's that pesky Week 2 that seems like an outlier. FF-teams snatched Tua after Week 2…then benched him, probably, against Buffalo and it was back to old Tua output (to them). If Tua has a low game vs. Cincy this week, because he's hurt, or Cincy plays well…Tua might start getting dropped again. I'm prepared to start taking a look where I need a #2 QB…or a #3 QB in Dynasty, cheap where others are giving up.
I'm not set in stone on it, and I am really interested to see him on TNF vs. CIN to get more tape/idea if this was just a 'moment'…but I'm not going to mock Tua anymore, for right now.
2022…
R.C. moves Lawrence to neutral no longer totally mocking.
Jaguars might be OK.
R.C. moves Tua to 'possibly good'.
R.C. speaks glowingly of DeVante Parker.
Greg Dortch and Mack Hollins are YTD PPR top 20 scorers.
Miami might be better than the Bills.
Someone quick check the temperature in Hades…or I might have COVID again.
 -- Devin Singletary (9-13-0, 9-78-1/11) is a PPR RB top 25 scorer YTD after a 9-catch event in this game. Is this real? Sadly, I don't think so.
First off…Buffalo played a double game here. 92 snaps (to Miami's 43) and Josh Allen threw 63 times, completing 42 passes -- it's double the passing of a normal game, so you could say the outputs in the passing game were all double.
Unless Buffalo is going to be down in games all year but having a 2-to-1 time of possession and running 2x the offensive plays and Allen throwing 63 times…this is probably a one-off for most of the receivers we don't normally see perked up so much having huge games.
Also, Buffalo really wants to get James Cook (1-3-0, 4-37-0/5) going as a pass game weapon…not a primary, just a couple play a game surprise. The problem is, Cook looks like a newborn baby giraffe combined with a deer caught in the headlights still -- he's slipping around and dropping passes and running scared…but he got more work here and started looking a bit more comfortable and they went with it for a bit to try to build his confidence for a series.
Singletary is still the guy, but the lack of rushing tallies scares me…and I can't trust this receiving tally is anything but a one-off.
 -- Chase Edmonds (6-21-2, 1-6-0/1) had 2 short TDs, but Raheem Mostert (8-11-0, 0-0-0/2) is still running as the starter…per se. Really, it's a true split/hot hand.
 -- I might have figured out the Dawson Knox (4-25-0/4) issue…
The Bills are starting to play FB Reggie Gilliam (2-22-0/3) a lot more…a lot more as a move/2nd TE.
And the are starting to play Quintin Morris (2-22-0/2), a sneaky good TE, a lot more too.
Neither of them will usurp Knox…they're just involved more, are an option more…and usually left uncovered more.
Snaps 2022 (Weeks 1-2-3)…
0-28-29 = Morris
19-18-20 = Gilliam
51-47-65 = Knox
Targets 2022 (Weeks 1-2-3)
2-5-4 = Knox
0-1-2 = Morris
0-3-3 = Gilliam
This new pressure from the depth chart Weeks 2-3 is going to knock Knox from a top 4-8 TE hopeful to a #8-14 projection…if he ever starts scoring TDs again.
We already felt Knox FF-pressure…now, I feel it worse.
 -- With double the passing output we saw a few spike performances…
Isaiah McKenzie (7-76-1/9) got a double game of stats…be careful reading too much into it, but he is in a great spot the next two weeks: Baltimore's #32 pass defense Week 5 and then non-slot WR covering Pittsburgh Week 6.
Gabe Davis (3-37-0/6) played 88 snaps/96% of the game…I guess he is healthy. But he looked very lazy out there. He runs routes with no energy. He just doesn't look like a star WR to me, never has. He's in a great spot Week 5 vs. Baltimore but I'm not sure he's gonna cash in -- the #2 WR on the Bills, the one everyone loved this preseason, played a game with 88 snaps where the great Josh Allen threw 63 times…and Davis had 3 catches? Stock down on Davis unless he has some injury aftereffects. He just looked lazy/sloppy to me (I was watching him close a bunch to see if it was some injury-based thing, but it didn't look like it…I was then shocked to see his half-hearted play)…but not shocked at his crap numbers -- they were earned.
 -- Lastly, if Buffalo…if Josh Allen had a double passing game, then how did Buffalo only score 19 points? There were some missed opportunities by Buffalo for sure…but, also, the Dolphins defense was terrific here. The same defense that got rolled by Lamar Week 2 but was great here…it might be a one time 'fire up' thing against a top opponent -- but they got my attention for sure.
After Joe Burrow this week…they get the Jets/ Cincy and NYJ are very sackable offenses…they might shine a bit Weeks 4-5.
Snap Counts of Interest:
24 = Mostert
19 = Edmonds
88 = G Davis
64 = Diggs
47 = McKenzie
45 = Crowder
65 = Knox
29 = Q Morris
20 = Gilliam
67 = Singletary
16 = Moss
11 = Cook