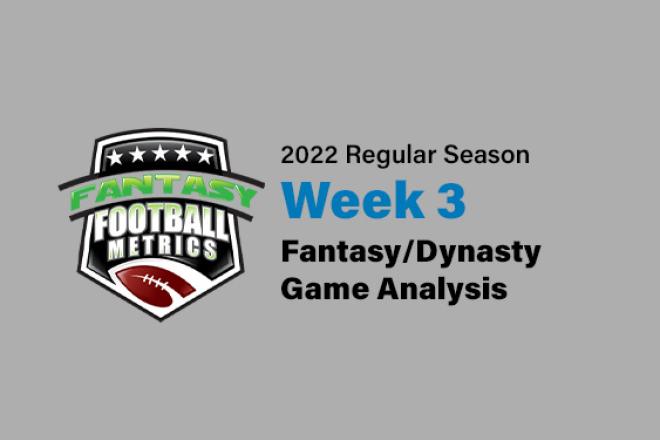 R.C. Fischer
Total Football Advisor
29 September 2022
2022 Week 3: Vikings 28, Lions 24 (Dynasty/Fantasy Analysis Game Report)
The Lions have a brand, actually they have two brands…
1) Gritty team with a tough as nails hard-nosed coach leading them.
2) Finds new, fresh, bizarre ways to lose games they should've won/had leads in every week.
The Lions came roaring (get it) out of the gates here…a quick 14-0 lead, 16+ minutes into the game, and that's after missing a field goal in their first drive. But, of course, it was 14-14 at the half.
But then the Lions pushed out to a 24-14 lead into the 4th-quarter, and they were the way more passionate, energized team…which is shocking for a game at Minnesota that the home team was flat and the road team was pushing them around. It actually looked like the Lions would win and takeover 1st-place in the NFC North!
Then the Lions gave up two TDs in the final 10 minutes of the game and found ways to blow chances to continue drives and eat clock to salt away the win. The Vikings sneak out with a win that probably didn't feel like one. They shoulda left this game, win or lose, thinking they are not as good/passionate as the Lions.
I know this, three weeks in…barring a QB injury, neither Detroit nor Minnesota is a threat to Green Bay this season.
Fantasy Player Notes…
  -- The big FF news from this game…the injury to Dalvin Cook. A dislocated shoulder, and he's played through one before and thrived…but it's also a touch-and-go situation for FF because he could play Week 4 and beyond, with the issue, but how many touches will he yield in-game to Alexander Mattison (7-28-1, 1-16-0-1) just to spare Cook a few hits? What if the Vikings get way up or down…you know Cook will then be sidelined, you'd think? Kevin O'Connell is a smart coach, so he above all won't have him taking unnecessary hits.
Touch and go for touches with a tough game with the Saints Week 4…but then a very winnable home game with CHI Week 5. Then at Miami Week 6 followed by a BYE. A big European trip this week…then a turnaround and play Week 5.
My 2-cent guess is Cook doesn't play Week 4. And then they'll see where he is at for Week 5, but probably inactive there too and then see where they are at Week 6. It's so early in the season to be pushing key players through something like this. They could try and get to the Week 7 BYE. We'll see.
NEVER AGAIN…with high pick redraft RBs.
Mattison looks like a 75% Cook…similar-ish styles but Mattison much less juice/effectiveness -- but good enough to be good for FF. The Saints haven't been great against the run this year, so if Mattison has a clean start -- he's an RB1 threat.
Ty Chandler/Kene Nwangwu would likely see some touches/play time too.
 -- What should be the bigger news about backfields from this game, came from the Lions' side of things…
It is kinda be remembered as…D'Andre Swift (7-31-0, 3-15-0/4) was not 100% going into this game, he tried to give it a-go and aggravated his issue and now needs to take time away. But that's not really what/all that I saw…
Rewind back to something I've thrown out there in passing the past couple weeks, I think I mentioned it on Video Q&A and maybe touched on in a game report…and just a throwaway thought…I wondered if the Lions were getting frustrated with Swift's constant injuries and non-aggressive play (in Dan Campbell's terms)…only bolstered by the way they showed us on HBO's Hard Knocks them berating/coaching up Swift about his play, intimating that he was soft and needed to learn to play through pain and to take runs to the middle and not always try to run outside.
So, with that backdrop…Swift had a nagging foot issue going into this game. He had played the week prior with more limited touches than usual but looked fine/fast.
Swift started, was in for three plays, got the ball once, and then on the 4th play of the drive Craig Reynolds (6-13-0, 1-5-0/1) came in…wait…what? That's usually Jamaal Williams (20-87-2, 2-20-0/2) in next? It was Swift, some Reynolds, then Swift on drive #1.
Drive #2: Williams started, caught a pass, came out for Reynolds…then went back to Williams to finish out the (scoring) drive.
From there it started to become a heavy Williams event with Swift and Reynolds mixed in until Swift was hobbling and then it was heavy Williams to try and close it with some light Reynolds.
It looked like this trio-RBBC-rotational backfield was a new game plan of some sort…not a Swift protection event. If Swift was so hurt, he wouldn't have played, or he wouldn't have played as much prior to leaving the game in the 3rd-quarter. All game it was a rotation eventually favoring Williams then heavy Williams to close.
I could be seeing ghosts, but I don't like the vibe the Lions have about Swift. I think their constant berating pushed him out to play hurt and it got him more hurt -- which is troublesome, this early in the season…but is also in-line with what Detroit is worried about with Swift, and this only confirms their fears…even if the Lions coaches are just nuts.
In their heart of hearts, this too-ultra-testosterone group may be overplaying their hand…or they do 'know' something is not 'right' with Swift's toughness for the NFL. Whatever it is…I think it's a thing with them. I say this to note that Jamaal Williams is their dream…uber-tough, manically so, but not that talented -- so when they tried to 'win' the game late by going for a 4th & 1 in field goal range, they went with a basic off-tackle run and Williams got blown up because he looked like he was running in a vat of molasses…but the Lions see toughness not speed/burst when they look at players, and it burned them again…but know they ain't gonna change. Not good news for Swift, who is now out for at least two weeks…but then comes back to what?
NEVER AGAIN with 1st-round pick redraft RBs.
 -- We know Amon-Ra St. Brown (6-73-0/9) is Jared Goff's (25-41 for 277 yards, 1 TD/1 INT) top target, but then who…
D.J. Chark (3-46-0/6) came out of the gates with two good-looking catches over the middle on the 1st-series, then the next catch into the 2nd-quarter…then none the rest of the game. That's how important DJC is to Goff right now. Three strikes (games), you're out…with me and DJC. I don't have time in normal redraft leagues to see if they ever develop a connection.
Meanwhile, Goff's friend from his L.A. days, Josh Reynolds (6-96-0/10) was a go-to as the game went on and as St. Brown got nicked up.
2.3 rec. (6.0 targets), 32.7 yards, 1 TD = Chark this season-to-date
3.3 rec. (5.3 targets), 54.0 yards, 1 TD = Reynolds
7.7 rec. (11.0 targets), 84.3 yards, 3 TDs = St. Brown
3.3 rec. (6.0 targets), 27.3 yards, 1 TD = Hockenson
Reynolds had 4 catches on 6 targets total in his first two games, then popped (or had a blip) against a bad Minnesota secondary in Week 3. He gets a flimsy Seattle secondary this week.
If Amon-Ra St. Brown is out Week 4, then it's Reynolds over Chark…in my mind. But both Reynolds and Chark have some injuries they're dealing with, so we'll see if Kalif Raymond (1-4-0/1) will be pushed into the action…and Goff likes him too. If St. Brown is limited all week and Reynolds starts logging 'FPs' then you'll see Reynolds rise in our rankings over the weekend.
Reynolds would be my choice for a #2 to ARSB…but it's not rock solid.
 -- And just to note about the Lions' WRs in this game, they routinely took turns burning Patrick Peterson. PP is now a liability and has been all season and was in 2020 and had some better moments in 2021. I think it's over, but no one will admit it early…and the Vikings can't just yet. Maybe he's secretly hurt, but whatever it is…it doesn't look good…it's juicy for your FF WR.
Start you're WRs facing Peterson, don't shy away.
 -- Justin Jefferson (3-14-0/6) was not halted by double-coverage. Sure, he got some safety over-the-top events…but mostly this was Jeff Okudah (3 tackles, 1 PD) playing another very good game in coverage…physical and effective. It forced Kirk Cousins, who almost always looks for Jefferson first to go to Thielen-Osborn in the 2nd-half more…reluctantly.
Two-and-a-half weaker games for Jefferson this season…blew up the Packers Week 1 for a half, then they manned-up on him and slowed him down. The great Eagles defense took him away when they wanted Week 2. Here, Okudah halted him.
Defenses may have figured out something + this is a new offense for JJ + he's faced teams with great CBs. Week 4 he likely gets Marcus Lattimore…we'll see if JJ snaps out of it or if this will officially be 'a concern'.
K.J. Osborn (5-73-1/8) had a nice FF-game output with a game winning (easy) TD…but he didn't look like anything special, just the guy not getting Jefferson-Thielen attention. Maybe it will work OK for FF like that, but it definitely didn't get my attention as a thing, a sweet alternative…it was just an alternative. But these days the no-name 2nd/3rd WRs are starting to rise up as defenses throw everything at halting #1 WRs.
Snap Counts of Interest:
72 = Jefferson
70 = Thielen
54 = Osborn
01 = Reagor
44 = Cook
28 = Mattison
37 = Irv Smith
28 = Mundt
13 = Ellefson
35 = Jamaal W
32 = Swift
13 = C Reynolds