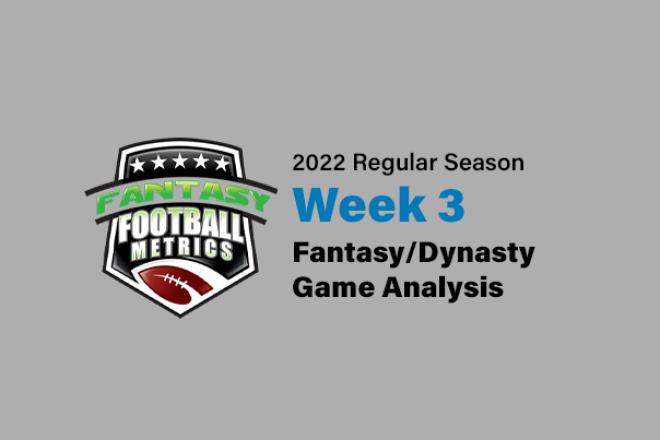 R.C. Fischer
Total Football Advisor
28 September 2022
2022 Week 3: Rams 20, Cardinals 12 (Dynasty/Fantasy Analysis Game Report)
What happened to the vaunted NFC West? The supposed 2021 best division in football has fallen off to dreadful in just one whole offseason.
The 49ers are in injury turmoil on offense. Seattle is purposefully tanking. And then there's the two teams in this game…
Arizona is 'out of it'. They are sleepwalking through games. They SO didn't deserve that Week 2 win against the Raiders. It was a pure miracle event, a series of miracles that they need to do a 30-for-30 of someday. Had the Cardinals lost that game, they'd be (0-3) and fans and analysts calling for Kingsbury's head and wanted to trade Kyler (which they should, they missed their window…no they're stuck).
The Rams are the best team in the NFC West by attrition…and they are not close to as good as PHI-GB-TB. The Rams were very beatable here, and Arizona at home coming off their shock, scattered comeback win Week 2 had the momentum to go in and take advantage to get an upset win here…and, well, they played like Kyler has all year except one quarter (Week 2, 4th-quarter) -- asleep, unconcerned, ready for the season to be over. So, the better coached, better organized team (Rams) just had the game handed to them with little effort.
Arizona is on the brink of collapse.
Fantasy Player Notes…
  -- I cannot figure out the Rams backfield. I know you think I'm crazy, but I think Darrell Henderson (4-17-0, 0-0-0/1) is their known/purposed starter and Cam Akers (12-61-1, 0-0-0/0) is a problem hanging on to relevance.
Akers out-carried DH 12-to-4 in this game, but before knowing that, after the live watch, if you asked me to guess the carries for the game, I would have said Henderson around 10+ and Akers 7-8.
Check this flow and you might see why I'm going down the road I'm going with Henderson…
1st-series = DH starts, takes all the snaps
2nd-series = DH starts for a few snaps, then Akers come in for a touch and is terrible, just an awful run/decision but then has another poor choice run right after and he's pulled for DH the rest of the series…and the Rams go down to score.
3rd-series = All Henderson, the Rams score
4th-series = All Henderson
5th-series = All Henderson
Halftime…a half in the books where Akers barely played and had -1 yards rushing. But Henderson was in a ton and barely saw the ball as the passing game ruled.
How? Why? What?
The Rams had an odd game situation here…just 48 offensive plays run for the game, compared to 83 for the Cardinals. The possession flow was weird.
They came out of halftime…
6th-series = Akers starting…his 2nd-play in he misses a block and gets Stafford killed because of it, and he's pulled for Henderson.
7th-series = Akers back in, he has some open lanes and runs straight through and they're finally able to run the ball and Akers is the one running straight and is hailed as a hero the whole drive…capped off by a short Akers TD run.
8th-series = Rams short field, they get close to the goal line…Akers is in because he's a hero, and he gets stuffed on his first attempt to score and then stuffed again but also fumbles it away at the goal line with 6+ minutes left to let Arizona get a chance to get back in the game.
Henderson in the rest of the miserable game that just kinda was Arizona running around in circles, not scoring, and ballgame.
The reason Akers isn't starting, and why Henderson has been in more/on more important moments is because Akers is failing as an RB. He's running scared, he's missing blocks. On many other teams, Akers would be benched and/or cut. On the Rams, McVay is trying to 'fix him'…I guess. It's costing the team with wasted touches and bad protection on an already protection-troubled O-Line.
What's McVay gonna do Week 4? Probably the same thing…start the better, capable, trustworthy Henderson for a bit then push all Akers as a science project/puzzle to solve. I think, eventually, the Rams are going to have to go forward with what's working and not messing up constantly…but this is the NFL, where the coach clings to narratives and feelings…and are allergic to success they didn't author/want to happen.
So, that's why I've been into Henderson as a 'buy low' ultra-cheap is he has the stats/touches of an RB5 the past two games but is working with the look/prominence of an RB2 with the guy he's splitting time with who couldn't F-up things more if he tried every week…but he gets a thousand chances and Mr. Reliable (henderson) gets shafted once again by McVay.
Play it as you want but I think Henderson has a clear shot of taking things over/Akers playing his way out of McVay's/the team's heart…and Henderson is available on waivers/for almost nothing in a trade.
The Rams play the run stuffing 49ers two times in the next 5 weeks, plus a BYE -- if you have Akers, you simply must sell high ahead of this -- he's got issues abounding beyond the schedule about to smack him, if he plays that much. Henderson would only be a hold and pray during this…that they might force him to be the lead guy in real matchups, but how good can he do against that schedule with O-Line problems?
 -- Matt Stafford (18-25 for 249 yards, 0 TD/0 INT) has completed 70%+ of his passes in every game this season…whatever he is doing, he doesn't need to change it. He's playing more quick hitter, small ball because his O-Line is weak and they have no run game and Cooper Kupp is always open and it works, so why change it?
A very rough schedule ahead for any output spurts for Stafford. His schedule ahead is (pass defense rankings by yards allowed)…
Week 4 = SF, #1 pass D YTD
Week 5 = DAL #4
Week 6 = CAR #13
Week 7 = BYE
Week 8 = SF #1
Week 9 = TB #12 (and looks like top 3-5 with the eyeball test)
 -- Stafford is throwing everything he can to Cooper Kupp (4-46-0/6, 1-20-1), obviously…but Kupp needed a rushing TD to save his FF week. Arizona did a nice job on him. Byron Murphy is really good…but he wasn't on him as much as I thought.
So, who is Stafford's next favorite throw at WR after Kupp?
No one.
He has zero connection or on-field relationship with Allen Robinson (2-23-0/5). He almost seems loathed to throw it to ARob anymore. Robinson is not slowing or doing anything wrong, there's simply no connection and Kupp is always an option to be taken. ARob will have random weeks with a TD but he's gonna be the 3-45-0 guy a lot this year. He's frustrated and Stafford has little interest…especially after ARob butchered two goal line passes on the 1st-series of this game, leading to a field goal.
The Rams LOVE and are designing plays for Ben Skowronek (4-66-0/4). Skowronek is playing FB, H-back, WR and is their new favorite do-it-all player…and he's pretty good.
10 catches (13 targets), 107 yards = Skowronek YTD
7 catches (12 targets), 88 yards = A. Robinson YTD
As ARob dies off, Skowronek takes bites off his dying carcass…and Skowronek is not going away. He's playing 80%+ of the snaps all over the place.
Your Allen Robinson stock is in real trouble…there are several WRs on waivers (10-12 team leagues for sure) that are working WAY better than ARob, but it's hard to admit it and make a change. I would sell my ARob stock in a deal like ____/real player (whatever skill or value) FOR ____ thing you want but add ARob as a throw-in to try and get it done.
If they won't do like a (hypothetical) D.J. Moore for Curtis Samuel…make it DJM + ARob for Samuel, to get it done. Pivot now. Then grab a better-than-ARob WR off waivers.
Hell, Brandon Powell (3-27-0/3) is getting more purposeful run than ARob now.
ARob could turn into a decent producer at some point but it's weeks from now if it even happens. And he's not going to be a star, just be a WR2-3 like a thousand other guys. Cooper Kupp is always open and he's gonna get the ball...a lot.
 -- First series of this game for Arizona, first set of downs…they get into a 3rd & 2 from their own 33. They lineup to run their play, it's gonna be a pass play.
Most of the receivers and defenders are lined up to the left. To Kyler Murray's (37-58 for 314 yards, 0 TD/0 INT, 2-8-0) right is slowing/dying/never on the same page as him A.J. Green. Green is being covered one-on-one, up in his face, by none other than Jalen Ramsey.
Anyone in their right mind, at QB, would survey the situation and realize it's incredibly dumb to consider throwing to Green with such coverage, for any number of reasons the least of which is -- when Jalen Ramsey is playing a WR one-on-one…don't go there without any consideration of everything else.
So, of course, Kyler goes there…tries to half-heartedly flip a pass 5+ yards down the field…with AJG completely blanketed by Ramsey. When AJG turns around to try and make a miracle catch, Ramsey turns to see the wobbler floating in and just bats it away trying to catch it in the scrum. 4th-down and time to punt already.
This is the problem with Kyler's non-study of the situations and opposition.
On Sunday, Aaron Rodgers was staying away from his WRs being covered by Carlton Davis…Lazard at first, then when Davis went over to Doubs, Rodgers went to Lazard. It's not rocket science -- and Kyler is not a scientist of any kind.
Kyler is dying right in front of our eyes. He's well paid to just keep shooting from the hip and it's not working most of the game. He collects a lot of garbage time throws but his efficiency is going out the window. He's playing uninterested, I think. The whole situation is cratering. Maybe when DeAndre Hopkins returns, they can just play street ball…but Kyler doesn't even pretend to care about matchups, etc.
As I wrote about this summer…you needed to get away from well-paid Kyler…and it's playing out about as I expected. When the losses mount and the fans/media turn on him, Kyler will sink deeper into a hole and this thing will be really bad.
 -- With a lot of garbage time throws, comes the predicted heavy targeting to Kyler's BFF Marquise Brown (14-140-0/17). As the season swirls down the drain, as Kyler is denigrated in the media and by the fans -- what he will do is help get his BFF paid bit (heading into free agency) by over-targeting him…good for FF purposes, and his targeting will likely stay high even when DeAndre Hopkins is back. Keep riding this train…it's working as predicted.
Greg Dortch (9-80-0/10) is a very good WR…averaging 6.0 catches per game this season…having 9 catches here, which is two more catches than Allen Robinson has all season. Dortch will NOT keep working like this all season…he'll start to sag when Rondale Moore returns (this was all Rondale's opportunity lost) and then he'll probably get benched when DeAndre returns Week 7. PPR-use him while you can, the clock is ticking.
 -- Kingsbury is out talking this week about James Conner (13-39-0, 3-18-0/5) needing more touches…I think he will get them, and it will be good for PPR because he's become so reliable in the pass game.
Snap Counts of Interest:
79 = M Brown
67 = Dortch
32 = Isabella
28 = AJ Green
50 = Conner
22 = Eno
14 = Darrel W
48 = Kupp
44 = ARob
41 = Skowronek
06 = Br Powell
03 = Tutu
24 = Henderson
24 = Akers
I don't even know how 24-24 is even possible from this game.