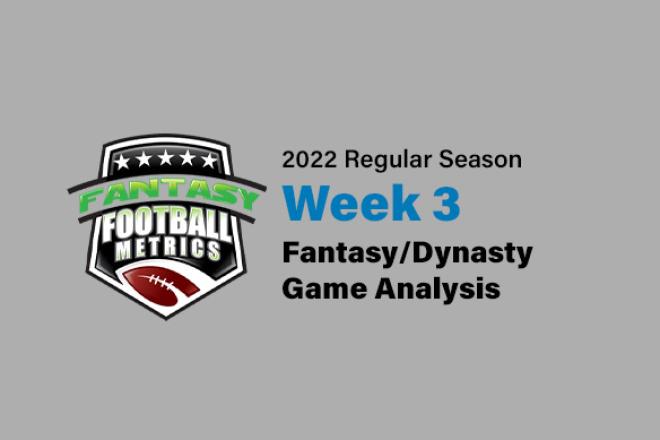 R.C. Fischer
Total Football Advisor
28 September 2022
2022 Week 3: Eagles 24, Commanders 8 (Dynasty/Fantasy Analysis Game Report)
Without a doubt, the Philadelphia Eagles are the best team in football…right now, and maybe will be all the way to the end.
Jalen Hurts is the league MVP today. The Eagles defense is the best defense I have seen since the 2019 Bears and/or Buddy Ryan's old Philly D's (except, for me, there will never be a D as good as Buddy's heyday Eagles' defense…even if there is, I won't admit. RIP Buddy). They have a top O-Line. I'm so proud and glad that I'm a Philly fan!
Kidding.
I'm a fan of no team except the one I've bet on that week. But I was an Eagles fan as a kid into a teen, so I will conveniently jump back on the bandwagon right now. Wow…is this team good right now. They led 24-0 at the half…coulda been 30+ to nothing at the half…coulda been 40+ to something by the end.
But it only wound up a 24-8 final score. The Eagles did not score in the 2nd-half. Stuffed at the goal line once in the 2nd-half. I didn't see any issues but it was a somewhat inefficient 2nd-half for their offense, but I say that to say: you need to give the Commanders a lot of credit here.
Washington got punched in the mouth and kicked in the groin right off the bat and they just kept fighting, knowing they couldn't hang…but they shut out the Eagles in the 2nd-half. They kept trying to get back into the game. They had a few moments, but Philly was just too good. This was by far the best loss of the week for any team. Washington +3.5 at Dallas this week…I'm taking it because Washington has more grit than full-of-themselves Dallas. And the media loves their Trevor Lawrence story, so I'm laying the -6.5 to them, and taking Philly.
Not a ton to discuss here because of the backdrop, the context is such an outlier -- every Eagles game write up can be short and unnecessary (about the opponents) because Washington won't play another team like this…until they meet Philly again later. And the Eagles are on cruise control. Washington was stuffed, but it's not a sign they totally suck…it's all that Philly is great right now.
Fantasy Player Notes…
  -- The first thing you have to talk about in an Eagles game recap is the Eagles-DST. It's so good right now, it's worth trading for. Week 4 they face the mainstream's vaunted juggernaut team, the Jacksonville Jaguars…so, the Eagles are consensus ranked NOT in the top 3-5 universally.
Blind to what is happening right in front of their eyes, thankfully, is the mainstream. And blindly trusting all the 'scouting' on Trevor Lawrence, scouting that they don't even know why they believe it, they just know they're supposed to.
This game opened up with the Eagles pressuring or sacking Wentz about every play -- and when the Commanders tried to run, it was halted right away.
Why is this defense so good?
Jordan Davis (2 tackles, 1 sack) and Javon Hargrave (2 tackles, 1 sack) on monsters at DT, a great duo opening things up for all the pass rushers and for Fletcher Cox (3 tackles, 1.5 sacks).
Darius Slay (1 tackle) is playing his best ball which has inspired James Bradberry (5 tackles, 1 PD) to play his best ball…a top CB duo right now. Marcus Epps (4 tackles) and the stolen from the dying Saints, C.J. Gardner-Johnson (5 tackles) are suddenly as good a safety duo as there is.
Good-to-great personnel with a great offense to support them, but the extra sauce of -- you can see they BELIEVE it. No defense is moving faster to the ball or tackling with extra emphasis like the Eagles. Not only is the defense on-point, but their schedule also really sets up nicely. You can start them the rest of the year except for (obviously) their BYE week.
 -- Re-noting, re-praising the Eagles defense sets up my next note: this was one of Carson Wentz's (25-43 for 211 yards, 0 TD/0 INT) best games I've ever seen him play.
Went was totally at the mercy of the Eagles D…9 sacks, 17 QB hits…but Wentz hung in the pocket as best he could, he escaped the pocket a few times to try and make plays. He threw no picks and most of his passes were on target despite being rushed and crushed most every drop back. If not for some drops, the Commanders may have made the Eagles sweat a little late.
I mention this because the absolute non-studied morons who get paid 6-7 figures to know this stuff on TV (but who know nothing) absolutely don't know, didn't see, don't have the detailed context understanding of what Wentz did here…instead, this stat line (all they really look at) helps feed them to chatter about a QB change. The media lives for talking about changing QBs anytime a team loses a game…in the situations where there are QBs they don't like, which are all the ones about 5-6+ years into the league that are not an elite top 5 QB and are thus old news…the ones that don't 'get clicks' for them. You get article clicks by feeding the stupid sheep called 'NFL fans' a non-stop buffet of QB complaint and delusional trade proposal articles. For Washington's situation, this means a week/s full of 'Sam Howell should start Week 4' takes are coming.
You know why most TV game announcers are incredibly dumb and annoying and not on top of things the way you/me are? You know why all the NFL commercials are so stupid and pandering and all about being a super fan and painting your face and having man caves religiously dedicated to 'your' team? Because that's what the NFL sees its fanbase as -- a bunch of low IQ, football worshiping, Twitter commenting dopes that they can easily feed garbage to and/or whip up into a frenzy to steal more money from them as they keep their massive viewership numbers.
You know why the NFL takes that route…why everything is so dumbed down or trash or nonsense? Because it works…it is their fans, by and large. You and me, those of us that get down into the weeds (sometimes we get too deep into the weeds on this thing we love) and are critically thinking -- we're outliers. We're not the NFL's typical fanbase profile. They don't cater coverage or commercials to us because they don't like us because we're not like their fawning, believe anything from an ex-player or ex-coach's mouth type of dimwitted fan.
How else do you explain an NFL Game Day panel with Steve Mariucci and Michael Irvin? The NFL chose them to be your Sunday morning analysts to convey info/drivel to you. It's not an accident. It's for THEIR fans. We're not their profile.
Sorry, I took a new (to me) supplement for brain boost/clarity today for the very first time and it's got me thinking about 50 things at once.
Where was I? Oh, Carson Wentz is playing good football on a bad team…he had 7 TD passes and back-to-back 300+ yard games in his first 2 games against now good teams, JAX and DET. He has a nice trio of WRs. They can't run the ball, so they have to pass. They have a weak defense, so they have to press the offense to score. But now Wentz is going to everyone's waivers this week because he didn't crush the greatest defense in my lifetime (hyperbole) the 2022 Week 2-3 Eagles.
The media hates Wentz (they used to love him), so everything he does bad is magnified and thus the FF rankings on him are low this week and he's on most league's waivers.
I'm not proposing Wentz is an FF-savior or elite…never have. I'm just saying -- he's having a helluva output season so far, and this terrible output game that everyone shoulda seen coming…it was technically his best performance of the year.
And to keep harping on this rookie crack addiction WE as outlier football fans have (one of our fatal flaws…rookie fetishes)…why are you (redraft) scheming more/thinking more about getting Kenny Pickett ahead of his dreamy, majestic takeover fantasy…when he wouldn't have close to the output Wentz did if he Pickett walked in and played JAX-DET-PHI in a row in a few weeks?
Wentz is some level of FF-hope when in good matchups on this team, this setup, this season.
 -- If Wentz really is solid, and maybe FF-better-than-solid because of his situation…then that's good news for his #1 WR, Curtis Samuel (3-22-0, 7-48-0/10).
All Samuel has done so far this season, is run as the #9 WR in PPR scoring per game (ahead of Justin Jefferson and Ja'Marr Chase, among many others)…but he's consensus ranked this week outside the top 30 among WRs. Why…because Samuel is not a cool rookie WR to daydream things about. He's just a boring 6th year veteran player who is one of the best 10 or so WRs in the NFL…and is now becoming that for FF….AND his QB is Carson Wentz! Eeewwwww, gross. People would rather hold onto Treylon Burks in redraft or hope Christian Watson becomes a thing, then redraft-believe in Samuel is a WR2, much less as a WR1.
Curtis Samuel is a legit WR1 available in trade as a WR2 to WR2.5 valuation because he didn't score a TD last week AND people just KNOW this won't hold up…it's Curtis Samuel, he's terrible, right?
The fastest path back to the FF-race. For those struggling out of the gates, is to buy into these 4-5-6 year veteran players that grinded and proved themselves, and have real experience in the game…we should start to try/believe in these low/no draft stock or undrafted things are working right in front of our faces (especially at WR)…and daydream less about grabbing the cool kids rookie hoping we're 3 weeks ahead of everyone on them becoming the next big thing. There will probably be one, maybe two, maybe no rookie that pops out of nowhere in 3-5 weeks or so -- but many of us, we need things working now!
Skyy Moore will not be as good as Curtis Samuel in 2022…I don't care if Moore does become a starter for KC soon…and I am excited/hopeful in Skyy -- but get off the rookie crack, I implore you. Give your crack to the other crack addicts and steal their unattended Curtis Samuel's and Russell Gage's and just freely grab Mack Hollins or Zay Jones or Greg Dortch whomever off waivers while the rest of society bypasses them to hold more rookies on their bench.
 -- Antonio Gibson (12-38-1, 1-2-0/1) is a mere few weeks away from sharing touches with and fighting for play time against Brian Robinson…a fight he will lose to BRob.
Your Gibson for their CSamuel? Done. In general. I don't know your specifics. If you got two other good RBs to start this week. You'll find more RBs as you go.
 -- J.D. McKissic's (3-8-0, 6-32-0/9) targets the last two weeks…7 and 9. I wish Chase Claypool or Rashod Bateman could get those kinds of targets…it's one less than Davante Adams had in the same two week/game period.
McKissic works in the context for PPR because Wentz is decent, and the situation demands a lot of passing. Brian Robinson is also a good pass catcher, but he will likely not be the hurry up offense guy like JDM is.
 -- I thought after Week 1's no catches on 4 targets game that DeVonta Smith (8-169-1/12) was just gonna be starved to death in a heavy run game and all-passing to A.J. Brown (5-85-1/10).
Nope.
Smith has become a star, somewhat because of extra focus on Brown by defenses…but Smith is really good, and Hurts is airing it out more than any QB this side of Jameis Winston. I projected the Eagles passing game to be conservative, and I was wrong…and I'm paying for it on missed-out-on players.
Remember when the entirety of the football media was trying to replace Hurts as the Eagles QB the past two years? THEY hope you forget…and still trust them on their next awful take. 99% of their 'fans' will. We're the 1%.
At least I got the Hurts scouting right -- from the jump, pre-NFL Draft…but he's even better than I thought he would be. Kudos to him, he's a great guy…and great QB. I wish I would have believed he'd deal out gold to his WRs in 2022.
 -- A couple IDP notes…
Kameron Curl (8 tackles, 1 TFL) is back from his broken hand and played almost the whole game…Darrick Forrest (4 tackles, 1 TFL) yielded the snaps to Curl. Curl is a top 10-12 IDP DB potential.
Jamin Davis (6 tackles, 2 sacks) got called out by the coaches, publicly, the last 2 weeks and Davis got snappy on Twitter about it (since deleted)…I thought this may lead to problems in playtime for Davis…but he played 79% of the game here, and registered 2.0 sacks…now, 3.0 sacks on 3 games this season.
Snap Counts of Interest:
41 = McKissic
34 = Gibson
41 = Sanders
22 = Gainwell
07 = B Scott