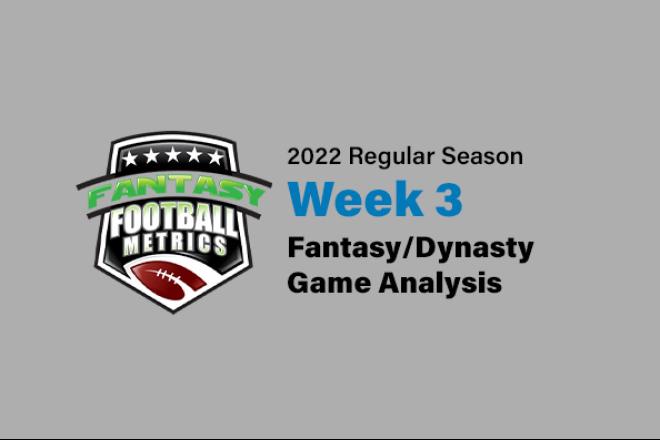 R.C. Fischer
Total Football Advisor
28 September 2022
2022 Week 3: Packers 14, Bucs 12 (Dynasty/Fantasy Analysis Game Report)
This was a game featuring two of the best teams in football with very good-to-great defenses and still-elite, Hall of Fame QBs going at it in a great 'heavyweight fight', and the better team won…but either team can win the NFC/Super Bowl. They might meet again down the road…with this win, it will probably be 'at Lambeau' in January. But Philly will have something to say about it, I suspect.
The mainstream sees this game as 'aging QBs with dull/wounded WRs played a low scoring game…so, they are boring…let's go talk about our favorite thing = the Jaguars and generational talent Trevor Lawrence'.
Because the media is not taking this game, these teams as seriously as they should…I think there's some Fantasy opportunity flying below the radar here about to emerge.
The first 15-25 minutes of the Tuesday Video Q&A Part Two was a video version of the GB-TB report, but I am still going to write one out…just using less words because I capture a lot of the vibe in the Video Q&A version (link to show to watch it/listen to it here): https://www.twitch.tv/videos/1603271341
Fantasy Player Notes…
  -- 2022 Tom Brady (31-42 for 271 yards, 1 TD/0 INT) looks like 2021 Brady, which looks like 2020 Brady…all of that a stretch (the TB unleashed years) where he has been as good/better looking than Brady's final 3-5 Patriot years (and Brady was still great then too).
I do not see any issues in Brady's 45+ year old play or arm or soon-to-be-single-dad mind…everything is good. He does have issues, but they are not Brady-based. He is missing all his top WRs. He has a bit of a work-in-progress O-Line due to injury issues.
Brady has not thrown for over 275 yards in any game so far this season and has exactly one TD pass in every game this season -- not Brady-like/not FF-exciting. But consider he has had a banged-up O-Line and beyond banged up or suspended WR group during the first 3 weeks PLUS he has faced the #4 (DAL), #5 (NO), #7 (GB) pass defenses (by yards allowed). In terms of TD passes allowed it's the #4, #7, #8 stingiest group.
Facing a gauntlet right off the bat and having his O-Line and WR group jumbled up…Brady is (2-1) and had a chance at (3-0) with a 65% Comp. Pct. and just one pick…and about a thousand drops by backup WRs forced to start.
The media, the fans are starting to write him off for any number of reasons -- age, marriage issues. All because he isn't tickling their ___ with gaudy FF-numbers. I'm telling you that he looks absolutely fine and when the schedule eases PLUS he gets his WRs back -- it's gonna be 'on'.
Brady is a fantastic buy low right now to turn your fledgling redraft season around…or help your Dynasty team for 2022. Go get Brady…trade Wilson, Dak, Stafford, Trevor, Tua types sideways to just swap names or add some sweetener if needed, especially in 6pts pass TD leagues. If his current owner is giving up, and just assume they are, don't buy any of their talk otherwise -- you can steal Brady right now before the turn.
His next five games are vs. the #15, #27, #22, #13, #32 pass defenses currently (pass yards allowed).
 -- Also looking great is Aaron Rodgers (27-35 for 255 yards, 2 TD/1 INT). He is playing the position at another level…with young, unsettled WRs and no Davante Adams. I mean, Rodgers looks like the NFL passing game is child's play. He is putting passes on WRs from all different manners…clean pocket, muddy pocket, scrambling for his life, side arm, deep, short, middle…76%+ Comp. Pct. in both of his last two games with 4 TDs/1 INT.
And you have to think = he's only going to get better…as the WRs gain experience and time with Rodgers, and now with his two best OLs back for the first time together in over a year.
A great buy low, because he hasn't had THAT game…and because people don't respect his WR group, is a disrespect going into the season and still disrespected Aaron Rodgers.
 -- Who is the Packers #1 WR?
I don't know.
I give a long explanation on the Doubs v. Lazard issue on the video.
The short version is: I think it is Allen Lazard (4-45-1/6) but when Lazard draws tough coverage, then Romeo Doubs (8-73-1/8) might get a run, like he did here. Christian Watson may end up disrupting this further in the future. Sammy Watkins will see work.
But from what I've seen the last two games: My choice for best Packers WR for 2022 season or for Week 4 is still Lazard.
 -- The guy who looked like the best connection for Aaron Rodgers in this game was Robert Tonyan (6-37-0/7)…six catches on 7 targets is sweet for a TE these days, and Tonyan only played 58% of the snaps…because they are managing his snaps returning from injury/ACL. Tonyan's snap counts continue to rise…and now his output is too.
How impressive was 6 catches here for Tonyan? It ties his career high…he got 6 catches Week 4 of 2020, along with 3 TDs in that game, remember? That 2020 season, Tonyan caught 11 TD passes in 15 regular season games…then caught another TD pass in two playoff games.
He's a version of Dawson Knox…only, he might be better in that the Packers don't have a lot of established WRs around him, whereas Knox suddenly does.
 -- It was obvious who Brady preferred as a target this desperate Week 3 among his bizarre starting trio of Perriman-Miller-Gage.
As the game went on, Russell Gage (12-87-1/13) earned Brady's trust and had a big output game. More description of this in the video.
Will this keep up when Mike Evans returns? Probably not, but it won't be like Gage is doing nothing. As long as Chris Godwin is out, Gage can be a WR2-3 in PPR…with WR1 weeks if Brady starts flying high.
 -- Let's talk about these two DSTs…
The Packers-DST held Brady in check most of this game and had lost Jaire Alexander in the 1st-half. Granted, the Bucs were working with a weak WR group.
The Packers are #6 best in PPG allowed and in total yards allowed. This is a good overall defense with a great group of corners, and they have faced a not-gimme schedule with Brady-Cousins faced so far. They look good, but not great/awesome yet…I think they've not yet hit their full stride, but I see glimpses of it coming on each week.
Their schedule is great ahead: Hoyer, Dan Jones, Z. Wilson, Wentz the next four weeks. That's money.
The Bucs-DST eyeball test looks great and is operating very well…they shut down/shutout GB in the 2nd-half of this game, when they needed to try and give their offense a chance.
The Bucs defense is #4 in least yards allowed and is #1 in PPG allowed the…just 9.0 PPG allowed to Dak-Winston-Brady. Not too shabby. They look great and they were terrific here, especially in the 2nd-half.
The Bucs have KC this week, so they might get dropped in a few places…maybe…but then it's ATL-PIT-CAR after that, which will be hot DST plays. If the TB-DST gets dropped this week, you have to evaluate whether to grab them. It's a defense you can put out there every week…even against KC< I think…just not optimal.
Snap Counts of Interest:
59 = Fournette
06 = R White
52 = Sc Miller
52 = Gage
47 = Perriman
18 = Darden
09 = Beasley
56 = Lazard
55 = Doubs
25 = Cobb
13 = Winfree
39 = A Jones
33 = Dillon
36 = Tonyan
22 = M. Lewis
19 = Ty Davis
09 = Deguara