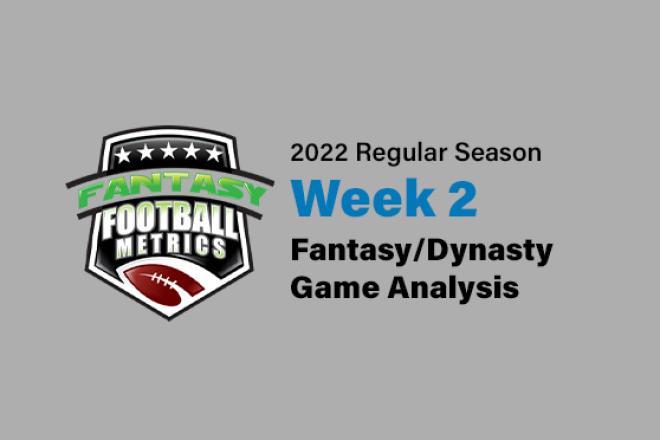 R.C. Fischer
Total Football Advisor
22 September 2022
2022 Week 2 Game Recap: Jets 31, Browns 30 (by Ross Jacobs)
Whew, what a game. I mean, it's still two bottom half of the league teams but at least it was fun and exciting to watch unlike, say, the Patriots, Steelers, Giants, and Panthers.
Both teams went back and forth for most of the game. The Browns would drive right down the field and score, then the Jets would answer, so on and so forth. It was 14-14 at the half and looked completely even. Third quarter comes and goes, more of the same, 17-17.
With about half the 4th quarter remaining the Browns go up 24-17 and look to be in control of the game. They get the Jets backed up, force a punt, and get the ball back with about two and a half minutes left with the ball on the Jets 40 yard line. Cleveland drives right down the field with New York unable to stop the obvious Chubb and Hunt runs. They are still fighting hard but the defense looks gassed. Chubb punches in the TD and it looks like game over with just under 2 minutes left.
But wait, Cleveland misses the extra point. No big deal right? They are still up 30-17. Should be fine.
The Jets get the ball and Cleveland is running an obvious prevent defense...except Greg Ward lets Corey Davis run right by him and Flacco finds Davis wide open for the easiest 66 yard TD ever. Suddenly it's 30-24 with 1:22 left.
The Jets clearly have to try an onside kick and look like they are going to the right but at the last second bend it back to the left and the Jets are just more aggressive than Cleveland and get the ball back.
Flacco dinks and dunks his way down the field and connects with Garrett Wilson for the go-ahead score. Cleveland gets the ball back with seconds left and Brissett throws a dumb pick straight into coverage to end it.
It was a wild finish and Cleveland is getting a lot of heat for blowing the game (rightly so) but that is masking the fact that until very late the Jets were playing equal or better than the Browns. Either the Browns are secretly not very good (everyone thinks they are a playoff team once Watson takes over, I'm not so sure) or the Jets are starting to put some pieces together. I think it might be a little of both.
The Jets in particular have shown me a little something for two weeks now. They aren't ready yet but I like where this team is headed. They finally have some talent building up and the team is playing hard for Robert Saleh. It's no Detroit just yet but they are headed in that same direction.
The Browns are living on borrowed time it seems. The schedule has been very forgiving so far but it's about to ramp up and I think Cleveland is going down in flames. By week 11 they are going to be desperate for Watson to come in and save their dying season but if he plays like he did in the preseason (and I think that's likely considering how long he's been away) then the fans are going to turn on them and Watson in particular. If this blows up in their faces (like everyone outside of Cleveland is hoping for) then heads are going to roll.
Fantasy Player Notes:
 – Don't have much to say on Cleveland. Brissett is game managing his way to ok performances so far against bad defenses but the better teams are coming and it's not going to be pretty. Brissett is fine when he's not being pressured and can hide behind his run game but once they start losing early and have to throw their way back in he's going to wilt.
Nick Chubb is as good a runner as there is in football. Everyone knows that by now. The only thing that can really stop him is not getting carries . So long as the game is close he's going to get his.
Kareem Hunt is obviously the best backup RB in the game and could start for more than half the teams in the league. He makes a great change of pace and finisher late in games to rotate with Chubb. Hunt is the better value play over Chubb when the game is competitive or the Browns are trailing because he is the pass catcher of the two. But when the Browns are favored and can just control the game and the clock, Chubb is the better play because of the volume he gets.
 – This is what I was worried about with Donovan Peoples-Jones. 1 target, no catches. He's a good player but Cooper is still the top dog and this is a low passing volume team with a bottom tier QB. He's just not usable with any consistency. I'd like to see what he could do on a better team. Unfortunately he's probably stuck with Cleveland until 2024.
Amari Cooper had himself a big game feasting on easy throws inside against linebackers watching the RBs. He's still an excellent receiver but you can't count on big games like this every week, not against better teams and not with Brissett at QB.
 – Sorry David Njoku truthers, the breakout isn't happening. Njoku is an ok player at this point in his career, nowhere close to what he was billed as coming out of college, but a solid player nonetheless, but this is still a Stefanski offense and he's going to split reps with Harrison Bryant. There's just not enough passing to take him to the next level.
 – The far more interesting team offensively though is the Jets. Yes, it's a bad Cleveland defense. Yes, they got lucky with the late bomb to Davis in a broken coverage. Yes, Flacco is still limited and the offensive line is bad...
But they have some real skill position talent for the first time in a long time and I'm getting a sneaking suspicion that Zach Wilson is going to look a heck of a lot better with actual receivers to throw to this year. The offense isn't ready for liftoff just yet but I think we're going to see some promising moments later this year and 2023 could be exciting.
The biggest reason for my optimism...rookie WR Garrett Wilson is the new top dog already. He's not playing the most snaps or even starting in 2WR sets but when he's on the field they are looking for him every time.
I wasn't a huge Wilson fan during the draft and I'm still fighting my skepticism but he is just constantly open. He was working inside this game like a tiny Justin Jefferson, not an overwhelming athlete but just a technician as a route runner and when you match him up on safeties and linebackers it's even easier. That's where the game is right now. All the top fantasy receivers are working inside against lesser coverage. It doesn't matter that Kupp isn't as talented overall as Davante, Chase, Diggs, etc...what matters for fantasy is that he can't be covered the way he's being utilized. Wilson is working that role for the Jets while Elijah Moore works against cover corners on the outside.
The team is screaming to us that he's their best player or at least the player they believe is their best.
Total targets through two games:
22 targets = Wilson
14 targets = Davis
12 targets = Moore
Inside the 20 yard line:
8 = Wilson
1 = Davis
1 = Moore
Inside the 10 yard line:
7 = Wilson
0 = Davis
0 = Moore
 – I like Elijah Moore, he's a really good player but it seems that he's going to be the complimentary piece, not Wilson the way we suspected. What I think of their talent doesn't matter. How they are used and viewed by the team is all we care about for fantasy and the Jets are sending a message loud and clear: Wilson is the WR to own, not Moore.
It's a bad week to buy into Wilson after his big game but I'm going to pray for a couple of duds over the next few weeks and try to buy into him cheaply after. Unfortunately he's still a rookie everyone is excited about and has a big game already so he's not going to come cheap. It's going to be a matter of deciding if he can produce enough in this offense moving forward to justify the price. I want to get a look at Zach before making that determination though.
Corey Davis is playing his best football ever but he's going to get phased out over the course of the year and possibly be released next offseason when his cap hit drops significantly. He's been nice for fantasy in both games now but if it weren't for the miracle long TD here he would have had a 1-17-0 line and would be on waivers right now. He might be anyways.
Braxton Berrios is cute and deserves a role but he's just not the weapon that Wilson and Moore are.
 – Tyler Conklin is actually second on the team with 16 targets through 2 games but most of it was in the last two minutes of the game as Flacco furiously dumped it off against a prevent defense. He's a decent player but not someone they are actively trying to get the ball to, just a random option that is occasionally useful with the defense chasing other players.
 – Once again we got a 50/50 split between Michael Carter and rookie Breece Hall in carries but Carter led 5 targets to 1 in the passing game. The difference? On the 7 carries each player took, Breece averaged 7 yards a pop while Carter only managed 3. It's just a matter of time before Breece takes over. He simply has another gear that Carter doesn't.
As long as Carter is healthy he's going to play and eat into Hall's touches (once Hall is the lead), especially in the passing game. I can see it coming already. Carter is just too talented to not play at all but he should be a 25-30% guy. In reality he'll be a 40-45% guy and it's going to drive Breece owners mad.
That's somewhere down the road though. Right now this is a complete split unless one guy gets hurt. If that happens the other instantly becomes a RB1.5.
IDP Notes:
 – He didn't have to go up against Cooper much but Ahmad Gardner is still shutting down most everything in his direction. I expect he'll have a few moments getting beat later in the season, he's not perfect yet, but he's absolutely going to be a lockdown corner for a long time. He stays on one side of the field and doesn't shadow the top receiver though so you don't have to worry about him blanketing your top receiver in fantasy.
 – Did I mention last week that Grant Delpit sucks? Because he does. Both weeks now I've seen him get isolated in coverage late in games and get totally destroyed. You want to know why Cleveland's pass defense is getting rocked by weak passing games despite their very good corners? It's in large part because of Delpit. Good TEs and slot receivers are going to continue to tear up Cleveland until they do something to shore up this weakness.
Snap Counts on Interest:
61 = Moore
55 = Davis
43 = Wilson
43 = Carter
19 = Hall
70 = Conklin
54 = Cooper
52 = DPJ
20 = Bell
12 = Schwartz
36 = Chubb
31 = Hunt
63 = Njoku
31 = Bryant