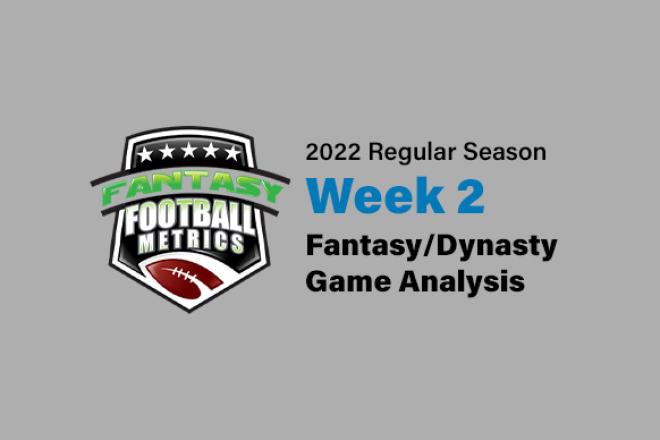 R.C. Fischer
Total Football Advisor
20 September 2022
2022 Week 2: Broncos 16, Texans 9 (Dynasty/Fantasy Analysis Game Report)
I selected this game as the first one of the Sunday games to review. I thought it would be interesting to see Denver's follow up to their Week 1 disaster and FF-impactful to watch.
After rewatching it, I wish I didn't select this first…it was as dull a game as there was this week, I'm sure. Denver is still inexplicably dumb…poorly run and terrible. Denver butchered clock management again…one of their delay-of-game penalties taking them out of FG range at a critical time/in a tight game. They also set up for a punt return situation…without a punt returner on the field. On a critical, later game 3rd-and-1, Denver ran an option play with TE Andrew Beck handling the ball…shocker, he got tackled for a loss.
It looks like Nathaniel Hackett will be a one-and-done head coach…possibly a fired-before-the-end-of-the-season-and-done, it's so bad…a different version of Urban Meyer. It's really bad…as bad as I wrote about last week. Worse.
The coaching is so bad that it makes you question the sanity of the GM…then if you combine the acquisition/downfall of Russell Wilson on top of that, a thought-to-be very good Denver GM is about to lose all his credibility from this mess. A month ago, Denver fans were dreaming of a possible AFC West title and potential Super Bowl run. Now, they are staring at years of car wreck with more coaching changes, a not-fully-engaged QB, and several lost draft picks to help with any rebuild (to acquire Russ).
All the Denver disaster activity overshadows the bad decision by the Texans to hire Lovie Smith. This Texans team has little energy on offense and there are little 'bad' decisions each game that snatch defeat from the jaws of wins for two weeks running…and we'll discuss some of them in a moment.
Fantasy Player Notes…
  -- Russell Wilson (14-31 for 219 yards, 1 TD/1 INT, 2-3-0) played his debut home opener in Denver…and responded with a 45% completion percentage, more mismanaged clock events, and the fans raining down boos.
I never imagined this would turn out to be such a disaster.
I also would've thought Russell Wilson would step up in crisis, takeover the team from the coach and be a coach/motivator on the field…but he looks completely out of it/could not really care less/is not taking control…he's just smiling his way through it all -- and that's the part that makes me nervous that he's not going to fully pull up out of this tailspin. He doesn't want it bad enough anymore…or so it appears. He has a great life out of football and just got paid a mega deal for a few more years…his final deal, his final years in the NFL. He's done it all, pretty much…won a Super Bowl…married a celebrity…he has nothing else to do besides get paid a lot of money for a good-not-great, not 'burning' desire -- just my attempts to read into his mindset.
When the media, the Broncos fans, and his teammates turn on him here -- he will happily leave after the 2024 season, when they pay him the remainder of his guaranteed money at age 37, where he can go off and lead the life Tom Brady refuses to.
Every time I see Wilson on the sidelines or in the locker room, he spends more time buddying up with and hugging the coach than he does taking control of this falling-apart-on-the-field team. I think his teammates see right through his quasi-phoniness. Before you pile on Russ…you suck up to your bosses for far less money…and you'd extra-suck up to be Wilson's shoes. I don't blame him.
It doesn't help Russ that the play calling is atrocious, the personnel usage is a joke, and his main WRs stink. I don't know of any of those factors will be fixed this season. Russ doesn't look bad or shot…it's just he's not a top 5-8-10-12 QB anymore…plus he's not fully engaged, plus he has a disaster surrounding him. It's all pressure that will take him to QB2-land this year.
Games with SF, at suddenly stout Las Vegas the next two games…then a break with Indy…then death at LAC Week 6. You can't use Russ with any confidence three of the next 4 weeks…your only hope is garbage time. It's a full-scale five-alarm fire on Russell Wilson right now. Get out while you can…while he still has a name…find waiver QBs to back him up who can take over, because they'll have to.
 -- Courtland Sutton (7-122-0/11) is not necessarily a must sell, but I would be looking to see how hot I could trade him. I think he's going to be OK as the only functioning WR on the team. However, he is not very good…as I have been saying for months…there's an issue with him and his lack of route running ability. He's a one-trick pony…go deep, tightly covered, hope for the best. He luckily got Lovie Smith to be a goof and stick Derek Stingley one-on-one on him -- and Sutton ate him alive because Stingley cannot cover anything but deep routes. So, Sutton actually did some interior work here and was open…but that's rare for Sutton. Stingley is a terrible interior cover corner…he only likes to go deep too. Sutton used it to his advantage.
Sutton won't have the fortune of having weak rookie corners on him most weeks and he has a gauntlet coming up -- SF/Ward, LV/Hobbs (who will consume him like he did Big Mike), then IND/Gilmore, then LAC/J.C. Jackson, then NYJ/Sauce.
 -- Why Houston went from a Rex Burkhead (2-9-0/3) led backfield in Week 1, after naming Dameon Pierce (15-69-0, 1-8-0/1) the starter…to Week 2 with almost all Dameon Pierce, I do not know…but it's easy to see Pierce is clearly better than Burkhead that you have to wonder what Lovie/Pep are thinking…but I've watched two games of the Texans in 2022, and I still have no idea what Lovie Smith is doing on anything. His disaster coaching job at Illinois in college for years was probably a 'tell'…but it eluded the desperate Texans studies.
That aside…Pierce looked really good/solid. He's gonna be a 1,000+ yard rusher this season. A solid RB2 with upside.
 -- Javonte Williams (15-75-0, 1-10-0/4) played 47 snaps to Melvin Gordon's (10-47-0, 1-6-0/1) 23…a 67/33 split…more like we predicted/hoped it would be.
It looked like Denver has some urgency about winning/not looking bad and HC Hackett went with a strong run game at Houston and wasn't messing around with the lesser-talented Gordon as much. The first smart thing Hackett has attempted this season.
I expect the elevated Javonte touches to continue. Week 1 was a blip, hopefully.
 -- Don't give up on Brandin Cooks (4-54-0/10). He looks fine. He dropped an easy TD, which led to Houston taking a field goal and really hurting the Texans win-chances here…and that's not normal for Cooks. He also caught a TD pass…but leaping up for the catch, he was pushed out of bounds.
 -- O.J. Howard (1-7-0/1) logged 18 snaps…third most among their TEs again. There is no emergence. Pharaoh Brown (3-24-0/5) is their clear starter.
 -- Speaking of TEs you can ignore…Albert O. (0-0-0/2) has been lost in this offense to the four-headed monster TE group here. Because Albert is not a slower, stiffer, traditional TE…he has no desire and no plan from the disaster head coach.
 -- Couple IDP notes…
Houston SAF Jonathan Owens (10 tackles) booked his 2nd 10+ tackle game in a row. He looks solid.
Derek Stingley (8 tackles, 2 PDs) was picked on all game because he was shadowing Courtland Sutton…which allowed Sutton to have his best game in eons…but also allowed Stingley to have to make tackles.
I think when they watch the tape they'll agree not to have Stingley shadow…but that's what a smart person would easily see, which means NFL D-Cs will DEFINITELY have him shadowing Darnell Mooney Week 3.
Kamu Grugier-Hill (5 tackles) played 99% of the snaps but only had 5 tackles, odd for him. KGH had a run of 8 games in-a-row with 6 or more tackles, averaging 10.6 tackles per game in that span.
Kaden Sterns (6 tackles) got the start for the injured Justin Simmons. He'll get a 4-game audition to see more playing time after Simmons returns. He looked Ok here. Didn't stand out.
Snap Counts of Interest…
66 = Sutton
55 = Hinton
31 = TY Cleveland
12 = M Washington
10 = Jeudy
47 = Javonte
23 = Gordon
38 = Albert O.
26 = Saubert
24 = Tomlinson
21 = Beck (the 'secret' offensive weapon)
39 = Pierce
23 = Rex
45 = Ph Brown
23 = Br Jordan
18 = OJH