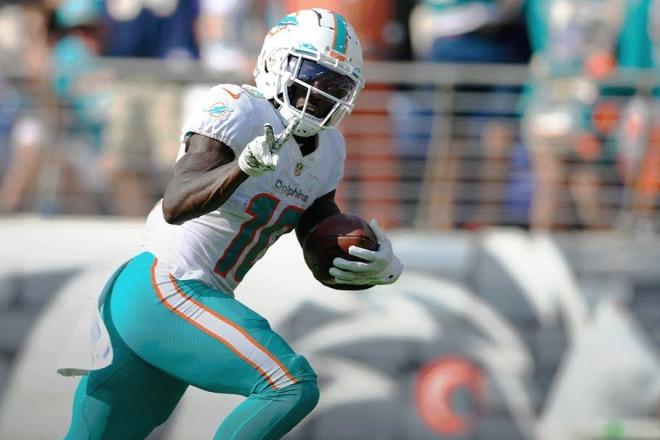 R.C. Fischer
Total Football Advisor
19 September 2022
2022 Fantasy/Dynasty Monday Executive Summary: Week 2
We still, oddly, have TWO MNF games to go this week…so, still many FF games in some flux. It doesn't look like a great week overview-wise. A lot of duds from guys like Kyle Pitts, D.J. Chark…and if you don't have Tyreek Hill then you didn't get the benefit of all his makeup work to carry the squad.
We're sitting at a 50% win-rate week…could be more 55%+ depending upon Allen-Knox-Henry-Hurts, could be under 50% if they most all flop and/or others go nuts that aren't as owned by FFM-at-large.
That's the general overview…not great, but not terrible and with hope our stars save some wins with nice performances tonight. The average FFM team will probably be (1-1) after this week, it looks like…with more (2-0) teams in our tracking than (0-2). An OK enough start.
However…
Something just doesn't feel right about this season's start, and I can't put my finger on it. These players…the way these teams are going…the injuries. Usually, I feel like I've got a good base of players with my FFM related teams and that there is nice opportunity all over waivers week-to-week. But so far, my base players have been more dying and flopping than not it seems…and waivers doesn't look that exciting yet.
It's a weird start to the season start. Best captured by the following tracking trend the likes of which I've never seen to this extreme divergence before…FFM Dynasty teams are on fire, maybe more than at any time we've tracked…winning bit, scoring like crazy. It's the redraft teams that are staggering along, by and large…and even if (1-1) or (0-2) these teams are not scoring hot like last year to make sense out of the direction things are headed, nor making it easy for me to say 'chill'.
Honestly, I'm never one to panic early on…but I'm starting to get a tiny bit concerned that I can't find my 'gems' yet. The divine intervention DST hasn't been found yet…for those in need (except our LAC DST plays are good-to-go from the start). Where I went with QBs later in the draft, something I usually never do…those QBs look dead (Brady, Stafford, Lance, et. al.) and I see no obtainable relief in sight. Most of my middle round redraft WRs are dying, where last year most of them exploded off the bat, and I haven't seen any real gem WRs to pivot to off waivers yet…unless I was able to grab Curtis Samuel.
Something doesn't feel right to me with redraft 2022 so far, and I don't think I'm alone. This redraft feels off, filled with a little too much regret after the fact…too much, "What I shoulda done…" thoughts creeping into my head...too much "Next year, I'm going to do ____ in the redraft." All of which I preach against, usually because it's fake news in your head and the situation is actually much better/fine…but this year, man…I don't know.
I type all that because I want to be real. We are playing this game for 14+ weeks together…for many we're together all calendar year for Dynasty, etc. I try to be the voice of reason…or the one to raise the alarm as needed, etc. I am not going to say everything is fine when it isn't…I want to be the Simon Cowell of Fantasy. I want to reflect reality. I want to discover greatness in a split second…I want to sense trouble instantly so I can pivot, and I want to be real with the anyone who asks my opinion.
Usually, I am unflappable to start an FF season…but I'm a little flapped right now. I think it's because I haven't found fixes that I like yet. Whatever it is…something doesn't feel right.
When I am still trying to find FF-answers early season, which is my job every year -- I have to remind myself 'it's OK', there's plenty of time and opportunity to come. I don't have to solve everything this week…especially if 'it' is not there/evident. We can win this thing in the end, no matter what it looks like now if we have a halfway decent base of a few players today (and a bunch of wobbly stragglers/worries around them). We just need to stay patient…'patient' in the sense that we know an (0-2) record or (1-2) or even (1-3) or (1-4) record is not a disaster/season ender. An (0-2) record today is one game out of the playoffs with 12+ weeks to go. Don't be ridiculous and ready to quit the season.
We can be 'not patient' when it comes to individual players. That's the game every week, player interpretation -- sit/start, buy low/sell high, waivers or not to waivers. But don't lose hope just because you start (0-2) or (1-2/0-3). It sucks but there's a million reasons out of your control that might have caused it -- and we're inching closer to the bye week part of the season, which is where we typically make our move…because we're just better at waivers, trades, and depth than our opponents…not better-than-average, but the best.
If you're (2-0) right now…this message means little, but if you've been with me for a while…you know of what I speak. You've been through the wars. If you're (1-1), and just lost this week…you might be feeling a little shaky because 'your RBs are killing you' and everything looks darker than sunnier, as it always does after a loss. It usually isn't as bad as you think. If you're (0-2), I've been doing this long enough to know…I have to get this message out to you because you wanna quit playing and wrap the season already…because we so love this game, we hate when it doesn't love us back.
So, this message is to the teams/owners feeling despair right now, and everyone is eventually gonna feel that despair at some point, so it's a good read for all:
We're playing a 16-17-18 week 'game'. Every week is a new deck of cards dealt in the game. Just when you think a week looks doomed…salvation comes through slick waivers grabs…or your opponent loses Michael Pittman late in the week or they started Trey Lance this week…or Tyreek Hill gets over his cramp and returns to the game in the 4th-quarter. 'Draft it and forget it' does not exist. Everyone hates their team almost all the season…unless they just won last week, then they like them for a few days and then half-hate them by Friday going into Sunday. After a loss, forget it…it's the worst team you've ever drafted.
Fantasy Football is a 14+ round boxing match that you absolutely cannot get knocked out in the first 4-5 rounds no matter how hard you get hit. The only way you get knocked out is if you take your own self out by being too critical or panicky/laying down on your own.
Everyone wants to redraft the perfect team and then sit back and light hundred-dollar bills on fire to light their expensive, celebratory cigars as they win every FF week by 50+ points. When has that ever happened to you in a Fantasy season? We have the same cycle every year…redraft a team, love it, have hope…and then the actual season starts and 1-3 weeks in we hate the team and/or worry about the team's future and sit around re-doing the redraft all differently in our heads all day. We do it every single year, and then are surprised when it happens again the current year.
I've been doing 'this' for over a decade, and 99% of FF owners I know are like this video) after a loss, or 2-3-4 weeks into a season. Why? Don't manage your FF teams with this mindset after every Sunday/Monday:  https://youtu.be/87w655s3xKc?t=38
Stop going back to the redraft to do a forensic audit of what you coulda done…everyone can do that. Most of your losses were wins on your bench anyway, so what does re-doing the draft have to do with that? We have to deal with the now…not the August/early Sept. redraft mental redo…you're gonna forget all the today proclamations about what you're gonna do next redraft by next year anyway, so stop daydreaming about what you shoulda done…focus on what we need to do now.
If your team has issues right now, from injuries to bizarre coaching/team decisions affecting the player, to bad matchups for your stud player, to maybe it really was a crappy redraft in general -- your job is not to whine about the past, your job is to assess what to do going forward. Buy-sell-hold? Sit or start…is it a good matchup or bad one? There's so much time to go in this race…there will be so many changes…so many regrets…so many just-missed opportunities but there will also be so many savior moments…so many great waivers dart throws…that killer trade at just the right time…the lucky coin-flip sit/start that won the week. Hang in the game…keep playing the game…don't knock your own self out so early. This game has only just begun.
Kyle Pitts looks like a complete turd right now…but what if he launches next week and turn the whole thing around? Did you know Mark Andrews averaged 4.0 catches for 39.5 yards and 0.0 TDs through two weeks of the 2021 season…and he did not score a TD until Week 5? He would go on to be the #1 TE for FF scoring in 2021. Pitts might not launch…but he might.
We got time. We got 'smarts'. Our opponents are gonna panic…they always do, which opens opportunity up to us…as it always does. We have a chance to wriggle are way out of trouble, if we're sensing trouble right now with ___ player/s. And there's always trouble -- that's the beauty of Fantasy Football. Something always needs tending to. It wouldn't be that fun otherwise.
If things are down right now with your team/s…buy yourself time. Just stay close to .500 up to Weeks 5-6-7. Buy me time to watch the tape…to find the players…to find the opportunities to pitch to you to consider. By Weeks 4-5-6 your team will look drastically different if it needs to.
Buy us time.
Keep playing the game. We got a week ahead of waivers and trades to consider to improve whatever things.
Everything could change after the Week 3 Sunday/Monday games.
The bell now rings on a new round in this fight for Week 3.
Ding. Ding.
==========================
Sunday game's 'Three Things'…
*This is my instant reaction from the live watch of all the games Sunday. I reserve the right to discover upon further tape review during the week that I was wrong about something off my initial reaction…but all I got is an initial scouting eye reaction on a Monday.
NYG-CAR
 -- Christian McCaffrey (15-102-0, 4-26-0/5) has 2 rushing TDs in his last 9 games in this Matt Rhule offense. This game is his first 100+ yard rushing game since mid-2019 season. He's averaging 4.0 catches per game in 2022, with Baker (which is disappointing for CMC).
I'm writing all this to wonder aloud: Is CMC as good as we think for FF? Good but no longer elite, maybe? And not because of him, but because of this offense/team/O-Line, organization?
 -- D.J. Moore (3-43-1/6) has exactly 3 catches for 43 yards on 6 targets in both games so far this season…not good. Got the TD here to save him for FF. This offense is pretty bad…and is suppressing Moore for yet another season.
 -- Kadarius Toney (2-0-0/3) barely played again. He dropped an easy pass that would have been a 1st-down conversion and had some room to rumble after…and then was pulled from the game. I want to hold on and hope he turns it around…but with NYG winning and Toney flopping his sparse chances -- there's no reason to believe the turn is coming anytime soon. He will start hitting waivers en masse this week. I can't make a case for why he wouldn't in 10-12 team traditional roster size FF leagues.
WSH-DET
 -- Jared Goff (20-34 for 256 yards, 4 TDs/0 INT) now has 6 TD passes and one pick on the season. He has a solid enough schedule the next 3 weeks and most of the season. He's moving into the 'useful' category with upside on good matchups. This is a good Detroit offense with a nice O-Line.
Goff's last 7 games = 17 TD passes and 3 picks. Why do they hate him so?
Carson Wentz (3-46 for 337 yards, 3 TDs/1 INT, 2-23-0) has 7 TD passes and two 300+ yard passing games so far this season.
To start FF 2022, we have Goff and Wentz as QB1s?
 -- I thought Detroit would put up points here, and they did…and I thought D.J. Chark (0-0-0/4) would be a nice piece of the puzzle…but he was not. He has to be seen as a random WR3 guy now. I was hoping he'd get a TD this week to go with his one last week and thus be able to trade him, potentially. All that died here. He has little/no value with people.
 -- There will be no bargains on Curtis Samuel (7-78-1/9, 1-21-0)…he had a great follow up to his Week. He is the main man in their offense…a legit WR1.
TB-NO
 -- If you have Tom Brady (18-34 for 190 yards, 1 TD/0 INT), and you're counting on a repeat high-flier from last season's led-the-league-in-pass-attempts type season…you may have got caught in the trap of the Brady decline.
Between the O-Line, the quasi-coaching change, the missing WRs, the off-field issues, and father time…it may be headed to a solid QB2 end. He pushed it, any of us for FF pushed it, perhaps one season too many…perhaps. It's always dangerous to bet against Brady. GB and KC the next two weeks won't be easy for him to fire back up.
Jared Goff looks way better than Brady right now.
 -- Taysom Hill (3-14-0) working so well Week 1 and the team needing a run game boost here, what did they do with Taysom…did they expand his package of plays? Nope. They scaled it back and let Jameis Winston throw 3 picks as they scored 10 points in a loss. This one-week hope with some future hope if he had popped this week…already runs out of hope.
 -- Chris Olave (5-80-0/13) led the Saints in targets in this game…that's not-nothing. It wasn't an efficient 13 targets, but he did get 5 catches and 80 yards from it…he may be rising as Landry-Thomas are more 'boring' targets for the airing-it-out Winston…just a side thought. It may just have been game flow and what the TB coverage 'allowed'/didn't focus on this game with coverage is tipping towards Thomas-Landry for obvious reasons -- which could continue ahead and gives Olave a little more FF-hope.
NYJ-CLE
 -- Wow…we will be slashing/marking down the Browns-DST from here on in…a total breakdown against one of the worst offenses in the league. They were so-so/OK vs. Carolina but then allowed a late long TD to ruin their FF efforts…and then couldn't really stop the Jets pass game, nor did they really try against the pass, AND once again allowed late game long TDs in inexplicable spots.
Two easy matchups ahead…but it doesn't matter, does it? PIT-ATL the next two weeks.
 -- Donovan Peoples-Jones (0-0-0/1) had no follow up from his 6 catch Week 1 game. But Amari Cooper (9-101-1/10) exploded in this game and established himself as a legit FF starter once again.
 -- I'm not sure Garrett Wilson (8-102-2/14) has arrived, despite the huge targets/output…this game got wild and fluky, and Cleveland wasn't covering anyone, rather just playing a soft zone and letting everything happen as the Jets desired and Wilson cashed in. I'll see what I see on the replay. But we can't ignore this targeting.
Corey Davis (2-83-1/4) was on his way to a 1-17-0/3 game until he was left completely alone in the Browns' prevent D late to try and secure their win…that they inexplicably lost. There's nothing but luck happening with Davis to start 2022…which was true last year as well, but it didn't hold up.
Joe Flacco has back-to-back 300+ yard games due to odd game flows with the Jets always down big and trying to throw back into them…and he and Davis hit gold this game, on one play, late.  
NE-PIT
 -- Well, we're one step closer to the end of the Mitch Trubisky (21-33 for 168 yards, 1 TD/1 INT) era. The Steelers losing, and Trubisky looking stiff again…and the Steelers ready to go with Kenny Pickett…there's no reason to waste a lot of time here, if you're Mike Tomlin, if you're trying to win games. If the Steelers lose to Cleveland on TNF Week 3…then it's over.
 -- The change to Pickett will help all the WRs for FF…especially Chase Claypool (4-26-0/6) because Pickett hangs in the pocket, reads the situation, and makes a lot of hay over the middle…where Trubisky is afraid to throw, even though it's there/a mismatch for Claypool almost every snap.
If you have Claypool, you can try to hang on if possible…waiting to see what Claypool + Pickett looks like.
 -- Another week, another Damien Harris (15-71-1, 2-16-0/3) out-touches, out-targets Rhamondre Stevenson (9-47-0, 1-4-0/2) game for New England. Stevenson is just an RB3 right now.
IND-JAX
 -- A lot of bluster about a split role backfield for the Jaguars going forward, after a strong lean towards James Robinson (23-94-1, 2-14-0/2) Week 1.
Well…
Week 2, JRob took 23 carries to Travis Eitienne's 9 carries. Etienne did get 3 targets to JRob's 2.
I don't think it's a split role…do you?
 -- We projected Ashton Dulin (5-79-0/7) to lead the way for Indy with Pittman-Pierce out…and that came true.
Dulin was the guy Ryan went at when he jumped into the game Week 1…and it held up here. This probably lasts as long as Pittman AND Pierce are out…unless he takes over for dying/dead Parris Campbell (0-0-0/2), which Dulin should…in which case you get him in the slot which is going to be pretty decent.
 -- One of the Dulin or Pittman or Pierce issues is: we are witnessing the on-field death of Matt Ryan (16-30 for 195 yards, 0 TDs/3 INTs). He's so jumpy/nervous, like many breaking down/older QBs that are well paid over a decade+ and now are just playing out their big contracts trying not to get hurt/killed. Last year and this summer, I said he looked like final-two-years Eli Manning…and that is coming true.
MIA-BAL
 -- Anyone still care to debate Tyreek Hill's (11-190-2/13) usage/effectiveness going from Mahomes to Tua? I credit Mike McDaniel, who I am growing to like -- he pushes his team to get the ball to its playmakers…which not all head coaches do, especially in Atlanta.
Tyreek is not only better off in Miami…he's up with the FF WR elites, when you think of them: Kupp-Chase-Davante-Jefferson-Tyreek.
Don't anyone say this week: "Well, I only won because of Tyreek!"…like it's a bad thing. This is why we got Tyreek!!! It was a plan not dumb luck.
 -- Rashod Bateman (4-108-1/7) is off to a great FF start but note…he's only averaging 3.0 catches on 6.0 targets per game so far this season -- not worthy targeting of a #1 WR, but he has a big TD in each game to be an FF-star.
Bateman is terrific, but I feared the early schedule of corners to face holding him back + Lamar…which has come mostly true, except they have popped two times to make it rain in Fantasy.
 -- A shocking turn: Raheem Mostert (11-51-0, 3-28-0/3) stole the lead RB role away from Chase Edmonds (5-33-0, 1-8-0/3). I don't think they intended for it to happen this game, but Mostert was on fire midgame, and they just went with it. Now, there's no turning back until Mostert gets hurt again…which is likely 'soon'.
ATL-LAR
 -- Cam Akers (15-44-0, 2-18-0/3) looked terrible again, but he got a lot of carries…15 of them compared to Darrell Henderson's (10-47-1) 10 carries. I believe this was a mirage -- the Rams got up so big, so fast they let Akers try to work out his issues with extra touches/time. In a real game, it's all about Henderson.
 -- Kyle Pitts (2-19-0/3) caught a pass early and then wouldn't catch one again for a couple of quarters. This is not working out as I had hoped…not even close.
What to do now?
There's only 2-4 TEs really working huge right now, so you might as well hold and hope with Pitts. Eventually, the media pressure will get to the coaches or Pitts' pressure will…or a QB change might help, but that might be several weeks away if it even happens.
Add a 2nd TE, if you can, to have options if this keeps dying every week…but you're kinda forced to stick by Pitts because if/when he pops, it will be huge.
 -- Allen Robinson (4-53-1/5) got his 'shut the media up' targets right away, but then once they felt that they checked that box in the 1st-series…ARob went back to being a ghost and Cooper Kupp (11-108-2/14) and Tyler Higbee (7-71-0/9) went back to being the #1-2 punches.
I try to sell ARob off this event.
SEA-SF
 -- We got zero Jordan Mason but did get plenty of nothing from Jeff Wilson (18-84-0, 2-19-0/2) and Tyrion Davis-Price (14-44-0). I don't think this Mason story is over yet, but I am shocked we saw absolutely none of Mason…it's not a good sign, but Wilson-TDP being so 'meh' I think keeps the door open.
 -- Seattle got down fast, against a top SF run defense, and just abandoned the run…so only 14 carries total for the Seahawks, and only 6 carries for Rashaad Penny (6-15-0). So, we have an excuse…but also a problem -- Seattle sucks so bad that there is not much offense to be seen ahead. Much better matchups ahead with ATL and DET for Seattle to go run heavy…if they don't then Penny is going to be an FF-fail.
 -- Trey Lance (2-3 for 30 yards, 3-13-0) was looking like he was off to a potential big game in a great matchup…and then he got his season ended. I'm not so sure we didn't just see Lance's last game in a 49ers uniform now. More on this in my game recap.
CIN-DAL
 -- The first game of the season/Week 1 was jarring to watch Joe Burrow (24-36 for 199 yards, 1 TD/0 INT) under assault every other drop back, but you wondered if it was the Steelers D…or a great game plan thing…or something fixable this week. No need to look for any more excuses, because Dallas came out and did pretty much the same thing to Burrow here.
Now, it's 'a thing'. Hard to put up numbers when you're always under assault, although Burrow usually finds a way…he didn't here. They almost won/they should've won despite their awful play, just like last week…but just like last week they lost late.
I don't even know how to project Burrow for Week 3 at the Jets. It should be favorable, but they squashed him last season.
 -- Ezekiel Elliott (15-53-0, 1-0-0/2) continues his career death spiral. He has not been above 70 yards rushing in a game in his last 15 games (including playoffs). They should turn to Tony Pollard (9-43-1, 4-55-0/7) but as long as Jerry Jones is protecting Zeke…it will be Zeke as the lead…and he is an RB2-3 without Dak, and maybe with him too.
 -- The bad O-Line is also affecting Joe Mixon (19-57-0, 3-26-0/4)…lower and lower yards per carry, lower yardage tallies. Two rushing TDs in his last 9 games (including playoffs). None so far in two games in 2022.  
HOU-DEN
 -- Dameon Pierce (15-69-0, 1-8-0/1) took 15 carries to Rex Burkhead's zero carries…a huge swing from Week 1. It's great and all…but then we remember that Pierce is working for the Texans, so being the lead back might be more RB2 than anything else. It's better now with Pierce, but the fact that he's not a magical unicorn in Houston will settle in, in about 2-3 weeks. He's good though.
 -- Russell Wilson (14-31 for 219 yards, 1 TD/1 INT) was a disaster again. This team looks hideous top-to-bottom, players and coaches. It's breathtaking how bad they are in plays and situations. For the second week in-a-row, I will say…if Russ is your QB for FF…you need to come up with another plan. This is not going to work for FF anytime soon for a variety of reasons you can read in my Week 1 report…and upcoming Week 2 report.
 -- O.J. Howard (1-7-0/1) came back to earth with a stat line that is more is typical. He's not going to breakout here…neither is Albert O. (0-0-0/2).
ARI-LV
 -- Kyler Murray (31-49 for 277 yards, 1 TD/1 INT, 5-28-1) was headed towards another disaster game at halftime, down 20-0 and looking awful. Then he got a little lucky and a little hot and helped lead a frantic comeback…but it still didn't look great. There are still major issues here.
 -- Credit the Arizona defense, who looked like their early season 2021 top selves in the 2nd-half here…holding Las Vegas to a field goal the final three quarters of this game…and holding Davante Adams (2-12-1/7) to one of his worst stat lines in recent memory.
 -- James Conner (7-25-0, 2-26-0/4) was doing OK in this game but got hurt and left, not to return. That eventually led Darrel Williams (8-59-1, 2-3-0/2) to a split with Eno Benjamin (8-31-0, 3-20-0/4), which is what it would be if Conner is out this week. If I had to pick one for FF to play in place of Conner…I'd go with Eno and pray. But Williams is the more experienced, stable option for Arizona…he won't just 'go away'…he may even be the proper choice; just not as good as when he was doing this with KC.
CHI-GB
 -- Allen Lazard (2-13-1/3) made his debut and looked good. He wasn't a go-to here because he was not 100%/he was coming in and out of the game with a slight limp…and because the Packers decided to go run heavy this win, so no WR really took a ton of targets. When I see Lazard logging 'full' practices, then I'll get more excited to go with him in an FF lineup. As it was, an encouraging start…I think more is coming when the team/QB knows he's 100%.
 -- Green Bay ran it at Chicago, and vice-versa…David Montgomery (15-122-0, 2-14-02) logged a solid game, but did get a lot of his numbers later in the game when it was getting out of hand a bit. Still, he's the guy and Khalil Herbert (4-38-0, 1-3-0/1) is just a relief back.
 -- Aaron Rodgers (19-25 for 234 yards, 2 TDs/0 INT) just logged his 4th game in a row with 225 yards or less passing. He has gone six straight games not throwing for over 300+ yards. His pass game starts are just winding down/efficient…as GB becomes more of a run game offense to work with their top 5 defense.
  ===== FIVE PLAYERS  =====
*** FIVE WAIVER PLAYERS TO TRUST***
*Looking at players owned less than 50% on average in leagues across the whole FF-landscape. Your league, obviously, may be different/deeper.
**Adding a school grade to show my interest level (A-F)…and I don't mean that a D-F grade is 'bad'/just showing how pressing/important to me, your situation may differ due to injury, etc..
***IF FAAB% mentioned at any time below is based on a 16-20 man roster league. And it's hard to predict the right bid % because every league, situation, and lineup needs are so different. So, doing the best I can to 'project' (i.e. 'guess') what they will be based on early chatter.
*Again, note…not a grade on talent…just how important/urgent/great the waiver move is in context.
1) WR Garrett Wilson, NYJ (Grade: B+)
If you're looking for WR help/relief, I'm wary of Wilson with Flacco and with Z. Wilson…but beggars-can't-be-choosers. If you need to start throwing darts at rookie WRs to see if you strike gold, Wilson is a decent dart to throw right now. Not available in sharkier or deeper roster leagues, but in general public leagues he's right around 50% owned going into this week's waivers.
If you're doing FAAB, because he's a high pick rookie his price will be sky high and cost prohibitive.
2) WR Sterling Shepard, NYG (Grade: B-/C+)
He's always been Daniel Jones's top target…and with Golladay-Toney dying and Wan'Dale a rookie, Shepard is going to shift into WR2 mode in PPR, as he does…and then probably get hurt in a week or three, as he does.
This is shaping up to be a media fave waiver option this week. I like him, I don't love him here. He's good, not a savior because he'll never go the whole season or month without some kinda injury. But he's a #1 for a team and he has been a WR1.5 PPR producer for stretches at a time with Dan Jones. 
3) RB Raheem Mostert, MIA (Grade: C)
If you need an RB warm body for a bit, it seems like Mostert stole the job Week 2…and ex-49er coaches love anything related to the 49ers' backfield (like Tevin Coleman too). For his part, Mostert looked good…he always does, but then he gets hurt and we're done with the loving.
Chase Edmonds will get his touches and Mostert is an extreme injury risk (from history), so you can only invest so much…but I think Mostert is the new lead back in a split right now. Good for non-PPR, not as much for PPR.
You have a good chance this burns you next week…or 3 weeks from now, but among RBs this week…he's the most logical.
4) QB Jared Goff, DET (Grade: C…for those who desperately need a QB, he's a B…for those wanting a nice #2 for emergency he's a C/C-/D+)
There are plenty of hot QBs right now, names you wouldn't expect…Tua, Wentz…and Goff. 6 TD passes so far in 2022 for JG. The reason I point out Goff is -- of the fake, hot QBs (Tua, Wentz) Goff is actually playing great/looks great…and has a top O-Line to work with. If you gotta buy QB relief right now, I'd chase the one they'll overlook in the mix -- Goff.
5) WR Jahan Dotson (Grade: D+)
He's the #3 WR for Washington…and that keeps him with limitations for FF. However, he has been getting good looks in a surprisingly high output offense. Washington has thrived off playing against two of the worst pass defenses in the league, but the schedule is about to change on them…so there is risk here.
But Dotson is a rookie, so when he does something it's 10x more exciting/valuable than when Greg Dortch does the same. Another good Dotson game, or just catching a TD next week gives him trade value if you need it…and he's a Curtis Samuel handcuff in a weird way.
6) WR Greg Dortch (Grade D+)
This is going to keep working well as long as Rondale and DeAndre stay out. When Rondale returns, Dortch takes a small hit. When DeAndre returns…Dortch is over.
7) WR Jakobi Meyers, NE (Grade: D)
Big Week 2. Yes, he's the Patriots/Mac Jones' typical top target…but it never really works out to anything great for FF. Decent PPR when he has 5-7 catches for 50 yards, but very rare that he strikes for a TD. He's a solid WR on a low volume passing game who took advantage of the Steelers troubles covering slot WRs. People will pile in on Meyers in desperation, and he is better than most on waivers this week…but he's limited/only has so much upside -- but he is 'something'.
-----------------------------------------------
***FIVE WAIVER PLAYERS TO DISTRUST***
1) RB Tyrion Davis-Price, SF
He got the opportunity ahead of Jordan Mason and had a 22-yard run like right off the bat and earned the trust…I guess. But 13 carries for 11 yards otherwise says TDP is still that 'not good' guy we scouted from the preseason.
TDP is not ready and not that talented, and Mason still looms from this weak output game from Davis-Price, but the media/analysts love him and his 3rd-round draft stock, so he'll be discussed glowingly all week. I'm not going into it.
2) RB Eno Benjamin/Darrel Williams, ARI
If James Conner is out for some time, it will likely be an Eno-Darrel hot hand split of some kind. It would be something for the RB desperate to throw a dart at but I don't think this is an obvious Eno opportunity or an obvious Williams takeover due to experience (this is not the KC opportunities he used to get/flourish a bit with).
3) RB Travis Homer, SEA
4 catches in Week 2…and he is the pass catching back for some reason, and Seattle will likely find themselves in hurry ups a lot this year but with Kenneth Walker returning it's going to be hard for any of the Seattle RBs to breakthrough to FF consistency.
4) WR Mack Hollins, LV
I started to put him on the list…then wrote the script…re-looked at his data…took him off, then put him back on.
I like Mack Hollins the player, but I can't seriously buy him getting 8 targets each week (like he had Week 2). Hollins had one target Week 1. I wish he would break out, he deserves it -- but Davante then Waller then Renfrow…then Hollins says it's a bad bet on erratic targeting.
But, on the other hand, Hollins could be that MVS spike scorer I've been looking for BYE weeks or DFS. Hollins is going to have a few big plays this year but is probably going to be starved out of targets in more games than not…leaving you playing a guessing game if you try to deploy him.
5) no strong enough fifth found
------------------------------
***FIVE BUY LOW PLAYERS***
*NOT 'Buy at any price'…it's Buy LOW. Try to find a deal. If none to be had, walk away. It's also NOT…go immediately ask the owner 'What do you want for ____', don't telegraph your desires.*
1) RB Darrell Henderson, LAR
Cam Akers got more touches than DHendo Week 2, so now everyone assumes Akers is 'back' -- but he isn't. He just got extra work in a blowout. Akers looks terrible, Henderson is the guy. A beautiful time to go make a deal as the current owners are led astray by the mainstream Akers-lovers.
Can you steal him for an RB2-2.5 price…as current owners panic that they lost their RB1 hopeful? In reality, this may be a cheap move that changes the course of FF for some owners/teams this season…this move right here/right now.
If McVay turns on you or Akers won't go away…or whatever…it won't cost much to see, I don't believe.
2) WR Davante Adams, LV
Just two catches for 12 yards in Week 2. Anytime a star player has a down game, doubt and panic creep into FF owner's minds. You don't think it's true? What kind of curses and proclamations were you making about how stupid it was to trust Tyreek Hill for FF in Miami, at halftime into the 3rd-quarter of the Miami game Week 2?
I'm not saying Davante owners are dumping…just saying the door opened that was closed/locked after Week 1. I want in on all the elite WRs I can get, you can have my pretender WRs or 'big name' RBs…if I can get your elite WRs in redraft.
3) WR Ja'Marr Chase, CIN
Ditto the Davante sentiments.
Only with Chase we have the Burrow getting sacked every few plays concerns. And it is a concern because if Burrow dies on the field from repeated blunt force trauma, the Chase's value get's cut. But if Cincy figures things out a bit/adjusts and Burrow stays alive…Chase is a top 1-2-3 FF asset. Current Chase owners may want to run from what they've seen of this offense.
4) WR Keenan Allen, LAC
Allen is the next tier BFF WR for an elite QB. You got Kupp-Davante-Chase-Jefferson-Tyreek…then Keenan is one of the next on the list with A.J. Brown, Stefon Diggs, and Mike Evans. Recently Injured…out of sight/outta mind, older WR…a good time to try to get a deal on a top-flight WR.
Can you try and steal him for a WR1.5 price? Do you want to run with an older #1 WR? Do you want the #1 WR with an elite QB?
5) TE Kyle Pitts, ATL
Dynasty Buy Low: In Dynasty, the price keeps falling…if you want in on a generation (blocking) TE then the window is open. One good game and it closes and gets nailed shut.
Will Pitts ever get targets commensurate with his talent? Probably. The media pressure…Pitts pressure from himself or his agent. Something will give eventually.
6) WR Skyy Moore, KC
Dynasty Buy Low: I think Moore will break out in KC at some point this season and be the perfect weapon for this new KC quick pass offense. You'd be getting in on the bottom floor pricing of it now...for Dynasty especially.
-------------------------
***FIVE SELL HIGH PLAYERS***
*NOT 'Sell at any price'…it's sell HIGH/sell good. Try to find someone in love with your player or seen as a neat value thrown into a multiplayer deal. If no one respects the player/buys right…then walk away.*
1) RB Cam Akers, LAR
The game circumstances got him more touches this week, like a practice game…you got a window to get out on two LA Rams this week -- this is one of them.
2) RB Tyrion Davis-Price, SF
2+ yards per carry for the game, 1+ yards per carry minus his one long run. As Ross stated in his reports last week…TDP runs straight until he's stopped. And he's stopped too often for a loss, and too easily. There is no 'he'll get better' story here. However, the media, and thus fans, loves the name and the draft stock -- sell it now! 
3) WR Mike Williams, LAC
A huge game on national internet TV. Take advantage to try and bag a big game name…Big Mike and ___ item for ______!! Can you use now-hot Big Mike to pair a ___ RB to get Davante or Ja'Marr?
4) WR Allen Robinson, LAR
Less enthusiasm, less national heat than Big Mike because it wasn't a game everyone watched (which actually helps), like Big Mike…but can you cash out on ARob for a WR2 name with upside just to escape ARob? You need to escape…you don't have time to see if this gels 3-6 weeks from now if you can move into something that works now and has upside too.
You'd be a genius if you could pull off a deal with Curtis Samuel for ARob at its base, or 1-for-1. I think it gets disguised better in a 2-for-2 type deal because current CSam owners think they found gold because it is actually working. However, current owners might be in a 'sell high to a sucker' mode because they know CSam will be a letdown and Jahan Dotson is the future, and the future is here now.
5) WR D.J. Moore, CAR
I have never been a big fan, but there was a blip of hope with DJM + Baker…but having seen two weeks of it, I'll just 'pass' and get into something else. I own zero shares, so it's not my war. He got a TD this week, so it gave his 'true believers' something to be excited about.
------------------------------
***FIVE DEEP SLEEPER WAIVER PICKUPS***
*Total flier/lowly owned or not-owned players
1) WR Skyy Moore, KC
Same script as last week with Skyy at #1: I'm going to make a bold call here…an early call. I think in 2 weeks or 4 weeks or 10 weeks or sometime in the future, in 2022, Skyy Moore is going to be the KC WR to own for FF. Mahomes + Moore…I'm starting to feel feelings…my Spidey Sense is tingling…it has been for a couple of weeks now back into the preseason.
Whatever you want to do with that info. You have time, I think…but once it happens…it's gonna be bonkers with people because 'rookie'. There's a window to trade for in Dynasty, because everyone else on KC flourished Week 1 and played way more than Skyy Week 2, who now seems lost as a backup. In redraft, he'll likely be on waivers after they run/people drop him this week…if not already on waivers. I'm not sure when this will turn…but I think it will turn.
2) RB Tyler Allgeier, ATL
As Atlanta falls out of the race for anything, it will be time to get ready for 2023…and develop the future lead back of the team and thus free up CPatt to be a WR/RB again…maybe. It's Arthur Smith, so probably the opposite of everything I just wrote.
But then all you got is the split lead back on a bad team.
3) TE Hayden Hurst, CIN
A tight end name to consider backing up Pitts with so you have someone getting targets. He's running near/with the top 5-7 among TEs in target this season…and he looks really good with Burrow. They are developing something if Burrow can not get sacked every play.
4) WR Ashton Dulin, IND
Dulin was the target leader with Pittman and Pierce out, so it makes sense to think he'll disappear when those guys return -- but I think there's another option to consider…Dulin as the slot replacing Parris Campbell ahead and being the #2 targets behind Pittman. I thought I saw that exact thing happening Week 1 with Pittman working…Dulin as a comfortable Ryan throw.
5) WR Noah Brown, DAL
Great FF numbers to start the season. Has a relationship with Cooper Rush from working with the 2s the past few years. With Michael Gallup out it really works…and it has some value when Gallup returns, because Brown will still start in the trio.
6) QB Kenny Pickett, PIT
If you're pinched for QB talent off your league's waiver wires but all the backups are out there, mostly -- I don't think it will be long before we see Pickett. Like as early as Week 4.
7) WR Mack Hollins, LV  
An FFM first (I think)…a player on the 'don't buy for waivers', but also on the 'sleeper' list the same week.
He's likely not going to work for PPR as well…or maybe at all because he's too erratic to guess when his big pop play comes, but he might work for non-PPR and DFS as a 2-70-1 WR every few weeks, you hope every other week, to make him worthwhile…useful in bye weeks?
---------------------------------
 -- FIVE…IT'S OK TO QUIT THEM PLAYERS (for REDRAFT) --
1) TE O.J. Howard, HOU
I warned not to go here after his two TD Week 1. He's just the #3 TE on a mediocre/weak passing game. You can't win here.
2) RB Kenyan Drake, BAL
Even with J.K. Dobbins out, Drake has sucked. Now that we're close to JKD coming back…Drake is a zero.
3) TE Albert O., DEN
I want nothing to do with this Denver offense and its 4-headed monster at TE, led by Andrew Beck (it seems).
4) WR Marquez Valdes-Scantling, KC
This may end up turning at some point, but KC is into this 19-man rotation on offense, so you don't need to wait for his pop game where he's on your bench. If you have better things to pursue…pursue them.
5) WR Kadarius Toney, NYG
I want to hold to see if he ever turns…because if he does, he'd be a WR1. But some of you have no roster time/space to be chasing butterflies. I don't see a turn imminent. When it happens, it will probably catch us all by surprise. Hold if you can, but if you want to move on…or need to, it's OK in redraft.
--------------------------------
***STREAMING DSTs OFF WAIVER(?) OPTIONS***--
Not much exciting to choose from on likely waivers this week…
1) Cowboys-DST
They have yet to give up 20 or more points in any game so far this season, and they face NYG and WSH the next two weeks. Everyone is going to chase them because 'Cowboys', so you may need to consider the alternatives as well.
2) Texans-DST
A decent defense, they held Denver and Indy in-check so far this season, and they have the Bears Week 3…it's a top 10 potential play this week.
3) Bears-DST
A deeper sleeper/'reach' DST play. I like the way this defense operates under Matt Eberflus. Getting beaten by Green Bay Week 2 isn't a crime. Things will, theoretically, be easier facing Houston Week 3 and NYG Week 4.
4) Dolphins-DST
Got rolled up on by Baltimore, but they aren't terrible…and they have CIN and NYJ the next two weeks, which have two of the worst O-Lines in the game right now.
5) Raiders-DST
I like a lot of what I see from this unit, they've just been hidden by facing Justin Herbert Week 1…and then dominating Arizona for 3 quarters before a 4th-quarter frantic miracle from Arizona…which is all anyone will remember.
If Tennessee struggles on offense again on MNF…then the Raiders catch at TEN Week 3 (which I don't love regardless but might be OK) followed by Week 4 hosting Denver is a week-ahead option.
If you can stash this DST, and if I am right about them, after their BYE Week 6, they face…
Mills, Winston, Trevor, Ryan, Russ, Geno…six weeks of usage coming up…if they are what I think they are.
-------------------
 -- Sleeper/lesser-name IDPs whose box scores or live watch caught my attention --
1) SAF Jonathan Owens, HOU
12.5 tackles per game playing 100% of the snaps…it looks like Week 1 was no fluke with a 10 tackle Week 2.
2) LB Frankie Luvu, CAR
10 tackles and 4 TFLs Week 2…along with a PD. He's becoming a standout on a bad Carolina team that's on defense a lot.
3) SAF Julian Love, NYG
Stood out to me last week/this week…8 tackles, 2 TFLs in Week 2. He's playing 100% of the snaps on a defense that has a favorable early schedule.
4) SAF Caden Sterns, DEN
Starting with Justin Simmons out…his first 2022 start, 6 tackles and 100% of the snaps played. If motivated, Sterns is a great safety.
5) CB Myles Bryant, NE
Last season, he started two games…and averaged 7.0 tackles per game. He was essentially a starter Week 2 this season and pulled down 8 tackles and a PD. He's also the team's primary punt returner. Someday he'll be bumped off by Marcus Jones…but Bryant is working for now.
Outtro…
Fantasy Football 2022 in a five-minute video: https://youtu.be/wM-lOVgoUqI Oh, we're wearing the USA trunks, just to be clear…