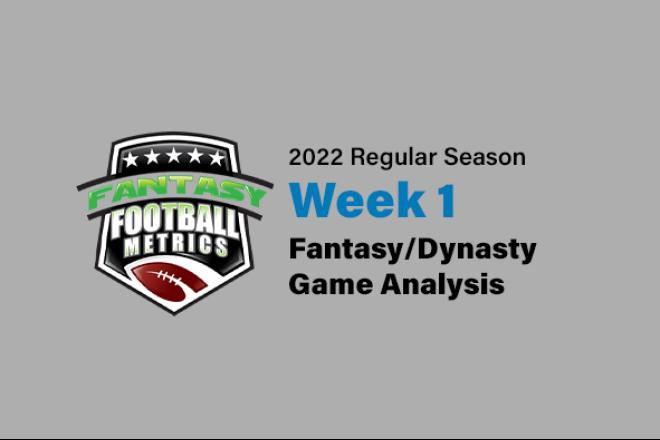 R.C. Fischer
Total Football Advisor
17 September 2022
2022 Week 1: Texans 20, Colts 20 (Dynasty/Fantasy Analysis Game Report)
Starting the 4th-quarter, the Texans led 20-3 and were outplaying/out-efforting the Colts and seemed on their way to a nice Week 1 victory. Then a string of bad luck mixed with late conservative play let the Colts right back in the game and it was anyone's to win late and into OT…but it ended in a tie.
These are both mediocre teams, which is an upgrade for Houston from public sentiment…and is going to get Frank Reich fired (as I've predicted all year) at the end of the year, or prior. Houston should've won, in the end either team could've won…the tie almost seems fitting.
Fantasy Player Notes…
  -- Matt Ryan (32-50 for 352 yards, 1 TD/1 INT) was OK-ish here. Good with great protection, which he got a fair share of…but jumpy with any hint of pressure and too many unforced errors on bobble snaps and misfires.
Michael Pittman (9-121-1/13) was Ryan's clear #1 and Pittman worked like a true WR1. Houston played a somewhat zone and Pittman ate it alive, and when rookie Derek Stingley tried to cover Pittman, he ate Stingley alive. Stingley is one of the most overrated top corners in years…all he wants to do is drift deep to make sure not to get beat deep, so Pittman just abused the soft cushion and soft zone in front of Stingley often.
 -- When Alec Pierce (0-0-0/2) got hurt halfway into the game, Ashton Dulin (3-46-0/6) came in and was CLEARLY Ryan's second look after Pittman. It was obvious.
Parris Campbell (3-37-0/4) was a ghost all game and Michael Strachan (2-36-0/2) looked good but got limited time.
Dulin is gonna be hopeful this week as it is, but if Pittman is out…Dulin will be Ryan's main look…I think, with Strachan…over Campbell. Not sure about Strachan, but sure about Dulin.
 -- Davis Mills (23-37 for 240 yards, 2 TDs/0 INT) is the better QB than Matt Ryan, at this stage of their careers. Mills has a terrific arm and is calm and cool in the pocket and usually makes the right throws. I almost wonder if Mills is going to be a Kirk Cousins-like rise to power… a QB no one believes in and then 10 years later we're like…'he was actually pretty good'.
…also, like Cousins, Mills spending half+ of his career being maligned by media and fans.
Mills is the best QB of the 2021 class, clearly, right now. Trey Lance could/will be in the end.
 -- Dameon Pierce (11-33-0, 1-6-0/1) looked like he belonged in this debut game, but old habits die hard as anti-offense Lovie Smith leaned on Rex Burkhead (14-40-0, 5-30-0/8) a lot and in one case it really cost them the game on a big 3rd & 2, Rex getting absolutely consumed trying to get that key first down…that had they got they might have won this game…but it got rocked because Rex is too slow to be a primary back. Relief back and pass game back, sure…Rex is nice to have…but he can't be your lead back in 2022.
Eventually Pierce will get the majority touches and be a nice RB2.
 -- Nyheim Hines (3-4-0, 6-50-0/6) was not a 'surprise' slot WR in this game. He was his usual RB self…they love Hines and he's gonna get 5+ targets a game whether it makes sense or not, so he'll be a PPR RB2-3 every week but rarely more than that.
 -- Kylen Granson (3-22-0/7) had the 2nd-most targets for the Colts in this game…and they were mostly garbage ones, a lot of late game everyone went deep so Ryan checked down to Granson a bunch just to move the ball unfettered in small chunks. And Granson, for his part, wasn't great with the targets. There's no story developing here.
 -- Nor is there any TE story developing with O.J. Howard (2-38-2/2). He played the least snaps of the Texans TE trio. He got lost in coverage (no one paying attention on his 2nd score) and Mills found it like a tracking device. It was fortuitous, not a sign of a breakout. The Texans will start Pharaoh Brown (1-17-0/1) and use Brevin Jordan (1-5-0/2) for some pass game work, and OJH will sprinkle in otherwise.
I wish this was an OJH breakout, but it isn't…yet…not sure it can ever be. OJH is old news.
 -- Nico Collins (2-26-0/3) was about as important to the Texans passing games as Parris Campbell was to the Colts. I saw nothing here to get excited about.
 -- The Texans-DST was promising here. It's a good young group that made some mistakes, but also came with good pressure on a very good Colts O-Line. They might be streamable in good matchups.
Kamu Grugier-Hill (18 tackles, 1 TFL) is a tackle machine…picking up where he left off last season, before he got hurt. If KGH starts every game this season, he will probably lead the NFL in tackles.
Snap Counts of Interest:
50 = Rex Burkhead
20 = Dameon Pierce
46 = Ph Brown
42 = Brevin J.
12 = OJ Howard
90 = Pittman
71 = Parris
47 = A Pierce
32 = Dulin
11 = Strachan
51 = Granson
50 = Alie-Cox
08 = Jelani Woods
‍