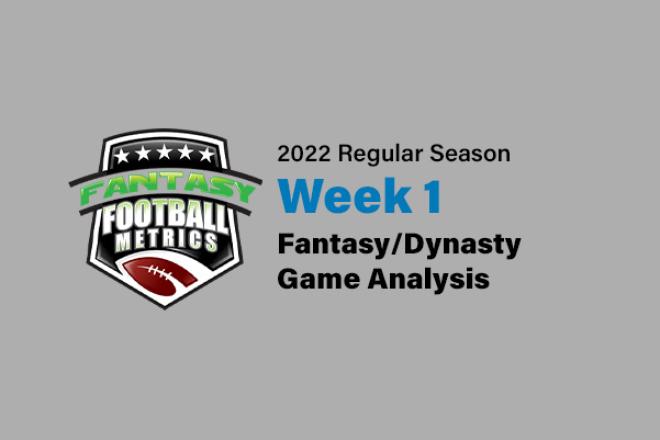 R.C. Fischer
Total Football Advisor
14 September 2022
2022 Week 1: Steelers 23, Bengals 20 OT (Dynasty/Fantasy Analysis Game Report)
What an entertaining game to watch as a fan of football. The last 3 minutes of this game and into a full OT event was as thrilling a watch as you can get. You gotta love the NFL…the best show on television with plot twists the best Hollywood writers could never come up with.
The better team lost the game. Credit Pittsburgh for attacking and sacking Joe Burrow often but note that the Steelers got 5 turnovers in the first 1.5 quarters to take a 17-3 lead, and an eventual 17-6 halftime lead -- and in the second half the Bengals scored 17 points while holding Pitt to just a field goal. Had the Bengals long snapper not gotten hurt and the replacement snapping the ball all over the place to force missed kicks by the best kicker in the game, despite the 5 turnovers, the Bengals would have won this game in regulation.
Peel away the advantages that come with 5 turnovers, and really the Bengals killed the Steelers here. Why? Because Joe Burrow is a wizard. More on him in a moment. And the Bengals are just better than the Steelers, who had all their flaws hidden by the turnovers/sacks distracting us from looking at all the other issues. But credit the Steelers…they earned this win, even though they should've lost it despite all the great defensive moments.
The Bengals are gonna be fine, despite their still lack of an O-Line…as long as Burrow is alive. The Steelers are going to potentially be decent this season, but they need to make a major change after this game…and we'll discuss that in a moment.
Fantasy Player Notes…
 -- Now is a good time to try and acquire Joe Burrow (33-53 for 338 yards, 2 TDs/4 INTs, 6-47-0)…after this 4 turnover, 7 sack event.
Why?
Because Joe Burrow is a wizard. The best pure QB talent in the NFL. Yes, he plays behind a bad O-Line. But he's so unbelievable that he makes numbers despite it. When Burrow has time, he's the best pure passing pocket QB in the NFL. The modern-day Tom Brady. He was really stunning in this game, amidst all the pressure/chaos.
I say all that because…he's likely on sale/discounted after 4 picks, 5 turnovers, 7 sacks and everyone scoffing at his O-Line/protection. All true things, but he's still pretty great within that. If the O-Line is ever even plausible, Burrow is going to go nuts with output.
Allen-Herbert-Mahomes are elite. Burrow is next in line…especially in 6pts/QB friendly scoring leagues. Everyone else is a mere pretender.
Matt Stafford was under assault too Week 1…but he didn't look anything like Burrow within it. That's what really stood out to me here…Burrow was under assault like Stafford was Week 1, but Burrow was a maestro dealing with it…Stafford was hurried/scared and had to resort to bubble screens to exist. Burrow just stayed himself and was gunning downfield…and also decided to run more to counteract the pass rush and ran for 47 yards.
It's a great time to buy Burrow in all formats, if you don't have Allen-Herbert-Mahomes…or Hurts in 4pts.
 -- Mitchell Trubisky (21-38 for 194 yards, 1 TD/0 INT) is not a wizard. He's a bottom 10 NFL starter…good backup…decent game manager but putting him into this offense with a weaker O-Line is going to be 'meh' when they play good defenses like Cincy.
Kenny Pickett is already better than Trubisky, and that's a compliment to Pickett…but also a mild knock on Trubisky, who I like better than most. Trubisky is not as smooth as the modern era young QBs. Maybe if he re-did his career and got better coaching…but that's irrelevant now. He's had a solid, winning NFL career. He's OK. He can hold down the fort. He can win games, but he did nothing here in this game that told me he's going to any other level.
I think with this win, Pittsburgh is feeling the opportunity to compete this year…they won't put up with Trubisky for long. A quick change could come after a loss or two.
 -- Ja'Marr Chase (10-129-1/16) is also a wizard…because Joe Burrow is too. Ja'Marr is going to be the #1 scorer in Fantasy and the #1 asset in Dynasty going forward…better than Justin Jefferson, who is #2 in that race.
Imagine if Joe Burrow played college ball with these two guys!
Chase had this incredible game despite all the pressure on Burrow, and everyone on Pitt knowing he was getting targeted…and he still popped, AND Chase had two other TDs just missed in the game (not including the one late that was a TD, but they didn't challenge it…because next play was a TD to Chase). This was very close to being a 12-140-3 game for Chase.
 -- Chase Claypool (6-36-0, 4-18-0/6) could be a wizard, but he has been stuck with bad QBs ever since college. He hasn't had the charmed (QB) life of Ja'Marr Chase.
I can tell you this, after the live watch and the re-watch: the Steelers know that Claypool is their best weapon. They acted like it all game…they just have a weak delivery system to get him the ball enough. They did run it with him 6 times…their 'Deebo'. CC had a goal line run…stuffed because they Steelers O-Line stinks and every short run gets stuffed.
Claypool was open all game, but this passing game is painful to watch, especially against a very good Bengals pass defense…so, they had a hard time with basic/normal passes.
Claypool will likely be a random up/down event ahead…more WR3 than WR1…and you'll want to give up and say that I'm a fool for him -- but what you really want is Claypool + Pickett…if you can hold on.
For Dynasty, go acquire cheap in preparation.
 -- …and, 'no', George Pickens (1-3-0/1) is not going to be the Rookie of the Year. He's zero threat to CC, right now.
Diontae Johnson (7-55-0/12) had exactly the game I feared here…lots of meaningless catches, not the main thrust of the offense, hard to connect to working outside. DJ was a ghost most of this game until late and overtime pushed his numbers OK. He too will be better with Pickett.
 -- Najee Harris (10-23-0, 2-3-1/2) is making headlines from his foot issues, but that's distracting from another terrible performance/output game by him. Had he not caught a short TD pass at the goal-line…this stat line would have been a nightmare…then he got hurt and missed the last few minutes AND missed all the OT potential.
Najee Harris is not that good. At a minimum, he's not near as good as his reputation/hype. He needs a top O-Line he can run straight behind because he is weak running outside the tackles and has a hard time getting into the passing game fluidly, despite his very good receiving hands.
Najee's one saving grace = like David Montgomery, he's THEIR guy and you're not going to convince them otherwise.
But the game is changing, because Jaylen Warren (3-7-0, 0-0-0/1) is probably a better back for the Steelers at this time than Najee is. Warren is quicker, tougher, and breaks tackles and finds holes where there are none. Najee just runs straight until something is in his way, which is often. I think Warren is going to start forcing the touches from a 95/5 split to a 90/10 to an 85/15 to an 80/20, etc., slowly over time this season as frustration builds with Najee, and Warren comes in and sparks things.
I'm a Najee seller if I can use him to get a super-high-end piece. This is not a trade Najee for two useful things…like an RB2 and WR2. No, you use Najee to get one of those young WR1s…like Chase or Jefferson, in an epic trade. You could try to get a Jon Taylor but big name RB for RB doesn't get FF owners cranking…but an RB for a WR, why…you can get any old WR…AND their RBs are KILLING THEM, so Najee would be sweet relief, a major solution to their made up problem. You have to tell yourself that going into deal negotiations. If you go in like a loser mindset/trying to dump Najee, you'll make a loser deal. They don't know what you know on Najee. They'll think you're selling the foot thing in haste.
Najee + random WR3 of the moment for Ja'Marr or Jefferson, I take it in a second. Redraft or Dynasty. You might get one of the big WRs + a small trinket, if your league is RB-mad/crazy.
And I worry that this Najee is OK for Week 2 talk isn't a bunch of BS. I wouldn't be surprised if he missed 1-2 games. There's a problem here with Najee on a lot of fronts. His extreme hype/value is going to start to slide. Time's a-wastin.
Najee will be better with Pickett and a better O-Line in the future, but we don't have years to wait on an RB to get a better/perfect O-Line…and we're trying to get the elite of the elite WRs here, not just useful pieces. You'll be happier with the elite WRs now…and years from now.
 -- Side note on the Cincy backfield…
I think Chris Evans has lost his standing in Cincy. Talented, but something has gone wrong off the field. Samaje Perine (3-33-0/5) IS the handcuff, not Evans.
 -- You know who Burrow's 2nd-best target was in this game…the best-looking? Hayden Hurst (5-46-0/8). He looks like a good shot at a back end TE1 for those who are struggling with Albert O. or Evan Engram…or want a fail-safe for Kyle Pitts.
 -- If Tee Higgins (2-27-0/2) misses Week 2 with a concussion, it should launch Tyler Boyd (4-33-1/7) as a WR1-2 threat for the week in an elevated spot.
 -- A terrific performance by the Steelers-DST…some of it due to a terrible job by the Cincy O-Line. The Bengals O-Line would hold nicely for 3-4-5-6 plays and then 3rd & long they would get consumed. T.J. Watt being so good was part of the issue…but now he's gone for several weeks, it makes it hard for me to trust this DST in tougher O-Line matchups -- like this week against more steady New England. The schedule ahead is filled with more tough matchups/good O-Lines way more than 'easy' matchups.
Really, the Bengals defense is better than the Steelers…but people still love 'Blitzburgh' and still see the Bengals as 'fake news' -- when in reality, the Bengals should be the defending Super Bowl champs right now, part of that claim is because their defense was so solid+ last year. It's the same group back this year.
Facing DAL-NYJ the next two weeks is a good run for the Cincy-DST.
Snap Counts of Interest:
73 = Mixon
26 = Perine
00 = Chris Evans
75 = Hurst
29 = Sample
58 = Claypool
51 = Diontae
45 = Pickens
37 = Najee
23 = Warren