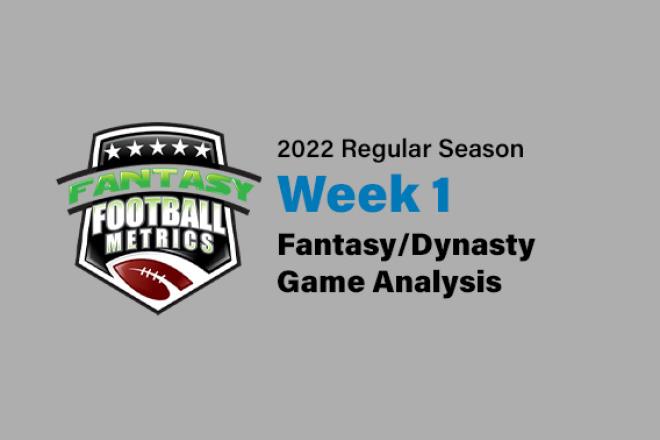 R.C. Fischer
Total Football Advisor
13 September 2022
2022 Week 1: Saints 27, Falcons 26 (Dynasty/Fantasy Analysis Game Report)
I have no idea how the Falcons lost this game. The Falcons were up 16-7 at the half, and definitely the team in control. The Falcons were up 23-10 late in the 3rd-quarter and driving in the red zone to kinda put the game away, but then they fumbled it away…then held the Saints and got the ball back, came back driving but turned it over again…then the Saints went on an aid raid, the Falcons played soft and just let it all happen to them and still had several inexplicable/low probability things happen to allow the Saints to win on a late field goal.
Arthur Smith continues to add to his arsenal that he's arguably the worst head coach in the NFL. Now losing games he had full control of…and the Saints tried to allow the Falcons to take this win all during the Saints comeback, but Atlanta wouldn't accept it. It was the darndest thing.  
I walk away from this game thinking…
1: The Falcons are a bunch of screw ups who play like they don't deserve to be there/winning…and they run all kinds of overly clever plays when they need a play (and it doesn't work as well as they drew it up in their minds) and they clench their butt cheeks with a lead, trying to run the lead/clock out with two quarters to go. This is a 4–5-win team that could be a near-.500 unit if they didn't get coached downward.
2: The Saints are not as impressive as people hoped. Jameis Winston is still no good. The defense isn't as great as advertised. Their O-Line is really down due to Armstead gone and injuries hitting them. If I were re-doing my projections, I would have the Saints out of the playoffs for sure (not the last wild card like my final Faux projection). The Saints are a fringe .500 team that won't go far because of Winston and the O-Line downgrade.
Fantasy Player Notes…
 -- Let's start out with the Kyle Pitts (2-19-0/7) report, since I'm overinvested and already dealt a disappointment right off the bat.
Same problem as last year, already repeating this year…no play design imagination for Pitts. He gets the top coverage. His QB is a below average NFL passer. It's painful dentistry extraction to watch/experience. However…
Pitts was open a good amount more than last year (they just ran the plays elsewhere too often)…and he did lead the team in targets (7). But the bottom line is -- he looks damn good. He's so much better than every TE ever put onto an NFL field. He's gonna be a top 3-5 TE worse case scenario…and that will be a disappointment but not a Cam Akers Week 1-level disappointment. But he could still be THEE #1 TE in Fantasy scoring before it's all said and done, even in a clunky passing game with no imagination and Mariota wanting to run the ball all the time or hand it to CPatt. The opportunity is still there…it looks better than last year, but didn't click this game…Atlanta had a lead they tried to sit on via the run.
Pitts is generational…I'm not shying away from it. I'll go down with the damn ship. I know 'it' when I see 'it'.
 -- The Falcons WR notes…
Drake London (5-74-0/7) still looks more like a TE than a WR to me. Not as quick as Mike Evans, that he is always compared to. It's early, but I haven't been overwhelmed by what I've seen yet. If London can get the ball…then Pitts can too, and more…and better.
Bryan Edwards (0-0-0/1)…I forgot he was an Atlanta Falcon during the live and re-watch. He got a game-putter-outta-reach throw in the end-zone, but it was a bit far on a reach and he couldn't corral it. Thank you for playing, I will never mention your name again as something we need to keep an eye for Fantasy.
…unless he does something nice and draws me back in.
 -- The Saints WR notes…
Michael Thomas (5-57-2/8) ended up with 2 TDs in the 4th-quarter…not open really, but timing throws and bullying coverage worked. Thomas doesn't look too fleet or nimble, but he appears good enough and alpha enough…and Winston trusts him. He's gonna be fine, but this FF scoring event was better than the reality of how Thomas looked.
I was shocked to see Jarvis Landry (7-114-0/9) with this stat line. It was one of the quietest 7 catch, 100+ yard game that I've ever witnessed. There was such a late frenzy of passing with Atlanta playing soft that I guess Landry took advantage.
Chris Olave (3-41-0/3) looks smooth but he's definitely the 3rd look among the three WRs…and will be most of the season.
 -- Interesting doings among the Saints TEs…
Juwan Johnson (2-43-0/5) led the TEs in snaps, by a lot…74% of the snaps played. He also got the first target of the game, on a planned throw…and he was the first end-zone shot by Winston (missed wide). He is the Saints main TE. He's not elite, but he's a better receiving target (former WR) than most. He's got a chance to be a TE1, back-end.
Oddly, also with a shot at TE1, back-end, is Taysom Hill (4-81-0, 1-2-0/1). Taysom took a few wildcat snaps and was a beast. He was so effective running the ball it's going to keep up as a weapon…it will take away from Winston and Kamara, and give to Taysom to some percentage, whether 5% or 10%+.
Everyone is chasing Taysom because of the cool highlight run…and then him being a TE listed in many places, but if he takes one carry for 5 yards next week…he'll be back on waivers. But I think he plays a nice role/gets key touches in that big game with TB.
Taysom also comes with a long shot hope that he is forced to play QB for a game or two while being classified as a TE in some leagues.
 -- Falcons' backfield talk…
Damien Williams (2-2-0) started and was so bad that he took a few touches and was never seen from again, and in his place as 'relief' back was a defensive safety early 2022, who was converted to RB in the spring, Avery Williams (2-7-0, 1-8-0/1), who instantly looked better than Damien.
They all aren't Cordarrelle Patterson (22-120-1, 3-15-0/5)…who is one of the best RBs in the NFL now. BUT note that he's the best RB…no longer the interesting RB/WR trailblazer…now, he's the skinny Derrick Henry of the Falcons. Hey, it works. He's a WR1 threat…again.
Their best RB was inactive, rookie Tyler Allgeier…which is 'so Arthur Smith' -- allergic to offense. It won't be long before Damien is ditched and Allgeier arises slowly but surely…but only to be a 5-8 carry relief for CPatt. in 2022
 -- Alvin Kamara (9-39-0, 3-7-0/4) had a weak game…he had a rib problem and missed some of the 4th-quarter. I wouldn't panic yet on AK…this game flow was weird and then when the Saints were clicking through the air in the 4th-quarter, AK was not in much/at all.
We'll see if there are any worries about AK for Week 2 throughout this week.
 -- Marcus Mariota (20-33 for 215 yards, 0 TD/0 INT, 12-72-1) had a nice FF game, led by his running…as we discussed all offseason. It was almost better than this…Mariota just missed a TD pass, and then the team blew a couple red zone shots in general. A good debut…left money on the table.
 -- The Saints-DST was supposed to be a top 10 type unit, but I didn't see it here. Atlanta bullied them in the run game…and Atlanta scored 26 points but were on the verge of dropping 40+ with more luck/efficiency.
The Saints-DST has the Bucs Week 2…and that might not be as bad as we'd think because the TB O-Line is dying off and Dennis Allen has been more-good-than-bad against Brady's TB team for the past two years.
 -- IDPs of note…
Atlanta 2nd year SAF Richie Grant (10 tackles, 1 PD) got his first start, and he gave good output…he's a very talented/smart safety.
CB William Roby (5 tackles, 1 PD) played 100% of the snaps this game…but that's because starter Paulsen Adebo was a DNP here.
I've yet to be super-impressed with Pete Werner (13 tackles, 1 TFL), but he racked a lot of tackles here…and they love him.
Snap Counts of Interest:
49 = CPatt
23 = Avery Williams
10 = Dam Williams
63 = Pitts
54 = London
45 = Zaccheaus
35 = Bryan Edwards
45 = Juwan Johnson
25 = Trautman
16 = Taysom
45 = Olave
44 = Landry
37 = Mk Thomas
38 = Kamara
20 = Ingram