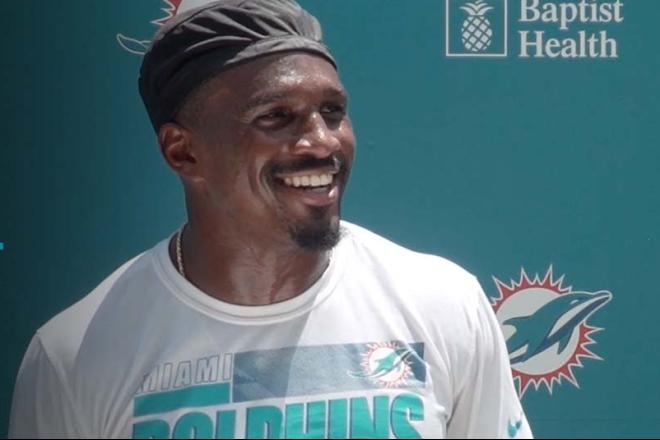 R.C. Fischer
Total Football Advisor
25 August 2022
‍
2022 Dynasty/Fantasy Preseason Week 2 Game Report: Raiders 15, Dolphins 13 (Subscriber Extra Notes)
The Dolphins came at the Raiders with 'mostly' their 1st-team. 'No' Tyreek/Waddle/Wilson but 'yes' Tua, Edmonds, Gesicki. Also, Miami pushed out their 'mostly' 1st-team defense for a few series. The Raiders countered with all their 2nd-team everything. So, it was a showcase for Miami against the Raiders 'B' team. And…
The Raiders 'B' team smacked around the Miami 'A-' team…at Miami…in an embarrassing way. It's only one game, but I think these 'tweener' teams (like Miami, or Las Vegas)…if they push their 1st-team out to have a showcase against their opponents 'B' team -- then you expect to see the 'A' team bully the 'B' team. When you don't…I think it's a sign.
Buffalo's A-team eviscerated the Broncos B-team this past week.
The Chiefs A-team ruled the Washington A-team and B-team.
The Eagles A-team wrecked the Jets A-team Week 1.
The Lions A-team worked the Falcons A-team Week 1.
That's what you wanna see.
On the other hand, A-teams that can't get over on anyone's B-teams this preseason: NE, MIA, IND, HOU, JAX, NYG. I think it's a sign of danger, right now. Teams can grow as they go…but right now, for Week 1, I think these 'moments' are signs.
At a minimum, the Raiders B-team punched Miami's A-team around…and Dolphins' management cannot be happy with what they saw. But they'll probably say, "Well, Tyreek wasn't out there." And that's very true, because Tyreek changes everything -- but, still, you want Tua and friends carving up a bad Raiders A-defense, much less their B-defense in a preseason game…and they did not.
Dynasty/Fantasy Player Notes…
 -- I did not expect to have the notes that I did for the two backfields working in this game. Not at all.
They are pretty heavy notes…concerning the Raiders backfield pecking order, from scouting this game, that was a surprise to me. And a decent rumor/insider word I have concerning the Kenyan Drake (3-6-0, 3-10-0/3) situation/being released…and it affects things beyond either team involved in this game. It also includes some shocking Miami backfield statements that I am going to make from my tape observations here.
A lot of must-read stuff.
And it's all going into the Subscriber Extra Notes…because it's deep, and I'm dropping a few bombs.
Become an in-season subscriber to see all these special 'extra notes' AND everything we do in-season. In the preseason, a lot of our coverage is free view to show prospective audience/cult members what we're doing -- the other 11 months we're playing in our own private sandbox trying to find our way to all the gold in Fantasy, handicapping, etc. Come join us…go to the FFM homepage, 'subscribe now' and choose your desired access -- In-Season Premium gets you all the in-season coverage, rankings (offense + IDP), etc. Constant reports, articles, game analysis, game theory all season. You won't be disappointed.
As far as the backfield bombs that I'm lobbing, from this game study…
*SUBSCRIBER EXTRA NOTE…(go to subscriber area to access)
Where to begin…?
First, Chase Edmonds (3-3-0, 2-21-0/2) looks as good as I've ever seen him. He's in excellent shape. He is working like the LeSean McCoy he's always profiled (to us) as (which was a greater compliment 10+ years ago, less impressive now). He runs pass routes like a nice slot receiver. He was accelerating nicely by defenders and jump step cutting by them as well. He looks terrific -- and Raheem Mostert will share touches for a bit, but Mostert cannot hold Edmonds jock in 2022…and when he tries, he'll get hurt and be gone for the season. Total green light excitement for Edmonds, after watching this…especially for the falling price/ADP.
RB 25-35 is getting loaded for redraft 2022: Dillon, Singletary, CPatt, Penny, Edmonds, Stevenson. You can build a nice FF-backfield outside the first 4-5 rounds of the redraft.
Also helping the Edmonds narrative…Sony Michel (2-0-0) looks closer to getting cut than making the team. One of the stupidest, most useless signings of the offseason…but Mike McDaniel can't help himself with guys HE'S SEEN like Mostert while with him in SF, and facing Arizona in division multiple times (Edmonds), and watching the Rams last year with Michel filling in. Soon, McDaniel will sign Chris Carson, Alex Collins, Tevin Coleman (after the Jets cut him) and Todd Gurley.
I think Michel will be cut and one of Gaskin-Ahmed will be retained.
Side note, Miami rookie ZaQuandre White (1-4-0, 1-19-1/1) is a bucking bronco of a runner…he would make this team if they didn't have 37 veteran RBs ahead of him. He'll be cut and stashed on the practice squad and try and make some kind of future from there. He's a future journeyman that will get a chance somewhere, some week, in an emergency…and he'll perform and endear himself to the staff and fans.
I got my first look at Raiders rookie Brittain Brown (9-70-0, 2-7-0/3). A guy I did not understand why they drafted him -- a mediocre career at UCLA (and Duke) and even more mediocre Pro Day times (4.69 40-time, 7.12 three-cone at 6'0"/208). I was ready to hate him, but you know what -- he wasn't bad. He ran loose and fluid and played bigger than his Pro Day size. I'm not flat-out ignoring him anymore. If he's ever a story, it will be in 2023+.
I thought Brown looked more interesting than Zamir White (5-8-1, 1-4-0/1). I'm just not a Zamir guy…run straight and hope for the best. It can work on a team with a good/great O-Line. Brown looks more interesting than White, to me, all of a sudden.
RUMOR: We've all seen the note on Kenyan Drake getting released…that's a leaked-by-the-Raiders story to see if anyone will trade a 6th-7th-round pick for him, etc., before they cut him and eat all the money due to him -- it's like an NFL team putting him on the public 'trade block' in Fantasy.
The story I am getting is: watch for Drake to either be cheap traded to or just be cut/released (most likely) and sign back with the Arizona Cardinals, because they are not comfortable with an Eno Benjamin/Darrel Williams backup situation for James Conner. The Cardinals are watching the Drake situation with interest.
If this happens, if Drake winds up in Arizona again -- Conner's ADP is going to drop on fears of a split, and the ADP fear drop would be well founded. I'm going to start dropping Conner a bit in the draft guide because of the possibility. I loved Conner as a 3rd-round redraft RB option…or falls to the 4th-round value, but I'm freezing those thoughts for a moment…or just not having as much vigor about it until I see what Arizona does if Drake hits the free market. 
 -- Mike Gesicki (3-27-0/6) is gonna be gone from Miami soon…if they can find a taker. Why they franchise tagged him, I have no idea…$11M for this season, for a rickety-gangly-looking TE who cannot block well.
I doubt Miami will find a taker at that cost, but if they are willing to share some of the cost…maybe…but then why bother to move him if he's gonna cost a lot to eat anyway?
Gesicki looked terrible in this game. He's not the kind of TE Mike McDaniel wants, because he lives for copycatting/duplicating everything that exists in SF…and Gesicki is not George Kittle. Good luck finding a next Kittle on short notice…or long notice.
I don't get any of this, but I know I don't want FF-exposure to it.
 -- The QB report…
Tua Tagovailoa (6-8 for 58 yards, 0 TD/0 INT) started and looked OK…he looked like Tua -- great in short space/short distance, great with a ton of time or two-step drop and fire pre-planned…terrible when the pocket gets muddy or his pre-plan is blocked off, or bad if he needs to throw downfield in a 3rd & 7+ known passing situation.
Tua was relieved by Teddy Bridgewater (10-20 for 119 yards, 0 TD/ 0 INT) after two series, and Teddy is no threat to Tua right now…but may get the nod if Tua falters/Miami starts losing off the bat.
The most promising QB on the Dolphins is a revelation from this year's draft, 7th-round pick, Skylar Thompson (9-10 fir 129 yards, 1 TD/0 INT). Two weeks in a row, he has been really good for a low-level rookie. I thought he could play in the league but just at a mediocre level, but watching Tua then Ted…then Sky, Thompson stands out a bit more on his downfield ability. He can also move around pretty well. He's been zinging passes downfield with accuracy and confidence. I am shocked by how kinda-ready-to-go he is…he's already more confident in the pocket than Trevor Lawrence, among others.
I don't think Thompson is a star…he's not the total package, but he's good…better than Matt Corral and maybe better than Sam Howell for context from the 2022 class. Skylar has played so well that it will be interesting to see if Miami is forced to roster him…or if they try to get cute and cut/add to the practice squad. It's a statement if he makes the initial 53-man.
On the other side of the field, Jarrett Stidham (7-10 for 80 yards, 0 TD/0 INT) played the best game I've seen from him at the pro level (preseason or regular). I thought he was 'meh' at the HOF game. Ross Jacobs liked what he saw last week (he scouted that game for FFM). I liked what I saw this week. He's a capable backup is probably his career ceiling at this stage.
 -- A couple WR notes…
I don't see 'it' with Miami rookie WR Erik Ezukamna (6-114-0/9). He had nice numbers this game but there is/was no star power, no future impact NFL/FF player that I was watching…from my scouting. Braylon Sanders (3-40-0/5) looked/looks more promising among the lower-level Miami rookie WRs.
Preston Williams (3-22-0/3) might be playing in his final days as a Dolphin. His career has been broken -- a one-time hotshot UDFA rookie that burst onto the scene is now a buried, oft-injured disappointment. I don't see any life in his body/play anymore. It's a shame. 
‍