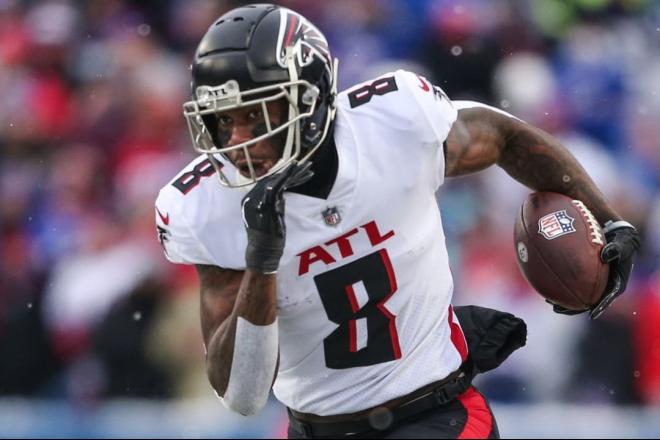 R.C. Fischer
Total Football Advisor
24 August 2022
2022 Dynasty/Fantasy Preseason Week 2 Game Report: Jets 24, Falcons 16 (Subscriber Extra Notes)
We got the Falcons (mostly) 1st-team for a good while here, and they owned the Jets (mostly) 1st-team.
The Jets are (2-0) in the preseason…and have looked dreadful and lifeless doing so. They won this game on a late game fumble/return for TD in the heavy rain…and it wasn't a fumble, but didn't get reversed…because 'who cares, it's the preseason'? It was Falcons 16-3 at the half. The Jets won the battle of the 3rd/4th-teams in the 2nd-half with a 21-0 run. In reality, the Jets 'lost'.
The Jets look headed for a serious crash. The vibe on that team is terrible.
The Falcons lose again, (0-2) now in the preseason…but they've looked pretty sharp and energetic throughout. The Falcons are ascending from the ashes. The Jets are reverting back into the ashes.
Dynasty/Fantasy Player Notes…
 -- Let's begin with the easy 'observation' from this game. First play of the game, Marcus Mariota (6-10 for 132 yards, 1 TD/0 INT) hits a 3+ yards sprinting open deep Kyle Pitts for a 52-yard big play.
Big play…Kyle Pitts…Monday Night Football…whatever you last saw Pitts' ADP at, slice -5 off it instantly…and maybe another -5 later as people consume the highlights today. That's how Fantasy works in the preseason. Whatever eye candy has been dealt, the public gorges itself on.
I want to discuss the Kyle Pitts conundrum in redraft and will do at more length in the Subscriber Extra Notes version of this recap.
*SUBSCRIBER EXTRA NOTE…
I will keep saying it -- the 2022 redraft hits a crossroads in the 3rd-round when you decide 'to Pitts, or not to Pitts'.
The first two picks are easy…we overcomplicate them. Any two players of the top 15-20 guys are all worthy for where they are taken.
It's the 3rd-round where everything gets crazy, interesting, depressing…depending. And I think the biggest strategic conundrum we have is whether to take a shot on Pitts. And the decision is not easy/guaranteed.
Many fear taking a TE too highly + Pitts didn't go crazy last year, so we tend to wanna be over-prudent…not put ourselves out there to get hurt by love -- that is unless it's a rookie RB who might get touches right away, then we'll sell our soul for those sons a bitches. Trey Sermon last year, going in the middle of a redraft, started going 5th-6th-round of a redraft…and you loved it, until the games actually played. You're gonna go wild/pay up for Pacheco and Pierce among others for FOMO, and it makes sense on a certain level -- a shot at a lead back for 8-12th-round money. But the greatest TE talent any of us have ever seen -- too risky to take a chance on in the 3rd-round?
I'm not forcing you to take Pitts. Go be put to sleep by D.J. Moore again if you'd rather. It's 'prudent'…all the experts say so. 'Team Prudent'.#prudent
However, some will take the leap…take the gamble on 'best in class' with Pitts in the 3rd. The 3rd-round is so dicey, such weak value at RB/WR in most redrafts. It's a round typically filled with RBs and WRs that you'd rather have the 5th-8th-round RBs and WRs names just the same. The 3rd-round is a round begging for a risk to be taken. High-end QB (in QB friendly scoring), Pitts, etc.
What's the worst that can happen? You pay up for Pitts and he's 'just' the #3-4 scoring TE instead of #1 with a bullet?
To Pitts or not to Pitts…that is your first, biggest question in redrafts.
 -- Battle of the rookie RBs…
Breece Hall (5-9-0) had a dreadful appearance here. It's not his fault…but it is a caution flag -- his O-Line is a mess and that's an RB upside killer. Hall is losing momentum as the #1 pick in the Dynasty Rookie Draft but it's such a 'given' that he's still the overwhelming #1 overall…people are making the pick regardless…but they are liking it less and less. And those taking Breece to sell him off…are finding a drying up market as it has been the past week+, but now, after this game that's being 'panned'…it will be even more difficult to move him for the price you'd want for the #1.01 pick.
Tyler Allgeier (6-17-0, 3-12-0/4) didn't have any big numbers or plays either but looked the better of the two. Allgeier has a lack of heat happening among the rookie RB frenzy happening right now.
In this game, the Falcons went with their starting offense for a bit. Damien Williams 'started' for 2-3 plays and then Allgeier came in with the 1st-team and then 2nd-team for a while. A sign of things to come…Allgeier moving up the ranks.
 -- An interesting viewing of Bryan Edwards (1-12-0/1)…
First off, Edwards looks fantastic…in great shape.
Secondly, after the Pitts bomb to open things up…it was a planned pass to Edwards next…working like a Michael Thomas role that I've been begging for him to work like. A nice sign that was (too) brief.
Third, he was moving very well in and out of his routes. Very encouraged by how he looked overall.
Fourth, Sauce Gardner covered him one time in the red zone a couple plays into the drive and Gardner totally consumed him…Edwards couldn't breathe due to Gardner's mirroring, but Edwards was getting over on everybody else. Gardner is a generational shutdown corner -- and you have to account for that if the #1 WR he is covering in a given week is your FF WR.
Week 1…Rashod Bateman, most likely his victim.
Week 2…Amari Cooper.
Week 3…oh, boy…Ja'Marr Chase.
Week 4…Diontae Johnson, not Chase Claypool…because CC will be in the slot. You should know why I'm pointing that out.
Week 5…Tyreek v. Gardner? Maybe? Not sure if Hill will be outside at WR enough to get in a battle with Gardner. If Tyreek were still with KC, Reid-Bieniemy would absolutely leave Tyreek out there to battle away and waste him as a decoy…but Miami will have Tyreek everywhere and a lot behind the line of scrimmage.
 -- Jets WR notes…
Garrett Wilson (3-13-0/3) looks OK. He's not doing anything noteworthy or special or inspiring…but he looks quick enough and solid enough. A lot of these finesse rookie WRs are gonna get a rude awakening Week 1 with real NFL defenses/corners.
Denzel Mims (3-43-0/4) had a couple catches but there's just no spark there anymore. I don't know how it got squashed…but the spark in his game has been squashed.
Former Jets WR, now turned Jets TE convert, Lawrence Cager (3-65-1/4) was the best player on the field for the Jets offense this game. He looks terrific in his conversion. He's been the talk of camp. He took a drag route medium pass and caught it and just ran by everyone for a 34-yard TD. He looks great…and he'll probably get cut. I don't think he'll get back to the Jets practice squad if he does.
 -- We'll end with the QB report…
Marcus Mariota (6-10 for 132 yards, 1 TD/0 INT) has played four series/drives for ATL so far this preseason, and has led two TD drives, 1 FG drive, and a three-and-out. Jacksonville/Lawrence can hardly move the ball for a score. Nor can Houston's 1st-team. Matt Ryan can't get Indy into the end zone in like 5-6 series of play so far. So many sluggish/confused/inefficient preseason offenses…but not Mariota's offense. I called this one in March.
Desmond Ridder (10-13 for 143 yards, 0 TD/0 INT) has looked very competent this preseason. The second best-looking rookie QB of the class, so far. He's not flashy but he is well-trained/contains himself. He's a backup QB mindset…but you can trust him not to screw up too bad.
Mike White (12-17 for 90 yards, 0 TD/0 INT) should start in place of Zach Wilson…but it will be Joe Flacco, if needed Week 1. A full scale QB controversy will hit NYJ this season, I predict. Wilson is one more misstep away from losing the Jets fanbase. The media is waiting to consume him. He's gonna be torches and pitchforked out of the starter's role with NYJ unless he blasts off right away this year…and I do not see it happening with his play he's shown us.
Felipe Franks (2-6 for 8 yards, 5-45-0) got to play as it started raining heavily. He struggled passing but was interesting working the run game with purposed runs, QB option plays. He's going to be a unique thing that sees 5-10 snaps a game at TE but might motion to QB or RB or take a TE jet sweep.