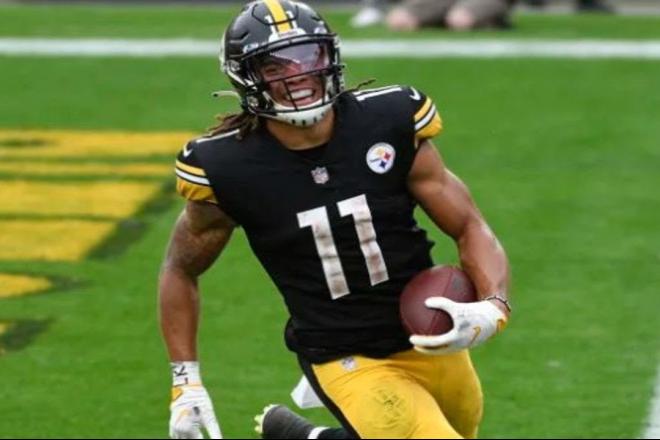 R.C. Fischer
Total Football Advisor
23 August 2022
2022 Dynasty/Fantasy Preseason Week 2 Game Report: Steelers 16, Jags 15 (Subscriber Extra Notes)
One of the best preseason games of the week…because the Steelers ran a 1st-team group for several series and ran the 1st-team WRs with the 1st and 2nd-team QBs while the Jags ran their 1st-team for a while too. We got a decent peak at some things here.
In the battles of 1s v. 1s, I'd give the edge to the Steelers…but there are so many holes on both these teams that they both look headed to sub-.500 seasons.
At least the Steelers are set for the future…at QB. The Jags have an anchor hanging around their neck that will drag them down for years. The Khan's cannot run a pro football team properly, nor a pro wrestling company. It's all coming down…well, the NFL team is already down (back-to-back 1st-round pick season).
Dynasty/Fantasy Player Notes…
 -- Let's begin with the QBs here, because that leads us over to the WR discussions…
Mitch Trubisky (5-8 for 60 yards, 0 TDs/0 INT) continues to play the best football I've seen him play in his NFL time this preseason -- much more aggressive and free. Still short of where I thought he could go as a talent, and I wish we could go back in a time machine and have him land with one of the up & coming young McVay/Shanahan tree coaches to begin his career, but we can't.
Trubisky works. He has way better career numbers than the mainstream realizes/gives credit. He's playing good ball here. And…
…and he doesn't stand a prayer of finishing this season…or probably finishing the month of September as the starting QB of the Steelers.
The fans, the media…they all want Kenny Pickett (6-7 for 76 yards, 1 TD/0 INT), and I will add: Pickett is already the better NFL QB than Trubisky…so, the fans and media are right. They don't know why they're right, but they are…they just don't like Trubisky, because everybody hates everything 2-3-4 years into the league that isn't a superstar, where they love any magical unicorn rookie daydream that they can dream up an outcome for.
I would give the media and fans more respect for their Pickett over Trubisky lust, but they are the same people who talked Pickett all the way down to #20 in the draft, when in retrospect -- Pickett should've been the #1 pick in the draft because QB is everything. The same people so smug in their Pickett > Trubisky ways are the same ones who were Corral-Willis-Howell-Rattler > Pickett. They know not of what they speak…but their barking is accidentally correct on Pickett over Trubisky right here, right now.
What will happen from here: Trubisky will start Week 1…and he'll be blamed for every loss, so after an (0-2) start, heading to CLE Week 3, the decision may happen. Or if they lose at CLE…it's over. One way or the other, the fans will not stand for Trubisky over Pickett at all.
Pickett will take over for the next decade+ and the Steelers can sit and wait to trade Trubisky in-season, if desired, to a contending team that sustains a major QB injury. Pittsburgh has time on its side.
Pickett should've been the #1 overall pick in the 2022 NFL Draft…not via a team trading into the #1 spot, but to Jacksonville. Trevor Lawrence (14-21 for 133 yards, 0 TDs/0 INTs) is bringing that whole franchise down, they just don't know it yet. Trevor was/is the third best QB in this game.   
Trevor did his same 'stare down a receiver and fire' routine, which is good if he pre-picked the receiver that is open…he's terrible sitting the pocket and having to go through progressions. He's jumpy in the pocket and will throw to anything he sees under pressure. In a pristine environment, he's fine. I bet he's the king of 7-on-7. He has a strong arm. He has a yes, sir…no, sir mindset. Fairly mobile. The problem is we have to play 11-on-11 tackle football. The scouting of QBs in their noncontact play is the ruination of every scout and coach, but the longer we're at this football thing the worse the QB scouting gets.
So, I'm a heretic for pointing out the negatives about Lawrence, since before his NFL Draft. Still a heretic today because NO ONE in football analysis believes Lawrence is gonna be a bust. Lawrence has tools. You always have to allow for some 'growth' opportunity…but he was never ready-made or generational. And he doesn't look any better this preseason…he's not getting better as he goes -- this preseason he's the same checkdown QB, the guy you usually have to make up rollout and screens and counter plays to give him a chance to hit a receiver. He won't be totally terrible…Doug Pederson is smart with limited QBs (see my Lawrence pre-Draft comp: Carson Wentz). Lawrence will 'bust' in a way Wentz has – not as good, not close, to what they thought – but can book some managed numbers. 
In an era where rookie QBs hit the ground running, Lawrence has thrown for 4 TD passes and 8 INTs in his last 10 NFL games --and it wasn't because he had a bad O-Line or bad run game to work with in 2021. Davis Mills had WAY worse circumstances in run game and O-Line to deal with, and he has 14 TDs and 5 INTs in his last 10 games. Lawrence's performance/results aren't a little off…they are way off.
Jacksonville, and the media will not see or admit this for years. The media is busy trying to crush Mitch Trubisky anytime he doesn't have a perfect QBR. It's a sick business but thank God it is, or I would be unnecessary.
 -- All that leads into a lot of WR talk, first the Steelers…
The Steelers started their WR trio, and all looked well. Chase Claypool (1-29-0/1) started in the slot…and my heart skipped a beat. It's really happening.
Diontae Johnson (2-33-0/4) looked great working the outside/inside in more of a Justin Jefferson way of slicing through gaps in the middle of the defense. I'm not sure what will happen with him doing this against 1st-team defenses in the regular season…but he was roaming freely a few times in this game.
George Pickens (2-6-0/2) started right along with them and had a quiet night.
Or… I thought he had a quiet night. Apparently, he is the Steelers #1 WR now. Why? Because Twitter released a snap count chart that showed Pickens played more snaps than Chase Claypool here, so that combined with Pickens-mania of the last week is running wild because he caught a nice TD against a 5th-string corner on the NFL's worst secondary, Seattle -- so, Twitter has decided Pickens is the Steelers #1 best WR now…which prompted a ton of emails to me on how Pickens is their new favorite rookie WR ever and they are drafting him in all formats (for this week).
I got a lot to say on this, and it goes deep into FFM history/business and I, apparently, know something the Twitter scouts don't know from this game either -- and you need to know all of it because great opportunity is coming upon us right here, right now. So, because I actually do the real scouting work -- I'll share it all for subscribers in the Subscriber Extra Notes version. You're gonna wanna read this…and hate me, then realize I'm right.
*SUBSCRIBER EXTRA NOTE…
First, more info on the Steelers WR trio 'snap counts'. It was reported that the snap counts in the game for the starting WRs was:
25 = Diontae
21 = Pickens
16 = Claypool
And that OBVIOUSLY means Mike Tomlin hates Claypool and agrees with your Rookie Derangement Syndrome on George Pickens as the greatest rookie WR of 2022, and the new Steelers #1 WR right now. You think I'm joking? There's a wave of people heading toward that 'camp'.
Let me tell you something you won't read anywhere else about this game/situation…
Into the 2nd-quarter, Claypool caught an 8-yard pass for a 1st-down, then turned and ran for 8 more yards. A simple, sweet in the slot/found the open area in the zone, catch and run (which got negated by it coming back due to an offensive penalty). But CC banged down to the turf on his hand when he made the catch and run and came out of the game. He didn't return. To that point, Claypool played all the same snaps as Pickens. The only break from any of the trio together was in one-WR sets with Diontae alone out there.
Claypool stayed out of the final five snaps of the 1st-team work from there…which, surprise, was the 5 snaps less than Pickens played in this game. There was no 'Pickens is beloved more by Tomlin' treatment. But Twitter doesn't know that, so the media doesn't know that, so the FF analysts don't know that…so the Pickens hype train got some rocket fuel…from a lie, a misinformation…fake news snap counts. Did you buy into this fake news? Some did -- because they want to believe in the magic of the rookie…and the media is gassing you up, feeding you the candy you want for dinner on it.
Not only was the snap count angle a fraud, but I can also tell you this from my watching this tape, from my expertise…Chase Claypool looked great (and so did Diontae), and George Pickens looked like a sickly, malnourished WR on the wing that you didn't even know was there most of the game. I had to double check the roster and reconfirm that #14 was Pickens because I couldn't believe it from the visual…but it was. Next to Diontae and Claypool, Pickens looked like a child…especially next to Claypool. It was jarring.
I challenge you to go watch this Steelers 1st-team tape. Turn the sound off. Watch each pass play three times…once from Claypool's perspective…once from Diontae's perspective…once from Pickens' perspective and you tell me what you see, who looks most impressive or key to the offense…and more so, who doesn't look the part? I already know the answer.
Here we are with Chase Claypool…the ultimate rookie lust (3 yrs ago). A guy built in a laboratory to play football/WR. And he absolutely exploded onto the scene as a rookie…so, we all saw he can play at a high level. Then he got benched later that season for some kind of a 'rookie wall' Tomlin saw, that no one else did. Then CC got stuck outside as a 'go deep' WR in an offense with a QB who couldn't throw deep anymore, so CC disappointed for Fantasy. Well, that's the crime of the century -- when our magical unicorn rookies don't become insta-stars. For two years we cried out: If only Claypool had a better QB…if only Claypool were in Diontae's slot spot.
So, what happens in 2022? Claypool gets a better QB…and gets moved to the slot. And what's our reaction? BOOOORING…we want the skinny WR who is stuck in Claypool's wasted 2021 go-deep role! We want the rookie WR who is rail thin, inexperienced, and in a bad spot for FF production -- but he's a rookie, so he's more promising than Claypool, the bigger-better athlete with 3 years more experience now purposefully moved into the cherry role of the slot because even Mike Tomlin knows the deal.
We just got everything we wanted with Claypool for 2022, but he's no longer a magical unicorn rookie all the barking seals in Fantasy have discovered as their new favorite sleeper…so, now Claypool is 'old news' and the 'cool kids' KNOW it's Pickens time!!
Great, please take Pickens ahead of Claypool (to my opponents)…I'm begging you to ride with the media on Pickens. It's funny, we haven't seen Jameson Williams or Christian Watson or much at all from Drake London, and they are falling in ADP…as Pickens rises. Why is that? You're getting played on your Rookie Derangement Syndrome by the media who SEES Pickens made a play a week ago and heard he had a great camp, so they are throwing it in your face over and over. THEY haven't seen Jameson-Watson-Drake, so they are now losing steam in the media, and thus with the fans/FF-owners. We're a bunch of mind-controlled robots still…taking comfort wanting to be with the media love.
Romeo Doubs is a god…Christian Watson is a nobody…why is it we all feel this way? The answer is the problem.
George Pickens is going to be a nice NFL WR…maybe the best all-around WR of the 2022 class. But he needs body work and more time. And he's in a terrible spot -- because Diontae and Chase are just better than him…now, for sure…and maybe better forever. It's not Pickens' fault he got drafted into this.
All this to also say -- NOW!!!
NOW!!
Now is the time to strike on Chase Claypool in Dynasty trades, grabbing a bargain with his falling value in redrafts, and trading for him in redrafts already done. We got a perfect window now. We got Claypool in the perfect spot on the field…and now a falling-fast valuation.
Claypool is falling to WR40-50 now (redraft)…a WR3+. If you can get him for WR3 or cheaper money exchange, man you gotta go for it. The window is open NOW!!! Don't delay.
 -- Whew, OK…now that that's off my chest (subscriber extra note readers know what I mean)…let's talk about something more lighthearted…the Jacksonville WRs.
Short version: They're all screwed by Trevor Lawrence.
The longer version…
We got to see Christian Kirk (5-54-0/8) in action and Trevor 'likey'. Last week it was Zay Jones (1-12-0/3), this week it was the debuting Kirk. So, Kirk > Zay is all we can conclude on which one of them will get the most 4-50-0/8 games this season. Nothing special on tape, Kirk open in the gaps of a bad 1st and 2nd-team secondary.
Marvin Jones (3-40-0/4) will make FF-figuring this trio out even worse…if he's not on the Rams by Sept. 1st.
I had to rub my eyes and check it twice… Was that Jamal Agnew (1-6-0/1) already back from his hip injury that took out his emergence in 2021? Yep. He caught some time with the 1st-team. He makes Marvin even more expendable.
Laviska Shenault (1-6-0/1) remember way back three years ago when you loved Shenault? Those were the days, back when he was a magical rookie! Now, he's a broken-down nag.
Jacksonville's best WR…Tim Jones (5-70-0/6)! 2021 UDFA. He'll be cut and stowed on the practice squad in a week or so from now. He made a couple sweet catch-and-run/catch-and-break-tackle plays that really caught my attention.
 -- Evan Engram (1-2-0/1) might as well be a WR…he's so slimmed/lean he looks like a WR, like Isaiah Likely does now. I don't even remember him in this game until he caught a basic pass in the second half. This JAX passing game is so bad…I'm losing some faith in Engram getting to FF-benefit from Lawrence easy throws to him short.
 -- Three notes on RBs from this game…
1) Travis Etienne (8-29-0) still looks small/thin, but quick…and either gets no blocking or is a bad between-the-tackles runner, or both.
2) JAX rookie Snoop Conner (7-19-0, 1-10-0/2) looked a lot better here than he did last week. Typical for a rookie. Good news for him if James Robinson cannot go Week 1.
3) Jaylen Warren (3-3-0, 3-24-0/3) is making me reduce my Najee Harris dynasty valuations. That guy can play in all phases and is going to warrant touches, and he, not Snell-McFarland, is the proper handcuff there.