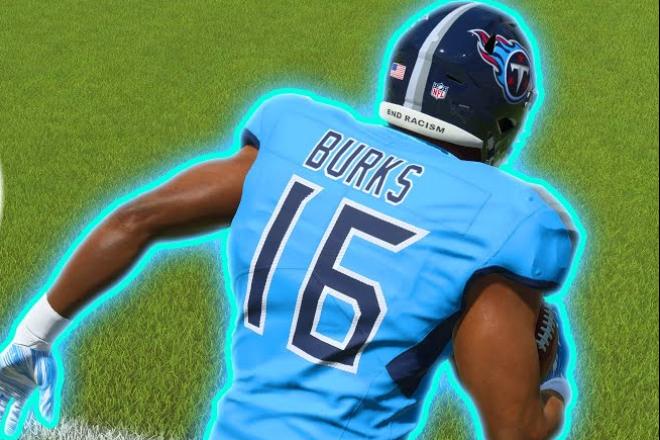 R.C. Fischer
Total Football Advisor
22 August 2022
2022 Dynasty/Fantasy Preseason Week 2 Game Report: Titans 13, Bucs 3 (Subscriber Extra Notes)
Battle of the backup QBs, but we did get Leonard Fournette for some reason…and Tampa losing another O-Lineman for the season. The head coach doesn't know where the real head coach (a.k.a. his QB) is or when he's returning. Sounds like all is well in Tampa.
The moment Tom Brady is done in Tampa, that team is going to spontaneously combust under Arians-Bowles-Leftwich.
Is Brady coming back to play soon, or is he going to pull a surprise retirement? Well, a normal human would have left a while ago…but Brady has something else motivating him. Whatever that is…it draws him back to football when it makes no sense at all. So, will Brady be back? I assume he will still be playing until he's 50, until I'm proven wrong.
Meanwhile Tennessee is just chopping wood…getting better, deeper, tougher…the defending AFC #1 seed that everyone still thinks is a random wildcard level team from 2021, the team that got to the #1 seed despite being without Derrick Henry for the 2nd-half of the season…beating BUF-KC-IND-LAR in succession midseason, and throttling the Rams in their first game without Henry -- that's the team everyone thinks the SAWFT Colts are gonna take down because of Matt Ryan…you gotta be kidding me.
It wasn't much of a game, but some interesting player notes…
Dynasty/Fantasy Player Notes…
 -- Leonard Fournette (5-20-0, 2-6-0/4) started and played in this game for a few series. Why? I have no idea. He looked like his normal self. Not much more to say.
Fournette played three series, two with Gabbert, one with Trask -- which seems more a punishment and/or disrespect for an established veteran RB…when all the big-name starting WRs are off on the sidelines yucking it up and the QB is residing somewhere at 'parts unknown' until a eventual return on a date 'to be determined' (by the player).
Rachaad White (6-19-0, 1-16-0/1) came in after Fournette was done and ran with the 3rd-team QB for several series. The game was devolving rapidly at that point.
Washington started Brian Robinson this week.
Isaih Pacheco has had two weeks of preseason games where he sees time with Mahomes/the 1st-team.
Dameon Pierce was held out to be protected, while the vets had to work.
Breece and Allgeier have yet to play at the time of this writing.
Rachaad White played after Fournette got in work, worked with the 3rd-team, and was also returning kicks. There's quite a difference in the way the rookie RB White is treated than the other hot Dynasty Rookie Draft RBs.
I have more to discuss about the White situation, but it's a deeper draft strategy talk…and, yes, it will be for subscribers in the Subscriber Extra Notes version. You should be sure to have the In-Season Premium subscription for the 2022 FF season…it's where all the magic happens…it works out to like $10 a month of deep football coverage, rankings, and strategy maneuvers for the entire FF/NFL season…and you will see these subscriber extra notes right away.
*SUBSCRIBER EXTRA NOTE…(go to Draft Guide, or RC Premium Articles, or Dynasty Offseason to access)
I definitely don't see 'signs' of White getting any special push…based on his current seat at the table/way he's being used in the preseason -- but that's not definitive. It's just that there are no overt signs like the other rookie RBs are getting…so, we have to assume he's still just a rookie/backup to be brought along slowly.
Remember, Bruce Arians is a moron. He was pushing Andre Ellington for half a season while rookie god among men David Johnson was utterly destroying the preseason then regular season. Then, as DJ was soaring -- Arians then tried to push Chris Johnson ahead of David Johnson too. If Ellington-Johnson didn't get hurt the same week DJ's rookie season, who knows when they would have sprung DJ3K? Arians was crying in that rookie DJ summer that he didn't get to draft his coveted Ameer Abdullah instead of settling for David Johnson. True statement. It's on that Amazon show with the behind-the-scenes of the Cardinals back in the day.
I know Todd Bowles is the head coach, but Arians is an exec who personally handed the job to Bowles…so, filled with scotch (I imagine) in the executive suites, I assume Arians is still influencing the team choices/plans. And he prefers veteran RBs, no matter what else is on the roster.
All that aside, Rachaad White looks REALLY good. He's Le'Veon Bell reincarnated, in a sense -- and during some sober moments for Arians, he will probably be delighted by that notion. White is gonna happen at some point…he's the best built RB for FF greatness -- but if he comes into his own in 2023, it will likely be with Kyle Trask and a lot of veterans bailing/being sent packing. Assuming Brady is GONE (to Miami).
White-Pacheco-Pierce-Breece-Walker-Allgeier…all very talented. And it makes Breece less-and-less of a standout, and he is falling in stature because he seems like old news and the others are the 'cool kids' group, the ones people without the 1.01 in a DRD can get to, maybe. I like White best because he's the most gifted all-around for FF…but Pacheco is right there with him, so is Allgeier, for me. Breece in there too. You can have your favorite and take them…you don't have to go by my rankings. I could see any and all of White-Pacheco-Pierce-Breece-Walker-Allgeier being 'the one'.
 -- Tennessee is smart…they aren't wasting their lead back on useless (for stars, key starters) preseason games. No Derrick Henry, but the fight to the finish for his handcuff/long-term answer once Henry starts breaking down battle continued.
Dontrell Hilliard (1-3-0) started for a moment…and was gone. He'd be the 'lead' the following week of a Henry emergency. It would likely be a split backfield of Hilliard + ____, like it was last year when Henry went down. Eventually, 2-3 games into the Henry crisis, D'Onta Foreman took the bulk of the work and helped win us some titles…remember that when you're trying to draft every rookie RB available in your redraft to start the season.
Unlike last week, Hassan Haskins (12-39-0, 2-8-0/2) was in over Julius Chestnut (10-35-0, 2-10-0/3)…but Chestnut was in the next series and the two rotated snaps and series until into the 4th-quarter.
Two weeks of preseason games, the depth chart battle of Haskins vs. Chestnut is 'to be determined' -- or Vrabel could just RBBC them with Hilliard and go all Belichick, if it ever comes down to it. It's the smart way to go, but sucks for FF.
I have more to discuss on this whole Derrick Henry situation and predicting his 'handcuff' winner, etc. And we'll hit that in the Subscriber Extra Notes.
*SUBSCRIBER EXTRA NOTE…(go to Draft Guide, or RC Premium Articles, or Dynasty Offseason to access)
I think Julius Chestnut is the better of the two rookie RBs vying for that 'heir to Henry' role…if that role ever exists within the next few years. Chestnut is bigger and quicker than Haskins, when I watch them play in these preseason games. Haskins isn't bad, but I think through 'two rounds' of watching the two of them get extended work in the two preseason games -- I declare Chestnut as the winner (so far) on my judge's scorecard -- the winner on a 'who's more talented' judgment.
Chestnut has 'off the grid' rankings/ADP, so he's our new late-round DRD grab and hope.
Haskins has NFL Draft stock, where Chestnut has none. So, Haskins will always be ranked/drafted in DRDs…and in the NFL 'draft stock' usually matters, but I don't think it does with Mike Vrabel…he's a different kinda cat. He isn't messing around. He's the one coach who evaluated the 4th-year WRs wanting big deals early, and answered back with = not worth it, ship them off for draft picks. Treylon Burks is lazy…and Vrabel is boot camping him into shape, if he can. No special treatment for the draft stock. Week 1 of the preseason, UDFA Chestnut with the 'shocking' start over drafted Haskins…in Vrabel's words, "Because Chestnut earned the start."
With all that background on Vrabel…I don't think he'll be shy to push Chestnut if he thinks he's the better back. Most NFL teams wouldn't even give Chestnut a chance. Chestnut has a younger/quicker but just as big and powerful vibe of D'Onta Foreman…and he's pretty decent in the passing game too.
I'm taking stock in Chestnut for the cost…near nothing, right now.
 -- I think Treylon Burks (1-4-0/3) had/has a problem…he's been too lazy, as many have speculated/said. Lazy in the sense that he has just dominated competition in high school and college, with little effort…so, why not just keep getting by on natural talent? He isn't the first, he won't be the last…and maybe half the top 100 overall picked WRs have the same mindset.
You have the smoking gun evidence of this being true… Burks was totally unprepared for the two biggest tests he had in his young professional career:
(1) Didn't prepare well for the NFL Combine or Pro Day and had terrible numbers (relative to his draft stock/status) and…
(2) was not in shape for the first practice of his NFL career.
Fortunately, Mike Vrabel is one of the best coaches in the NFL (and I did not see that coming)…and he's taking to actively 'fixing' Burks. Had Burks gone to 20+ other NFL teams, he woulda gotten more special treatment and probably gone on to bust. Vrabel is intervening and trying to fix the young man for life. Vrabel is putting him on special teams and making him work near-full preseason games -- Vrabel is trying to tear Burks down to build him back up properly…he's trying to give Burks a 'heart' that he currently doesn't have (my take from observation, pre-Draft scouting, and some inside chatter).
We don't know if it's going to work, but we do know… Burks has a problem, it's real, and thus Vrabel is working on it, hard. And we have to FF-consider there's a war for Burks' mind/future right now…and none of us knows how it will FF-go. It's a risk that comes with trying to play Burks for FF, short or long term.
I will say, Burks looks in way better shape now than he did even a week ago. He's moving well. I still see some 'taking plays off' (especially running plays, where he should be energetically blocking, not jogging aimlessly)…and he's not a big target desire of the QBs in the preseason. Not great signs.
There's a war for the football soul of Burks right now…I don't know that I need to try to buy into it/guess ahead on it for the price. But it may pay off. It might not.
In two years, how excited will you be about Malik Willis's impact on Burks' FF numbers?
Same question for the Titans best rookie WR…Kyle Philips (1-11-0/4). That's not a slam at Burks as much as it is a compliment to the overlooked Philips.
 -- Notes on the two young QBs in this game…
Malik Willis (7-17 for 80 yards, 1 TD/0 INT, 5-42-0) is bulkier Michael Vick…errant passing and all. Willis is nowhere near ready for serious NFL starting, but he could get by with his feet and improv passing on the run if called in due to an emergency. He's a weapon QB who needs 1-2 years of passer grooming to hope he becomes a legit NFL QB option.
Part of Treylon Burks' lack of catches this preseason is on the poor QB play. Ditto for Kyle Philips.
Kyle Trask (11-24 for 105 yards, 0 TDs/1 INT) has gotten a lot better in the course of a year. He's gone from 'is he a bust?' to 'he can hold down the fort a little if called on to do so this year'. I don't see any star potential move in Trask's game, yet, but he is getting better and better, so who knows where he might be in 2023…just in time for Brady being gone.
 -- One IDP note…
TB UDFA rookie ILB Olakunle Fatukasi (10 tackles, 1.5 sacks, 2 TFLs) had another quality preseason game. He's forcing his way onto the 53-man, potentially. He won't make it to the practice squad if they try to cut and stash.