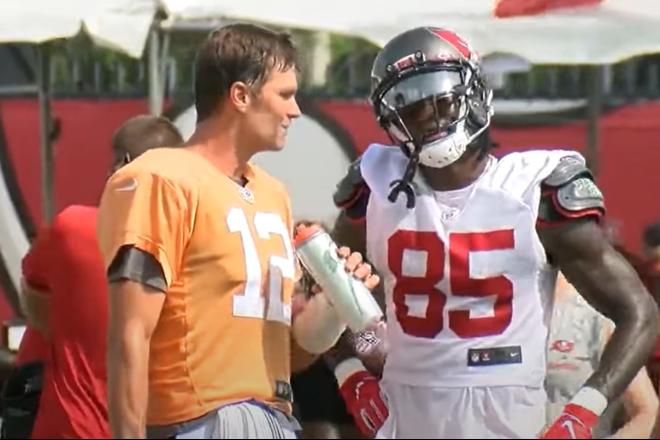 R.C. Fischer
Total Football Advisor
03 August 2022
2022 Dynasty/Fantasy Camp Notes (8/03/22)…*Subscriber Extra Notes
A daily collection of notes and commentary from training camps -- wanting to discuss the big news or give some tidbits you might not see anywhere else…
*SUBSCRIBERS = go to a subscriber section and see this same exact report with bonus, extended notes.
1) Bears backfield…
Like it or not, David Montgomery has captivated another coaching staff with his 'hard work' ethic…so, get ready for another RB2 season -- RB1 touches/treatment + RB3 offense/RB3 talent = solid-ish RB2.
Those remembering the flash of Khalil Herbert last season, when he filled in -- it was just a flash. It wasn't as great as I remembered when I re-watched some of the tape of his couple start games from 2021. And I hear barely a camp peep on him from the mainstream or my inside sources. But I hear all about Montgomery.
I hear more about rookie Trestan Ebner, the 6th-round pick out of Baylor, then I do about Herbert…and Ebner is definitely getting attention making plays, flashing runner and receiver skills a la some Tarik Cohen mentions. Ebner is much bigger than Cohen, but he is a talent…worth watching…to be a passing game weapon usage this season, ahead of Herbert perhaps.
2) Tampa Bay WR Inflation…
I've been operating on the thought that Julio Jones is that 'veteran guy' who is long past his prime and is a nice 'hand' to have for a serious contending team like Tampa Bay…but not a FF producer anymore.
Watching Julio in Tennessee last season, watching tape in detail to see if he had any 'it' -- he really wasn't the same player as he used to be, not close. Still plausible but didn't have the feet to get open and beat DBs like he used to. Still savvy and uses body position well to be available for the QB -- but not the guy he was.
All that to say… Watching some camp tape of Julio in practice, in drills in Tampa -- he looks fantastic, footwork wise. As good as he has looked, to my (trained) eyes, in a while. If Julio has a little bit more in the tank…it has ramifications for all the Tampa Bay WRs.
Evans-Godwin-Julio would be an all-star team. But that's leaving out Russell Gage, which how can you? It's even more of an amazing group, potentially with Gage and if/when Godwin comes back.
The Bucs see a closing window with Tom Brady, and they've rushed to supply him with weapons. The Packers see a window with Aaron Rodgers and lost their ace WR, lost their #2 outside WR (MVS)…and are hoping a never-before #1 WR emerges (Lazard) + ancient Randall Cobb stays active + a rookie or washed Sammy Watkins will be the ticket.
More on the TB WR group for FF, and more on a WR lurking in the weeds behind the big four in the Subscriber Notes Extra.
*SUBSCRIBER NOTES EXTRA…(see these notes on the subscriber version)
You have to be a bit worried about the FF upside/value of Russell Gage if Julio is going to be spry off the bat with Godwin out. There's no way Julio is mistreated/ignored by Brady. A healthy, still decent Julio cuts into Mike Evans a bit but cuts into Gage's upside more. Then when Godwin is back -- what happens, for FF? Four star WRs…who is going to dominate the touches? If Evans gets his…then it's going to be a random mix of Godwin-Gage-Julio behind him week-to-week. It could get messy in Tampa trying to figure out these WRs and targeting/output. So much hinges on when Godwin is really coming back.
2nd-year WR Jaelon Darden has been stepping up…which is wonderful, but he is at minimum the #5 WR once Godwin is back. #4 (at best) while Godwin is out. In 2023, if Julio and Brady are gone…Darden is still the #4 (at best)…and no Brady. I'm a Darden fan, but he's in a terrible long-term view spot.
3) Bears Defensive Playcaller…
The Bears got a steal when they grabbed Nick Morrow in free agency from the poorly run Las Vegas Raiders. Now Morrow has become an instant starter…the defensive playcaller…manning the middle on a team likely to be down a lot/on defense a lot being run at a bunch to salt away victories. Could be a sweet IDP pop for Morrow in Chicago this season…and, or at minimum he will cut into Roquan Smith's lofty/usual IDP outputs.
4) We had a couple great points/questions brought up by audience members on last night's video Q&A…all stemming from the issues with Van Jefferson's knee, and what might happen at the #3 WR slot.
I had my theory on who the eventual #3 WR might be, and it is not any mainstream player like OBJ nor little Tutu -- and that set off great questions/comments that hit on an outside #3 option that makes ALL the sense in the world, a scenario I mentioned weeks ago…but also something happening within all this that presents an interesting FFPC pinball action.
Some great ideas/concepts to discuss, and the reverberations that could affect Kupp and ARob among other things. So much juiciness, and we'll discuss that in the Subscriber Notes Extra section.
*SUBSCRIBER NOTES EXTRA…(see these notes on the subscriber version)
So, I was discussing the Van Jefferson issue on last night's show…and how I think Van is dying off in L.A./FF as it is…but now, he may miss part or half or all the 2022 season with a lingering knee issue. If he's out, it opens the door for somebody. I discussed the opportunity for Jacob Harris within this, since he is being moved from TE back to WR, per Sean McVay earlier this year and reiterated recently. Harris is a WR on the depth charts and 50-50 he's a WR on Fantasy draft sites. It's an opportunity for Harris, but we still need him (coming off ACL surgery in 2021) to get on the field and seize the day…which isn't assured, but he should be back on the field soon.
This all raised some great questions/comments from the audience…
 -- Harris is listed as a TE in FFPC drafts, which means he's locked in there as a TE the rest of the season…but if he is really a WR and could be a #3 WR IF Van is out for a while/ever…isn't that an amazing FFPC (1.5 PPR TE) opportunity?
Yes. Yes, it is. IF Harris can get back working and seize that role. It's asking a lot right now, before Harris is even fully back, but if Harris is OK and can get back to full throttle, he's the best WR they have among him, Tutu and Skowronek.
Tutu would get a chance to be the #3 to justify his draft stock.
Skowronek, they like because of his blocking, and was the #3 WR fill-in last year.
But Harris in FFPC presents a long-shot excitement…as a WR in reality, on a great passing game, with him classified as a Fantasy TE with the 1.5 PPR bonus bump.
 -- Another audience member brought up my Marvin Jones theory from weeks ago…
Marvin Jones is one of Matt Stafford's best friends. Marvin is not needed in Jacksonville. The Rams always find a way to get guys like this.
If Tampa Bay is going to go to war with Evans-Gage-Godwin-Julio…then the Rams might counter with an even better Kupp-ARob-Marvin trio?
Marvin Jones as the Rams #3/Stafford BFF would take touches away from Kupp and ARob to some degree…steals some of their upside. It's something to watch for those investing hot in Kupp-ARob.
 -- If Marvin Jones does wind up in L.A. -- how great are the projections on Stafford 2022? Think about the older elite QBs and their WR groups…
Tampa and the Rams could have all-star teams, while Green Bay and Denver have OK WR groups, but nothing like what TB and LAR would have.
Stafford-Brady for FF way better than Russ-Rodgers, no?
Marvin Jones is in play for L.A., but also Green Bay…but now maybe Denver with the Tim Patrick injury? Marvin Jones is going to be a homewrecker for some Fantasy WR situations…we're just not sure which situation -- but my money would be on him to the Rams.