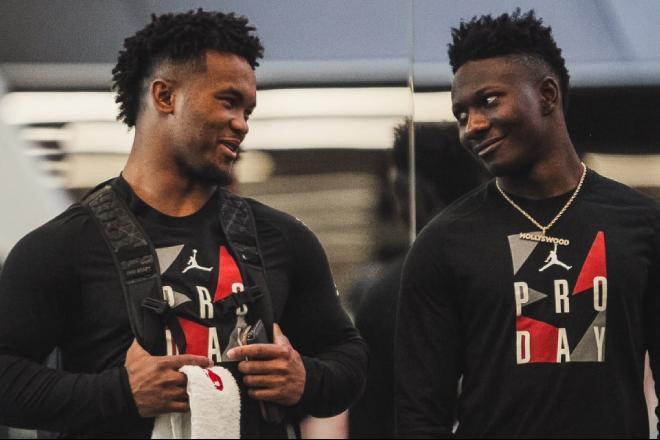 R.C. Fischer
Total Football Advisor
30 July 2022
2022 REWIND: Marquise Brown's 2021 projecting to Arizona 2022?
I wanted to go through Marquise Brown's 2021 tape to try and get a better feel (or find red flags) for what a Marquise + Kyler pairing could/would be like in 2022.
I've been operating under the following assumptions, pre-study…
 - From my college and NFL scouting the past few years: Marquise Brown is an average/good WR, but diminutive and an elevated injury risk with his thin frame. I have a bias against this size of WR.
 - Marquise Brown has performed better than I expected in the pros, in part because of a lack of faith in Lamar Jackson -- but Lamar has connected with Brown to be a fringe WR1 in non-PPR.
 - Marquise Brown has some of the crazy, off the field, that his relative Antonio Brown does. They actually look a little alike as WRs too.
 - The fact that the Ravens were willing to dump Marquise so easily was a bit of a red flag for me…and was soft-confirming some of my fears about Brown off the field (that he is immature and a bit nutty).
 - Kyler and Marquise are college BFFs, so this pairing could really be good for FF purposes as Kyler tries to work his buddy over all other things.
But I wanted to go and refamiliarize myself with, spend a day with Marquise Brown's tape to make sure I was not assuming too much, or being too short. I went back and watched about half the games Brown from 2021…some with Lamar, some with Tyler Huntley. And I also went back and watched some games of Marquise and Kyler at Oklahoma, just to get a feel for their last time together.
With all that background and gameplan, here are the conclusions I come to after watching all the tape and considering the big picture for 2022+…
Marquise Brown is a good little WR. Better than I expected to see. I don't love his frame or some of his attitude, but when you step away from that -- the guy can play. He's not elite, but he's pretty good in the overall scheme of NFL WRs.
I always thought of Brown as a deep ball speedster who was flat/scared/too thin for effective bubble screen type work/impact. That scouting is somewhat correct, but it lacks acknowledging an element to his game I didn't really pick up on in the past -- he actually works all levels of the field and will go inside and work as desired. He's more an all around WR than I expected/remembered. He does a great job of finding soft spots in the defense and getting open/available. He's not an ace at man-to-man route running, beating up CBs with his fast feet. He's not a great bubble screen and go guy…but he's ok/good enough at it. Brown is more an opportunist (in a positive sense) that glides around the field playing short-medium-deep game and gets open.
I think Marquise's 'availability'/his knack for finding holes in the defense or taking advantage of too soft or too tight coverage, his overall solid WR play is a great mix with Kyler, because no matter what anyone thinks/criticizes on Kyler -- that guy finds open receivers quickly and plants it on them like a homing device about as well as any QB that's played the game.
DeAndre Hopkins, Zach Ertz, A.J. Green, and Rondale Moore have more designed/controlled routes they run. Marquise can be an improviser/route call on the fly with Kyler and Murray can just plant it on him. After watching all this tape and thinking about the scenarios -- bringing in Marquise Brown with Kyler's all-over-the-field vision is brilliant…for Fantasy. I'm not sure these two are the culture you want for you organization, a culture of immaturity unlike any other organization -- but all I care about is Marquise getting too many targets for FF because he works well with and is BFFs with Kyler.
I think Marquise + Kyler is gonna be damn good. And I think it will still be good when Hopkins is back, because Hopkins will take some heat away and allow Marquise to roam even more freely for Kyler (a version of how Thielen-Jefferson works could be kinda Hopkins-Brown). I've been 'onboard' with this pairing, logically (the QB-WR college friendship), since the NFL trade happened…but looking at Marquise more the past few days, I'm even more excited/interest…especially with Brown trading as a #18-25 WR overall in redraft…and even cheaper than that in most Dynasty leagues.
FF 2022 debates (random examples, similar ADP WRs):
Diontae Johnson or Marquise? Marquise.
Darnell Mooney or Marquise? Marquise…because of the better QB situation.
D.J. Moore or Marquise? Marquise…better passing game, trusted history between QB-WR.
Terry McLaurin or Marquise? Marquise…better passing game/QB.
Jaylen Waddle or Marquise? Marquise…no Tyreek Hill/similar talent getting in the way, better QB/passing game.
Jerry Jeudy or Marquise? Marquise…you didn't even need to ask.
Amon-Ra St. Brown or Marquise? Marquise…no brainer.
It's not complicated and doesn't need a multi-thousand-word dissertation… Marquise Brown is good. He was pretty good at Oklahoma, and he has been pretty good in Baltimore. He's not my favorite type WR prospect -- but he is good. Ow, he lands in the absolute perfect spot for him in 2022. I was onboard before…I'm even more onboard now.
Bonus notes from the tape sessions…
 -- Rashod Bateman is going to step right into the void Marquise Brown left behind in Baltimore, but it's a shame Bateman isn't working with a legit pocket passer that take advantage of Bateman's 'Dionte Johnson' or 'Davante Adams' type of ways getting open off the snap.
Bateman looks really good but I'm not sure he can get out the WR2 box working with Lamar.
 -- I like Devin Duvernay, a lot, as a talent…and he'll fight for but be behind Rashod Bateman for targets/touches in 2022. The Bateman-Duvernay combo made trading Marquise Brown expendable…but still makes me worry a bit for the reason (behind the scenes) the Ravens were willing to move from Brown. The NFL typically sticks with what was working and isn't as quick to make proactive moves like this…but it's starting to happen more like with Tyreek, A.J. Brown…the cost vs. the return vs. what they have in inventory vs. the cheaper replacement value is finally being looked at/acted upon more -- not just worrying what fans will think.
But as I watched some of the later season games for Baltimore 2021, two other WRs showed a little something…
James Proche has terrific hands and is going to be the #3 WR. Not a super athlete but a really capable 'hands' WR.
Tylan Wallace also showed some spark/zip the few times he touched the ball. I liked Wallace the first time I scouted him in college, but he then wrecked his knee and fell down the prospect ranks…he seems to be getting back to normal and will be a nice #4 WR.
 -- Just a throw away line…one so sad, so mystifying that I still don't have an answer… Ty'Son Williams was the lead back for this team to start the season and he looked damn good. I don't know why the Ravens just threw him in the trash. Well, they lost out at the end of the season and thus didn't make the playoffs, so a little karma for the Ravens.
Williams was their best back and they just stopped using him and then cut him this offseason. Crazy. There must be something behind the scenes.