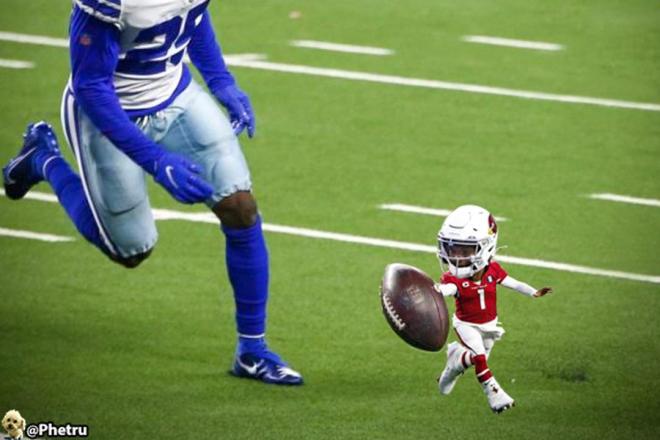 R.C. Fischer
Total Football Advisor
27 July 2022
-Thing #1: Kyler's New Deal…
I know you've seen it all over the news…the hullabaloo about the clause of Kyler having to do contractually obligated 'independent study' homework for 4 hours a week…homework from the team that he has to respond to.
All the jokes and analysis about this out in the mainstream is on point…it also reinforces what I wrote/theorized about in my 'Trading Kyler' lengthy Dynasty piece months ago -- it's time to run from Kyler, swap into a similarly priced/valued QB or use him in a deal to reach up for a top 3 QB while you can. Kyler is a natural talent…but one not likely to get any better as he goes because he isn't into improving his craft, he's never had to -- and then we feared what would happen once he got paid.
All our (and THEIR) reaction to this story/event is straightforward and shouldn't be laughed about then forgotten. You might have reacted prior to the new deal (sold him off)…but now it's here, the deal is done, and another window to get rid of Kyler while you still have time/people believing in him as a top guy. But you should probably wait a week or so for people to forget about the jokes, etc., about this. Today is a bad day to move on the news. Kyler is a joke this week. He's not going to fall off a cliff on the field…but my stance remains the same as months ago -- his value is not likely to ever be higher than it is now. Cash out.
My take on the contract stipulation…
It's an insult…like everyone is saying/reacting to/joking about. The fact that they had to put that clause in there lets you know they know there is a Kyler 'mentality' problem…but also a complete buffoonery running the Cardinals, to think they should put that in there. The Cardinals ownership/management had a gun to their head…they choose the Kingsbury + Kyler path, then extended/paid Kliff huge this offseason…they had no choice but to sell their soul to Kyler…not even that, it's more 'damned themselves to hell' by tying themselves to lacking leadership at QB and HC (and bringing in Marquise Brown isn't going to help 'the culture' either)…a key group that won't be getting them to the promised land…and is more likely going to put them in the new ahead when the team and Kyler starts to fight about things. Kyler is not going to take criticism well…at all…like he won't have it. He'll quit football and go to baseball if he has to.
If you think NFL teams are run by geniuses…see the Deshaun Watson trade and subsequent contract by the Browns, and then maybe even as desperate a football move -- this contract clause for Kyler. The fact they put it in there acknowledges the issue. However, it's gonna be a point of contention because -- what if he doesn't respond to the homework the way they want and they try to use it against him in upholding the contract? I'm sure that will go well. In a league where 'QB is everything' and 'coach's relationship with the QB is everything' -- now we have the Cardinals with a talented non-leader/alpha with a contract stipulation that makes Kyler look like an idiot being micromanaged by morons in management.  
The joke is on Arizona, the true idiots in this -- they gave Kyler the big deal and $160M guaranteed, despite the warning signs.
Imagine you are a 'C' student in high school, such as I was. Say…you're smart enough but not a genius, capable of better grades, you just are lax/uncaring about school…like I was. If I were suddenly thrown into a scenario where I got into Yale after high school, by like some paperwork snafu or lottery -- how might I fare? I imagine I'd have a meeting with my parents who would tell me, demand of me, plead with me that I needed to put forth max effort, and explained over and over that this is a massive opportunity I need to take advantage of…and that I better not blow it, and they were gonna check on my grades every week because there was a stipulation I could only stay in Yale if I maintained a 3.7+ GPA.
If that happened, my lazy 'C' student self would have probably understood the opportunity and went in with the desire to be a 3.7+ GPA, but I'd have no real background and foundation as a student to pull it off, especially at Yale…but maybe a desperation, a personal call to arms would happen and I might rally…but, still…a 3.7+ a Yale from an average IQ like me? I might try…I might make it. Maybe? Probably not…no matter how hard I tried.
But then just as I was trying to psych myself into becoming a great student to rise to the challenge…my parents just having delivered that huge motivation/desperation speech to me…what if they then said to me, at the very end of the discussion -- oh, by the way we just put $160 million irrevocable dollars in your bank account as a high school graduation gift. Congrats!
How hard do you think I'm going to try to go from lax 'C' student to 3.7+ GPA student at Yale…when I got $160M guaranteed in the bank? I imagine I would have not prepared at all for my freshman year at Yale. If I even showed up to day one at Yale, I would've tried to take easy classes…I would have gotten a bad grade or two or five on things within weeks/months and then I'd realize I'm falling out of the 3.7+ GPA hope/will be booted anyway, so why not just drop out now and go buy a house on the beach and never work a day in my life? Kyler GOT THE MONEY!!! Why should he change now, when he was making less money before (rookie deal) trying to make the BIG money and didn't put in the study effort to make that leap? What's in it for Kyler to try harder now?
If you think Kyler is going to rise up, and not further fall down, with $160M in his pocket -- you're insane. At least, that's the way I'm going to bet on this horse race.
I don't think Kyler will die off to a 'bust'…but I think he'll slide down, and when/if Kingsbury or his next coach comes in and starts cracking a whip…Kyler will shut down/be petulant (because he is) and mope and decline in production. At a minimum, if you think Kyler wants to run around with the ball and take big hits from defenders now…you're crazy.
Arizona is doomed. They did it to themselves. This is a deal about as stupid, differently stupid as the Deshaun Watson Cleveland Browns one.
-Thing #2: Elijah Mitchell…'the hated one'…
Has there been a week this offseason, since the NFL Draft, where there hasn't been a 'new' article or podcast soundbyte about the 49ers wanting to spread touches around because the team (it's assumed) thinks Elijah Mitchell has durability issues? This past week, we had a new report/blurb that the 49ers are really scared about Mitchell as a lead back going forward (from a national analyst/site)…so, to the FF websites who copy and paste and send teaser/scare headlines from the national media, Mitchell is now a 'Fantasy bust' list candidate for them.
My favorite thing about the new fear report is -- they cite Mitchell's smaller 201-pound frame as cause for the fear. No reference to the fact that Mitchell weighed 215 at the Senior Bowl, a month+ earlier than his Pro Day…and that he cut down to 201 pounds for his Pro Day and thus ran a shocking 4.35 40-time due in part to that weight loss. He bulked right back up to play at 210+ pounds for SF during the NFL season and was a better rookie RB in 2021 than Najee Harris, among others. But…OK, he's 201 pounds and a problem…
The analyst who mentioned all this didn't reference the changing pre-draft weight numbers because, I would heavily assume, he has no idea -- because he's just making stuff up/jumping to conclusions from loose datapoints. The 49ers just drafted a (bad/weak) running back prospect in the 3rd-round, therefore, they hate Elijah Mitchell. From the same mind we get…the 49ers didn't trade Jimmy G. yet, so the 49ers must hate Trey Lance stories the past few months -- how has that aged? Why does everyone think the 49ers hate all their players?
The 49ers organization above anyone knows that a running back playing a full season these days, without injury, is near impossible. The 49ers have been patching together backfield work for years due to injuries. It's part of the game anymore. They don't have any real 'fear'/super talented RBs behind Mitchell…just complementary ones.
But now, per 'reports', Mitchell is going to be a 2022 bust because he's injury prone and the 49ers are gonna put him into a split with another back.
Let me let these analysts in on a little secret…MITCHELL ALREADY WAS IN A SPLIT BACKFIELD LAST YEAR, and he did fine.
In 2021, he split with Deebo Samuel and then also shared a tiny bit with Wilson-Sermon-Hardy along the way. It's not Mitchell that's losing his work with the RB depth…it's Deebo Samuel losing his work, should he return to SF. But I can tell from the ADP averages right now…no one is punishing Deebo on that front. But they are anti-Elijah.
And why is Mitchell such a major injury worry…but always-hurt Christian McCaffrey is a 2022 opportunity? And Saquon Barkley a 'sleeper' for them? Those guys are always hurt. Most lead RBs are gonna miss at least 1-4 games…they just are. Teams have to prepare for it…SF is. But make no mistake -- Mitchell is their lead guy. Mitchell is the guy that ran for five 100+ yard efforts in his first 10 game appearances. Najee Harris did so three times in his 18 games played.
Really, the news stories are coming from dart throws from uneducated/lazy football 'analysts' who think draft pick number/round equals how talented you are. If you think that draft stock equals talent…if you think the NFL knows what they are doing in the draft above anyone else…you're a rube. Draft stock does equal extra opportunities because the teams fear looking like fools with high picks failing, but credit to Kyle Shanahan -- he went right to Elijah Mitchell over the much more lauded Trey Sermon last year, and he was right to do so.
Elijah Mitchell's biggest threat to touches, aside from getting hurt (like is a threat to any RB), is the Trey Lance rushing count. But if Deebo is no longer the 'other back', Lance could take some of those touches and Mitchell still sees his 15+ carries a game as the lead and be just fine, a solid RB1.5-2.0. He may not be a top 5 FF RB in 2022…but he's not a 'bust' because of lack of name appeal/pre-Draft history to lazy analysts.
Mitchell plays on one of the best planned, best blocked run games in the NFL…he's gonna be fine. Let THEM have their Jeff Wilson fantasies (for another year in a row) and their Trey Sermon 'Ohio State rules!' justifications and their Tyrion Davis-Price dalliances -- the obvious FF-play is Elijah Mitchell as the lead back in 2022.
Mitchell played in 11 games in the 2021 season. If we extrapolated his 11 games to a 17-game season, he would have amassed/paced for: 1,488 rushing yards, 1,700+ totaal yards, and 9+ total TDs. I'll take that pace…and I'm sure he'll miss a game or three with injury. What RB does not have that fear?
Bottom line = the absolute worst 'hot takes' by the media is coming from anything to do with the 49ers' offense in the 2022 offseason. As Mitchell continues to fall in ADP/stature…I'm a buyer, for the value.
-Thing #3: Everyone is moving to Florida…
Seven free agent WRs got $10M or more in guaranteed money to change teams this offseason. I will list them by state/residency of their new team and whether they play in a dome…
Florida
L.A. (dome)
Florida
Missouri
Florida
Florida
Michigan (dome)
Tyreek Hill, Davante Adams, and Julio Jones are big name WRs who got to choose their new destination…listing them by the same parameters…
Florida
Las Vegas (dome)
Florida
Ten high profile WRs…six going to Florida based teams…one of the 10 going to Florida or home dome teams…one of the 10 going to a non-warm/dome home stadium, to KC to be with Patrick Mahomes.
Teams in the Northeast and Midwest have to overpay to get passing game weapons, or any players willing to go there to play football.
So, now Julio Jones is going to Florida. Julio is long since past his prime, but he can be a useful hand still in 2022…watching his 2021 tape. I think Julio going to Tampa Bay makes a couple of FF statements…
1) Chris Godwin returning in time for Week 1 is really looking like a long shot…and him going on PUP is looking more and more likely. But it's still up in the air.
2) This will likely hurt Russell Gage's value for a moment…and a slight ding to Mike Evans, but I'd be a buyer on Evans on any value weakness -- Julio is not a high impact add/target suck from the star WRs here.
The worst thing that will happen to the Tampa Bay WR's value will be when Tom Brady leaves them at the end of the season and retires…or goes to Miami. Mike Evans and Chris Godwin cannot have the same outlook going forward once Brady leaves. Who can Tampa get that will have the license to throw like Brady?
And then consider that Tampa Bay would either attract a crappy veteran, hand-picked by Bruce Arians…so, it may be a terrible choice…or they get a rookie to groom, and then there is no way a rookie QB comes in and deals big numbers to Evans-Godwin-Gage…not enough to support their current Dynasty ADPs/valuations.
My interest in Tampa Bay WRs/TEs is good for 2022, if I assume (and I do) Brady leaves after this season. For Russell Gage, my interest is more tied to the amount of time he plays without Godwin available.
Could the Bucs attract a great replacement QB for Brady? Sure…it's a Florida-based team, but the odds they can pull off anything close to Brady is low…lower when Arians-Bowles makes the pick. A perfect storm would have to happen to keep Tampa with an elite QB in 2023 and beyond.
How much do you want to bet on that happening?
-Thing #4, the non-football thing: I'm not much for nature…
This is the last 'non-football' #4 thing of the season. The season is about to begin, players are back in camp…time to get on a football overload for the next 5+ months.
For my last hurrah of a non-football thing here, I will discuss my last hurrah trip out of town for the summer, for fun, before I go off to war for the next 5+ months.
So, I went to the mountains in the Carolinas for a 2-day sightseeing/get away with my wife. If you know me, you know…this wasn't my choice of things to do, but not against it….and I'm not against a chill time away from regular life with the wife. So, off we went.
The highlight of the two days was set to be a visit to 'Blowing Rock'…a quint/out-of-the-way mountain top/side vantage point overlooking miles and miles of forest in-between several mountains, and nice set up for visitors to come get a great look at miles of the mountain range from a top shelf location. It was pretty vast and amazing natural beauty. It's called 'The Blowing Rock', in part, because there is such an air/wind gust from the great expanse…and on a typically hot, humid summer day…it was a breezy 75 degrees of cool air coming at me -- that's one point in the column for the Blowing Rock visit.
So, we paid $9 per person to go inside this tourist trap little area. I had never been before, so I was ready to experience nature…however much nature was worth $9…actually $18 for two.
The problem was before I even got through the pay window to get out and see the nature…an outside force was trying to pre-aggravate me -- human beings.
Of my top 10 peeves in the world, of which I have like 400 contenders on and off the list…daily…is when people park next to me -- that is right up there contending for the #1 spot. Not that I own parking lots, and everyone needs to stay away from me like they're diseased. No. I mean, I purposely park far away from the entrance so I can comfortably get in and out of my car without the fear of someone parking 2 inches away from me, as I preserve my car doors from people opening their doors into mine, and I like the extended walk to get extra steps in because I sit on my ass all day typing about football. It's a win-win to park farther away from the entrance to anything…not like 2 miles away but away, away enough to where I am surrounded by 3-4-5-10+ parking spots in every direction…like my car is abandoned for some reason.
So, we pull into this quaint little tourist area…with less than half full in the parking lot. My wife was driving, and she pulled into a parking area where there were two spaces to the left and right of us in this sleepy little area. I go to open my passenger side door to get out and there's a car pulling in right next to me and is halfway in the spot and still going…another 2 seconds and I would've opened the door right into their moving car and lost my door. They had to be right behind us entering this super-low-speed entrance. They would've seen us pulling into the spot way away from the main entrance. They had 50 other parking options to choose from. They would've known or guessed that people would potentially be getting out of our car once we parked. Nope. No sooner had we stopped the car, put it in park, and I opened my passenger door -- there they were. I will never understand the appeal of people wanting to park next me when I am way away from the other cars and away from the entrance and with nothing but spots available all around…but it happens to me all the time. It's so weird. I think the parking gods are taunting me eternally.
So, I look at these oblivious intruders in disbelief and shut my door to let them come on in. They did the smart thing and backed up and went to another side of the parking lot. Likely, they realized the shame, the crime they had committed and didn't want to face me in that spot. Kudos to them, I guess. So, now I comfortably get out of the passenger side…slowly, comfortably I get out of the car and am politely waiting for my wife to get her 248 things she needs to do/get/bring with her/check before she actually then gets out of the car. I make sure the car is locked and start to head over to join her for the walk in…and then right as I go to walk around the back of the car to join up with my wife on the other side…another car is pulling right in to the spot next to our car, again…plenty of spots available all around and to the left or right of us…and I just was walking around that area so they like waited for me to take one step away from that spot and they dove for it. Good thing I didn't turn back because I forgot something, or I would've been flattened.
Finally, we're going to go in and see some nature…but all I'm thinking about is why people keep parking next to me the entire trip we were on, with so many options available to them otherwise. Ok, I'm gonna shake it off and go enjoy nature. I won't let human errors stop me.
So, we go into the entrance area and it's a gift shop type set up and pay for tickets/entry to the mountain views and vantage points/railings/walkways, etc. My wife said nature was calling her before we went to go see the $9 per person nature…so, off she went to the restroom. While I waited, I thought I'd go over and look at the Blowing Rock trucker hats they had on display, they looked interesting/cool. So, I head in that direction to kill time and then I hear some older lady cackling into her phone at a decibel where the entire store could hear her. She was on FaceTime and was trying on hats and getting opinions from the person on the other end as to which hat looked best.
I mean…you gotta be kidding me.
Ranked in my top 10 pet peeves is also -- people talking on their speaker/cellphones in an area with other people around, like at a restaurant, or in a store, or just about anywhere -- if I can hear you, then you're breaching the social contract. This lady had her phone on the highest volume, and she was shouting at the phone as if she needed to add volume so the person could hear her speaking from a hundred miles away. She kept shouting at the phone, which kept shouting back critiques to her about these hats…and when I thought she was going away and I could go look at some of the hat offerings, she hurriedly ran back over to get another hat to try on and then have another 10-minute debate with her friend about it…she almost ran me over like I wasn't there to get the next hat offering. The biggest issue in her life was finding the right overpriced souvenir hat, and I couldn't believe a human life had come down to this.
I could see the expanse of the mountain side out the window of this gift shop/entryway, and you could walk up a rock formation (with no security/guard rail, etc.) and look out and see/feel on top of the world. All the while I was hoping she'd venture outside and mistakenly get caught up in the conversation about hats and wander off the side of said cliff. It would have been fitting. Maybe the Blowing Rock would gust up and sweep her away to her demise, for mankind's sake? Who am I kidding, I could see by her size even nature wasn't going to be able to move her in such a way. No souvenir ball cap was gonna fix what visually ailed her.
Finally, I got to leave the gift shop and go out to the $9 nature experience…and the first platform experience we could walk out on -- there was an older couple parked right in the middle of the platform, both huddled together with their cellphone in their extended hand, on speaker phone at full blast, as they shouted to the other party about why they weren't able to be at someone's birthday party but they imagined how good the cake must have been and discussed the probable ingredients of the cake and the batter and the toppings. I stood there in more disbelief at how annoying all these people were, and I wondered if I went over and did like a Royal Rumble over-the-top-rope elimination move where I stooped down and grabbed both of their legs and used my shoulders to lift and fulcrum tip them over the guard rail -- I wondered whether I would get arrested or get a standing ovation…or both.
Eventually, we found an area where people were not over-congregated or talking loudly, and we could go up on the platform and look out at the expense of the huge mountain area and valley and trees and feel the natural breeze. It was us and just two older guys up on this constructed platform viewing area looking out at the nature and we went up to find a side of this platform to belly up to and look out -- then these two guys quietly staring out…but, as if my presence activated a program within them, they turned away from nature and started talking out loud/loudly about the traffic and weather in this area compared to California, and then debated and dissected how the first rain in California really brings out all the oil on the surface of the roads and makes it super slick to drive in but people don't care they drive like maniacs anyway, and they both agreed and did a 10 minute set about California drivers…as I'm trying to peacefully look at nature, for once in a year. Where could I go in this place to get away from annoying people? I started to wonder if Bill Gates has a point -- that we're overpopulated by about 50-90% on this planet, and we need to start thinning out the herd.
We finally did find a place all to ourselves to get to look out over the expanse, in some peace -- and it was pretty amazing how beautiful and creative (by God) these places look. It makes you think of how small we are compared to the vastness of the earth, much less the universe. I had all that thought process within like 30 seconds, and then was like…OK, what's next…is this it? I kept that thought to myself…as my wife delighted in going to different areas and looking at the same trees/expanse for another 20+ minutes…while I was looking out wondering what we would have for lunch once we left.
I don't begrudge people who love to look at nature. I realize I'm in the minority, but I just don't get it…after like 30-60 seconds, I'm ready to go. Like, I saw it…great…let's go so I can get home and watch some more college football tight end tape.
I'll always remember this trip, this event to Blowing Rock…thinking about that lady on her cellphone frantically trying on hats while shouting to someone over FaceTime and wondering what her life has come down to, and how did she get to this point in life and how oblivious she was…oh, and the mountain side, I'll remember the beauty of the mountainside too. Maybe.
2022 Fantasy Football season time…let's goooooo…