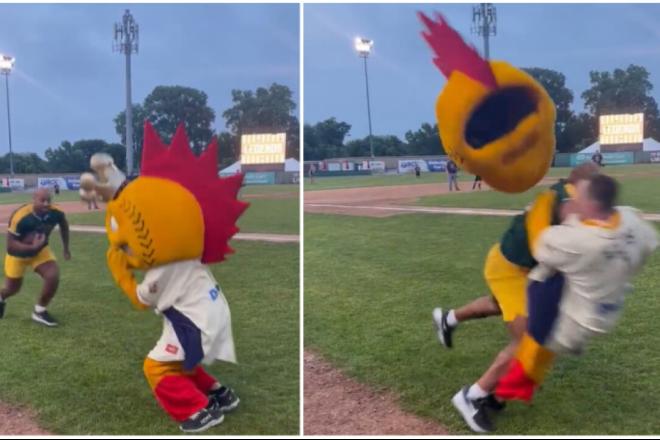 R.C. Fischer
Total Football Advisor
24 July 2022
2022 REWIND: A.J. Dillon's 2021…Next Derrick Henry? Lead Back or Aaron Jones Side Piece?
I watched most of the Green Bay Offense's 2021 season to try and see if I could get a feel for (a) how talented A.J. Dillon is…because we all assume he is the next big thing at RB, but how did he look play-to-play/week-to-week in 2021 and (b) was he gaining in touches, snaps, importance with/over Aaron Jones throughout 2021 – and would that be hint for a brighter 2022 for more touches, etc.?
Let's tackle the issues one at a time and then I have three bonus observations from this viewing/study on Allen Lazard, Randall Cobb, and O-C Nathaniel Hackett, which I will share at the end.
 Let's go through Dillon's study notes first…
How good is A.J. Dillon?
He's pretty good. Really good.
Dillon is pretty close to what we've all been thinking/hoping – a big bully runner with exceptional feet for his size. He's not a breakaway runner like Derrick Henry among the 240+ pound runners…Dillon is more of what you hoped Leonard Fournette would've become in his career.
Dillon runs with power and force/mass 'move the pile' ability but he's not just a straight-ahead runner that is limited whenever he has poor blocking or having to get shifty side-to-side, like the problems 240+ pound Najee Harris has. Dillon can't run straight over tacklers, but he can nimbly sidestep away from trouble and into the open crease, and even stop his momentum up the middle and kick a run to the outside deftly. A rare ability among backs his size.
Dillon is also an excellent receiver. Not only does he have very good hands (he's caught 92.3% of his career targets, 36-of-39 targets) but he's so nimble for his size that when you throw a swing pass or screen or whatever to Dillon, he has a fantastic ability to make the catch on the move but then also get himself turned around and accelerated up field. Many big guy RBs are stiff catching passes and take a lot of time to try and twist and turn and maneuver their body into position to accelerate going forward…Dillon is super fluid in the passing game for his size – which makes him a mismatch nightmare out in space.
I don't need to go on and on about Dillon's abilities more than I have stated since his pre-Draft scouting reports and in-season coverage. What we all think about Dillon as a talent…it's true, and probably even a bit better than we think -- especially in the passing game. If I were needing to throw one pass in the flat for a 3rd & 3 conversion for all the marbles – I'd want to have AJD in the game for it, over Aaron Jones…and that's not a slam at Jones. 
To a large degree, A.J. Dillon is the RB most every coach in the NFL dreams about – massive size, tough, straight ahead fast but side-to-side nimble/elusive with terrific hands, who can block. Dillon should already be a superstar Pro Bowl player.
But he isn't.
Why?
A.J. Dillon v. Aaron Jones…
…because if the Packers coaches were wanting to throw one pass in the flat for a 3rd & 3 conversion for all the marbles – they would have Aaron Jones in the game 98% of the time. Also, if the Packers have a 4th & 1 from the goal line…they'd want Jones, not Dillon to take that carry. I saw it in all the 2021 tape.
We can complain about it. We could wish it wasn't true. We can love Dillon obliterating a baseball mascot on TikTok. We could assume 'talent will win out in the end', and thus Dillon dispatches Jones to take the lead role! We can howl 'this is the year for AJD!', because we all love him so. We can feel all the feelings we want, but there is no way…under regular circumstances…that A.J. Dillon is going to surpass Aaron Jones and rise up to become the strong lead back and push Jones towards 'just a 3rd-down/satellite back' in 2022. There was not one inkling of that in the 2021 tape.
Yes, it is true…Dillon's touches started to rise as the 2021 season went on, but it just went from Dillon playing 30-35% of the snaps on average (with a range of 29-42%) the first 9 games of the 2021 season to, in week 11, Dillon getting a start (with Jones out) and playing 75% of the snaps, and looking great to then the final 6 games of 2021 season, Dillon playing a bumped up approx. 50% of the snaps in games (with a range of 37-54%).
So, Dillon definitely rose in snaps/touches as the season wore on – but it wasn't anything radical, or a takeover…it was just drawing closer to being into a 50/50 split with Jones. But it didn't 'look' that way to me watching all the games – Aaron Jones was CLEARLY the favored RB in key spots, and Dillon was a wonderful side piece that would come into the games intermittently, but way behind Jones. I'd say Jones started a series 80-90% of the season…and played the full series (with no AJD coming in) 50-60%+ of the season. Whereas Dillon started a series (with Jones active) 10-20% of the time and played a full series to himself maybe 10-20% of the time as well.
There was never any indication of Green Bay preferring Dillon to Jones in anyway, except for late game/late season desiring to run the ball tough to sit on a lead/salt away a victory…especially in sloppier weather.
In fact, the most shocking/maddening thing I saw during this whole rewatch – Green Bay getting down near the goal line…and putting Aaron Jones into the game, getting the goal line touches 80%+ of the time. Even worse, Dillon would be grinding/slashing the offense down near the goal line…and then come out of the game for Jones to go in and run for the score attempt. You'd think the ONE job Dillon would be preferred for was goal line…it wasn't, and we (AJD holders/dreamers) should be scared to death of that very real fact/desire by the current Packers management.
No one on the Packers offensive staff thought the 240+ pound monster would be better from 0-3 yards out than the 208-pound guy, but it was not even close to the case. Aaron Jones rushed for just 4 TDs on the season…from 1-3-2-3 yards out. They should've all been Dillon's scores.
The thing is it looks like the opposing defenses were telling us what they thought of the Green Bay RB situation. I noticed when A.J. Dillon entered the game, as the 2021 season wore on, the opposing defense started playing the run…putting more guys 'in the box'…and/or more defenders going forward off the snap, then when Jones would be in there were less in the box and they more stood still worried about the pass/not worried about the run as much. If that observation is true (and it is), then the O-C (Nathaniel Hackett) or someone should've thought to use Dillon more as a play action option to suck in defenses and be able to freely throw more, and thus stop the cheating up when Dillon came in…but they didn't.
The problem with the stacked run vs. Dillon is -- that Dillon runs into trouble/stacked run stuff efforts and would get halted a lot, and it didn't (visually) 'look good'…there wasn't any 'eye candy' to tempt the O-C with to change his ways. Dillon looked dull on too many carries for reasons beyond his control (a heavy overplay of the run and poor blocking of it)…so I'm sure the coaches think he's kinda dull as a runner. It's a self-fulfilling prophecy by the coaching staff – Dillon is treated as an old school banger, and not much more…and he goes out and takes a bunch of up-the-middle runs with the defense keying on it – so, the coaches see a big banger with limited/no 'big plays', and thus not a weapon to explore/exploit more.  
Do you know when Dillon's touches/snaps started to rise? After Aaron Jones got hurt in-game, missed a part of it…missed the next game…which forced Dillon to be a starter/lead, and he was more in a balanced offensive role, and thus showed more skills – after that midseason spot start, then Dillon started getting a few more snaps/touches. It's like this coaching staff doesn't know what they have in Dillon and were forced to see it some when Jones was forced out. And you know what I think of football coaches (most are the least bright among us) – so, do you think I think it will change going forward as long as Jones is there? A whole new coaching staff would, but I doubt this Aaron Rodgers' caretaker coaching staff in Green Bay will do anything to rock a boat…their life is good, they're winning games, Aaron Rodgers doesn't hate them anymore – no need to change a thing for 2022.
2021 season:
476 snaps, 181 carries = a rushing attempt every 2.62 snaps (Dillon 2021)
578 snaps, 171 carries = a rushing attempt every 3.38 snaps (Jones 2021)
For some context/comparison…
768 snaps, 332 carries = a rushing attempt every 2.31 snaps = (J. Taylor 2021)
980 snaps, 301 carries = a rushing attempt every 3.26 snaps = (Najee 2021)
Might the Packers change their offensive flow with the new/2022 Offensive Coordinator, Adam Stenavich?  I don't know…do you know who the O-Line coach and run game coordinator was in 2021? Stenavich.
You think Aaron Rodgers is calling for change to heavy Dillon action…or do you think that he wants to stick with his buddy, Aaron Jones?
You think Matt LaFleur has the guts to stand up to high paid, long-time Packer veteran players and reduce their work rate, and risk pissing them or Aaron Rodgers off? I can answer that for you with a question – with a million and one options at the key slot WR role…who are the Packers going with as their starting slot WR in 2022 (and was in 2021)? Additionally… I wonder who the kicker will be again this season for Green Bay…couldn't be the overpaid shanker/friend of Rodgers, long time Packer Mason Crosby…could it?
You can daydream about A.J. Dillon's increased RB1 workload in 2022…but it ain't happening, unless Aaron Jones gets hurt. Dillon may score more TDs and score better for FF in 2022 than 2021, but he's a 40-50% snap/touch count player with Aaron Jones alive in 2022.
What about 2023/the future? Well, Aaron Jones is set to make $20M in 2023 season…and there's no way he will. But he'll also cost $9M to cut…that's a big sum. The solution for Green Bay is, simply, to renegotiate Jones's deal to pay him his $9M in 2023…and not much more or break the guarantee over an extended contract going forward. And then we have ANOTHER year of an annoying Dillon-Jones split into 2023.
It could very well be that as long as Aaron Rodgers is leading the organization around by the nose…aging Randall Cobb will be the limited/aging slot WR for two more years, and Aaron Jones will be the desired/lead RB working a split with A.J. Dillon. And that could be into 2023…and possibly into 2024. We got an outside shot Jones plays hardball in 2023 and the Packers ditch him for CAP reasons…and then we can talk RB1 Dillon.
The Dillon top 5 Fantasy RB story is waiting to happen…it's just the Aaron's are in the way (Jones and Rodgers).
In reality, in 2022 and maybe 2023 -- only an Aaron Jones injury can save us, those of us that are Dillon investors. And that's a depressing scenario to have invested in right now. We're stuck waiting for 'a break'. Dillon is a split role RB2 waiting for his chance to be a high-end RB1.
Sad.
But.
True.
Bonus notes from this study…
 -- Allen Lazard
I was skipping through the offensive plays of Green Bay for almost all their 2021 games for this study, just skipping to seeing AJD in the backfield then stopping to watch…but there were other times I'd notice/watch other things…and Lazard targets was one of them.
Let me just say – I think he went to the same footwork training academy that Davante Adams went to years ago that launched him to another level. Lazard's feet off the snap looked excellent, better than I remembered…at his size/range, he can really get off the snap and cut into routes well. He used to be good all-around but great at high point medium and deep ball plays. Now, he's really turning into a well versed WR running routes.
It's almost like he was training to take over for Davante Adams someday…
 -- 2021 Green Bay O-C Nathaniel Hackett, now head coach of the Denver Broncos
One of the coaches with their fingerprints all over the Green Bay 2021 backfield flow was Nathaniel Hackett. Another likeable guy/coach but not a personality to take on strong-willed, veteran players. Hackett, assumedly, called the plays/personnel with Jones playing as the lead and goal line back over A.J. Dillon.
Now, Hackett walks into a Denver situation where he has humble/quiet young stud Javonte Williams…and loudmouth veteran Melvin Gordon. Geez, I wonder if he'll split touches between them to avoid conflict with Gordon – or will he dive in going 'all-in' with the money, Javonte? If the Jones-Dillon flow of 2021 is any example…we're in for frustration on Javonte's touch count 2022, as well…with Mel G. getting an annoying amount of respect/fear/touches from Hackett…it's my fear, anyway, from watching this Green Bay 2021 run game offensive flow.
 -- Amari Rodgers
Rodgers didn't look terrible the few times he touched the ball on offense…or in the return game. I'm not giving a ringing endorsement, just saying he looked plausible…a little hopeful as NFL WR. I don't think Aaron Rodgers is interested…because that might make Randall Cobb look bad, but…I'm just sayin' – maybe there's some hope if Amari is thrust into the starting lineup for some reason.