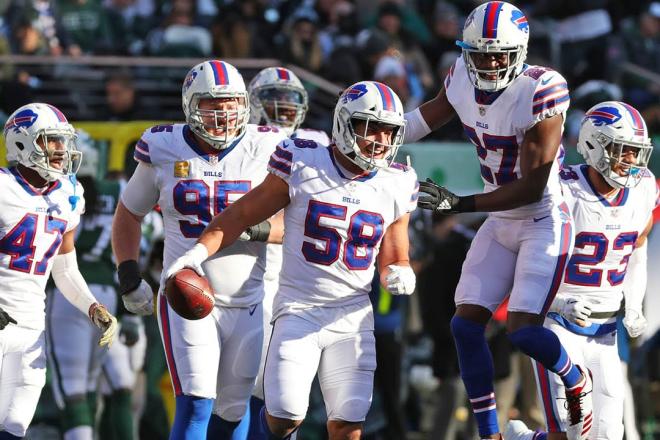 R.C. Fischer
Total Football Advisor
27 August 2021
 ‍
The Dual DST Theory for 2021…
'Just take any old/good DST at the end draft'…
That's the #1 theory from Fantasy analysts for any redraft. We spend all this time micro-analyzing all these players for Fantasy and then we get to the DST position and shrug our shoulders. We do start as many DSTs as we do QBs and TEs per week (typically). Yet, we put far less concern into our DST choices. 
It's logical to go down the 'shoulder shrug' DST path because there are random events that affect the best of DSTs, plus scouting an entire unit is not easy…and getting good info from sources is complicated -- hell, the football analysts don't even know how to scout individual offensive players! So, there's no way they can understand 'whole units' on defense and adjust for injuries to the unit…much less projecting the schedule impact/the opposing talent going against it.
We've all kinda devolved into a 'I'm going to get it wrong, so why not just stream the best DST I can get as I go and hope to get lucky more times than not'? And that's not crazy talk, but it also can keep us from even trying to find a unique path to success/an edge over others at the DST spot.
On top of all DSTs collectively perceived as being random-ish events, in 2021, there is no 'wow' defense in the NFL right now to trust/latch onto. We had Denver a few years ago, and then that one year the Bears were hot (2018). Then we had the magical New England 2019 start to the season – and those of you that had the Pats to start 2019, you know what I mean.
For those that didn't have the Pats DST in 2019…basically they scored so highly the first half+ of the season that they were the #1 DST by double the next competitor like a top 10 RB for scoring in leagues. It was crazy. Crazy good. And it was the equation of = good defense meets incredible schedule of weak opponents. If you had the Pats DST in 2019…you were winning right out of the gates and you went to the FF playoffs almost assuredly. They were that strong the 1st-half of the season. Ditto the ones who got in on the Bears DST of 2018 – they sailed into the FF playoffs.
DSTs don't make a difference, until they do.
The reason DSTs are getting more difficult to find for Fantasy is – the QB talent flooding the NFL is causing a lack of bad QBs to match up against. You might love the Rams or Washington defenses, but then look at their schedule and grimace. I love Washington's defense for 2021, but they face Justin Herbert and Josh Allen two of the first three games of 2021…and then Mahomes in Week 6 and Rodgers in Week 7. It's a horrific start to the season schedule-wise.
It all makes you just wanna reach for a decent+ defense with a seemingly good schedule Weeks 1-2-3 and stream from there, but good luck finding that. This season the early schedules for just one DST being awesome…it's just not there right now. It's an odd year of scheduling, plus the abundance of QB talent. Denver has about the best schedule start to the season but for two years under defensive guru Vic Fangio, the Denver-DST has been nothing but an FF letdown.
It's easy to just cross your fingers, close your eyes, pinch your nose and reach into the DST bag and see what you pull out the last round or two of your redraft. I get it, and I do it/have done it -- but I think there is a DST path to consider in 2021 that could give you a huge scoring edge. But it involves taking two defenses earlier than you'd like…so the thought of taking DSTs early PLUS taking two of them are things NO fantasy analysts would ever consider. The analysts want to chase handcuff running backs and hope the established starter gets hurt so they can 'win' with their RB lottery ticket. That's not a wrong theory. It might work out OK, but probably 90% of the time that hail mary backup RB lottery ticket is going to get cut when they don't payoff within 2-3 weeks into the season, and you see other delightful things to chase instead. What I'm going to offer here is a path to not have to worry about DST most of the FF season AND to give you a big scoring boost opportunity right off the bat if it's worth it for your DST scoring system.
The Dual-DST theory 2021 involves drafting both the Patriots and Bills DSTs. And you have to make it happen, you can't sit back and take them 1-2 late. It's an expensive (for DSTs)/unorthodox investment.
*AND THIS IS the way to go for Best Ball – imagine this pairing for BB when you go through it.
We'll look at the schedule options for them, and how this works in concert so well early on – but let's establish some ground rules first:
1) There are not many GREAT matchups for DSTs anymore. So, we have to establish what those great opportunities are.
2) I'm not talking about 'OK' matchups for your DST, I'm talking about the BEST, most obvious matchup opportunities – bad QB, bad O-Line. Like the worst of the worst.
3) Those WORST of the WORST offensive situations are…
HOU = Tyrod looks terrible, as does that whole team…and if Tyrod goes down they have even worse QBs behind him (Davis Mills).
MIA = Tua is a bust, and they have no run game.
NYG = Daniel Jones and friends, especially without Saquon, are awful on offense.
You want every opportunity you can to get in on these matchups. FYI, you get these offenses four times the first 5 weeks with a NE-BUF pairing.
4) Other really bad offensive situations, which might be WORSTs already or eventual worsts…
CHI = Especially with Dalton but still works OK against a rookie QB with bad surroundings.
DET = Good O-Line, but bad weapons and bad O-C.
CAR = Sam Darnold is weak, and his O-Line is not great.
JAX = Lawrence the rookie with a terrible O-Line and weak weapons around him (closest to be up in the worst of the worst of this grouping).
5) A few not-so—bad, possibly pretty favorable matchups…
Rookie QBs, especially early on in their journey = NYJ Weeks 1-2-3 and then eventually NE-SF at some point in the season – but both of those with smarter coaches, but still rookie QBs.
With that in mind PLUS knowing that the Bills and Patriots have top NFL defensive units as it is…like top 5 type units, let us see how their schedules mesh listing the obvious choice for each week (or discussion of a close call of the two):
Week 1 = NE-DST hosting MIA (awesome)
Week 2 = BUF-DST at MIA (awesome)
The first two weeks of 2021, you get to face Tua twice.
Week 3 = BUF-DST hosting WSH or NE-DST hosting NO…both viable, especially if Winston is still starting.
Week 4 = BUF-DST hosting HOU (awesome)
Week 5 = NE-DST at HOU (awesome)
Four of the first five weeks you get Tua and Tyrod/other…and then hopefully Jameis to really set this off.
Week 6 = BUF-DST at TEN or NE-DST hosting DAL…what if TEN collapses without Arthur Smith…what if Dak is not even playing this season due to his shoulder?
Week 7 = NE-DST hosting NYJ…Belichick and rookie QBs.
Week 8 = BUF-DST (off a bye) hosting MIA
Week 9 = BUF-DST at JAX or NE-DST at CAR…either looks great!
By this point, you will have maneuvered into at least 7 really prime matchups: 3 Tua, 2 Tyrod, 1 Sam D, 1 rookie Z. Wilson v Belichick.
After Week 9, it's time to reassess the situation going forward because the schedule gifts start declining (like it did for the amazing NE-DST of 2019) of pairing them…as NE's schedule starts to turn bad. At this stage, we'd likely jettison NE-DST (you'll see why) and roll BUF-DST (and see about Week 14 when we're coming up on it).
Week 10 = BUF-DST at NYJ…Zach Wilson is good, and now has 9 games under his belt…but this isn't a bad matchup per se.
Week 11 = BUF-DST hosting IND (or NE-DST at ATL on TNF if you kept the Pats)
Week 12 = BUF-DST at NO TNF (or NE-DST hosting TEN)
Week 13 = BUF-DST hosting NE on MNF (should be Mac Jones by then)
Week 14 = *PROBLEM…BUF-DST at TB with NE on a bye*
Week 15 = BUF-DST hosting CAR
Week 16 = BUF-DST at NE
…if you still have NE…
Week 17 = NE-DST hosting JAX
Week 18 = NE-DST at MIA (if needed)
If you stick with it all the way through Week 18, you get: 4 Tua, 2 Tyrod, 2 Sam D., 2 Winston(?), 2 Mac Jones, 2 Zach Wilson, 1 Trevor matchups. 15 of 18 weeks you're hitting the offenses of desire-to-face using these two defenses.
You can say…"Well, the very top DSTs average scoring is not far off the ones outside the top 12…so, why waste energy?" It's not about picking one defense and hoping they pull away from the pack – it's playing two DSTs to morph into one super unit that we hope has a huge spread of scoring over your opponent most weeks.
For some context: In 2019, the vaunted (that year) Pats-DST scored +6.5 PPG (using basic/low DST scoring) over the #5 DST (for an example/marker point)…a near 100 points more for NE-DST over the #5 best option for the entire season (Weeks 1-16). That's a bigger spread than top 4pts per pass TD QB was over the #5 in 2020. And beats the Davante spread over the #5 WR in 2020 in PPR league scoring. The Pats-DST spread over the #5 was only less than (positionally): the #1 PPR back (Kamara) in 2020 had a 137pt spread over the #5 RB and Kelce had a whopping 159pt spread.
Can you combine the NE/BUF-DST into a super unit that's better than the 2018 Bears-DST or 2019 Pats-DST? That's the pursuit/the bet/the hope.
It's not nothing, this NE-BUF theory…it has some real hope for a big pop right away. If you see each (NE/BUF) defense as a top 5 or so unit for the NFL (with top 5 coaching and home weather that helps come Nov-Dec)…and if you buy that Tua (or any MIA QB) is a hot one to target (and then we know HOU is early without Watson). This DST combo has a unique schedule layout that could make them special, at least through Week 9, if not right through the entire season.  
You don't have to go here, but what players in rounds (what?) 10-11-12-13 are you taking that are going to start and provide a huge spread over your competitor's DSTs? You might find 'the one' in rounds 10-13…but probably not. Likely you're otherwise taking guys who will be cut by you after Weeks 1-2-3. 
‍