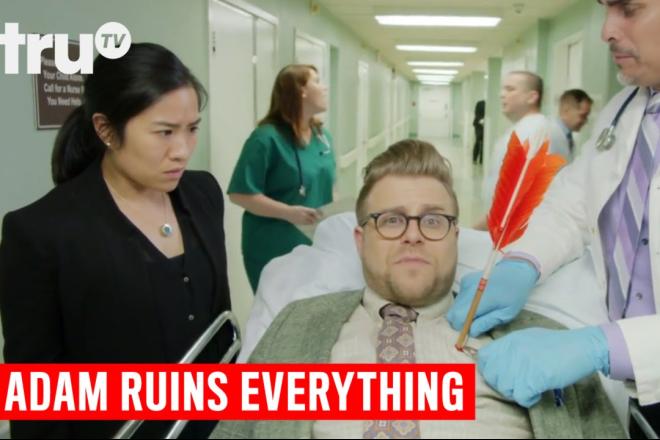 R.C. Fischer
Draft Guide
30 August 2022
‍
2022 R.C. Ruins Everything #3: R.C. Ruins 'The Holy 7…or Holy 8…or Holy 10' for Redraft
(Same intro as prior): I have been sick with COVID for 8 days (as of the writing of #1 in the series). It's a bad day. I started out the morning just taking some time away from football. Wrapped in a blanket, on the couch, channel surfing. I haven't had the chance to do that in years. I haven't been sick for years, and when I am…I just keep working…and napping…and working.
So, I'm all set for channel surfing, like a normal sick person taking some time off work…but I wasn't really sure what was on daytime TV anymore. Dr. Phil, OK…checking that out for a moment…grandma is dating her daughter's ex-husband…ehhh. Then I stumbled into an old fave that they don't produce new shows for anymore (but I hope is revised in the future)-- The Tru TV show: Adam Ruins Everything.
In this show/series (ran for 3 years/64 episodes), Adam (Conover) takes a common topic and totally, comically, but usually brilliantly/interestingly debunks a lot of common myths and misperceptions on it. Occasionally, the show is reaching/grasping at straws (to me), but many times have data that's a dagger to the heart/makes you think. I appreciate the challenge of my (supposed) sensibilities…the challenge of 'you know what THEY say'.  So, I was sitting there on the couch sweating but freezing at the same time…and one of my favorite episodes of the show was on -- and it hit me what to name this series I was working on.
My sick day/morning on the couch inspiration: Adam Ruins Football
I am going to be direct, bombastic, and (hopefully) funny here as I try to rewire your brain on a few Fantasy things that I'm seeing now (and year-after-year). I want to discuss all these 'injury prone' players you are proclaiming…and not taking. My overall/starter question is -- do you even know what the hell you're talking about on all these supposed injury risk players? (see…bombastic and direct). Answer = no you don't…and neither do I.
I hope…I bet I (at least) stop and make you think with this report. If you're offended at the notion…good. It's meant to challenge your 'faith' in things you 'know'. At minimum, more study is needed vs. knee-jerk reactions from our gut.
My main goal is trying to free you from this prison of your own design…or at least question the construction of the prison. Come, take a journey with me…
=====================
For the last couple of FF redraft prep seasons, I've put out a list of the premium players that are unquestioned (at the time) and should be the players-to-draft/our heart's desire in a redraft -- and the goal going into the redraft would be of the 7-8-10 of the elite players, to get as many as you could in the redraft. Your early success in the draft could be measured by the count of these players you left the redraft with.
I called this list of players: The Holy ____ (number, however many there were deemed). Usually a Holy 7 or Holy 8 or Holy 10 was the list count.
In the past, we've been able to at least get two of the Holy 7-8-10…sometimes three of them if everything fell right and occasionally a grand slam number of four (every so often like being struck by lightning). It was a helpful guide, for some, to set the tone for rounds 1-2-3…and maybe/also the 4th.
I mentioned the possibilities of who might be on this list for 2022 in June, but also the problems with the list in 2022. I haven't really spoken/written of it or pushed a 'holy list' this summer. Why? Because the holy list for 2022…isn't much of a list. It's an obvious list, not containing any slick/radical bargains to get/plan for in the 2nd-3rd-4th-rounds. This year's holy list contained all guys who everyone agrees on and who are gonna go in a fairly obvious order right off the bat.
There isn't a real/impressive/radical holy 7-8-10 players this year.
FF 2022 is more of a Holy S--- year.
Who are the Holy 7-8-10-?-…this season?
At RB, to me, it's some order of Taylor-Henry-Ekeler…and probably Cook. Yes, Cook. When Minnesota dumps Alexander Mattison, it's Cook (I had some worry they were gonna try and do some kind of Cook + Mattison thing to keep Cook fresh, but that seems to be not happening). I can't put Kamara in there, although he deserves to, because of the suspension cloud (that may not happen…or takes him to jail for a while or just suspended for 2-6 games). CMC has missed 23.5 games the past two seasons...I can't pay the price for him with all the other options to choose from. I can't. I get if you want to. 
At WR, it's easy…some order of Kupp-Davante-Chase-Jefferson with Tyreek, but I get if you don't trust Tyreek with Tua. I do. You don't have to. It's my list, so he's on it -- especially in PPR and with distance TD bonuses and if punt return TDs count as TDs in your scoring.
At TE, there's definitely the top three that standout but I'm not sure they are 'holy'…but I will come back to beloved Kyle Pitts in a moment.
I have been all about the high-end QB being way undervalued in FF drafts for the past several years. 2022 is finally the year where so many good/great options stick out, I can't make 1-2 of them holy. There are the top three that really standout, but then there are several elder QBs (Brady, Stafford) that could push them in 6pts pass TD. In 4pts pass TD…then all the runners are right up there with the elite passer outputs, and we can't have a 'Holy 10' QBs list alone…that's not holy at all. The volume of options at QB, the QB talent inflation is real, and it makes any single one of them not as 'Holy' special in 2022.
There's nothing holy about kickers or DST…but a GB-LAC DST pairing could be a debate point on how valuable it could be -- but DSTs are too random and fluid to really make any DST situation 'holy'.
So, if the 'holy' names are Taylor-Henry-Ekeler-Cook and Kupp-Davante-Chase-Jefferson with Tyreek…then, guess what? I just listed eight players that are all going in the 1st-round of the 2022 FF redraft…possibly the ones that go #1-8. How can that be 'Holy' if they are 'Holy' to everyone else? I mean, I guess they are 'Holy' -- they are the unquestioned (at this time) ones, but you can (likely) only get one of them from your redraft…and you might get none.
Davante sometimes falls to the last first and very occasionally falls to the #13-14 pick.
The FF 2022 'holy list' really only leaves Tyreek as the outlier, a true 2nd-rounder with 1st-round chops. But as much as I love Tyreek…I might need/want to go Javonte-Kamara-Fournette in the 2nd because I took a high end holy WR in the 1st.
The Holy ___ list this year…isn't that special or mind-blowing. Sorry to ruin it for you. It's just not that holy of a year.
However…
Do not despair…there is a 'holy' discussion to be had in 2022…just not in my past/traditional way. It just means in FF 2022 it comes down to a major fork in the road. You know what I am going to say…
The theme of the FF 2022 redraft… What are you doing with your 3rd-round pick?
The 3rd and 4th-round are EVERYTHING, to me. A dead zone of RB and WR names that the mainstream loves…that I might like some of…but mostly the 3rd/4th-round consists of players I don't care for and are assets that I see a host of RBs and WRs ADP-ing in the 5th-9th/10th-rounds that I think will meet or beat the 3rd/4th-round options.
I will be in a great depression if I come out of the 3rd-round and/or 4th-rounds of the redraft with boring ass D.J. Moore and/or 'everyone agrees' PPR RB Travis Etienne (as examples). I really don't like either of them…nor are guys like Pittman-Higgins-Breece-Sutton-Keenan-Conner must haves. I can get into Conner 3rd-round a little bit IF Kenyan Drake doesn't sign in Arizona…but I'm just not that elated about Conner.
What really gets my gears grinding in the 3rd/4th-round -- taking radical players of my heart's desire instead of the 'they say' guys.
You want the 'Holy ___' list for FF 2022? Here it is…a list of three…the 'Holy S---' list:
1) I want to shove all my chips in on Kyle Pitts in the 3rd-round (or late 2nd if all my other plans were foiled). Kyle Pitts is either gonna be a TE #3-5 scorer and be OK this year…or he's going to be the most generational, generational TE the likes of which we have never seen.
I want a ticket to that show.
Dawson Knox and Dalton Schultz are nice. They do not have near the upside of Pitts.
2) If a QB-friendly scoring system league (6pts per pass TD and/or bonuses for 300+ and distance TDs), I want one of Herbert-Allen-Mahomes, like in the 4th, after Pitts 3rd. Or if Pitts in the late 2nd, then the high-end passer QB 3rd.
If 4pts pass TD…the QB is still important but not as pressing because Hurts-Lamar enters the equation…along with possibly Kyler and Lance, and the scoring tallies are down for the high-end passers in strictly 4pts pass TD. It's not as statistically important in 4pts per pass TD situations.
If the RBs and WRs in the 3rd/4th can be confidently beaten by the RBs and WRs in the 5th-10th, or 'kept up with' -- then there's no advantage between D.J. Moore 3rd or Allen Robinson 5th…or Travis Etienne 4th or Chase Edmonds 7th. I'd rather have ARob-Edmonds. If that's true, that frees me up to take advantage of the 3rd-4th-rounds…to get 'best in class' weapons at QB/TE, so that you have an advantage over most at that position and are keeping up with the other teams that land the other top/elite QBs.
So, which one of Herbert-Allen-Mahomes is on the 'Holy S---' list? Neither. They probably should be as a cluster, but to me there is one QB that stands out as a great opportunity right now.
There is one QB on the 'Holy S----' list…and that's getting Matt Stafford as your 2nd QB, in 6pts pass TD…for the great value and insurance and trade asset. His price and expected output make him a slick 2nd QB before 2-3-4 others in your draft have even taken a QB. Force your enemies into Rodgers-Dak-Carr, put them at a disadvantage by taking Stafford away.
Stafford's arm thing seems overblown, but it's driving down his ADP nicely. He's going to work with one of the best 1-2 punches at WR that I've ever seen. The run game is iffy. They play on fast tracks/in a dome a lot this year. It's a perfect setup for Stafford to go nuts and try and win an MVP season. For the price of an 8th-10th-round(?) pick.
3) Allen Lazard as a Davante 2.0 -- I want in, for the price. Take him around #65-75 overall. I don't care what the ADP says on any platform (where they might show him #80-100). He's one of the most 'sniped' players in this 2022 redraft. A legit WR1 projection available in the 6th/7th-round.
I want in.
The 'Holy 9' for FF 2022: The 4 RBs and 4 WRs that I mentioned + Tyreek, if you care to.
The 'Holy S---' list for FF 2022: Pitts, Stafford (in 6pts/QB friendly…not in 4pts), and Lazard.
I'd also like to have (in random order) Toney-Claypool-R. Penny-CPatt+Allgeier-MVS but it's near impossible to get everybody you want, and they aren't perfect/holy…just guys I think are great values.
Fare thee well.
‍
‍