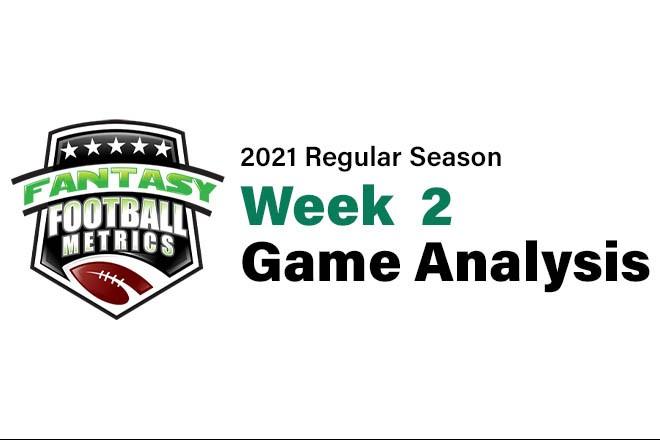 R.C. Fischer
FFM
22 September 2021
2021 Dynasty/Fantasy Game Analysis Week 2: Raiders 26, Steelers 17
It's hard to get a full read on the Raiders, or Steelers, from this game because right before the game started, we all found out that Joe Haden and Devin Bush were going to be inactive…and then if that wasn't bad enough, T.J. Watt went down in-game early. It was a perfect storm for the Raiders to thrive/win.
The Raiders pretty much led wire-to-wire. The Steelers hung in there for a while, holding LV to field goals in the 1st-half…but then the TDs opened up and the Steelers offense is falling apart in 2021, so they couldn't answer back like the Steelers of old.
Son (or daughter), we're going to have to have a serious talk about the Steelers offense (and we will below) and how that relates to Fantasy things.
The Raiders are (2-0) and credit Jon Gruden for out-coaching his opponents the first two weeks, , despite having the lesser talented roster, and more credit for energizing this group – his team is playing with heart and energy. They should be (0-2)…because Baltimore handed them the win in Week 1, and then the Steelers lost 27% of their defensive starters for this game…which were the three most talented guys they had, so it was like 50%+ of the real defense was gone…the Raiders just happened to be the opponent of good fortune on the schedule. The Vegas schedule should now allow them to get to (4-1)…before their typical later-in-season collapse. Enjoy it for the now!
Fantasy Player Notes…
OK, let's have a serious discussion about the Steelers offense…
In Fantasy, we don't have time to fool around. Many of us don't have time to go through several more weeks trying to see if there will be a turn upward. Sure, it's possible this offense advances as the season goes on – new O-Line and new O-C and all, but I have to judge what I see and sense now…and I see and sense that this Steelers offense blows…because they have a dreadful O-Line and a terrible head coach for offense.
The days of Big Ben just slinging it, willing things to happen to save the day…this O-Line is not going to help that, if Ben can even do that at a high level anymore. Ben looks fine enough, but he has no time (so he quick throws a ton to try and move the offense) and no real run game (again) to assist him (the #32 run game in the NFL right now).
I don't know how this offense gets better from here. Bad O-Lines = problems. Ben isn't getting any younger, and Mike Tomlin isn't getting any smarter. It's not the worst offense in the world…it's just not a top 10…or top half of the league one. #20 in 3rd-down conversions YTD, and #24 in total yards and points scored. Facing Buffalo Week 1 is skewing the numbers bad, so there is that – but in a game against Las Vegas, as improved as the Raiders might be, at home…the Steelers looked as bad on offense as they did Week 1.
I just don't see how this gets radically better because it's an O-Line and coaching issue at its heart…and how can they fix that on the fly? The Steelers #30 in yards per carry on the ground offensively and dead last in rushing yards. Nice 1st-round draft pick in 2021, morons…
Let's go through each position group:
 -- Big Ben (27-40 for 295 yards, 1 TD/1 INT) is OK, but you just watched a game where the opposing QB is lesser-thought of name-wise but is better for the NFL now…and for Fantasy.
We discussed this on the Video Q&A Tuesday night – Kirk Cousins is better in every way now than Big Ben…better O-Line, better run game, better WR trio, better playing conditions for the passing game. Derek Carr might be on par with Big Ben for the NFL, but with his bad O-Line he has advantages with playing conditions, opponents/schedule, and his lack of a run game is forcing him to throw more…and he's just as good/better at it than Ben. Carr leads the NFL in passing attempts after two weeks.
I thought the bad O-Line would lead to more radical passing attempts from Ben, and it might happen as we go on -- but guys like Cousins-Carr are facing similar situations…but are just better at with better weather conditions to throw in over time over the season. This is a week where everyone starts chasing Cousins-Carr again, but they still don't fully respect them…if given a choice, I want in on Cousins (the #10 QB in FF YTD) over Ben, and Carr. And Carr over Ben for FF.
 -- Diontae Johnson (9-105-0/12) is still Ben's guy…and that's not changing. Knee issue aside, Diontae is a legit WR1 PPR given the circumstances.
Chase Claypool (3-70-0/9) is a Greek god of WRs, but all we see every week is Ben just heaving him passes deep…jump balls, which is great sometimes, but Claypool is not landing enough of them to fully pop for FF WR1 hopes. There's more and more Claypool talk from Ben and Tomlin…they know there's a nuclear bomb in their possession, but so far it looks like they have no idea how to use it. Six catches this season on 14 targets – a 43% catch rate is ridiculous and a sign of a Ben/offense problem. Claypool seems stuck as a WR2-3 right now rather than a WR1-2 that he should be. They literally have no plan to get him the ball, to lead the way.
We might get a Claypool bump ahead if Diontae goes down, and thus Claypool is forced into real WR work…and blows up, then it may dawn on Ben/Tomlin they need to change strategy on Claypool. I'm holding Claypool right now, but it's getting aggravating watching him go to waste. He'll have a pop game soon and we'll all be delighted again…but I want to see Claypool with a purpose, and we're not getting that yet…and it's a sign just how dysfunctional this offense is right now, when you can't exploit Claypool for big plays consistently.
 -- Najee Harris (10-38-0, 5-43-1/5) is wildly overrated, but he's going to be OK for Fantasy numbers. My greater point of constantly berating that Najee sucks is more to drive home the point that Najee is way overvalued. He's a nice RB2 +/- for FF, but people see him as the 2nd-3rd-best RB in all of Fantasy in days to come. The most value, redraft, you'll get out of Najee is trading him for the world.
Every week that goes by where he's exposed as human…his value declines a little more, drip-by-drip.
If Najee had a better O-Line and better offense in general, he'd be a nice RB1 on volume. He's not bad, but he's not so good he can Derrick Henry his way through all the problems. You were sold a bill of goods on Najee…the public bought and paid for it and is still willing to.
Remember how excited you were for Clyde Edwards-Helaire last year? How about today? Jonathan Taylor going to be a boss in 2021? Excited about that yet? The value of hot rookie name RBs escapes quickly but Najee has Saquon super-value…he'll hold value longer than most because of the mega-hype.
Najee is avg/good with a terrible O-Line…and there's a reason why the Steelers are #32 in the NFL in rushing.
 -- I want to like Pat Freiermuth (4-36-0/4) but he's stuck in this mess too…and he's not going to get looks above the WRs, or Najee…and they need him to stay in and block a bunch due to the crap O-Line…so, Patty F's 2021 FF season upside is capped.
Over to the Raiders…
 -- You saw a pretend FF-audition game of Derek Carr (28-37 for 382 yards, 2 TDs/0 INTs) vs. Big Ben here…and how do you not walk away thinking Carr is the better FF option? Carr had another TD or two and 20-40+ yards stolen from him in this game…or it would've been back-to-back 400+ yard passing games the first two games of the season.
Carr is improving, being allowed to cut it loose…and can run a little bit here and there. Ben is declining and doesn't offer rushing hopes. In general, I like them both about the same as 2021 NFL QBs…but Carr is ascending, and Ben looks muted. Why wouldn't I switch FF-horses here?
 -- The best news of all is buried this far into the report…
Bryan Edwards (3-40-0/3) is ready for a breakout. Now, he may not soon because Carr never looks for him…but we're getting closer to that happening.
Rewind the tape…
Last week, I pooh-poohed the Edwards breakout after Week 1 because I did not believe Edwards was a desired part of the passing game…just a guy out there available. Three targets in Week 2 later, my point was proven.
You may have sold Edwards off ahead of Week 2 because I was saying I was open to it…in redraft. If anyone was hyped about him after Week 1, I wasn't diamond handing him…I'd sell if the price was right. https://youtu.be/alwdUofyGGg
This week, I'm still not above selling him (redraft)…but his weak stats sucked away the little value pop he had last week. I'm not just giving him away. So, I'm back into Diamond Hands mode on Edwards here -- what I saw in this game was the first turn upwards that I've seen with Edwards. He's running routes with confidence and getting open (Carr just isn't looking yet). He's catching everything thrown his way…catching like a true #1 dominator. He had a sweet, simple TD catch before the half…called back for a penalty elsewhere. Almost had another TD late. He actually should have had 5 catches for 50+ yards and a TD or two here.
Still, nothing seems on purpose. It's all random. They aren't making Edwards a thing yet…but I believe the wagons are circling that it might take another turn higher in the next week or two.
I envision it will go like this: Edwards will have a game in the next few weeks where Waller is totally taken out and the Raiders plan to expose an opponent's weak secondary mismatch on Edwards by going heavy on Edwards…and once Carr and the world sees how successful, then it will be hard for them to ignore it ahead.
Week 3 v. MIA probably isn't that time. Week 4 at LAC might see that glimpse, because LAC won't plan for Edwards, they'll double down on Waller (Staley is no fool). Week 5 vs. CHI might also be that time.
I don't know if it will be Week 4…Week 14…or Week 1 of 2022, but I'll keep saying the same thing – it's coming. Redraft you can bet against that Carr will make this happen if you want, you might be right --  but in Dynasty, you want to hold your positions or acquire cheap after this weaker Week 2 (on paper) and as his Week 1 big play event in OT is forgotten.
Edwards is going to be a star someday…I just don't know when. I saw the first real encouraging sign of it in this game.
 -- Is the Vegas-DST for real?
No, probably not. I think they're better than our 2021 preconceptions. We all thought this might be a bottom 5 DST…but it looks like they might be a #15-20 range one…possibly useful in a good matchup…emerging as we go with a lot of young defenders. Might be OK Weeks 3 (MIA) and 5 (CHI) but not a sure thing…just a possible thing.
Side Note: Solomon Thomas (2 tackles, 2 sacks, 3 QB hits) is either turning a corner, or the Steelers O-Line is worse than we thought. I don't know that it is Thomas, but we'll keep watching to see if he's finally figured it out.
Wrap it up the way we always should with the Steelers: https://youtu.be/Ag7598SYhM0
Snap Counts of Interest:
54 = JuJu
49 = Diontae
43 = Claypool
12 = J Washington
53 = Najee
03 = Snell
33 = Freiermuth
24 = Ebron
61 = Waller
49 = Edwards
44 = Ruggs
29 = Renfrow
11 = Zay Jones
47 = Drake
19 = P Barber