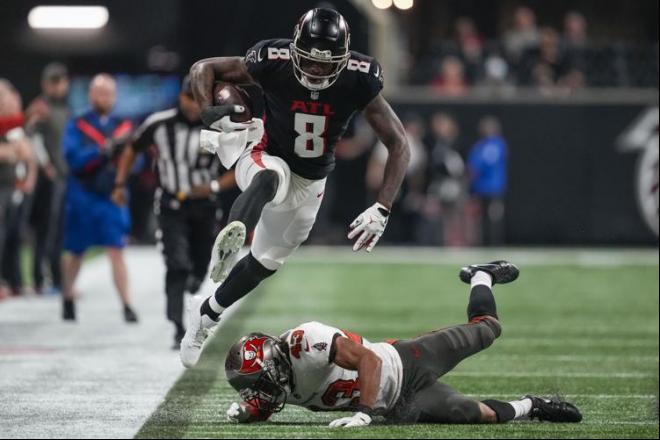 R.C. Fischer
FFM
17 June 2022
2022 Redraft/FF-Season Strategy Initial Thoughts...
So, RC…what's the plan for 2022? How are we going to 'win the (re)draft'? Who are the key players to take, and what rounds to take them? Should we go Zero RB? All heavy RB instead? Is it the year of the WR? Am I still going QBs way ahead of everyone else?
I don't know.
How's that for a strategy? Sorry…no refunds.
I do have some ideas, and I will share them in this piece and all throughout the summer draft season…but I answered with 'I don't know' for a reason.
I don't know. You don't know. We want to know, but it's hard to know. We want there to be this clear-cut path to a redraft plan…and we know it exists, in hindsight, where we take the perfect player in each round, and then we sit back and cruise to Fantasy victory lighting our cigars every Sunday night with $100 bills in-season as we enjoy our undefeated season.
That's the goal, anyway.
But we know it's not a realistic goal. Injuries are going to happen. COVID or Monkeypox could happen. Things out of our control are going to happen and knock us off course in the preseason or in-season. It's the same challenge NFL owners, GMs, and coaches face. Fantasy Football is a game…a contest, just like the NFL itself. Actions and reactions, and reactions to the prior reaction. It's like poker, or chess, or the stock market – it's any mental competition thing where you are making moves to outmaneuver, outwit a person trying to do the same and cause your demise.
Drafting the perfect team in the preseason would be awesome, but it is not my all-consuming goal (unless we're talking Best Ball). Why is it not my all-consuming goal? Because I have a superpower in this contest we call 'Fantasy Football'. Many of you have the same superpower. And it's not necessarily found in the redraft season.
I certainly plan to out-redraft my opposition. However, I might do so -- and then my top pick/1st-round player tears his ACL right before the season, right after my redraft – and suddenly I go from a great draft to maybe the worst draft (at that moment). Whether an injury, a suspension, a surprise change in offensive plan I didn't see coming – I might have the best draft in my league as it closes…but not have the best draft in my league come Week 1 because of something unexpected. Or maybe the bad stuff hits Week 3…or Week 6 into the season?
My superpower, your superpower is not 'the (re)draft'…but we might end up having the best draft in our league. I always assume we will, but I'm not sweating missteps…I am expecting them. Our Fantasy superpower is something that is not a '(re)draft strategy' based item. You know what our superpower is, in this battle of wits? The best strategy for winning your Fantasy league is NOT feeling amazing about your draft…although it helps…a lot. The best strategy for FF success is something you can't put your finger on or map out ahead.
The key to winning at Fantasy Football – is being the best operator…best improviser…best 'interpreter' of the ever-changing events that is the NFL. Managing your team day-to-day is our advantage. Fantasy Football in a redraft (or Dynasty) is NOT a 'draft and sit back and watch/hope' type of event. FF is constant chess moves every day/week. Whether you had a sudden roster problem injury hit…or something hit the NFL and you're trying to react to or to capitalize on it…or whether it's a sit-start dilemma…or whether it's a trying to 'buy low' or 'sell high' analysis, and trying to deal with other humans trying to 'buy low' and 'sell high' on you – Fantasy Football is an everyday contest, a war of attrition…the redraft is one leg of the contest…one big battle in the war, but it's not the whole war. Your gift for reading tea leaves on the news from the NFL or from pundits like myself or determining sit-start situations or spotting emerging trends, while finagling waivers and finagling other owners in deals – it's a season-long mental battle, a 4–5-month long poker tournament, or marathon…or really a triathlon. First you run a race, then you bike a race, then you swim a race – Fantasy Football is a mental battle of 'wills' and the redraft part is just one leg of this competition.
Why am I stating and restating the obvious?
Because there are so many ways to plan and execute a redraft…and 1-2 things could happen after the redraft that blows up the entire plan. We're gonna have fun and micro analyze our various redraft plans to death the next few weeks/months…trying to find the best path ahead of everyone else. But just know – your 'constant analysis' of all things and 'constant consideration' of various options and 'constant educating yourself' and the value of all the players – that superpower runs all year and is the key to a redraft 'win', and (more importantly) the in-season winning. This is our time to shine…the time to really enjoy the Fantasy season – redraft prep and practice and debate. The time I give to pre-draft prep/studies is a wonderful diversion…better than anything on TV or any other hobby I have. I like the competition…I like this prep for mental battle. 
No matter what happens in your upcoming drafts – you're going to have the power to enhance or fix it as we go because we PLAY the game…we get up for work, fantasy work (not the work that feeds your family…screw that…it's all about Fantasy the next few months!!!) – we answer the bell daily. Most of your league competition is not putting in the same effort and those that do – they tend to take the mainstream advice and cross their fingers they get it right this year.
There's a reason why we all lead our leagues in most waiver moves each year.
There's a reason why we all have the most rejected trades in our leagues.
There's a reason why our FF team's sit-start is so tough to decide on Sunday pre-kick every week…because we worked our way into a spot where we wind up with a lot of good players to choose from. THAT'S OUR JOB. It's a labor of love. It's a beautiful mental competition/exercise.
We are going to have to outwork, out-think everyone for the next few months to be the last person standing. It's a long war. The fighting has just begun. Welcome to the redraft battle portion of the war. Trust your instincts and don't lament the casualties (and there will be casualties) more than celebrating the ground war we're winning a section at a time. There will be 'the unforeseen'…dealing with those is our forte. June prep/study is just one round of a ten-round fight.
You are the favorite walking into your redraft, but that is not a guarantee that you'll be the favorite a week after…or by Week 1. But you are the 'favorite' with the way you play the game. Time to do the work to stay the favorite…
Time to rise…and shine, for your redraft prep studies: https://youtu.be/iQHJARqk_-c
OK, enough of the speeches. Let's talk about real redraft strategy.
*Note, most of my words here are using a 12-team redraft scenario in my mind…because it's the most likely scenario people play in. You'll have to adjust accordingly for your league size and length of draft, etc.
You know what this 2022 redraft comes down to, for me, at the moment of this writing? It's a question that the answer to it sets my draft plans into one direction or the other. That question…
Do I want to build around a theory of Kyle Pitts being the #1/elite TE in Fantasy Football…or do I want to just not tread there, and rather build wisely otherwise in that #25-35 overall pick range where Pitts is going right now (obviously TE premium leagues have a whole different scale to deal with here)? If I know I'm investing in a tight end that highly, then I can build my RB-WR-QB plan around that accordingly, the two rounds before and the two rounds after I can plan out around Pitts in the 3rd.
I'm either making that big Pitts investment, taking a shot at greatness…or I fade the tight end position completely, taking a Dawson Knox, etc., later and taking an RB/WR value in the #25-35 ADP range/3rd-round instead.
If you scoff at the tight end positional importance in general, then you go a traditional route of smart RB-WR grabs of them within the first 35 or so picks. No shame in taking out your iron and hitting your golf ball safely into the fairway. We can win that way.
But you also have the option of taking out the driver and trying to blast one to glory, knowing you might slice it or hook and then have to scramble from there. Back when Gronk and Graham dominated the Fantasy TE marketplace…they were 1st-round values but were available round's 2-3+ as they emerged because – you don't take TEs that highly in redraft! So, says the always-a-year-too-late experts. The season Travis Kelce went off in 2020…he was a 1st-round value available in the 2nd-3rd-round of that redraft season and was so good that THEN in 2021 he was considered 1st-round worthy by some analysts (and didn't live up to it, but not by much).  
What do you think Kyle Pitts is capable of in 2022? Strike that. I know what we all think Kyle Pitts is capable of…the question really is – how much are you willing to bet on it coming true this season? If you're taking Pitts 3rd-round, then you're likely taking one RB and one WR (in whatever order) round's #1 and #2 and then Pitts…and then you next have to figure out when and what QB you're taking. Once we get out to round 5-6-7 and beyond, it's in my wheelhouse of bargains to move on. Planning the first 5-6 rounds is paramount.  
If you skip Pitts in your planning, then you're open to go WR-RB-RB or WR-RB-WR or RB-RB-WR out of the gates 1-2-3. People tend to feel better about the WR and RB mix plan, because we're conditioned – take RBs first and often, then WR…while fading TE and QB. I can play the game that way if desired.
But if you decide that Pitts is that 'go for broke' piece, then you'll likely go RB-WR or WR-RB first 2 rounds…possible RB-RB, but not WR-WR most likely.
If you were going RB-WR or WR-RB out of the gates, then in the 3rd-round if you skipped Pitts…you're looking at players like (based on at the time of this writing)…A.J. Brown? Mike Evans? Zeke? Tee? Josh Allen/Justin Herbert? James Conner? If you skip past an RB in the 3rd-round, it starts looking scary-spooky for RBs in the 4th-round…and we always start hyperventilating about the RB names remaining after the 3rd-round. Should you go savvy, safe RB or WR in the 3rd…or take a huge swing at the pinata with Pitts?
I will do several mock drafts showing the Pitts path vs. the not-Pitts path, and all kinds of paths all summer as we do our prep. But I think our planning for the first 5-8 or so rounds of a typical 2022 redraft is one built from what we think we'll do in the 3rd-round.
Let me give an overview look at the position groups in general to give a basic feel for what I am sensing/feeling after looking at the draft guide data and researching all the players/schedules, etc. Then re-touch upon redraft 'plans'.
QB OVERVIEW:
I've been 'Mr. Quarterback' for Fantasy Football for many years. I think the top guys, the high-flying passers (especially in 6pts per pass TD leagues) are critically important – maybe the most valuable, most stable assets in Fantasy. The most likely to have amazing spike scoring games to carry an entire FF team for the week and the least likely to get hurt and miss time and they top guys don't tend to just fall off the face of the earth one year to the next. The top/elite QBs are the top QBs/players every season, for the most part (if healthy). You could argue differently in favor of pro-RBs (because you're brainwashed by the mainstream drumbeat or because all your league mates are and you have to chase their RB parade), but my math is 'for' the elite passer QBs as more valuable…for years.
But 'the game is changing'.
It's a supply and demand situation – the 'QB flood of talent from college' that I started harping on 4-5 years ago…the flood waters are rising, and they are not receding anytime soon. There used to be that one guy…those 2-3 guys that were way above the others…then after them would be a cluster of 4-5 acceptable/lacking other options…then a lot of crap for the rest of the NFL, and for FF. Now we have four elite young passers (Allen-Mahomes-Herbert-Burrow…whatever order you want). We have three aged elite output passer situations (Brady, Russ, Stafford)…and maybe Aaron could be #4. But we also have the non-elite output passers (but plausible passers), but QBs who are elite runner tally guys, Lamar and Hurts…possibly Trey Lance about to join them.
I just name dropped 4 young + 3 aged + 3 runners = 10 guys…with Aaron Rodgers as a question mark to be among them for FF 2022…and what bucket do we put Kyler Murray in? That's 12 names (with Rodgers-Kyler)…for the (usual) 12 team leagues. Not a 'scarcity' situation.
The asset/value price of quarterbacks is declining, as a whole…because of talent inflation/over-supply.
Our job at Fantasy QB is to play it to the scoring system as smart as possible…
If you play in a 'QB friendly" league (6pts per pass TD and/or bonuses for 300+ yards and distance of TD, etc.) then you want to get in on the top output passers. One of the four young guys or three aged guys. Seven names…pick your favorite…or plan for the best value option. If you miss out on one of the top output passers in a 'QB friendly', you're in a hole to make up everywhere else on your roster.
If you play in the 'QB basic' scoring system…4pts per pass TD, no bonuses – then you have Hurts and Lamar as additional options to consider…and Kyler…possibly Lance. A lot of options to go around. The best guesser wins. Back a few years ago, there were 1-2-5 options and you had BETTER grab one of them. Now, plenty of options…which makes it a game of 'best picker' on which one(s) is gonna have 'that' season for whatever reason – no injuries, schedule, etc.
My best advice, overview, on QBs for Fantasy (non-SuperFlex) is to get a top name you like, but no reason to radically overpay or overdraft – BUT get a great upside/hope #2 QB to go with. The way to have the MOST elite QB is to have two legit top 10-12 names and work them on matchups PLUS you have the reserve for if an injury or Monkeypox hits or as a trade chip at some point.
You can argue it in circles, but there is value in taking your first QB top 50 or so (example) and then grabbing the #2 QB before some others get their #1, a QB available in the #80-100+ range. A viable asset at #100 (let's say) versus your dart throw WR2/RB3. You COULD pull a gem with your RB3 gamble…but you're as/more likely to cut that RB3 by Week 2. Your stable/deployable/upside #2 QB taken instead – you won't cut, you'll use in some manner. If you think you're drafting the breakout RB of 2022 at the #100 spot…great job! You legit might. I'd rather have that too!! But more likely you're starting to get into the range of drafting a future-to-be-cut-quickly for other things.
I really like a two-QB roster (in standard sized league roster situations) in 6pts per pass TD/QB friendly situations…I'm not as much a stickler on it in 4pts per pass TD (QB unfriendly) situations. Your ace QB goes down…with no backup on your roster…you then get on that typical Derek Carr, Tyrod Taylor, Jared Goff roller coaster of hope type QBs off waivers – and they aren't going to compete with Herbert-Allen-Burrow-Mahomes week-to-week/over time. I like a strong 'handcuff'/2nd QB as insurance and/or working with my ace/#1 QB…but, obviously, we're not talking about the traditional handcuff of the QB on the same NFL roster handcuff. Gimme like (random examples) a Herbert-Lance combo or Burrow-Cousins (in QB friendly) whatever pairing you like/where the schedule aligns right for byes, etc.
There is no 'GET THIS ONE PARTICULAR QB' this year. There are arguments for/against most of the top 10 QBs we've been referencing. I like Justin Herbert among them because of his dome-heavy winter schedule (plus I think he's great, and so do you). Research and pick what speaks to you…among the top names. There will be 'YOU MUST DO THIS' suggestions coming up at other positions, but not at QB…not this year…which is unusual for me. You just need to get ONE of the high-end/stable guys, then go from there. Don't miss out, don't wait too late…is my basic plan at QB.  
RB OVERVIEW:
Remember what happened last year? Nearly the same thing that happens every year/FF redraft – everyone fervently chases the top RB names right off the board…then everyone not with high picks will panic that they don't have 'those' lofty RB names and a la toilet paper during COVID…a panic-induced supply hoard/run occurred.
The top six FF RBs off the board, in order, last season (and the ones going in the 1st-round of redrafts the most)…
1: Christian McCaffrey…played the first 2.5 games, got hurt AGAIN…returned midseason for four games and got hurt AGAIN. A totally wasted ROI.
2: Dalvin Cook…missed 4 whole games total. Played half a game Week 4. Was a disappointment/banged up Weeks 15-18. Was good otherwise but did not live up to the investment.
3: Alvin Kamara…was a solid performer for PPR but missed 4 games midseason.
4: Derrick Henry…excellent season, until he got hurt in Week 8 and never played a game the rest of the regular season.
5: Ezekiel Elliott…banged up, an RB2 flop that did not give good ROI
6: Aaron Jones…sliced into by the superior A.J. Dillon and wound up an RB2.
Six top pick players/RBs who by virtue of their performance or lost time due to injury, were not worth their lofty ADPs. So, what's gonna happen in redraft 2022? We'll all hyperventilate about our RBs in Fantasy and chase them way too highly…again.
And how did most of us make a playoff and title run last season? By being the savviest FF players in the game – getting ahead of everyone on Rashaad Penny and D'Onta Foreman, among others.
There will be some RBs that breakthrough to greatness – Jonathan Taylor (#10-15 RB in redrafts last year), Austin Ekeler stayed mostly healthy in 2021 (#6-10 RB off the board)…are two examples. But looking at the top 20 ADP RBs last season, really only Taylor and Ekeler came through big. Henry would have led them all, but he lost half a season. Everyone else among the top RBs preseason 2021 ended up either a solid back end RB1 or somewhere in the RB2 range…or a total flop (via injury or other)...and many missed several games to put Fantasy GMs in a bind too often week-to-week.
The average games played (Weeks 1-17, ignore Week 18) by the top 10 half-PPR RBs was = 13.1 games.
Using the same parameters at WR = 14.8 games played with Antonio Brown's antics the main cause of the dip.
Eight of the top 10 half-PPR WRs played 15-16 games (through Wk17) last season (Antonio Brown 7 games, Godwin 14 games).
Four did it (15-16 games played thru Week 17) at RB.
Eight did it at QB…that's why I have always valued them more, economically. The top QBs play all their games mostly. They're available…not like the RBs, sadly.
Four hit the mark at TE.
I think we're all better off with the top WRs over the top RBs…statistically, economically speaking – but I know RBs have supreme value to THEM, so we have to weigh that into the equation as well.
For me, at RB…I see values in the preseason 2022 ADP RB2s…Saquon, Conner, Fournette…Javonte (if he falls there, which I think he might as we go). If I could get my hands on Jonathan Taylor #1…I might pick him and then keep him or see how hot I could redraft trade him. I like Derrick Henry more than Taylor (for 2022), so I wouldn't sneeze at taking him either. After Taylor-Henry, I see potential injury or situational issues with the next wave of RBs at the top – so, I'd be just as happy with those RB2s just mentioned. I can be just fine with no RBs taken by me 1st-round and then I take one or two 2nd and 3rd-round after Taylor-Henry love at the top.
WR OVERVIEW:
Somewhat the opposite…or better outlook than the RB message (above) – the WR group for redraft 2022. As we just noted – you're getting similar FF-numbers per game out of the top WRs only they don't miss games at the rate that the top RBs do.
The elite WRs are more secure than the thought-to-be elite RBs, for Fantasy…and there's more 'elite's to go around at the top of the WR food chain. At RB, as I mentioned, I think it's Henry-Taylor and then tiers and debates after that. With the WRs, it's some order of Kupp-Adams-Chase-Jefferson and Tyreek. Some want to punt Tyreek out of this group, I don't think you doubt the most dangerous weapon in the NFL because he changed teams/QBs. He can get the ball more in 2022 via the ground to supplement what happens in the air – and Tyreek 2021 wasn't getting the ball like he used to. He was having some killer output/catch count games…and then a lot of disappointing WR3 games. Tyreek was under 12 PPR points in a game in over half (9 times) of his 17 games played last season. That shouldn't be. I have Tyreek as still a pillar/elite FF WR moving to Miami.
What's notable about Tyreek among the names we've discussed as 'elites' (Henry-Taylor, Kupp-Adams-Chase-Jefferson-Tyreek)…is Tyreek is the only one of them trading outside the 1st-round.
What about Deebo? I put him next tier outside the elites…fears of his rushing being taken away/him not wanting to run the ball as much, returns him to a WR1.5-2.0.
Stefon Diggs? Terrible schedule I don't want to mess with.
My 'next' at WR…the guy who could be with Kupp-Adams-Chase-Jefferson-Tyreek, is Mike Evans (with Brady).
What's great about the WR planning for redraft 2022 is, like last year, there are several WRs trading as WR2.5-3.0s who could push into WR1 range – Mike Williams, Bateman, Mooney, Sutton, E. Moore, A. Robinson, etc.
I love the value of the 2nd-round/#12-24 RBs this year…and I love many of the value WRs floating around from pick #50-80 or so.
I would make the argument that the top WRs are worth more than the top RBs, due to injury potential and the shift towards RBBC more and more…and that when a star RB goes down, the backup pops right in and can be as good/better for FF. That almost NEVER happens at WR.
Now, I also realize that there's a ton of value at WR later and that most leagues are RB-crazed and you have to put a premium on the RBs for that reason, sadly, in the redraft – I reflect that in my value models too, that's why top RBs are near the top WRs…if their wasn't this crazed RB mantra in FF, the top WRs would be ranked way ahead of the top RBs for us.
You're not wrong to think 'screw those always disappointing RBs' and chase after top WRs in the 1st-round.
You're also not wrong to think – all my league mates are RB-fools, I have to get in and grab one of those top RBs (if available) and then try and land falling WRs after (because there was a desperate run at RB).
Every year we show time-and-time again that we (FFM) can adjust, outmaneuver, grab off waivers, etc., at our RB position…no matter how bad it looks preseason, and no matter what devastating injury hits in season. BUT…we're creatures of habit and swayed by the masses – you're gonna wanna panic about your RBs after round #3/picks 40+ overall and beyond. For every 100 emails or texts or Video Q&A discussions I have about RBs or WRs…90-95+ of them are based on a 'my RBs are killing me' theme.
What do I always retort (in email, on my Video Q&As) to 'my RBs are killing me' despair messages? They are not…not really…or they are but everyone's RBs are killing them. We're not unique in the issue. When you manage your FF team/roster from that flawed and constant 'my RBs are killing me' mindset – you're in trouble. The reason your 'RBs are killing you' is because of all the injuries and RBBCs, etc. You CANNOT solve your RB room once and for all…you have to manage it day-to-day/week-to-week and FF gives us fresh RB options weekly due to those injuries, etc. QBs and elite WRs you can 'set and forget' usually…RBs are the source of the most FF chaos a Fantasy GM has.
The chaos starts, every year, by drafting a top name RB…and then said top name gets hurt/flops. You know this, but every fiber of your being will want to draft an RB over a WR (or anything else) at the top. WE should value WRs as equal to or better than the top RBs…which makes redrafting the 1st-round after pick #4-5 or so a lot more calm, fun, slick…because all the top WRs are sitting (usually) #4-12 in ADP/opportunity.
I really want a top elite WR that is available #5-12…and then bask in all the further opportunity at WR from picks #40-100.
TE OVERVIEW:
Weird year for the TE class. Travis Kelce is getting up there in football age – he'll be 33+ years old this season. Does he have #1 TE type juice left in the tank? Will Kyle Pitts really break out…or will Arthur Smith squash him again with a bad offensive plan? I have NO doubt about Cooper Kupp or Derrick Henry or Davante Adams, etc., the top names at RB-WR…but there is some hesitation on the tippy-top TEs, except for Mark Andrews…but Andrews has been good+ for years until his great 2021. Was 2021 the blip? Is he really 'elite'…or just the 'safest' top guy?
If you can't get super excited/confident about Andrews and if you don't know what to make of Kelce from age, and now with no Tyreek (could be good…could be bad)…and if you worry Pitts will just be 'good' not 'surreal'…then this whole TE marketplace kinda stinks/is nothing like the RB or WR tiers of talent…or even the secure names atop the QB market. We all 'know' (we think) the top tier RBs and WRs. We know the QB market is loaded…by contrast the TE position may be 10-20+ guys who are a lucky/good TD run/stretch away from being the top five Fantasy TE.
If it's a mess of good and OK tight ends vying for supremacy, then we shouldn't value them as highly as a 'class'/group. If there's plenty of 'B' grade player options to go around/draft…then any old TE will do…streaming them is fine.
I lean towards a 'Kyle Pitts could redefine this position' from an output standpoint…so, I want in…but I'm aware it may blow up in my face and he winds up just 'good'/the Falcons have a hard time getting him the ball enough (like 2021).
Pitts is the 'fork in the road' decision for 2022. Unlike about any other non-obvious/elite FF asset…Pitts could totally blow up and be one of the greats. Mark Andrews could be really solid/a top guy again. Kittle could maybe score a few more TDs and have a top season. But Pitts is the one TE who could go bonkers and be the best overall asset (from any position) of the FF season. You can't say that about any other player going #30+ ADP in redrafts…that they could be the #1 at their position with a giant spread away from the #2, like Pitts 'could'.
So, do you draft Pitts as your 'chips all-in' player, and adjust if he's just 'good'…or do you take one of the other RB-WR bargains sitting in the 3rd-round like there always is and just skip Pitts, and try not to make him a fictitious superhero in your mind…just treat him as a really good Darren Waller of a few years ago TE? I respect either path you choose on Pitts.
This TE group, as it sits now, is not like the old Gronk and Graham years where those two were so far ahead of the pack they made sense as 1st-rounders. It's not the Antonio Gates glory days where you knew gates was the super superior option always. There are so much more talented TEs in the FF world these days and not one that is SO obviously ahead of the pack – unless Pitts fulfills his destiny. And that's thing, it's betting on the come…it's not something we've seen him do, so we can bank on it (in our minds).
If you want to roll dice on Pitts as elite, then we have Taylor-Henry at elite RB…Kupp-Chase-Jefferson-Adams-Tyreek at elite WR…and Pitts at TE as the 'difference makers', they top shelf options to plan your early rounds FF redraft around. The 'elite eight' for 2022.
DST OVERVIEW:
No need to belabor this DST scene/message…there are no 'must have' DSTs in 2022.
Perhaps, one will develop…but there is no obvious 'wow' defense in the NFL. We haven't had one of these defenses you could start every week, regardless of opponent, for FF since the 2019 Chicago Bears.
I see some potential 'very good' defenses, but no obvious elites right now. I'd rather have a so-so defense with a great early schedule/matchups…but there aren't many of them either. Be ready to fully stream DSTs this year – trust your, or mine/ours together, ability to find a DST in-season as needed. It's been something we've done successfully for years now.
Don't sweat the DST spot if you're going to go with one DST to start the season and then ready to stream from there…it's a tough market with no killer D's and a league set up to promote/favor offense. Matchup interpretation is everything. Sweat finding the ones with great matchups for Week 1…and maybe Week 2, and then be ready to improvise.
However, I think that there is a case for a way of making the DST spot more valuable to you, but a lot of people pooh-pooh it because it's not sexy – and that's working on/with a DST-duo that meshes on matchups/schedule…but you'd rather have a 9th RB on the roster than a 2nd DST because that 9th RB could see the 1-3 RBs ahead of him on the depth chart get hurt and then get a shot and become a Disney story. I get it.
The two DSTs, if you paired them, you'd actually use in real game play week-to-week. And, in theory, you're using them in great matchups so you're creating a Frankenstein #1 DST scoring unit…with a big spread over your opposition, because they won't do the same. It's tricky because – which DSTs? That's what we're here for. We'll be working on/uncovering the best DST-BCs (DST by committee) duos all preseason.
Go with just one DST if you'd like and then just hop and off new ones every week or so…or look at the potential of carrying two DSTs out of the gates that pair wonderfully on matchups the first 4-8+ weeks. We'll be discussing those pairings all summer.
PK OVERVIEW:
PK is usually the place we give the least attention/prestige, but I think that 'meh' approach should be more reserved for the DSTs – there are no obvious standout defenses and everything is so matchup based anymore…unless you do a DST-BC/by committee. With kickers, there are identifiable talent differentials and obvious kicking talents and kicking conditions/circumstances to consider at the top.
Kicker points/FF scoring doesn't yield a huge spread from the top tier to the bottom tier, but every point matters…and the kickers we all know, and love, are typically (this season) well ranked. There's not as many Matt Gay, Evan McPherson, or Daniel Carlson's to steal in 2022…kickers who were not PK1 ranked in preseason 2021, and we just plucked them at our whim.
I'm not sweating kicker, but if I want to jump on Tucker-McPherson-Carlson-Gay this year…I might do it ahead of the crowd. I can usually afford to because my last round picks (15-17 or so round drafts) are typically players or a DST I want that no one else is taking, so I don't have to worry about them being poached. But the top kickers will go when it hits 'that time'.
You don't have to over-invest in a kicker, but there's definitely identifiable better and worse ones to work with, don't get caught going to far down in the PK rankings for yours…if you can help it.
IDP OVERVIEW:
Just a quick note about the IDP landscape for redraft, which is the same message I've repeated for forever – how should you prioritize IDPs in a redraft? You don't. Not really. This is assuming you have the normal IDP scoring systems and you're playing with only 1-3 IDPs. If you do 53-man rosters and 11 IDPs…then you take everything appropriately serious. But in the regular IDP flow, you know we're always on top of our game finding the hidden gems as the season unfolds. It's a hallmark of ours.
So, just do the best you can at IDP drafting…but you don't have to try and beat everyone else to Micah Parsons, etc., unless you really want to – you can just plan for some IDP options going into a redraft and see what you come out with – you'll either hit your homerun from the redraft…or you'll be swapping/streaming IDPs in and out often, if you need to for any reason.
In a 12-team league with 1-3 IDPs starting each week – the pool of talent is deep, with new options springing up every week in-season and we're all over that weekly – so, you don't have to overdraft any one IDP.
FINAL THOUGHTS:
Not as many top tier bargains in FF 2022 redrafts as there were last year. I identify 8 players that are the cream of the crop…the Elite Eight of Henry-Taylor, Kupp-Adams-Chase-Jefferson-Tyreek, and stretching for Pitts included. There's plenty of next tier talent after these guys, some of which could score ahead of this Elite Eight – but, today, I feel like these are the obvious, difference-making proven eight players (plus Pitts on the come…kick Pitts out if you desire).
Among the Elite Eight, all of them are going in the 1st-round of a typical 12-round redraft…except Tyreek Hill is now a 2nd-rounder, and Pitts is usually a 3rd-rounder. So, it goes without saying, the path I might wanna choose is RB first (especially Henry) then Tyreek, then Pitts…1-2-3. Depending on what draft spot you work from…that might not work out but a plan of an Elite Eight WR 1st, then a bargain 2nd-round RB, then Pitts should be achievable.
I'm going to go through several Pitts/non-Pitts and Tyreek/non-Tyreek scenarios in mock drafts ahead, so that we get a better idea of how it looks and what improv we need to do if someone blows up the plan.
There is no perfect theory…not 'zero RB' or 'RB heavy' or anything in-between or not invented or slapped with a label on yet. You can win from any good theory or any broken plan. We're gonna be the best in-season operators, so we can overcome anything from the redraft – but we want our job to be easier with the smartest draft. That's what we will be discussing for the next few months up and through August.
My real redraft plan: https://youtu.be/hXJI-G7ulsg