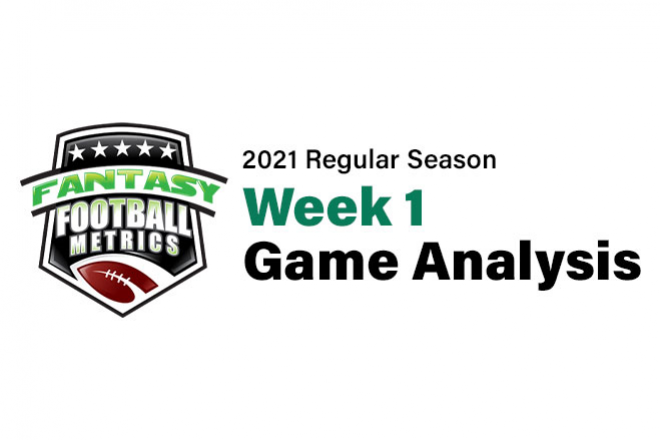 Ross Jacobs
FFM
18 September 2021
2021 Dynasty/Fantasy Game Analysis Week 1: Rams 34, Bears 14 (By Ross Jacobs)
I'm not going to bore anyone with the details of this game. The Bears suck, the Rams don't. That's a pretty good summation. Credit the Bears a little, they tried to keep it close for a while, but every time they would blow a coverage and the Rams were able to hit a bomb pass down the field for an easy TD. The Rams appear to be a top 10-12 team, but I don't think they are much better than that, a fringe playoff squad. They're probably trailing the Seahawks and Cardinals in their own division. The Bears are awful but at least they aren't as bad as the Lions. That's about all they've got going for them. They'll be picking in the top 5 or 10 again next year.
--Fantasy Notes
The most obvious fantasy note from this game is about a player that barely even played here, Justin Fields (2-2 for 10 yards, 1-3-1). The cries for Fields are growing louder by the day. I'm still completely baffled why Fields, of all the rookie QB's, is the guy that apparently everyone has decided is amazing and needs to be playing immediately. I guess he's better than Andy Dalton (27-38 for 206, 0 TD/1 INT) at this point, but he's not a Patrick Mahomes-esque savior. The media sure seems to think so, and they and the fans are trying to pressure the Bears into starting him. It's just a matter of time now. I'm guessing Nagy tries to get through the Cleveland game with Dalton before putting Fields in against the Lions, but if it gets bad enough against the Bengals he might be forced to make the switch. Once Fields gets in you can expect ups and downs. He's not an advanced passer, but his legs make him valuable for fantasy, particularly in 4-point passing TD leagues. He'll likely be a nice QB2 and a good bye-week fill in.
‍
Apparently, this game was the final word on David Montgomery (16-108-1, 1-10-0/1). All I've seen all week are his early supporters crowing about being right that he was amazing all along, and his early detractors admitting that they were wrong and he's awesome. I'm still skeptical. I will admit that he looks much, much better than he did as a rookie and most of his second year. Instead of being a complete slug he looks like he actually has a little burst through the hole now. But I think we might be going overboard saying he's elite.
One of his early carries went for 41 yards and it looked like a little bit of a fluke. Montgomery hit a wide open hole and the safety crashed down on a bad angle. Montgomery was able to easily side step him and was off to the races. It wasn't anything that Montgomery himself did, many RB's could have made the same play. Take away that one run and he went 15-67 the rest of the way for 4.5 ypc, good but not amazing. We also see his 100 yards and TD against the mighty Rams defense and assume it's some amazing feat, but the reality is the Rams weren't that great of a run defense last year and aren't this year either. They gave up over 100 yards rushing 8 times last year with 3 more games over 90. I'm not saying to run off and sell Montgomery, but I am saying to be cautious and don't assume he's going to rush for 100 yards and a TD every game now. Once Fields is starting we can expect a slight uptick in Montgomery's efficiency, but it's going to come at the loss of a few short TD's as well.
‍
Well it's official, Darrell Henderson (16-70-1, 1-17-1) was the obvious lead back all along and how silly it was to think Sony Michel (1-2-0) would take over. Right? Wrong. I think you try to trade Henderson right now while everyone assumes he's going to be the lead guy all year. This isn't a great offensive line and Henderson was struggling to find any room to run until late in the 4th quarter when the game was over. He's got one more decent matchup against the Colts this week and after that the schedule gets brutal for a month. Beating up the Bears a little for 1Q is fine and all, but the Bucs, Cardinals, Seahawks, and Giants are coming up in the next month before the schedule eases up for a few weeks.
Here's what McVay had to say after the game:
"I would say, I have confidence in Sony but the way that Darrell was running, kind of the flow of the game like we talked about. Darrell has definitely established himself as our starting back. I thought he did a great job. I thought he got stronger as the game went, but Sony's a guy that's had production in this league. It was just a weird deal the way that the game kind of unfolded."
Doesn't sound like a ringing endorsement to me.
Here's what's going to happen. Henderson is going to still be the lead for the next few weeks, but what happens when he gets bottled up against several really good run defenses? The Rams o-line isn't that good, but guess who Sean McVay is going to blame...Henderson. He's happy with Henderson for running well in the 4th against the Bears, but that good fortune goes away against better teams. It's going to confirm his secret feelings, that Henderson isn't very good and he's going to switch to Michel full-time right around the time that the schedule turns to the Lions and Texans which will only further confirm what he thinks when Michel has a field day against a bunch of shitty defenses. I don't care that McVay praised Henderson after this game. He's shown time and time again that he doesn't really like Henderson and doesn't want him to be the lead. Everything is fine for the moment, but the second Henderson struggles McVay will ditch him like he always does. McVay said Henderson was their RB1, but he didn't say for how long. This switch is going to happen, and it's going to happen sooner than everyone thinks.
I would trade Henderson hot right now or you might get cute and let him play against the Colts to build up the hype, but everyone knows the Bucs have a killer run defense and they aren't going to want to trade for Henderson with the Bucs up the next week. Nobody likes Henderson that much. Count your blessings if you held this long and get something in return for him. He won't be worth anything in a few weeks.
‍
RC warned you about this start for Allen Robinson (6-35-0/11). Jalen Ramsey is a no-fly zone. It gets a bit easier from here, but Robinson has Awuzie this week and he's no joke, then Denzel Ward the week after (he got torched by Mahomes and Hill but that's no crime), followed by the lowly Lions and Raiders (two good matchups), and finally Jaire Alexander and Carlton Davis. After that it's more of the same, a couple nice spots mixed in with some terrible spots. And don't forget Fields isn't likely to fix this particular problem. He's not that good a passer no matter how strong his arm is. It's going to be a bumpy ride for Robinson.
With all the attention on Robinson, there might be some room for Darnell Mooney (5-26-0/7) to shine at times. He's going nowhere with Dalton, but Fields could be more interesting because he will break the pocket and give Mooney time to improvise against lesser coverage. Again, it's going to be up and down. Not sure you can use him with any confidence just yet.
‍
The only other Bear I'm going to mention is Cole Kmet (5-42-0/7). He's so slow it's not even funny. He'll catch a few TD's to make him viable at times because he's so big, but don't expect any yards with this guy. He's strictly a turn-around-at-8-yards pitch and catch guy, nothing more.
‍
We know who Stafford's go-to receiver is: Cooper Kupp (7-108-1/10). He looks like a WR1 this year easily. Note that he was tackled a foot short of a second TD which would really have set off waves.
Kupp may be the top target for Stafford, but I don't expect Robert Woods (3-27-1/4) to completely fade away. Some of the targeting difference here was just gameflow. He's playing as well as ever. Woods will get his WR1.5 numbers in time.
There were two pleasant surprises with the Rams offense here. One was Van Jefferson (2-80-1/3) playing such a large role. He's the new Josh Reynolds, not a high volume guy but will splash with a big play from time to time. His TD catch went almost exactly like the long Deebo and Tyreek plays, fell down catching the ball and nobody touched him so he got up and walked in. Jefferson is the deep threat here and Stafford has the arm to get it to him so we will see more of these long throws than in the past.
‍
The other surprise was how involved Tyler Higbee (5-68-0/6) was and how great he looked. He played very smooth, like a jumbo WR, and was catching passes with ease. This is easily the best I've seen him and if he gets even half of the volume he got at the end of 2019 he's going to be an easy TE1 this year, possibly pushing into the top 5. I think he might do exactly that so now's the time to try and pull a sneaky deal for him as part of another trade.
‍
One guy that was not involved even remotely was rookie Tutu Atwell. Normally, I wouldn't even remark on a guy that only got 2 snaps and no targets, but I feel the need to make fun of this situation again. The whole argument for drafting Atwell in the first place was "he's fast" with the implication that he would open up the Rams offense for Stafford deep throws, but it seems that they are plenty able to do just that with Jefferson and DeSean Jackson and even Kupp, so why in the world would you waste a 3rd round pick on a guy that's 150 lbs soaking wet? That pick could have been used on an offensive lineman, but instead the Rams thought it would be a good idea to light it on fire. Great job.
‍
--IDP Notes
Justin Hollins (8 tackles, 2 sacks) had a nice stat line here, but this isn't a breakout happening. Hollins is a big-bodied, nicely built LB and moves around well enough, but he's just a role player. His sacks were the result of Aaron Donald being an absolute wrecking ball and Dalton trying to escape, nothing Hollins did. He's fine but not a secret IDP sleeper waiting to happen.
Kenny Young (10 tackles, 1 pd) also had a good game in the box score. He looks like a pretty good coverage linebacker, fast and rangy, but I didn't see him making any real impactful plays. He's always around the ball though, thus the high number of assisted tackles (5).
Young and the two safeties, Jordan Fuller (11 tackles) and Taylor Rapp (10 tackles) all had high counts because the Bears threw literally every single pass 10 yards or shorter. Don't expect them to do that every week.
--Snap Counts of Interest
69 = Darnell Mooney
63 = Allen Robinson
36 = Damiere Byrd
51 = Cole Kmet
14 = Jimmy Graham
41 = David Montgomery
30 = Damien Williams
49 = Cooper Kupp
40 = Robert Woods
36 = Van Jefferson
52 = Tyler Higbee
49 = Darrell Henderson
3 = Sony Michel