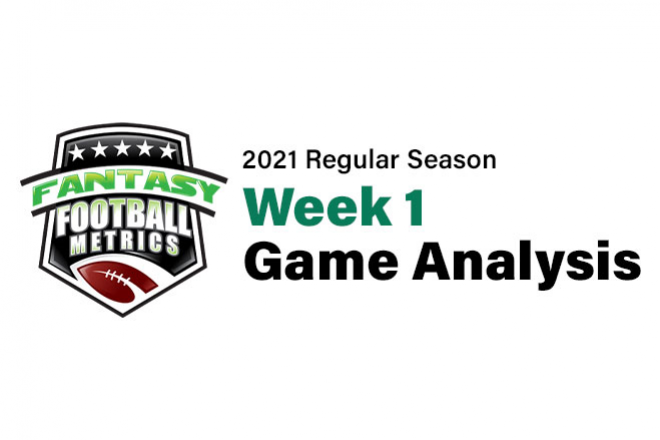 R.C. Fischer
FFM
16 September 2021
2021 Dynasty/Fantasy Game Analysis Week 1: Cardinals 38, Titans 13
This was a butt-whoopin' from the opening whistle. There's no need for a long explanation or minute description about this game itself, no nuisance takes – Arizona smoked the Titans. The only thing I could add is that the Titans are lucky – this could've been worse.
The Titans are weak/not as good as people expected, but they're not horrible. The Colts look like 'meh'. Maybe the 1st-place Texans really are the best team in the AFC South? Comedy aside, the AFC South will come down to Indy and Tennessee…and the Titans will probably finish around 8-9 wins and be a decent team…which further speaks to how impressive Arizona was here.
Oh, and Arizona is going to win the NFC West…sorry Cris Collinsworth – you and Matt Stafford can go make out on the couch while the Cardinals are hosting a playoff game.
Fantasy Player Notes…
 -- We have to start with the reason why Arizona stormed the Titans…that Arizona defense.
I saw a good amount of this live, so when I rewatched it to study it…I was looking to see if the Cardinals defense was really as good as I thought. I was trying to prove myself wrong…making sure I wasn't getting too hyped about something I decided on from the preseason.
After watching this back, the answer? Yep. They were better than I remembered.
I mean, the Titans could barely get a play for positive yardage in the 1st-quarter. Derrick Henry (17-58-0, 3-19-0/4) was eviscerated all game. Every pass was contested by coverage. Tannehill was swarmed every other drop back. Arizona had the best defense I saw in the preseason…and they carried that to Week 1. To my eyes, this is the best overall defense in football.
Three defenders to highlight…
1) Chandler Jones (6 tackles, 5 sacks, 4 TFLs) was a wrecking machine, obviously.
What I just want to point out is… That the greatest NFL coach of our lifetimes ditched 2021's current top pass rusher/sack man and the reigning Super Bowl MVP QB WAYYY too short of the time he should have. Both have prospered away from Bill Belichick…a coach who just lost to Tua at home Week 1.
Bill, The Wizard of Oz called…he wants you to get out from behind his curtain.
Maybe Belichick is the greatest coach in football – he has single-handedly handed the Bucs a Super Bowl, the Cardinals the foundation for a top defense and a division title, the Chiefs a top O-Lineman (Thuney) in free agency to further cement their elite status…while Belichick-ite coaches go litter the NFL and lose/destroy NFL teams. The Lions (Patricia era), Titans, Dolphins, Houston (Bill O'Brien + now Jack Easterly), the Giants all have one thing in common…wait, two things in common: (1) they're all dying franchises that won't make the playoffs…and they have all Belichick people at the helm.
I'd name you the Belichick-offspring successful coaching staff or front office today to counter all those situations I just named…but there are none…including the current New England Patriots.
2) Byron Murphy (4 tackles, 3 PDs) has become a top NFL corner…not 'the top' just 'a top', emerging.
3) Isaiah Simmons (9 tackles, 2 PDs) looks so much better as a tackler this year than last…or his years at Clemson. No longer just a chase and drag down guy. I saw him bring down Derrick Henry on his own with not the best window at Henry, but he popped him and muscled him down quickly and halted him in his tracks all solo.
There are many defensive performers to laud here because this is not the Rams defense – driven by 2-3 superstars. No, the Cardinals are a true swarming unit that plays turned up to '11' every minute of the game. Very impressive – it should earn D-C Vance Joseph another head coaching opportunity, which he will fail at (just stick to being a great D-C)…but it will happen after people comprehend what they see with the Arizona defense in 2021.
If Arizona goes and embarrasses Kirk Cousins and friends this week…then you know it wasn't a one game fluke. I can't wait for @JAX Week 3 for my new favorite DST.
 -- Arizona can move the ball on offense as well, which makes them a lethal team…and maybe a Super Bowl contender.
Kyler Murray (21-32 for 289 yards, 4 TDs/1 INT, 5-20-1) looks better and better in this joke of an offensive scheme/plan. It's a garbage Air Raid that Kyler makes work…makes improv plays in to keep it moving.
 -- Who does Kyler throw to when not throwing to DeAndre Hopkins?
He spreads it around to…
A.J. Green (2-25-0/6), who is still mostly toast as an NFL WR. Thus the 33% completion rate to him here…and extension from his 45.2% clip with Cincy last season…a chunk of that being bad-with-Burrow when every other WR was prospering with Burrow.
Christian Kirk (5-70-2/5) had a game…but only 5 targets. He looks fine, but there just doesn't seem to be the X-factor between he and Kyler…but it's useful/it works.
Rondale Moore (4-68-0/5) was not as involved as I thought. Sure, he has numbers…but he was more out of the game, than in (20 snaps played) and his targets were either off improvisation or in a more garbage time capacity.
Moore still looks great, and his time is coming (because AJG is done). But it may be a few more weeks as they bring him along slowly, not try and feature him early on it appears.
 -- Chase Edmonds (12-63-00, 4-43-0/40 is definitely the back to have here…especially in PPR.
James Conner (16-53-0) was an afterthought most of the time and got more carries late in the blowout trying to run out the clock.
 -- Tennessee was so overwhelmed by the Cardinals defense that I don't really have a ton of notes for the Titans offensive players. I don't want to judge them when facing a machine like the Arizona defense 2021.
However, there is one main note – Julio Jones (3-29-0/6) is playing sloppy, uninspired football. Watching him this offseason and in this debut game – one could judge, from a distance, that Julio doesn't seem to be 'into it' like you'd hope (if you owned him for FF…or the NFL). His time on top appears to be coming to an end…something Atlanta seems like they knew. Just in time. But let's see what happens when they face non-Arizona defenses. But the radar has been triggered.
Snap Counts of Interest:
40 = D Henry
23 = McNichols
01 = Sargent
61 = D Hopkins
55 = AJ Green
39 = Kirk
20 = Moore
40 = Edmonds
34 = Conner
69 = Fulton
61 = J Jenkins
41 = Elijah Molden