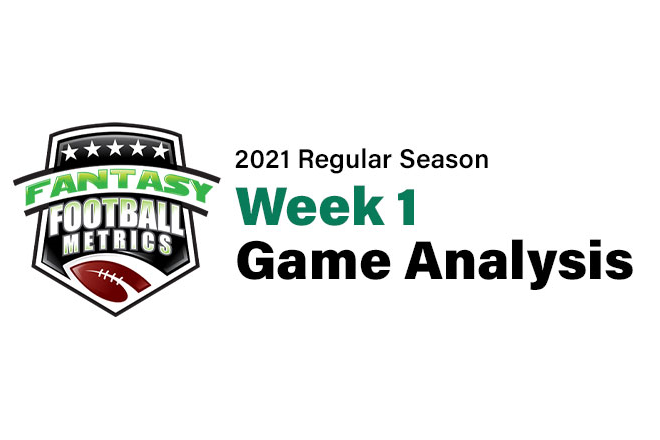 R.C. FISCHER
FFM
10 September 2021
2021 Dynasty/Fantasy Game Analysis Week 1: Bucs 31, Cowboys 29
When the Bucs jumped out to a 7-0 lead, it seemed like this was going to the Buccaneers night by double-digits – defending champs in their home/NFL opener, the crowd on fire, Dallas limping in minus Zack Martin and everyone unsure what to expect from Dak in his return to live game play off shoulder issues and last year's horribly broken ankle.
From that point on, Dallas outscored Tampa 29-24…but the Cowboys ended up losing the game in the final seconds on a short field goal.
There's two 'credits' to give out here…
‍
1) Credit Tom Brady for saving the day.
The Bucs defense was erratic and ineffective too much of the game. The Bucs had no real run game. It was Brady making some excellent, accurate money throws that kept Tampa Bay in this…and got them the win.
The more I watch Brady, at ages 43 and 44, the more the Brady v. Belichick question continues to make me wonder just how good a coach Belichick would've been without Brady. Would Belichick have been 'average'…and fired after 4-5 seasons in New England and then surfaced elsewhere for another 2-4 year stint before being given the boot again? Would he have just been 'good'…more wins than losses but not dominant/a legend? We'll never know…although what we've seen of 2020 and 2021 so far, it's not making me feel like Belichick was 'the reason'.
It was Bill Belichick's idea to move on from Tom Brady. It was Belichick who wanted to replace him years earlier for Jimmy Garoppolo. It was Belichick who kept Tom in a quasi-box too often. Those are not signs of 'a genius'…but let's see what he does in 2021 with Mac Jones, if he's such a genius. How can chasing away the league's most valuable player, of all-time, be overlooked in Belichick's coaching resume?
2) Credit Mike McCarthy and Kellen Moore for smart game planning…yep, I said it.
Dallas was undermanned, under-gunned for this fight…going to the defending champs in a home opener, and yet they almost pulled this off. Dallas was the more energetic team, after they took the first few punches from Tampa and responded with shots of their own – they gained confidence from the 2nd-quarter on and were the aggressor and better team in the second half, but Brady has a pact for his soul…so, of course the Bucs/Brady won last second. Nothing Dallas can do to reverse the supernatural, tried as they might.
McCarthy/Moore put a perfect game plan together to help Dak get his feet under him early. They kept it simple…short and quick. Tampa Bay really never adjusted to it. And then as Dak got more settled in, the Bucs secondary couldn't really keep up.
Dak looked 'off' at times, especially early on, but he rallied -- and really put his foot down to let us all know that he's one of the 10 best QB talents in the NFL. It was an MVP-like moment…but because they lost, doesn't feel like it totally.
And also, credit McCarthy/Moore for recognizing Ezekiel Elliott isn't that special and thus does not need an offense built around him constantly going headfirst into the best run defense in the league. The more I saw Tony Pollard starting drives and getting touches, the more I stood to applaud McCarthy/Moore. It is not easy to move away from a fan-favorite, highly overpaid running back – but McCarthy said (in the offseason) he would split the RB role more this season…and split it, he did.
Given the situation going into this game – this feels like a win that was really a loss for Tampa Bay, and vice-versa a loss that really feels like a win for Dallas.
With months to prepare…with a raucous home field…with the Zack Martin injury – Tampa Bay got out-schemed and out-efforted by Dallas. I don't see a repeat Super Bowl team with Tampa…I see the wild card team that got hot/lucky late in the season and into the playoffs. But as long as Brady continues to exist…the Bucs have to be the NFC favorites.
Credit to McCarthy, I guess…because I also saw the grittiest Dallas team I've seen in a while. It's not going to be so easy for Washington to cruise to the NFC East title if Dak is upright all season. If I were re-doing my Faux season 2021 simulation again, I would have Dallas as a playoff team for sure.
It was Week 1, so we learned various things about 'intentions' of these teams for FF 2021…or, so we think. Let's get into what we think we saw for Fantasy and discuss whether it is a blip or full future reality.
Fantasy Player Notes…
 -- Let's start with analyzing what we thought about the Bucs' offense going into the season, and then seeing how it lined up with what we saw Week 1…let's see where we were 'right' or 'wrong' about preseason assumptions and how they played out this opening game:
RIGHT: Tom Brady (32-50 for 379 yards, 4 TDs/2 INTs) is going to throw the ball a lot…he's going to chase all the records, seasonal and career.
This wasn't a unique theory, but really leaning into it set the tone for various projections down the line is going to be wise. Brady looks like he did in 2020…and in 2019. There is no age effect happening to him.
The Dallas defense registered no sacks, no TFLs, and just two QB hits – one of the best pass protection O-Lines in the game means even more juice for Brady 2021.
RIGHT: If Brady was going to put up big numbers, then we believed so too was Antonio Brown (5-121-1/7, 1-6-0) who we'd been pushing as on par/better than Evans-Godwin.
I can't say this game result altered any opinion that Brown might be the most important Fantasy WR here. Brady came out throwing and Brown was his obvious favorite look. As the game shifted/Dallas made changes, Brady started to use Gronk/Godwin more because it was there for the taking…and he took it. Brown is set for a nice year with heavy pass volume Brady.
When we pushed for Antonio Brown's sweet undervalue in the early summer, AB was not a top 35-40 WR rank/ADP. He kept climbing in August when more people started to see glimpses of it. Many of you got Brown 8-11th+ round in redrafts throughout the summer. You're going to be happy with your ROI here.
WRONG: I thought Mike Evans (3-24-0/6) would be the one 'other' Tampa WR to have aside from AB for FF 2021. I thought Chris Godwin (9-105-1/14) was overpriced as he would be rendered to WR2-3 status as Brown saw top targets and Evans saw heavy TD action…nothing against Godwin, but that there wouldn't be enough to go around to support his ADP.
It wasn't pretty (because Godwin butchered a couple passes and fumbled into the end zone after a catch), but Godwin saw a bunch of targets…especially as the game went on and as more coverage attention was paid to Antonio. I'm not saying this type of stat line is now Godwin's likely result every week ahead, but as Brady passes heavy there's room for more to party…and Godwin looks more like a WR1.5-2.0 than WR2-2.5.
I'm not so much 'wowed' by a good game from Godwin here as I am consistently surprised by how 'out of it' Mike Evans looks…and it's not new, it was a carryover from 2020. I keep thinking it could change, that Evans will not be ignored in most games…but we have to make the call – Evans is the dud of this trio, it appears, since Brady has come around. If I re-order my TB WR pecking order it would be Brown-Godwin-Evans, not Brown-Evans-Godwin.
RIGHT: The Tampa Bay plan running the ball is a Leonard Fournette (9-32-0, 5-27-0/7) rotation with Ronald Jones (4-14-0)…and it's going to leave you frustrated owning one or the other for Fantasy.
Fournette won this round because RoJo fumbled in the 1st-half and was benched the rest of the game. Fournette can bobble screens leading to a pick…and Godwin can fumble into the end zone and almost cost them the game – but if Jones fumbles, he's banished to hell. It happened last year too…RoJo is just an Arians trigger for anger/wrath for some reason.
So, next week everyone will be sky high on Fournette and down on RoJo, but Bruce Arians will then get Jones back going mentally with extra touches…and if RoJo responds, you'll see Jones as much as Fournette and neither will be anything big or predictable for FF. Arians did that last year, rotated in-and-out and went 'hot hand' and punished things that made him mad…but it was mostly unpredictable and unfruitful for Fantasy when they're both active.
Fournette is in a better spot now…because if Jones fumbles again, then Leonard is in a really great spot for the moment. It could happen to Fournette the following week, that he fumbles and gets the sour treatment. I wouldn't want either back for FF 2021.
WRONG (so far): I knew Fournette-Jones would be an every-other-series split rotation thing, but I was counting on Gio Bernard (2-12-0/3) being in for every 3rd-down and in the hurry up offense scenarios…and, thus, being PPR viable. That didn't happen here.
The game plan started out with Gio as the 3rd-down guy, but then Tampa was scoring so fast early on there was no need for 3rd-down dump passes…nor were there many 3rd-downs in general in the 1st-half. I could live with that being the cause of the lack of touches, but then when 3rd-downs started to happen more for TB in the 2nd-half, it was Fournette left out there and Gio a total ghost. I was shocked. Was Gio hurt from ankle sprain still? Nope. On the final drive, in the hurry up, Gio was on the field doing the James White thing…but it was too little, too late.
I could say it's just one week -- but it was an important week. It shows intention. The Bucs O-C did not get Gio out there every time he could/should have. Is it just this one week outlier? Is this just going to be so spotty and unpredictable on when the game flow goes to needing Gio that he's not much of anything but a plausible guy to have during the BYE weeks/tight RB options out there?
I'm heavily vested in Gio from redrafts…cheaply vested, but heavily (by count) vested in having Gio on my FF teams in PPR (and some half-PPR) as a for-depth option I hoped broke out into that sneaky James White RB1.5 in PPR dude who cost me little to acquire. Now, I'm wondering if I'm going to ditch him Tuesday in the waiver wire chase.
I'm going to more hold on than not, I think…I don't want to overreact to one week -- but this just got onto seriously shaky ground.
Most of what Tampa showed in preseason glimpses overall came true here this game…except Gio was ghosted by the coaching staff, where he was seeing a bunch of passes with Brady in the preseason games with the 1st-team – and I'm shocked by it not carrying over here. Gio is not the type of guy that would get this type of ignored/disrespected treatment you'd think. He is the best 3rd-down back they have…and he wasn't being treated as such here. However, in the critical final drive…Gio was out there the whole time and made a great diving catch for a 1st-down and looked just like the James White we hoped for the whole drive. We saw a glimpse of it, but it's on shaky ground right now with me.
NEITHER RIGHT/WRONG: Rob Gronkowski (8-90-2/8) had a big game. I'm not shocked. We projected him top 7-8 for the week because of the Cowboys linebackers in coverage. I didn't think he'd be the #1 TE of the week, so that's wrong…but we thought this was a good spot, and that was right.
Gronk was quietly going along at first, but then Brady started to expose what was ripe for the picking as Dallas showed their hand…and Brady picked it, and Gronk delivered. I didn't think Gronk looked special…he was just good/comfortable with Brady throwing to him in the right spots on the money.
Gronk will be a TE1 in non-PPR this year…and likely a top TE1 in PPG rankings for much of the 1st-half of the season because of this hot start boosting him. If Gronk catches 2 passes for 13 yards and no TDs next week, it wouldn't shock me. I didn't see Gronk as like this major piece/high scorer for the season…it was just the right player against the right opponent/matchup. But Gronk has mostly good matchups in the 1st-half of the season and then it turns much more difficult as the season wears on.
 -- What about the Cowboys in this game?
WRONG: I was more inclined to sit it out on Dak Prescott (42-58 for 403 yards, 3 TDs/1 INT) in redrafts. I like him as a talent, but why invest heavily into him with his preseason shoulder issue and offseason ankle rehab. You could've taken Tom Brady later in a redraft later, bypassing earlier Dak. I'm not disappointed by the decision to bypass Dak…but he showed that he'll fight through just about anything. So, my reason to pause doesn't look like an 'I told you so moment'. It was a worry that didn't necessarily need to be worried about.
But I still wouldn't chase Dak or lament missing out – because contrary to Cris Collinsworth telling us everything was fine with Dak 2-3 throws in, anyone with eyes could see that Dak was not planting and firing like his old self for about the first half of football here. Dak was floating passes that wobbled down the field. He was accurate and making good decisions, for the most part, but had no real drive or zip on his throws.
Once Dak got blasted by a Bucs D-Lineman somewhere early 3rd-quarter (if I recall, possibly late 2nd-Q), it was like it shook the rust off and/or cobwebs out and Dak suddenly had more energy, more zip on his passes. It's like he needed to get hit and know that he was OK, and then glimpses of the old Dak started to appear.
Still, there were a lot of 'gingerly' throws, soft tosses that concerned me…but 10 days off until Week 2, extra rest/healing -- Dak may be 110% for Week 2 and beyond. Some of Dak's throws to the middle were inexplicably bad in this game, but mostly overall he was fine.
And credit to Mike McCarthy and/or Kellen Moore – they set a game plan early to allow Dak to get rid of the ball quickly and safely. Dak was throwing mostly bubble screens and comeback/timing passes early on because he didn't have that drive in his throws…smart of McCarthy/Moore to set him up for success given the physical issues/concerns/rust/whatever…or even just helping him work past the mental issues coming off all the injuries to deal with.
Bucs D-C Todd Bowles, of course, did not adjust to this early on and Dak just kept soft-tossing his way up and down the field. Once Bowles started to bring more pressure to the receivers and to the pass rush, then Dak started to struggle for a drive – but then after he got hit hard after a throw and survived it -- he started getting his legs under him and beating the Bucs defense more like his old self. Bowles called the exact wrong game and changed concepts at the exact wrong time…or the Bucs just aren't that good of a defense/they lost too many DBs before and during the game and got exposed. They played great against the run as they do, but then got carved up by simplicity in the Dallas passing game – you can't have a rusty, early-tentative Dak running you ragged in the passing game with CeeDee Lamb (7-104-1/15) dropping every other throw to help you out. I thought the Bucs D might harass Dak early and often…they never really did. Dak made it look easy.
It's hard to believe that this pretty-much-the-same Bucs defense crushed Patrick Mahomes in the Super Bowl…and then pretty well embarrassed themselves in this game by letting a rusty Dak soft toss his way through them for most of the game.  
If CeeDee Lamb were a really good WR…Dallas wins this game going away.
RIGHT: Amari Cooper (13-139-2/16) was a discount high-end WR1 going for WR1.5-2.0 redraft value too often this preseason. I got nervous too about Dak's part in this equation for Amari in early August but once Dak was cleared we were back solid with Amari if/when it fell to us 3rd, sometimes 4th-round of redrafts. Cooper is a top 5 Fantasy WR when Dak is playing.
RIGHT: Avoiding Ezekiel Elliott (11-33-0, 2-6-0/2), for the lofty price, taking Mike McCarthy at his word…that he was going to involve Tony Pollard (3-14-0, 4-29-0/4) more…was the right read of the situation. Not that Zeke is dead, but he may be more RB1.5 than he is top 3-5 no-doubt elite RB.
Pollard was starting several series…not just rotating in on 3rd-downs or some bit player. If you didn't know better, you'd think Pollard was their most dangerous back…and he might be. I know it was the great TB run defense squashing the run here, but I took note of how often Pollard was starting a series and how involved he was…and it's not great news for Elliott owners.
Elliott is not dead…he's just starting to move away from being FF-royalty at running back. His name/reputation is bigger than his reality. He'll have his big games ahead, I'm sure…and he'll likely be an RB1 level performer/scorer for the season. But he's not THAT GUY anymore…he's just a really good Fantasy RB to have, not like a 'best in class' option anymore.
Credit to Mike McCarthy/Kellen Moore for seeing they needed to diversify off 100% usage of the overrated Elliott and starting to mix in the suddenly more (differently) dangerous Tony Pollard.
BE CAREFUL: I'm not a big fan of CeeDee Lamb (7-104-1/15), and he showed why several times in this game – drops-o-rama. He's just an average/good WR who is not a game changer, but if he's on the field in a high-volume passing game, he's gonna get some numbers. He's not incompetent…just he's treated like a god, and he's not better than Russell Gage on an NFL field.
Lamb was struggling early, and then the Bucs lost CB Sean Murphy-Bunting (2 tackles) to injury and later Mike Edwards (4 tackles) came up limping…and all that combined with Michael Gallup (4-36-0/7) going down (who was working better than Lamb) and then Amari Cooper started getting extra attention – so, Lamb was there and got throws…not because he's a force, but because it was there…like Brady-to-Godwin. Tampa went into a 'Let Lamb try and beat us' mode as they focused on Amari with Gallup out. It's not a compliment when your opponent rules you as the weak hand they'll not over-focus on.
So, my anti-Lamb stance looks bad after his nice FF scoring week…but let's see how this plays out. Lamb will probably be fine by existing around Dak with Amari getting so much attention. But I think he's more WR3 talent getting WR2 work than a future/star WR1 hopeful.
I GUESS, RIGHT?: Not a big deal item, but it was a split TE role/rotation for Dallas…Dalton Schultz (6-45-0/6) is the lead with Blake Jarwin (3-20-0/4) rotating in a lot…and neither exciting for Fantasy production but they'll have a good game/TD every so often. If you need either one of these guys this season…things aren't going well for you at TE for Fantasy. Schultz is the better FF option of the two now.
Other non-offense/skill position notes…
-- Micah Parsons (7 tackles, 1 PD) looked a little lost, got burned by experienced players on plays early on like Isaiah Simmons did last year for Arizona. The difference is, Simmons kept getting burned and got benched quickly last year. On the other hand, Parsons settled in and got better each quarter as he got his feet underneath him.
Parsons showed all the promise here, and being the defensive play caller against Tom Brady, as a rookie in his very first game…only good things ahead for Parsons.
Side note…when Parsons decides to cover an RB or TE on a passing route, forget it. It's not open. Parsons covered Gio a few times and Parsons consumed him.
The addition of Parsons to the starting lineup had an affect on the other Dallas LBs…
Leighton Vander Esch (2 tackles) back from his injury plagued 2020…just two tackles. Wildly overrated Jaylon Smith (4 tackles), just two solo tackles. However, Keanu Neal (6 tackles) just now (2021) shifted to LB from safety…as many tackles as Vander Esch-Smith combined. Things are changing, for the better, with the Dallas defense it looks like – just a tough opening season matchup…and they almost pulled the upset.
 -- The preseason reports of Greg Zuerlein (3/5 FGs, 2/3 XPs) having some physical issues of concern to start the season…I guess they were not joking. Z missed an easy field goal and extra point early on, and it looked like Dallas would be shopping for a new kicker Friday morning. However, credit to Zuerlein…he rallied back and made the rest of his kicks, including what they hoped would be a game winner with 2-minutes left.
Still, I would be looking at alternatives at FF kicker if you're rolling with Z right now. You shouldn't be, but if you are…look at viable alternatives ASAP.
‍
SNAP COUNTS OF INTEREST:
64 = Godwin
61 = Evans
42 = A Brown
42 = Fournette
17 = Gio
06 = RoJo
57 = Gronk
18 = Brate
06 = OJ Howard
21 = Tryon (debut)
‍
70 = Elliott
20 = Pollard
‍
57 = Schultz
48 = Jarwin
‍
*************
First game of the season we always post our first recap publicly...but...
Most all of our FFM game reports for the season and all of our special reports, and weekly rankings, etc., are exclusively available to subscribers only. See the FFM homepage and 'subscriptions' to become a member and have access to hundreds of thousands of words of unique football scouting and takes all season – content/scouting that you will not see anywhere else in the mainstream, etc. (I promise that you have not seen anything like our scouting…it's been true for over a decade now).
*************