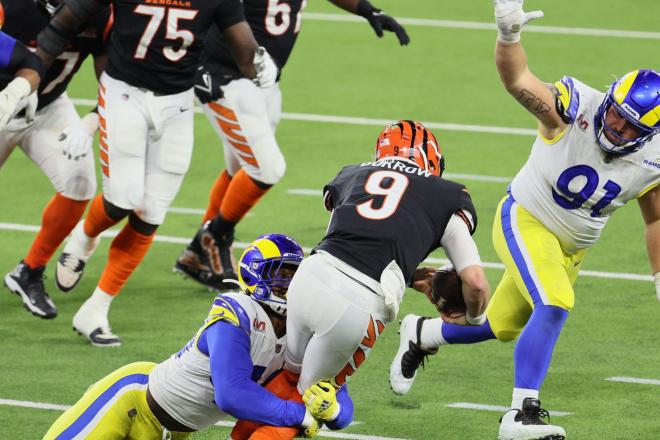 R.C. Fischer
FFM
22 May 2022
2022 Offseason Assessment Tournament: 1st-Round (CIN v. BAL)
Same intro everyday: Our annual series taking a look at each NFL team's offseason (free agency, draft, trades) moves and assessing their impact for the upcoming season – simply speaking, 'did all of the offseason moves, en masse, project to make the team better or worse for just the upcoming campaign (not worried about the long-term effect)'?
We'll list the key adds and losses for each team competing and then comment on them and anoint a winner that will move on to the next round, until we get down to the final two (the 'Super Bowl') and we name a winner for the top offseason (to date). Our way to review and judge what each of these teams have done halfway through the offseason.
1st-Round Matchup…
CINCINNATI BENGALS
Key Adds:  
OG Alex Cappa (FA), OT La'El Collins (FA), OC Ted Karras (FA), TE Hayden Hurst (FA)
DB Dax Hill (pick #31), Cam Taylor-Britt (Pick #60), DL Zach Carter (pick #95), OL Cordell Volson (pick #136)
Key Losses:
TE C.J. Uzomah (FA), DT Larry Ogunjobi (FA?)
vs.
BALTIMORE RAVENS
Key Adds:
SAF Marcus Williams (FA), OT Morgan Moses (FA)
SAF Kyle Hamilton (#14), OL Tyler Linderbaum (pick #25), EDGE David Ojabo (pick #45), DT Travis Jones (pick #76), OL Daniel Faalele (pick #110), TE Charlie Kolar (pick #128), PT Jordan Stout (pick #130), TE Isaiah Likely (pick #139)
Key Losses:
WR Marquise Brown (trade), CB Anthony Averett
The defending Super Bowl losers didn't take a lot of hits at all this offseason. They'd like to have DT Larry Ogunjobi back, but he's not irreplaceable. What's really impressive is that Cincy identified the obvious need/issue, O-Line, and then went out and grabbed three instant starters in free agency. And Hayden Hurst is technically another nice O-Line add at TE. The Bengals assessed the obvious, but then actually executed a plan to solve it. Great job. They didn't do as well in the draft, but they got some bodies. The O-Line in free agency was the key to this offseason.
The Ravens added a lot of bodies but I'm not sure I love any of them…maybe the punter, Jordan Stout? Travis Jones is hopeful. I like Charlie Kolar but non-Mark Andrews TEs go to die in Baltimore. So many bodies added though…that helps, in general, but does it make an impact? Is there a big-time impact player there if Linderbaum flops? I can't stand overrated safety Kyle Hamilton. And Ojabo is potentially way overrated.
Do I go with quality (the Bengals filling in three starting OLs) or quantity (the Ravens getting 7+ useful bodies out of the NFL Draft)? I'll take quality…which is what we'll remember in the long run. The Bengals added four instant starters to their O-Line (including the TE/Hurst)…the Ravens added 1-2 instant starters, and one of them a punter.
WINNER = Cincinnati, who goes on to the AFC North finals.
1ST-ROUND RESULTS:
NYG defeats DAL
PHI defeats WSH
LAR defeats SEA
SF defeats ARI
DET defeats GB
MIN defeats CHI
ATL defeats NO
TB defeats CAR
-----------------
NYJ defeats BUF
MIA defeats NE
DEN defeats KC
LAC defeats LV
CIN defeats BAL