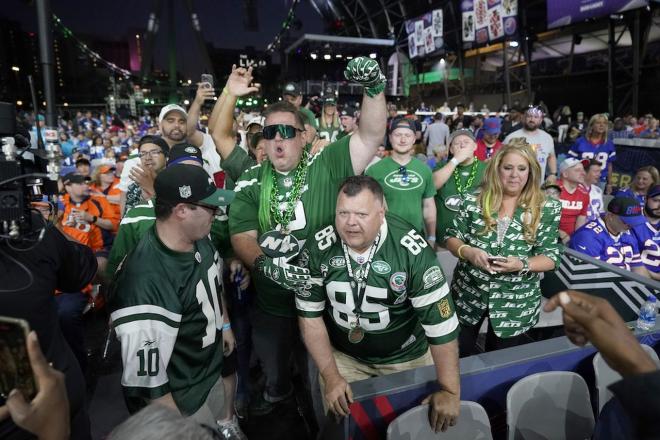 R.C. Fischer
FFM
29 April 2022
2022 NFL Draft: 1st-Round Analysis (NFL and FF)…
We're going to go in the order of the 1str-round of the draft to use as the trigger for thoughts/notes.
*Thank you to everyone who attended the video stream – it's on-demand for those who'd like to watch/listen. We do live stream Round 2 tonight.
 -- The Jaguars start us off by taking Travon Walker. When the Vegas odds started breaking this way super-strong the last 48 hours or so, the Jags' leakers had fully leaked this reality.
The Jags get Walker at #1 and then later traded up for Devin Lloyd at #27. 'Doug Pederson is going to go offense in the draft!' theories didn't really work out here. One of the most despised, ridiculous NFL GMs is in charge of the arguably the most ridiculous NFL franchise…one that SHOULD be strong, a desired place for players to go…but isn't.
It's a solid enough start to their draft, but this is assuming Walker becomes some version of Micah Parsons they hope for…which, by the laws of universe, this being 'Jacksonville' means that this somehow won't work as hoped…if this fails then it means that there is a Walker issue (as his tape and output shows too often)…and this will be another high hopes/failed draft by the NFL runt franchise, the Jaguars.
Regardless, it's a smart move in this draft – you go for the huge upside and high-end athleticism and if it fails, it fails. Only if this fails, Trent Baalke is done in the NFL for good.
 -- At #2, the Detroit Lions then go with the guy everyone pegged to them as a 'spiritual fit' – Aidan Hutchinson, a solid pick. But then they spiced things up with trading up to get Jameson Williams at #12.
Hutchinson + Dan Campbell you could see from a mile away.
Jameson + Dan Campbell, I saw in a frozen hell.
It's a great move when you consider the night was (and suddenly a league is) ruled by WIDE RECEIVERS, not QBs…so, with Williams possibly the most talented WR in this draft – this ends up being one of the better moves of the night one.
I just didn't think the Lions needed/wanted a WR, but after that notion being wrong…I sit back and thought it's a great move.
And it's no help to the Amon-Ra St. Brown FF story.
And it's a big help to the Jared Goff story.
Lions fans…you're about on the verge of 'hope'…real hope, more than the Jaguars. Your GM might be one of the better ones in the league (and what he paid to move up for Jameson wasn't much at all, it was a brilliant trade).
 -- I was mildly shocked at #3 with Houston taking Derek Stingley.
Shocked…because I didn't see Houston going corner with all the top OLs available at their fingertips.
Shocked…because no one in the world could look at the tape and do the character research and with Ahmad Gardner available…choose Stingley. The Texans seem hellbent on keeping this franchise destroyed. Having two picks in the 1st-round and ending up with Stingley & Kenyon Green when they could've had Gardner and Trevor Penning or Zion Johnson – it's going to go down as a horrific moment of wasted opportunity for a franchise leading the league in horrific moments, suddenly.
 -- I will agree with the mainstream, the Jets had the best draft of Round One…and are likely headed to a top draft ranking/rating overall.
The Jets were on the verge of something special but fumbled one of their three picks.
First, #4 taking Ahmad Gardner – he was our top player in the draft, by a mile. Instant impact player. The Jets may 'win' the 2022 NFL Draft just with this pick alone.
They traded up to #10 and could've really been turning a corner had they taken a shot on Jordan Davis or added any of the top OLs available, instead they get generically fine/solid WR Garrett Wilson. Wilson is fine, but there was such much else out there to chase besides a WR. It didn't kill them, but such a missed opportunity at 'special' in this first round.
Later, at #26, they traded up for falling Jermaine Johnson…one of the smartest moves in the 2nd-half of the 1st-round.
The Jets have taken over my 'deep sleeper' franchise love, moving ahead of the Giants.
 -- Speaking of the Giants…
At #5, they take one of my least favorite top prospects of 2022, Mr. Thibodeaux. The Jets got as good/a better edge rusher at #26 with Jermaine Johnson.
A few picks later, the Giants nabbed Evan Neal…the one-time consensus #1 overall. He's a fine pick. This helps NYG. Now, all they need is a QB…
 -- Carolina, in a mild shock, bypasses Kenny Pickett and takes (arguably) the best OL prospect in the draft at #6 – Ikem Ekwonu.  
NYG with Neal…and CAR with Ekwonu…very good picks, but with arguably the two worst Week 1 starting QBs at the helm; it doesn't matter much for 2022.
 -- At #8, the Falcons take Drake London…who immediately becomes a #1 WR by the lack of any other option to consider. Good for London's FF/Dynasty Rookie Draft case…except, as it stands today…he's going to draw #1 coverage from CBs right away.
This helps Kyle Pitts get some heat taken off him, but the Falcons need to add more firepower to free up Pitts even more.
 -- At #9, Seattle…after gutting their franchise of its heart and soul players…looking to rebuild their roster and faith with their fanbase, they take an OK/somewhat sketchy offensive lineman (Charles Cross). Not going to win any fans back/or convert new ones with this pick.
Seattle is destroying themselves by riding with Pete Carroll instead of Russell Wilson, and I've got my popcorn ready to sit back and watch the building burn to the ground. Cross at #9, is another log on the fire.
 -- The Saints moved up to #11…after having made big moves with Philly earlier…and after all the draft capital they spilled to get to #11, they take a generically OK WR Chris Olave.
The Saints think they are contenders for some reason, but they are just slowly falling apart/fading away.
Later, they did land Trevor Penning…which is a great pick/value.
The Saints are on the edge of breaking good…or 'Breaking Bad'. Some decent young talent. A nice O-Line. But arguably the worst starting QB in the league for Week 1 and their long time/esteemed head coach that built them…he just up and left, a serious vote of no confidence. The Saints' franchise seems in peril, but they have enough talent where it might not be totally obvious it's in a rotting state in 2022. If they had a real QB then things would look so much brighter.
 -- At #13, the Eagles trade up a little to land 'freak' DT Jordan Davis. Davis is what the draft is about – taking a shot at a player that could be legendary. Maybe Davis is just 'good measurables' and goes on to have a plausible NFL career like a Dontari Poe, but maybe he's got an upside to be unleashed with his freakish athleticism. Solid move by Philly to go take a look.
 -- And then at #14, we have the team falling apart about as fast as a team can – the Baltimore Ravens.
We get two moves by them mid-1st-round, which gives a glimpse into the chaos…
1) They select highly overrated Kyle Hamilton at #14…arguably the single worst player selected in the 1st-round…definitely the worst of the first half of the 1st-round.
2) They traded Marquise Brown to Arizona. I don't have any issue with that move, I think Brown needed to go…and they found a sucker (Arizona) to take it (because Marquise Brown is a head case, and an injury problem…who is going to be a pill to deal with next year when he'll want a mega deal).
But this move is a shot across the Lamar Jackson bow in a bigger picture sense -- LJax is a guy who (oddly) won't work out a deal with the Ravens, and now Baltimore just made it 2x more difficult to deal with Lamar…trading his BFF away. If the Ravens deal Lamar, then I'll give them credit…it's what they need to do, rip the band aid off and start the rebuild.
3) With the pick acquired from Arizona, at #25…Baltimore takes a solid center prospect, Tyler Linderbaum. Some say Linderbaum is the top center in the draft…others are seeing some problems. If Linderbaum flops, then this 2022 NFL Draft has a chance to be the Ravens with the lowest rated draft of the year, when we look back over time.
The Steelers, the Browns, and the Ravens are gifting the Bengals AFC North dominance by slowly or speedily imploding their franchises within.
 -- Arizona acquires Marquise Brown…I get this for Arizona too, for the moment…but then there will be issues.
Brown is a BFF WR of Kyler's going back to Oklahoma. Just like this was spitting in the face of Lamar…it's a fruit basket of love sent to Kyler. This lets us know Kyler is staying in Arizona – the Cardinals are doing everything around Kyler to make him happy, the final act being the mega contract to happen soon enough.
I wouldn't want to build a franchise on Kyler-Brown, but for Fantasy 2022…it's a good thing…as Brown builds his case for big money ahead. But if Arizona gives him a big deal (early) this offseason, then I'd be less 2022-enthused. Brown is a moron…as is Kyler…in personality, locker room/off the field. I fear what will happen when the two of them are paired and paid mega money.
Baltimore made a very smart move here…dumping Brown ahead of the diva problems. Just now they have invoked the wrath of Lamar…and maybe they wanted to.
Rondale Moore = R.I.P…his FF value.
DeAndre Hopkins is a WR2.
Rashod Bateman suddenly perks up, and Devin Duvernay gets a little life. And if Baltimore gets a passing QB in a possibly ugly Lamar divorce this offseason…then Bateman-Duvernay looks even better.
 -- For some reason, Washington maneuvered around in the draft and then took Jahan Dotson…which is curious given that WR is not a big need, on the surface. They already have money into Curtis Samuel…a better Jahan Dotson. I like Dotson, but this is an odd fit right now. It certainly didn't help Dotson's FF outlook – unless this was a precursor to trading Terry McLaurin, which didn't happen last night…so I'd guess it wasn't because of that.
 -- Picks #7-16 saw eight of 10 picks have some kind of trade linked to them (from the past or on draft day). #17 LAC just sat there, once again, made their pick…letting the talent fall to them…drafting talented, multi-faceted Zion Johnson.
The elite NFL QBs are Mahomes, Burrow, Herbert, Allen, Brady, Rodgers…in whatever order you want to put them. In 2021, the Chargers put the most money and effort into building their O-Line to protect said investment of this entire group of teams with elite QBs. In the 2022 NFL Draft, only the Chargers drafted an O-Lineman 1st-round among them.
The Chargers are the model for management focus on protecting the top asset…and if it doesn't work (whatever that is defined as), if the Chargers don't pass the Chiefs and every other AFC team to become dominant – then I'm not going to give O-Line the importance I have for years now. Burrow almost won a Super Bowl with no O-Line…so the ground is quaking on just HOW important the O-Line is.
Quarterback is everything. Elite quarterback…that is. Protecting him his probably the 2nd-most important team building thing…and LAC is better at it than anyone in the NFLK the past two years.
 -- The wide receiver frenzy really hit a mass hysteria point when the Titans dumped A.J. Brown to the Eagles and acquired the #18 pick as part of the deal.
So many narratives playing out here…
1) Old school defensive coaches are not going to let a WR run their franchise. So, I wonder if Terry McLaurin (Ron Rivera) and D.K. Metcalf (Pete Carroll) and Diontae Johnson (Tomlin) are next out the door?
Kyle Shanahan is an old-school (soul) offensive coach, not defense, but he has learned his craft from Bill Belichick…so, you see what Belichick has done – he does not bend to players often, and trades them away without blinking. I think Deebo will be going in a trade soon as well. In the end, I don't think Shanahan wants to yield to Deebo acting a fool and getting what he wants.
2) Like I've been saying…the Eagles can't attract a WR to come willingly, so they were gonna have to buy one – and they did. Northeast/Midwest teams are going to have to overpay for WRs…which is sexy for FF and NFL hot stove, but not good for an NFL business.
The Titans deal away AJB, and draft Treylon Burks in his place. I don't think Burks is the perfect Brown replacement stylistically, but for the cost it's close enough.
A.J. Brown to Philly is not amazing for his FF outlook on the surface…he's going to a low volume passing game with DeVonta Smith and Dallas Goedert there. It FF-hurts all of them, in some way. Great weapons collection…but bad news for predictability/reliability out of any of them for FF.
 -- The Steelers stay put in the draft and take Kenny Pickett…local guy, the Big Ben replacement. It will be assumed that he'll start Week 1 over Mitch Trubisky, and because Pickett is a rookie…there will be some excitement for it, and thus this helps the value of Diontae Johnson hold up – of which we believe you should be Dynasty sellers of DJ. 'Sell high' not 'sell recklessly'.
More detail on the Dontae overview, on what to do with him in a Dynasty trade, coming in early May…once we're past the NFL Draft/Dynasty Rookie Draft initial rankings.
 -- Green Bay had two cracks to take at least one WR…they instead took Georgia Bulldog defenders at #22 (Quay Walker) and #28 (Devonte Wyatt). Whether it was the right NFL thing to do or not…it's still a slap in the face to the one last year (likely) GB has with Rodgers. UNLESS they are planning to overrated/overpay for one of the McLaurin-Deebo-Metcalf group, but you'd think if that were happening that it would have gone down day one of the draft.
I almost wonder if Green Bay should just trade Rodgers now instead of wasting any more time. Send him to SF for Deebo and Lance in a bigger package deal?
 -- The Bengals #1 priority should have been to further protect Joe Burrow…so, logically, they took a versatile, slightly undersized safety (Dax Hill).
 -- The Vikings have a real chance to jump in front of Green Bay in the NFC North, now that they've rid themselves of Mike Zimmer and awful Rick Spielman (the Spielman's are NFC North death). Their new GM seems pretty impressive, on the surface, but I was waiting to see how he'd do in free agency and the NFL Draft.
Thumbs up so far…he traded back to acquire more assets and ended up getting a top safety in Lewis Cine at pick #32…the Vikings need to build a defensive secondary on the fly to try and get past Green Bay in 2022, and this is a decent start.
 -- With so many teams making trades to acquire a wide receiver or moving up in the draft to take one…Bill Belichick did his normal trade down – not getting into the fray, and then was the one guy who took a player that NO ONE expected to go in the 1st-round. Kudos to Belichick, he's about the only guy in the NFL who does not fear doing what he wants when he wants in the draft.
The other 31 picks were pretty much guys everyone had as 1st-round players – but no one had OG Cole Strange as a likely 1st-rounder. You have to admire Belichick.
I thought Bill Belichick was also setting the anti-big money WR trend…but that's necessarily true.
I forgot he traded for DeVante Parker…$6.0M due in 2022.
Did you realize he owes Nelson Agholor $14.9M in 2022?
Kendrick Bourne costs $6.4M in 2022.
Jakobi Meyers isn't totally cheap at $4.0M.
$31.3M due for these four WRs total…a group no one is all that impressed with.
Live streaming draft coverage tonight around 6:45pmET start for a 7pm draft day two kickoff. See you there or on-demand after.