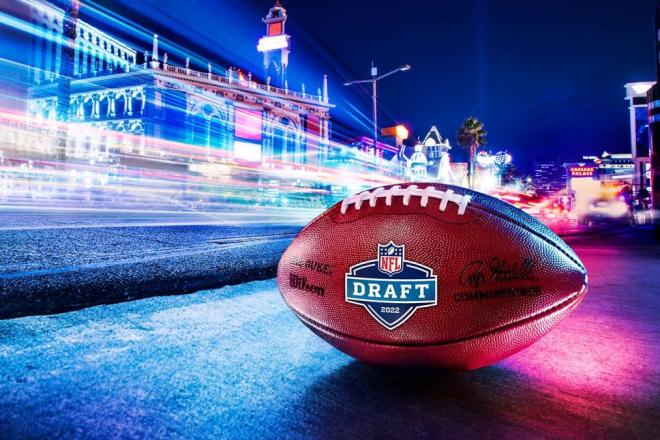 R.C. Fischer
FFM
26 April 2022
Coming Up on FFM/CFM: NFL Draft Week and into May 2022+…
It's been a very strange football offseason…an extra game/week to the NFL schedule caused a chain reaction of delays for the Senior Bowl and Super Bowl and on down the line, which caused a loss of time in our normal scouting schedule. But we are ready for the draft nights with 600+ prospects statistically graded and 75+ deeper scouting reports filed.
There are more prospects we would have dived into by now, the more 'off the grid' ones, but time didn't allow for it this season. We will be getting to more rookie studies all summer…along with all the other football mayhem of the summer.
Here's an overview of the draft events, and post-draft events coming up on FFM/CFM…
This Week's Video Q&A…
4/26 TUE = 9pmET…the RC & Ross Mock Draft Video Stream
We're alternating turns/picks for the 1st-round and drafting who WE would draft if it was OUR choice as GM of these teams, while dealing with who is coming off the board in front of us as we go.
Join us for the 'different' look at the 2022 NFL Draft…as a prep for the names we're into/we'll be looking for on draft day 1-2, and also discuss the names we do not like (you'll see by where we draft them…or don't draft them at all).
The show will be on-demand right after it ends for viewing/listening to as you desire.
The Final Pre-Draft Positional Grades…
4/26 TUE and 4/27 WED the final positional rankings will post.
There will be a 3.0 rankings/grades/updates at all positions in May/June with more prospect studies and data (mostly of the smaller school guys) being conducted. The draft will be long since complete, but the prospect studies continue…to get ready for the 2022 season and beyond.
Our 2022 NFL Draft 'Big Board'…
4/27 WED = the Big Board will post.
All the players we've graded will valuated by our computer models based on talent grades + positional economics (which position is more important in the NFL/payroll-wise) + the depth of talent at the various positions – all rolled into a 'draft valuation' and the 500-600-700, however many, prospects will be on a giant Google Sheet that you can access and/or download to Excel, etc., and keep track of, look up players during the draft.
That Big Board will post on Wednesday, with a possible minor update on Thursday pre-Draft night.
LIVE Stream Commentary of the 2022 NFL Draft (days 1-2)
4/28 THU and 4/29 FRI, live stream draft commentary with RC, Ross Jacobs, and Chris Bilello.
No stream day three, just website updates of the highlights/things that catches RC's eyes.
2022 Dynasty Rookie Draft Rankings Debut…
We will start building the top 300 DRD list/rankings over the draft weekend, and we will release the rankings ASAP and in pieces…top 10…then top 25…then top 50, etc., until we have the list over 100-200-300 quickly.
By Monday 5/2 the list should start publishing and adding to/updating all day and week on the Week of 5/2 – but I hope the first pieces will drop 4/30 Sunday at some point, like the top 10-20 (with commentary, per usual format).
And then we'll update the rankings weekly (or more) all throughout the offseason/preseason.
More Rookie Scouting Reports
We have a whole bunch of FCS, D2-D3 prospects I want to dig deeper into…and we will all summer/offseason – mostly offensive prospects (WR-RB-TE). Time got crunched with the new offseason schedule, so we'll give them their proper due after the draft/all summer.
Next Dynasty/Best Ball Rankings Update
Later in the post-Draft week, we'll post the first round of valuations/rankings with the rookies on their actual new teams…and the impact that will have on all the depth charts – not to mention the impact of the bombshell trades likely to happen.
We hope by late in the week, next week, or over the weekend we have all the info digested and uploaded for a proper rankings update.
Dynasty Offseason Special Reports
Once we can get through the draft, and know (for now) what players aren't being traded and who was affected by what draft picks their team made, we can dive into deeper specific topics facing Dynasty GMs this offseason. Several deeper, higher-level thoughts/plans on players and situations will post all summer. 
Official NFL Schedule 2022
The schedules will be made official in mid-May, so once they're locked in we'll be doing our over/under win total discussions and running the first 'Faux' computer simulated seasons…reports all through May and into June.
2022 Draft Guide
Once the draft is over, all throughout the month of May, we will be researching and writing the first wave of our annual draft guide. The 1.0 version will debut in early June. Specific date release will be announced as we get closer to June 2022.
2022 Devy Series for 2023 will publish in July
Planned for the same format as last summer – brief preview scouting by RC and Ross, and then a scouting chat between on the projected early grades we'd give each prospect
…all that and about a billion other things that football can throw at us…getting ready for Fantasy draft season and then 'game on' with the real FF season! Let's get it on!!!