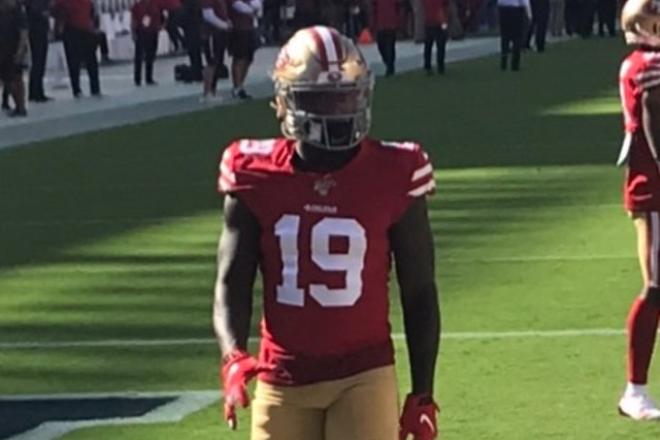 R.C. Fischer
FFM
21 March 2022
2022 Finding 'The Next Deebo' (WSH vs. PHI) -- March Madness Tourney
Same Intro each day: We all know what the phrase 'next Deebo' means – a player who works at one position primarily but takes on a second position (in-game) beyond just a random 1-2-3 carries or targets…that they become a real dual-threat option for their team, and thus a great producer for Fantasy Football.
Before there was 'Deebo' (midway through the 2021 season), there was 'Cordarrelle' as the breakout WR who started also taking a good workload at RB…so much so he became the team's lead RB, but then got all but dropped on his WR aspect.
Before 'Cordarrelle' there was Curtis Samuel trying to breakthrough as a 'nails' WR in 2020, but also a guy taking 3-5 carries a game in CMC's absence and looking like he might make the turn – but then he went to Washington in free agency, got hurt, and barely played/impacted in 2021.  
Before Samuel there was everyone looking for the 'next Tyreek'. We might forget that Tyreek started out as a low target WR taking 1-2 carries a game, and then taking every carry for a 50+ yard TD…then he was converted over from random WR/RB to main WR, and they stopped pushing him in the running game the past two years (definitely don't get that guy the ball more, whatever you do).
We've had some promising guys try to breakdown this 'Deebo' wall, but Cordarrelle really was the one who kicked in that door to start 2021 season (then ATL went away from it)…after the door was kicked in, then Deebo ran right through it 2nd-half of 2021 and became the ultimate/best dual threat of our lifetimes – so much so every analyst is running around saying certain players 'can be their Deebo', and you're going to get sick of hearing about it they say it so much now. But credit to Deebo (really, credit to Kyle Shanahan) the 'Deebo' role is a thing now…I think some teams are going to copy because of its success, as they should…as they should've created it years ago. It's the evolution of the game – players/weapons who you don't know where they're gonna lineup or what they're going to do, and they'll draw plenty of mismatches to expose.
With that in mind, we're going to have a 'next Deebo' tournament/FFM daily series for the next few weeks during March Madness time.
I am going to nominate one player from each NFL team to be the possible 'next Deebo'…the 'their Deebo' hopeful. I'll explain why I choose that player, and why not others if there was a close option – and then like March Madness, we'll pit two of them against each other/state the case and I'll choose a winner…the one most likely to be used as 'the next Deebo' for the 2022 season.
We'll go by division, matchups by 2021 record (so #1 v. #4, #2 v. #3 in the division), one matchup/winner declared each day into April until we have one AFC rep and one NFC rep and then we'll declare a final 'Super Bowl of Deebo' winner.
Now, San Francisco has their own Deebo already…so he is not in this tournament. For the SF slot, there will be a play-in game between two current draft prospect options. Unsigned free agents will be an option for the team they were last on in 2021, so like a heavy Final Four favorite, but current free agent (as of this writing), Cordarrelle Patterson, will be an option for Atlanta. Got it? Good. Let's go…
Today's Matchup = NFC East: WSH vs. PHI
WR Curtis Samuel, WSH
Vs.
WR Jalen Reagor, PHI
I debated between Reagor and Kenneth Gainwell as the Philly option, but something so stuck out with me on Reagor late last season…that I can't shake it…and is making me hold out some low-probability hope that this 'Deebo thing' might happen for Reagor.
Reagor struggled as a WR in 2021…he had an issue with 'drops' and not making tough (but makeable) NFL catches. To utilize him better, the Eagles started running the ball with him a bit more…mostly all jet sweeps but there were a few times he was straight up in the backfield. Week 8, he rushed the ball two times (his first two tote game) for 21 yards – and I remembered it vividly, because I thought he looked damn good running those jet sweeps…quite 'Deebo like'.
So, because it worked so well (runs of 11 and 10 yards)…Reagor got no more carries after halftime of that game…then no carries the following week…and just three carries in the 9 games since he had the two 10+ yard run moments. But then (meaningless) Week 17, they ran him three times (for 10 yards) in the game. Nick Sirianni was trying to show that this Reagor running the ball thing was on his mind, at least.
I thought they might try Reagor running some, as a wrinkle, versus TB in the 1st-round of the playoffs. Ha-ha! Why do that? Just play your same old way as a huge underdog and facing the league's top run defense instead (spoiler alert: the Eagles got killed in this game). Reagor had no carries in the playoff game…a game where they could not run the ball at all when the game mattered/was still a game early on.
Reagor has 'Deebo DNA'. 5'11"/200…a 4.4s runner. A good kick and punt returner. Plays WR primarily. Reagor ran the ball 35 times in college, for 324 yards (9.3 ypc) and 2 TDs. He returned two punts for TDs in his college career. The 'type' is here with Reagor.
Curtis Samuel was the 'Deebo' before Deebo…in 2020, Christian McCaffrey went down and the Panthers started getting Samuel more involved as a running back. Actually, they didn't, on purpose…they fought it…but then Samuel would take his crumb of an opportunity each week and would force them to give him more work. He became one of the best WRs in the NFL in 2020 but was also playing straight up tailback at times…and working some goal line and being a boss/tough runner at just 5'11"/195. His performance in 2020 led to a very nice free agent contract in the 2021 offseason.
In his NFL career, Samuel has carried the ball 76 times for 489 yards (6.4 ypc) and 5 TDs…a rushing TD every 15.2 carries…mostly as a jet sweep WR, until the 2020 tailback event. Actually, Samuel was the 'Deebo' before anyone knew what a 'Deebo' was – he was the first, legit, half-and-half WR/RB that I can recall in college football. Would line up as a top WR for Ohio State one series, then take the next series as a tailback. 107 catches and 172 rushing attempts in his OSU career.
In 2021, with Washington, back with his old coach Ron Rivera, Samuel was hurt most of the season…didn't debut until Week 4…but still playing not-100% healthy. Week 5, he played 5 snaps…but got one carry. Missed several games after that, and upon his return Week 12 he got a carry…then two carries the following week, all in very limited play/snaps. Samuel was being put to work as a runner with Washington, more than ever before with Rivera's group…it was just hidden by Samuel's injuries.
Samuel has shown the bigger history of being a 'Deebo'. Samuel has been the better 'Deebo' than Reagor. And Samuel is a Pro Bowl/top WR talent…and Reagor may find the bench in 2022. So, for that reason…CSam easily over Reagor here, because he is 5x the player and has more commitment from his coaches.
WINNER = Curtis Samuel, who goes on to face Kadarius Toney in the Sweet 16.