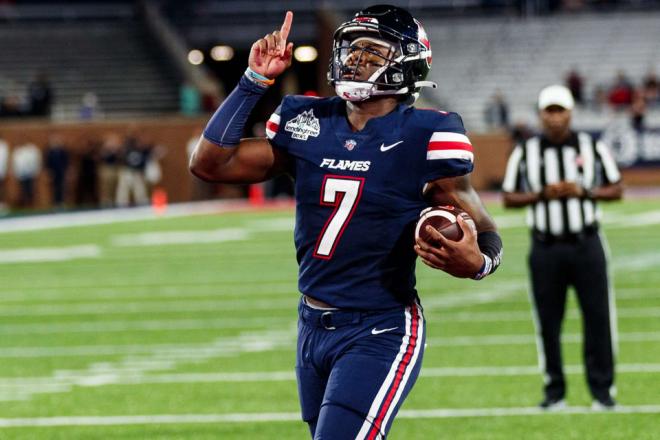 Ross Jacobs
FFM
09 March 2022
2022 NFL Mock Draft 3.0 (By Ross Jacobs)
1. Carolina Panthers (trade from Jaguars): QB Kenny Pickett (Pittsburgh)
I think Denver trading for Russell Wilson will be the wake up call the Panthers need to make this move. They are going to try to trade for Deshaun Watson first, but with his criminal case still pending I don't think they'll be able to get anything done. The Panthers can't go into 2022 with Darnold again. They have to get their QB and Pickett is the one with connections to Tepper and Rhule.
2. Washington Commanders: QB Malik Willis (Liberty)
Spicy! Washington is clearly desperate for a QB as they've been calling every single team asking to trade but can't get a deal done. Many analysts are predicting Garoppolo to land here, but why would you settle for him and pay his ridiculous contract? If I'm right and Carolina moves up to #1 after free agency then it almost forces Washington to move up to #2 for Willis. They can't afford having Seattle or Pittsburgh jump them for the only decent option left.
3. Houston Texans: DE Aidan Hutchinson (Michigan)
Houston could literally draft any position and nobody would blink an eye. Their roster is barren. I'm switching this pick from Ekwonu because I suspect Hutchinson will grade out higher, but Ekwonu still makes a ton of sense and would fit perfectly with the kind of team Caserio is trying to build.
4. New York Jets: S Kyle Hamilton (Notre Dame)
This is where things start to get murkier. The Jets need a lot of help, but they'll have several reasonable options at this juncture. Joe Douglas tends to be a "best player available" kind of guy, but I'm not really sure what that might be for him here. Hamilton supposedly grades out quite high for many services despite RC's utter disdain for him.
5. New York Giants: OT Evan Neal (Alabama)
The Giants almost have to take the top offensive tackle available. Their line has been a complete disaster and there is no way Nate Solder is coming back. Brian Daboll can get inside information on him through his connection to his former boss Saban. Neal slots in nicely as the starting RT.
6. Jacksonville Jaguars (trade from Panthers): CB Derek Stingley (LSU)
If Jacksonville does not trade back from the #1 pick I expect they'll take Hutchinson for lack of any other reasonable option. But if they do trade back with the Panthers, Stingley could be an enticing option with the 6th pick. They desperately need more corners after trading away CJ Henderson, and Stingley feels like the type of highly athletic, upside pick that Trent Baalke loves to make.
7. New York Giants: DE Travon Walker (Georgia)
Walker is rising rapidly as everyone is discovering his hidden athleticism. Georgia asked him to play as a 3-4 end which hindered his ability to rush the passer and held down his numbers. He could certainly still play that position, but after dropping 15 lbs for the combine his true abilities are now on full display. I think his versatility, character, and leadership will be a big draw for the blue collar former Bills leadership now running the Giants.
8. Atlanta Falcons: OLB Kayvon Thibodeaux (Oregon)
The Falcons appear to be one of the few teams that will just take the BPA (best available player) on their board (which coincidentally tends to be the highest one on mainstream boards), and they have plenty of holes on the roster so there's really no position they couldn't take. I've had a WR here on my last two mocks because it was obviously a massive hole even before the Calvin Ridley suspension was announced. However, in those two mocks Thibodeaux was not available, and I don't believe the Falcons will pass him up if he's still on the board.
9. Seattle Seahawks: OT Ikem Ekwonu (NC State)
Seattle acquired the Broncos 1st round pick as part of the trade for Russell Wilson, and many are speculating they'll spend it on a QB, specifically Malik Willis. I believe that's shallow thinking. Seattle isn't likely to take a QB so superficially similar to the one they just traded away, and either way Willis isn't available here. I believe they want to go back to Carroll's roots and become a power run team once again. That means they need to beef up their offensive line, and what better way to do that than with the best run blocker in this class.
10. New York Jets: WR Treylon Burks (Arkansas)
The second of the Jets picks could be anything, but WR is right at the top of their boards. Since my last mock where I had Burks here, I've since heard that Joe Douglas has been gushing about Burks to anyone that will listen, and I don't believe his so-called "poor" combine will dissuade the Jets from selecting him this high. Burks is a ball-player, plain and simple.
11. Detroit Lions: DE George Karlaftis (Purdue)
Detroit needs a lot of help at multiple positions, but it's clear they want to build this team from the inside out. They got their offensive lineman last year. This year I think they go defensive line whether that's at 2 or later in a trade down. Here they grab the very solid Karlaftis, a tough-as-nails, hard working end that can anchor the line for the next 10 years.
12. Minnesota Vikings: CB Ahmad Gardner (Cincinnati)
Minnesota has been bringing in veteran corners the past several years under Mike Zimmer and still have an awful secondary. I think everyone expects this to be a CB and I'm not going to fight the obvious. I won't be remotely surprised if Gardner goes higher than this.
13. Cleveland Browns: WR Drake London (USC)
Another obvious pick. Everyone and their grandmother knows the Browns are going to bring in multiple receivers this year, and Drake is widely regarded as one of the top available options. If this pick isn't a receiver the next most likely option is one of the remaining edge defenders.
14. Baltimore Ravens: DT Jordan Davis (Georgia)
Baltimore loves two things: 1) Big, athletic maulers in the trenches and 2) 1st round prospects from major schools. Davis fits both categories and is a mountain of a man at 6'5" 340 lbs, perfect for what the Ravens look for on defense.
15. Philadelphia Eagles: DE Jermaine Johnson (Florida St)
The Eagles have multiple needs and multiple first round picks to fill those needs. I expect they will trade up and/or down at least once or twice. Here though I'll just have them sit and pick. Johnson is generally considered one of the next highest graded edge players left and Philly snatches him up.
16. Philadelphia Eagles: WR Garrett Wilson (Ohio St)
For the third year in a row the Eagles could take a WR in the first round. None of them would surprise me, but Wilson is often right at the top and will seem like a value at 16 to many analysts.
17. Los Angeles Chargers: OLB David Ojabo (Michigan)
The Chargers could go a number of directions with this pick, most of them on defense, but another edge rusher has to be at the top of their wish list. Ojabo is often mocked as high as 7 to the Giants, but here I have him falling ten spots lower where the Chargers are happy to pick him up.
18. New Orleans Saints: Tyler Smith (Tulsa)
New Orleans is seemingly not going to franchise tag their stud left tackle Terron Armstead and it's no wonder considering their cap situation. Instead they can just draft his younger clone Tyler Smith. Smith is still being overlooked in most mainstream mock drafts, but I fully expect him to go somewhere around pick 20 come April.
19. Philadelphia Eagles: C Tyler Linderbaum (Iowa)
I previously thought Linderbaum would go much higher than this, but he checked in rather small at the combine and that will scare off a number of teams that see him as a pure zone scheme center. He's a perfect fit for the Eagles though and will slide right into the vacated spot left by Jason Kelce's predicted retirement.
20. Pittsburgh Steelers: OG Zion Johnson (Boston College)
Johnson is another offensive lineman I expect to go much higher than the mainstream currently thinks. The Steelers are always very open about their interest and they have been all over Johnson since the process began. The plan is a power running game with Najee, and Zion fits perfectly with that plan.
21. New England Patriots: OT Trevor Penning (Northern Iowa)
The Patriots could go for any position except RB and QB. There's a good chance they trade down, but if they don't I think Trevor Penning would make a lot of sense for them. He reminds me a lot of Nate Solder, another former 1st round pick of the Patriots.
22. Las Vegas Raiders: CB Trent McDuffie (Washington)
The Raiders have so many holes on this team it's ridiculous. How this team scrapped to the playoffs I'll never know. They could take just about any position, but their secondary is quite thin after Damon Arnette got released. McDuffie is a favorite of many in the media who claim he's a top 15 pick. They'll love the "value" Las Vegas is getting by taking him at 22.
23. Arizona Cardinals: RB Breece Hall (Iowa St)
Yes, I know this pick sounds crazy and like a knee-jerk reaction to his combine, but it's the type of pick I could absolutely see the Cardinals making. Both James Conner and Chase Edmonds are free agents, and while one is likely to be re-signed, the Cardinals will definitely be drafting a RB at some point. Why not take the first one off the board and try to juice up their offense even more? That could be the way Steve Keim is thinking.
24. Dallas Cowboys: OT Charles Cross (Mississippi St)
I previously thought the Cowboys would be leaning defense here, but so far most of their meetings have been with offensive lineman and much like the Steelers, the Cowboys are always quite open about what positions they are interested in. Cross is usually mocked much higher than this, but I have a strange feeling he could be the one to fall behind some of the more physically impressive linemen. He'd be a great pickup for the Cowboys though. They desperately need to improve their fading line.
25. Buffalo Bills: LB Devin Lloyd (Utah)
The Bills can afford to take whatever position they want, but LB could very well be near the top of their wishlist after the release of AJ Klein and the impending free agency of a couple more linebackers. Lloyd is in the mix for first off-ball LB off the board, and I still really like his game despite a mildly disappointing combine. His instincts and intelligence will be highly valued in Buffalo.
26. Tennessee Titans: WR Chris Olave (Ohio St)
This pick could be just about anything, an edge rusher or another big offensive lineman like Kinnard or Green makes some sense, but I'm going to go the WR route and give Tannehill a savvy safety valve. The Titans really struggled in the passing game when both AJ Brown and Julio got hurt. Olave isn't the greatest receiver ever, but he is steady and dependable.
27. Tampa Bay Buccaneers: DT Travis Jones (UConn)
Tampa doesn't have a lot of weaknesses so they can afford to take whatever they want. I'm giving them Travis Jones, a huge, very athletic defensive tackle from UConn. Jones had a phenomenal combine that unfortunately got overshadowed by the freak known as Jordan Davis. He's going to be a shock late 1st round pick for many but could ultimately end up a very productive pro in the mold of a Chris Jones or DaQuan Jones.
28. Green Bay Packers: OLB Boye Mafe (Minnesota)
Well it seems that Aaron Rodgers is officially coming back on a massive contract which means the Packers are going to have to release several players to make room for him and Davante. They are going to need to find some young edge rushers to replace their expensive veterans, and Mafe fits the bill as a flexible edge rusher in multiple fronts. He's an athletic marvel and his tape is quite good. This could be a very solid value pick in the late 1st round.
29. Kansas City Chiefs: WR Jameson Williams (Alabama)
If Jameson Williams hadn't torn his ACL in the National Title game, he would very likely get drafted much higher than this. He might anyway, but here I have him available for the Chiefs who gladly scoop up another deep threat in the hopes that he can help turbocharge their offense. Fans and the media would go bonkers for this pick.
30. Miami Dolphins: LB Nakobe Dean (Georgia)
The Dolphins need help at a lot of spots, but they are likely to lose a few linebackers from an already weak group. If Dean was a little bigger he might be a top 10-15 pick, but there's a good chance he'll fall to the end of the first or even the second round. The Dolphins will be happy to pick up their new defensive captain no matter how undersized he might be.
31. Cincinnati Bengals: OT Nicholas Petit-Frere (Ohio St)
The Bengals may have gotten lucky to make the Superbowl, but they blew the lead due to their awful offensive line. I bashed them all year for it and that weakness finally caught up to them. Ja'Marr Chase is fine, but he can't catch the ball if Joe Burrow is lying on the ground. The Bengals have to take multiple linemen in this draft and they know it. Here all the best tackles are gone, but Petit-Frere is usually considered the best of the next tier and a perfectly acceptable pick at the end of the first round.
32. Detroit Lions: S Lewis Cine (Georgia)
The fans will be begging for a WR here, but I think it can wait. The Lions will be happy to continue the run on Georgia defenders by picking up their ferocious enforcer in the secondary. Cine is a bit undersized but hits like a ton of bricks, perfect for the tough guy mentality Dan Campbell is trying to cultivate.