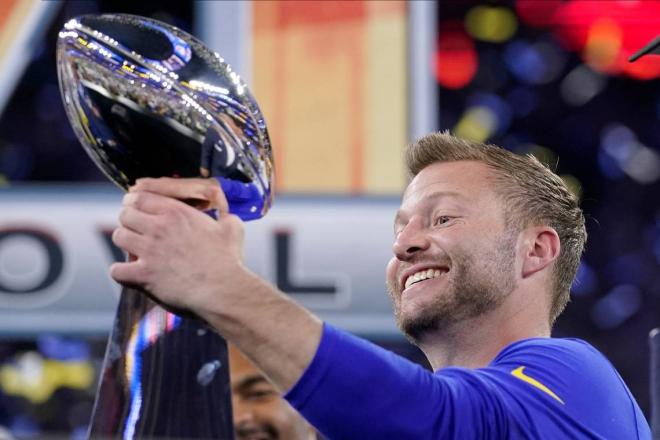 R.C. Fischer
FFM
14 February 2022
 -- Our Super Bowl extravaganza recap/analysis of the game-players-commercials-halftime, etc., will post later tonight ET. It's usually a 5,000+ word monster, so it will take most of the day to construct and polish up.
 -- I have a CFM series planned this week for Tuesday-Friday daily release, a look ahead scouting report and computer scouting model grading (using Combine estimates) on the four prospects being pushed as the mainstream #1 overall pick options right now. Let's see if they are real contenders to our (now) 50-to-1 Kenny Pickett #1 bets.
Aidan Hutchinson, Evan Neal, Kayvon Thibodeaux, and Ikem Ekwonu – all to post this week.
More scouting reports on random prospects to come ahead of the Combine, and then the avalanche of them happens post-Combine.
 -- Ross and I are starting our NFL Combine preview work and those previews/grades/rankings by position (except OLs) that will post daily leading into the NFL Combine. 2/20 is the first position group posting and then everyday thereafter right to the Combine event week.
 -- Now that the Super Bowl is booked, we are nearing completion of the debut top 600 Dynasty valuations/rankings – for the Dynasty Offseason/Best Ball (DOBB) subscribers. That initial listing is planned to drop the week of 2/20. We'll announce the actual date a day or two ahead.
And it will update weekly thereafter.
 -- I am working on a few special Dynasty reports/dep dives, but it looks like the one I'm focusing on the most to be the first release is going to be an examination of 'What to do with Kyler Murray?' Special Dynasty reports will be posting randomly all offseason. First report date for publish of the first (likely Kyler) is TBD.
 -- My individual reports/studies on the new hire head coaches will start soon and run until we get to every one of them. Now that the Super Bowl is done, these new head coaches can finalize staffs (i.e. steal from LAR and CIN) and we can properly assess the new hires and their staffs.
Not sure who my first report will be. I am going to do the one most interesting to me – and that seems to be a battle between Brian Daboll and Bohemian hipster, cool uncle Mike McDaniel.
 -- Three things that will be updated ahead…
1) We're finishing off the final position groups for re-grading the Senior Bowl, post-event. That will wrap this week.
2) I'm going to update the Dynasty Rookie Draft special draft 2020 + 2021 top 25 ranking report we did all January…now that the Super Bowl has been booked, and we lost Tom Brady (I guess…?), etc.
3) Special Dynasty Stash top 150 update post-Super Bowl as well, coming soon.
As soon as we complete number's 2 and 3, we will post notice of it.
 -- Work on the free agent class will happen in a few weeks for report releases ahead of the free agency period.
 -- Xavier and Ross will continue to update their Mock Draft boards weekly.
 -- All that and the other 10 million football things going on, and our regular weekly reporting/series in-progress.
There is no offseason.