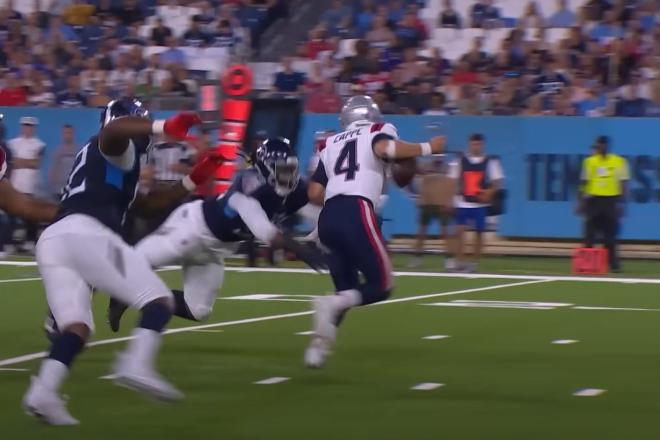 R.C. Fischer
FFM
30 August 2023
Game overview:
This was a mild disaster. One of the worst 'watches' of the 2023 preseason for me. Dull, uninspired play on both ends with a real lack of talent on the field as this game went on to boot.
Both teams had their (mostly) 1st-team defenses out there to start...facing each team's backup QBs, an unfair contest for the offenses. The Titans held 39 minutes of possession from a totally dead Patriots team and got the win.
This may be the worst Belichick team in the post-Brady era...every year he gets further away from the Brady era, the more the team is terrible. I think he's lost this team and it's going to implode in 2023, unless they can get some lucky wins early and get everyone engaged. Their schedule says an (0-5) start is very possible.
Tennessee doesn't look great either, but I have more faith in Mike Vrabel than Bill Belichick...welcome to 2023 y'all.
The Patriots made several trades for offensive lineman this week -- there is mass desperation in New England now. This thing is teetering on the brink of collapse, but we want to believe in Belichick today because of his ten years ago.
The Patriots won 8 games last year, the QBs they beat:
Trubisky
Goff
Brissett
Z Wilson
M Ryan
Z Wilson
Colt McCoy
Teddy Bridgewater.
If you were to put in current Pickett for Trubisky...Rodgers in for Z Wilson...A. Richardson in for Ryan, Tua in for Teddy...and Kyler in for Colt -- would New England have won 3-4 games last year?
Would everyone be chasing the Patriots-DST in redrafts because 'you know they're always good'?
Scouting Notes from the game:
 -- Apparently, this was Bailey Zappe's (8-15 for 57 yards, 0 TD/0 INT) final performance for the Patriots...he was cut ahead of the 53-man roster announcement. A guy who was so close to a takeover of the great Mac Jones...is now free for anyone to pick up. And he will get picked up (my prediction: Detroit...after their staff seeing/coaching him down at the Senior Bowl in 2022).
They say Zappe played poorly in the preseason, and wasn't good here...and it's true, he wasn't great this preseason at all -- but he was also working behind a disastrous O-Line all preseason due to mass OL injuries for the Pats. And I think Bill O'Brien wanted to get Zappe out there to embarrass him and to protect 'his boy' Mac. It was stated ahead of the game that Mac/the 1st-team did not play here because they were worried the O-Line could not protect him...and THAT WAS THE 1ST TEAM O-LINE! Zappe got the 2nd/3rd-team O-Line.
I think Zappe saw what was happening all year with O'Brien coming in to love and caress his failing former Alabama QB, and part of that involved tearing down/getting Zappe away from Mac...Mission Accomplished, Bill (O'Brien). You should be so proud.
Zappe has a serious ax to grind. Actually, now that I think about it -- I bet the Eagles sign him...they play the Patriots Week 1 AND the Eagles need a backup QB. But the Eagles also likely know the Patriots are terrible and they don't need covert opps to beat them.
This is so embarrassing. This Patriots franchise is now a joke...and will be for years to come until they blow it all up and get rid of Belichick and anything to do with Belichick and start afresh.
Disregard all this if Zappe goes on the NE practice squad, but I would be shocked if he did...this cut was a message to Zappe for Mac. And more than one team will claim Zappe -- put me down for the Lions...a perfect fit/need.
 -- Malik Willis (15-20 for 211 yards, 2 TDs/2 INTs, 8-17-0) continues to progress. It isn't great or 'wow' but he's getting better, but not good enough...and he plays a style that Mike Vrabel, I'm sure, despises. I wish Willis had gotten released like Zappe. Will Levis is the Titans future.
Willis will only get his chance, like most out-of-favor talents, by accident...by injuries above him that force the team to play him.
 -- Three preseason games, three Tyjae Spears (9-28-0, 2-13-0/3) LEGIT performances. I'm a huge Derrick Henry fan, but Spears is so good I have to start looking at Henry a little differently...he's going to yield some touches to Spears...and it will only get more 'splitty' in the future.
Henry is still 'the man' but Tennessee has one of the 20 best RB talents walking the planet...it can't be ignored. It may be ignored the first few weeks, as coaches do to rookies...but this bucking bronco can only be contained so long.
Julius Chestnut (9-30-0, 2-42-1/2) becomes a very solid #3 RB and future support for Spears when the Henry era passes in a year or two (via Henry traded or free agent).
 -- The Cleveland Browns traded for Pierre Strong (8-31-0, 2-13-0/2) from the Patriots after this game.
Have the Browns not watched any tape the past two preseason and one regular season?
Why didn't they sign D'Ernest Johnson to a minimum free agent deal when they could?
The (stupid) trade means to me: Jerome Ford may start the year on the PUP.
 -- Kevin Harris (7-17-1), I guess is the #3 RB for NE now? I like Harris but he just isn't showing any 'it' yet...and that NE O-Line isn't helping.
 -- Pats rookies Kayshon Boutte and Demario Douglas did not play here...being kept safe because both are going to play a lot right away Week 1. I think Boutte might start Week 1, in a shock...and might be their most electric WR in Week 1...but that's in part due to a terrible WR group overall in New England.
Likely Boutte and Douglas will be #4-5 to start and then one or both will be starting by midseason if JuJu's knee blows up and DeVante gets his usual season hindering injury.