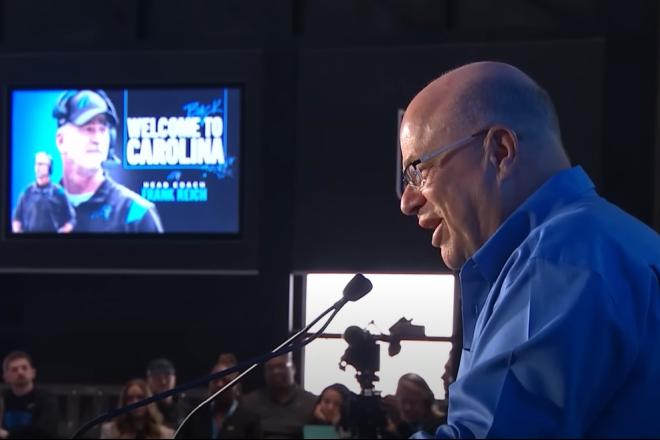 R.C. Fischer
FFM
10 March 2023
The trade…
Chicago sends the #1 pick in the 2023 NFL Draft to Carolina
FOR
Carolina sends D.J. Moore, their #9 pick (2023), their #61 pick (2023), their 1st-round pick in 2024, and their 2nd-round pick in 2025.
My instant thoughts/reactions to this trade…
 -- I didn't figure the Bears, especially their GM, would have the fortitude to do the right football and business thing and keep the #1 pick, take a high-end QB prospect, and trade Justin Fields prior to the draft to get more draft capital.
…and they didn't.
It might be that there was no real trade market for Justin Fields…just like the Ravens are figuring out there is not the market for Lamar Jackson they were led to believe by fawning ESPN analysts. The media LOVES Fields and Jackson, other NFL teams…not so much.
Justin Fields is not as good an NFL QB prospect/talent as Stroud-Levis-Richardson (not Bryce Young…he doesn't belong in this group), whatever order you want to put those rookie QBs in. The Bears could've used this opportunity to upgrade their QB situation, reset the salary clock in their favor (with their QB not taking up a massive amount of their CAP for the next 3-4 years) -- but they did the 'typical', the fearful thing and stayed 'pat'.
Talk to me again this time next year when the Bears have a losing record and Justin Fields wants an early, massive contract extension and pulls a stunt like Kyler Murray or Lamar Jackson have done in order to try and get the early, major deal/extension. Even if Fields is good/the #10-20 best NFL QB…he's going to want a top 3 QB pay deal this time next year and the Bears will then be in the same boat as Arizona or Baltimore were/are…held hostage by a QB that is good but not worth the mega extension they're asking for. Do you think Arizona would do that same deal with Kyler if they had to do it over again? How about Cleveland's contract/deal to get Deshaun Watson?
I could argue Fields isn't better than the top three QBs in this draft, but even if they're all equally 'good' in their own way…Fields's cost/contract negotiation is potentially going to be crazy next offseason -- and/or there will be drama a la what we've seen with Kyler or Lamar. And I agree that these QBs should exercise their power/leverage against these weak-willed owners/GMs…and I believe Fields will do just that in a year, unless he regresses/busts in 2023…and then that's a whole other issue to this trade concept.
2024 offseason big contract extension negotiations just went in Justin Fields' favor. 
 -- And if you believe Justin Fields is the next Jalen Hurts…you're wrong.
Hurts hit the NFL as a not groomed-to-be-the-starter for Philly, a QB thrown into the fire late season because Carson Wentz was failing so hard -- and Hurts was a decent-to-good passer right away in a not-optimal situation. Justin Fields was groomed since day one to be the Bears starter and he was so bad as a passer/QB a year and a half into his NFL career that he was being discussed as a 'bust' and talk of drafting a replacement QB in 2023 ensued mid-2022 season.
Then Fields discovered he could run the ball mid-2022, and so he did…really well. But Jalen Hurts is, and has been, an elite power weightlifter since high school. Hurts is better built to take some hits as a runner…while his passing ability gets better every game. Fields' passing ability isn't getting any better…the problem is masked by his cool running ability discovered in 2022.
It's an insult to Jalen Hurts to think Fields will be 'like Hurts' someday. Fields has never been like Hurts going back to high school, college, or now in the pros.
Justin Fields is 6-21-0 as an NFL starter with a career tally of 24 TDs/21 INTs and just under 60.0% completion percentage with three games over 250 yards passing and has yet to throw for 300+ yards in a game.
Jalen Hurts first two seasons, when he started, not counting games where he took a few spot snaps in games, he had a 9-10 record with 21 TDs/11 INTs and six 250+ yard passing games and four 300+ yard passing games.
In Hurts' year three, he progressed so much that he almost won the league MVP. I bet Fields doesn't get a vote for MVP in his third season.
 -- With all the concerns about mobile QBs getting hurt more often/exposed to injury more…and with no NFL teams really craving Lamar Jackson (showing you the drying market for weaker passing/highly mobile QBs) -- Matt Eberflus and Ryan Poles now have their career tied to the mobile Justin Fields.
I'd rather have my executive career tied to Stroud-Levis-Richardson.
 -- The happiest team after this trade was announced, besides Carolina, is the Detroit Lions. The new power of the NFC North would rather Chicago be dealing with Fields into the future than with them possibly landing an elite passing QB talent to have a better chance to challenge them for the division in the years to come.
Detroit and Minnesota are headed in one direction (higher) and Green Bay is about to collapse, while the Bears continue to spin their wheels bringing up the rear.
 -- The deal itself is a logical enough exchange of value for Chicago…if it wasn't for the QB business case that needed to be solved. If the Bears already had an elite QB/no QB worries…then this value exchange makes some sense.
I thought the 2023 #1 pick might be worth more in trade, but this is an odd year where there are three high-end QBs and you could move to #1 to have your choice, but a team could also move to #3 and get one of them if they liked all three. If there were only one obvious elite QB prospect, then the Bears could've gotten more for this pick.
Still, I feel like Chicago left some money on the table here.
 -- I'm sure Carolina laughed hysterically that they could use/dump D.J. Moore into this deal as 'value'. Moore has been a highly overrated WR his whole career, and an overpaid WR since his ridiculous extension…and there are a thousand good/useful WRs like him hitting the NFL from the college ranks…you don't need to trade for expensive WRs, unless they are elite type WRs…and D.J. Moore is not and has never been elite.  
GM Ryan Poles has effectively traded the Bears' #1 pick in the 2nd-round for Chase Claypool and traded his #1 overall pick for more picks but to also add D.J. Moore. Who is trading high draft picks for wide receivers these days? Chicago…and their dead last (in 2022) passing attempts, passing yards, and net yards gained per pass attempt offense with a mobile QB at the helm. Yes, D.J. Moore was the missing piece to turn it all around…*insert eyeroll here*
 -- Trade comparison…
#9 pick in the same year draft, a 1st-round pick the next year, and a 2nd-round pick two years later, and D.J. Moore = What the Bears got for trading the #1 overall pick in 2023.
#12 pick in the same year draft, a 1st-round pick the next year, and a 1st-round pick two years later, and a 3rd-round pick same year = What the Dolphins got for trading the #3 overall pick to SF for the 49ers to get Trey Lance.
Miami got better picks for their #3 overall pick then Chicago got for its #1 overall…but receiving D.J. Moore, and his high salary, I guess is the offset in this comparison.
 -- Quarterback is everything, and Carolina shoved their chips in and paid a smart price to turn their franchise around. They had to make this move. 
Outside of a handful of NFL teams with high-end QBs in place, the other NFL teams need to make this type of trade to get one of these top 2023 QB prospects. Draft years with this kind of talent available doesn't come around that often…just look at the 2022 QB class…and then look at the crumbling 2021 QB class.
Carolina can only blow this by taking Bryce Young over Richardson-Levis-Stroud (whichever you/they prefer). And it's not off the table that they do take Young, but I'd bet they won't. Young is the media's guy…not the NFL's preferred of the top guys.
Quarterback is everything in the NFL, so Carolina 'wins' this deal by simply acknowledging that fact and paying the proper price and not clutching onto future 1st-round draft picks like they're magical beans. This was the year to chase/pay for a draft pick QB…and kudos to Carolina for beating everyone else to the punch.
 -- Carolina really 'wins' this deal, in my book, just by dumping D.J. Moore on some sucker team. Not that DJM is 'bad', but he's not close to worth his payroll.
The Bears need so many essential things/positional players, but they only seem to be going out of their way to acquire SPARQ-beloved wide receivers. Their best technical WR is Darnell Mooney…and Justin Fields can hardly get him the ball. How's it going to work for targets for Mooney-Claypool-Moore? What good is it to have an all-star WR lineup and the lowest volume/efficiency passing game in the league? The Falcons were more 'pass happy'/effective than the Bears in 2022, if you can believe it.
I know…D.J. Moore is going to change everything. Go look at Carolina's passing game output during the DJM years…
Mooney-Claypool-Moore…a talented trio…all screwed for Fantasy Football targeting/output ahead. There are not enough targets in the Bears passing game…and now three dogs will be fighting over minimal Fantasy scraps.
 -- What is the full Dynasty/Fantasy impact of this trade?
I briefly mentioned the Mooney-Claypool-Moore outlook. But this deal has ramifications for how we should value Justin Fields…and Cole Kmet? And how good might this be for Terrace Marshall? Does Tommy Tremble has new hope?
We'll tackle all of that in the next run/update of our Dynasty top 600 valuations/rankings next week.