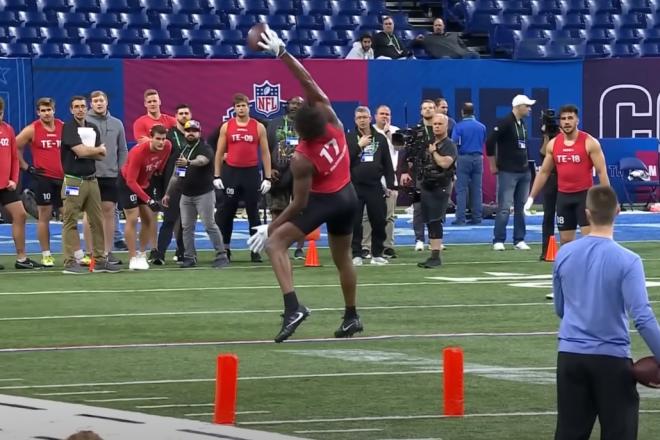 R.C. Fischer
FFM
05 March 2023
My instant/initial reaction from my first watch through day three of the Combine times/drills…
TIGHT END NOTES…
 -- TE Combine class comparison (2022 v. 2023)
Sub-4.7 40-times, at any size among the TEs…
4 = TEs hit that mark in the 2022 TE class
8 = TEs hit that mark in the 2023 TE class
Sub-4.6 40-times, at any size among the TEs…
1 = TEs hit that mark in the 2022 TE class
3 = TEs hit that mark in the 2023 TE class
37" or greater vertical leap among the TEs…
0 = TEs hit that mark in the 2022 TE class
2 = TEs hit that mark in the 2023 TE class
10'5" or great broad jump among the TEs…
0 = TEs hit that mark in the 2022 TE class
4 = TEs hit that mark in the 2023 TE class
This is a special class of TE athlete in 2023…as we were predicting it would be back in the summer of 2022, during our Devy previews.
Is this an aberration year or the start of a trend? I think it's a trend forming…the rise of the supreme athlete's at TE. It was bound to happen…as more young people gravitate towards football and playing on offense in the passing game era, and as the athlete's conditioning and nutrition, etc., continues to improve -- we're gonna get more and more 'freaks' hitting position groups that we're not used to seeing.
The TE talent flood is gonna affect the NFL game itself -- more unique, hard to cover physically huge/fast weapons are being dumped into the league…we just need NFL coaches to catch up with this and start using these mismatches while they last. The NFL TE problem is most coaches learned their craft/playbook from the past and their vision of a desired tight end is some big, stiff dude who blocks well, and you occasionally have them slip off a block and spring open for a sweet, wide open 5-yard catch for a clutch 1st-down or TD. Those days should have ended years ago, but we've still got a lot of old school ball coaches to weed out of the system yet. I mean, look at how Kyle Pitts has had his career destroyed by Arthur Smith's criminal non-usage.
We're slowly moving to an era of more radical use of the tight end…and this talented 2023 class may help speed up the transition.
The TE talent flood is gonna affect Dynasty/Fantasy Football…instead of limited options as top/elite TEs and then a big batch of 'meh' random/interchangeable options -- now we'll see more upper-end TE weapons/options to work with as NFL offenses start getting smart with using these high-end athlete TEs. As Travis Kelce starts to fade, over the next few years, there will be a ton of options rising up to challenge/saturate at the top year-in-and-year-out.
 -- Darnell Washington 'wins' the tight end group at the Combine.
How anyone could watch Darnell Washington and Michael Mayer on tape and walk away thinking Mayer is the better prospect is out of their minds. But 80%+ of the NFL people think Mayer is the best TE in this class. He's not even in the top 3 for us. And I'm saying that based on the tape studies prior to the Combine. Now, factor in the Combine results…and if there were doubts on Washington > Mayer, then this Combine should've put them to rest.
6'4.4"/249, 9.5" hands, 76.3" wing, 4.70- 40-time, 1.66 10-yd, n/a shuttle/3-cone = Mayer
6'6.5"/264, 11" hands, 83.8" wing, 4.64 40-time, 1.57 10-yd, 4.08 shuttle, n/a 3-cone = Washington
There's not a physical attribute Mayer gets the 'win' in versus Washington…and Washington is the FAR superior blocker…and much better receiver weapon.
 -- I'm so happy Old Dominion's Zack Kuntz got to show off his athletic talent here…arguably having the 2nd-best Combine (after Darnell Washington) of any TE here. Kuntz got a wicked PCL sprain in 2022 season and his final year was cut short, but he rehabbed and was ready for the Combine and 'boom'!
Iowa's Sam LaPorta had a higher end Combine too, and I'm a big fan of his…but look at the comparison of Kuntz and LaPorta from this day's proceedings…
6'7.3"/255, 34" arms, 4.55 40-time, 1.57 10-yd, 40" vertical, 4.12 shuttle, 6.87 3-cone = Kuntz
6'3.2"/245, 32" arms, 4.59 40-time, 1.59 10-yd, 35" vertical, 4.25 shuttle, 6.91 3-cone = LaPorta
FFM's Ross Jacobs commented to me that Kuntz might have outdone Jelani Woods, Combine-wise. Hard to argue Kuntz didn't just out-Combine the great Jelani…
6'7.3"/255, 34.0" arms, 4.55 40-time, 1.57 10-yd, 40.0" vertical, 4.12 shuttle, 6.87 3-cone = Kuntz/2023
6'7.1"/252, 34.5" arms, 4.61 40-time, 1.57 10-yd, 37.5" vertical, 4.33 shuttle, 6.95 3-cone = Woods/2022
*Jelani's agility times were at his Pro Day.
 -- I wasn't wild and crazy for Purdue's Payne Durham in my Senior Bowl preview scouting, but I swear…every time I turned around watching Senior Bowl activity, Durham was catching TDs. Then watching various tape of defenders playing Purdue the past month, there was Durham catching passing, making plays, scoring TDs. I started to wonder if this guy was just a silent assassin that I was overlooking.
Well, running a 4.87 40-time here is not going to help get my attention.
 -- I DID NOT see Miami's Will Mallory being able to run a 4.54 40-time at all. Wow. And with a 1.59 40-time. Grade bump incoming on Mallory, who was also quietly a decent presence at the Senior Bowl week.
I just thought Mallory was stiff/insignificant in this TE pool. Going to have to reconsider after those speed times.
 -- I was hoping Utah's Dalton Kincaid would workout to see how he compared among the top guys, but he smartly didn't get timed, etc. He was in a safe position to be able to 'take a pass' on the on-field timing/measurement events.