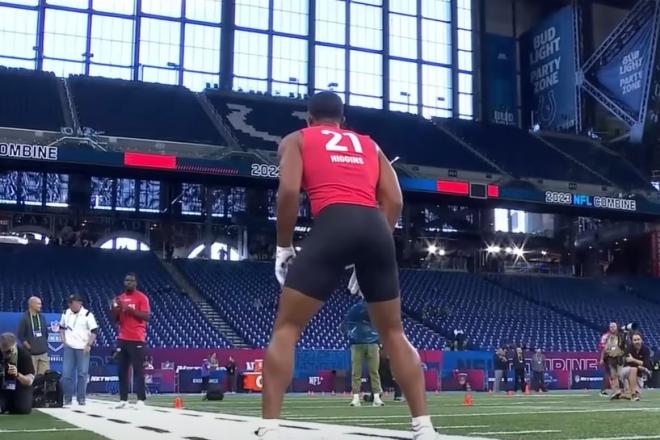 R.C. Fischer
FFM
05 March 2023
 My instant/initial reaction from my first watch through day three of the Combine times/drills…
WIDE RECEIVER NOTES…
 -- WR Combine class comparison (2022 v. 2023)
Sub-4.45 40-times, at any size among the WRs…
16 = WRs hit that mark in the 2022 WR class
16 = WRs hit that mark in the 2023 WR class
Sub-4.40 40-times, at any size among the WRs…
9 = WRs hit that mark in the 2022 WR class
5 = WRs hit that mark in the 2023 WR class 
Sub-7.0 three-cone times, at any size among the WRs…
(This is a WOW stat/comparison)
2 = WRs hit that mark in the 2022 WR class
10 = WRs hit that mark in the 2023 WR class
Coming in over 200 or more pounds and running a sub-4.50 40-time, among the WRs…
5 = WRs hit that mark in the 2022 WR class
5 = WRs hit that mark in the 2023 WR class
Greater than 4.60 40-times, at any size among the WRs…
6 = WRs hit that mark in the 2022 WR class
6 = WRs hit that mark in the 2023 WR class
Less than 180-pound WRs in attendance, regardless of height, among the WRs…
5 = WRs hit that mark in the 2022 WR class
9 = WRs hit that mark in the 2023 WR class
Overall, I'd say the 2023 class is a hair slower or about the same, as a group, in speed options. And a touch smaller…which you think would result in more speed, but it did not. But where it did matter is in maybe the most important thing for a WR (among the Combine measurements) -- the three-cone/agility timings. The 2023 is way more shifty/elusive/able to get open off the snap better (in general) than the 2022 group of bigger, straight-line speedsters.
At the top tier, talent-wise…this 2023 WR class cannot hold a candle to the 2022 class of WRs -- plenty of 'alpha' A-list/grade WRs from 2022, not so much in 2023. But 2023's depth/available pool of WRs is so deep it's overflowing in 'B' and 'C' grade useful options…and it's going to cause WR value 'deflation' with so much useful supply hitting the market with shrinking demand/places they can go start-play-thrive for WRs because they are so bountifully available.
 -- Although a ton of WRs worked out, I don't have a ton of notes on them…because I could simply take a brush and broadly swipe it to say: The WRs here are all fast or 'fast enough' with few exceptions…and the exceptions (the 4.6+ 40-time crowd) were no surprise or not prospects of interest anyway.
What is there to say about Combine things when everyone runs about the same speed times? Smaller WRs were in the 4.3s and 4.4s with rare exception…mid-sized guys ranged from 4-3s to 4.5s and bigger 210+ pound WRs were running in the 4.4s and 4.5s. And then most of the WRs, regardless of size, all were posting a +/- 7.0 three-cone.
Only a few WRs were outliers on anything and only a few WRs purposely skipped all/some of the timed/measured drills, smartly, like Quentin Johnson and Jaxon Smith-Njigba. Those two are smartly protecting their lofty draft stock…a draft stock that is kind of a fraud, in a sense, when you consider how many WRs here are built like and play just like them…the differences in talent among this group is razor thin, and there are a ton of razors to choose from in all different shapes and sizes and models. The draft rankings on these WRs are mostly a (bad) media creation…unstudied, emotional, and favoring big school names decision-making to push out rankings. So, with that, some WRs had the media protection luxury of or are getting the good advice to skip this from their agents/handlers.  
Like, imagine if Quentin Johnson ran his 40-time and ran a 4.68. Not saying he would, but 'what if"? He'd fall right out of all these 1st-round mocks in a finger snap. We're not getting the full scouting picture of all the prospects just yet. Evaluators have a ton more Pro Day and private workout data to process. Top guys 'skipping' things should be a 'red flag alert' to note to find out the truth as we go.
 -- Speaking of the top guys, there were plenty of top-rated names who DID participate in all/most of the drills. And…they didn't really 'help' their draft stock, per se -- none of them were off the charts, but they were all really good and protected their turf/draft stock (for the media).
USC's Jordan Addison clocked a 4.49 40-time…which is just 'OK' these days, at his size. It wasn't a number that shot him to the moon or put him out of reach as a top guy. He skipped the three-cone stuff and had a flimsy 34" vertical. We still need more data on him. He didn't hurt his draft stock here, but he didn't radically help it either. The sheer volume of guys just like him should sink his draft value, but the NFL front offices have about zero sense for big picture, supply and demand evaluations -- they're swayed by a tingle up their leg from a 3-minute cherry picked highlight video.
UNC's Josh Downs probably clinched a top 100 overall draft spot with his 4.48 40-time and impressive 1.49 10-yard split + a 38.5" vertical. All solid…but nothing super-special.
Oklahoma's Marvin Mims protected his draft turf as a top 100 guy with a 4.38 40-time and a 1.55 10-yd split.
Boston College's Zay Flowers helped his case to be considered as the top WR in the class by running a 4.42 with a 1.53 10-yard split.
Tennessee's Jalin Hyatt kept his name in the ring for top WR in this class with a 4.40 4-time, a 1.50 10-yd split, and a 40" vertical + 11'3" broad jump.
All of these top guy WRs did 'top guy' things in the 40-yard dash, but 10-20 other lesser named guys in their same size ranges did similar things too. And note that all these WR that I just noted in this section…they all skipped the three-cone/agility times. We don't have the full/perfect picture from a scouting analytics standpoint yet.
It's great that there are so many 'B' grade WRs in this class, but most of them are smaller…and there's like 15+ of them. They're all good. The largess of solid talent means NFL teams should reach for them in the 1st-round, but they will…and they won't get burned by the WR they take, but they will have lost a major opportunity by not taking a top talent at other more important, lower supply of talent positions and fade these cookie cutter 'good' WRs.
The Saints and Jets, among others, are gonna regret trading up for and using/wasting super-high draft picks on Chris Olave and Garett Wilson, when in retrospect there are 5-10 Olave/Wilson-a-likes from the 2023 draft…and probably 5-10+ more coming in 2024, and so on.
 -- Speaking of Wilson/Olave-a-likes…
 Jaxon Smith-Njigba skipped the 40-time but did everything else…so, we know he's protecting himself/us from seeing a weaker 40-time (or he wouldn't have done all the other things to risk his hamstring). He be mid-to-high 4.5s, or even low 4.6s…maybe? What would happen to his draft stock if that were true?
JSN played it smart because not doing the 40-yard dash BUT doing the short shuttle three-cone worked out amazingly. A perfect Combine strategy. JSN ran a 3.93 shuttle and a 6.57 three-cone, both times are super-HIGH end. JSN helped his cause, not hurt it at the Combine…and our computer model grade on him will rise because of those stellar agility times.
 -- I was hoping for better/faster times from Tank Dell. A 4.49 40-time is fine, but it wasn't a 'wow'. His 1.49 10-yd split is pretty nice…3rd fastest among the WRs. I had hoped he'd do the agility drills and shine there, but he skipped them.
I like Dell, but there are several WRs running high 4.4s with close to Dell's 1.49 split…and many of those WRs are 10-20-30-40+ pounds thicker than Dell is.
If I go look for any WR who ran a 4.55 or faster with a 1.53 split or faster, I find 19 of them hitting those markers. Dell is going to get lost in the tsunami of 'B/C' grade WRs available in this draft.
 -- I've been simultaneously interested and scared of Kayshon Boutte, as an NFL prospect. He flashed some dominance in college…but he's also flashed inconsistency on the field and stupidity off the field. I was interested to see what he'd give evaluators here…and, well, it was not that great. Not horrible, but not attention-getting.
A 4.50 40-time is fine but nothing special. But then a 29" vertical?!?!? Worst in the class by a mile. Boutte is set to fall even more for me…and, I think, for NFL analysts -- he will fall out of the consensus top 100 overall, soon.
 -- There were a few surprise (good) performances that helped move WRs up the FFM board a little more when we update the computer model scouting data over the next week/s.
Three guys who surprised me (to the upside)…
I was already an Ole Miss's Jonathan Mingo fan, but I didn't think he'd run in the 4.4s (4.46). I thought he'd be a solid 4.5s runner at his excellent frame (6'2"/220). He was helped here. He should surpass Kayshon Boutte on every draft ranking across the land.
Arkansas's Matt Landers came in at 6'4" height…not a surprise, but what was really impressive was his 4.37 40-time and 1.51 three-cone. He needs to add muscle/bulk to his 200-pound body but he should be able to with his height (tallest WR at the 2023 Combine). What if Landers got to play at TCU with Max Duggan in 2022…would he be considered the better/faster Quentin Johnson big-and-slender WR prospect?
Note that Quentin came in much shorter than people hoped…6'2.6".
The 2nd tallest WR, barely under Landers, was West Virginia's Bryce Ford-Wheaton. He has the bigger frame though (221 pounds), so BFW running a 4.38 is more impressive, frame adjusted, than Landers' 4.37. What if Ford-Wheaton got to play at TCU with Max Duggan in 2022…would he also be considered the better/faster Quentin Johnson big-and-slender WR prospect?
The taller guys, some with bigger frames, ran faster than many of the guys 20-40 pounds lighter.