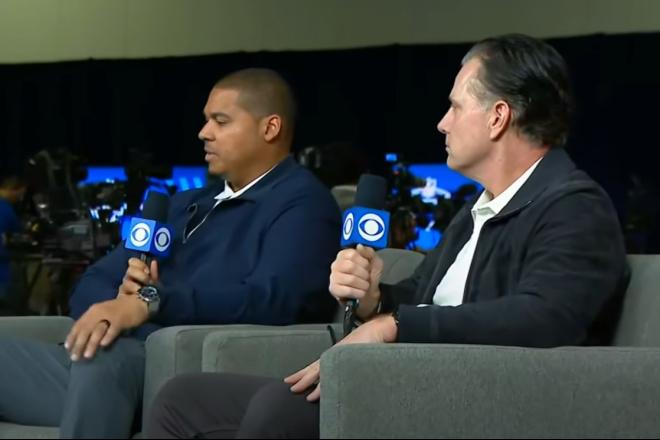 R.C. Fischer
FFM
02 March 2023
Tuesday and Wednesday are non-on-field drills days at the Combine, but the team's personnel people and many coaches are in town to meet, hold press conferences, and discuss deals. There's a lot of real news and fake news/rumors going on all week, especially Tuesday-Wednesday. A lot of the general chatter is about QBs, because they are the NFL's favorite soap opera…so, too many of my notes (below) are about the QB noise -- but, I promise that I'll end this report out with Andy Reid talking about Skyy-Kadarius and lastly a trade rumor from a source that isn't really 'out there' right now (and maybe for good reason).
Here are my notes from Tuesday's news, press conferences, and general discussions I've had/things I've heard/been told from sources (reliable or not)…
*Notes, are in no particular order* 
 -- There's so much hysteria over where Derek Carr might wind up, and who he is meeting with, and how great it is that a QB like him is available, etc., etc.
What I saw of Derek Carr last year -- he would scare me to death to sign him to a big deal. He was barely reading the field last year…rather just looking in one direction and either throwing it medium or deep or checking down to that same side his eyes were at the whole time. If he didn't have Davante Adams pulling some miracle catches, God only knows what would've happened to his career (after his rookie season) worst numbers in 2022. Carr's career is starting to turn down like Matt Ryan's…the Ryan collapse was the last few years in the making, but everyone made excuses and denied it because…I don't know…nostalgia?
Thought: If Josh McDaniels is a supposed offensive/QB guru -- how is it that Carr collapsed under his watch? If you trust McDaniels' eyes/mind, then you have to trust that he saw something so bad in Carr that he benched him before the 2022 season's end. But now some desperate NFL team led by a defensive-background head coach is gonna 'fix' Carr ahead (NYJ or NO)?
There will be a team that thinks it is a contender (and maybe they are) and the coaching staff is somewhat under the gun if they don't win this year -- and they're going to be the ones to reach for Carr as a desperate lifeline, and it's likely going to fail a la the eternal chase for Carson Wentz (or the Matt Ryan debacle of 2022) the past few years.
The team that signs Derek Carr signs their own 2023 death certificate.
The Jets-Bucs-Saints-Falcons are the teams that fit the desperate + coaching hot seat bill. Tampa Bay has no money to spend, and the Falcons may stick with Desmond Ridder instead.
When has an NFL team just given up on and then releases/trade/dumps its long-time franchise QB…and then that QB goes on to a new team and is brilliant, in recent years? Wentz? Matt Ice? P. Rivers? Russell Wilson? Teddy? Baker? Deshaun?
Jared Goff is the only example of it working out. Derek Carr is not, and has never been, in Goff's league.
Who is in the lead for Carr? I will say, the Jets GM Joe Douglas was laying it on thick at the Combine on how much they loved their meeting with Carr and how great he is…yadda, yadda. The Jets in are in a bad spot to get a free agent QB, because of playing in the northeast and a high-tax area like New York AND the Jets aren't likely getting a hot QB from the draft without spending a lot to move up…so, they need to con someone like Carr to PLEASE sign with them. If Carr snubs NYJ, and I think he will (his cold weather output is not good), the Jets are really left scrambling for a QB…scrambling right into the arms of Jimmy Garoppolo most likely.
-- Buffalo D-C Leslie Frazier is taking a year away from football…it was announced. It's being framed as 'a year off'…like a 'break' for a year but it's really the Bills wanted to move on after a hot start on defense…it was a cold finish the 2nd+ half of the season…and Sean McDermott does most of the defensive calls/planning anyway.
I think Frazier wants out to try and be a head coach (but no one wanted to even interview him) and McDermott likely wanted to go in a fresh direction. Frazier will be back in 2024, if not sooner, but it won't be with Buffalo.
 -- Leonard Fournette was released Tuesday. It's now game on with Rachaad White…and if you've been with us for a bit…then you know how we feel/value White. I expected Tampa to dump Fournette and turn things over to Rachaad.
Go to Weekly Report - Free! to read the rest of this article with more about Leonard Fournette, Rachaad White, Evan Engram, Justin Herbert, Bryce Young, Desmond Ridder, Justin Fields, Ryan Tannehill, Malik Willis, Tua Tagovailoa, Ezekiel Elliott, Tony Pollard, Skyy Moore, Kadarius Toney, Joe Mixon, Tee Higgins, Clyde Edwards-Helaire, Isiah Pacheco, Alvin Kamara and others.