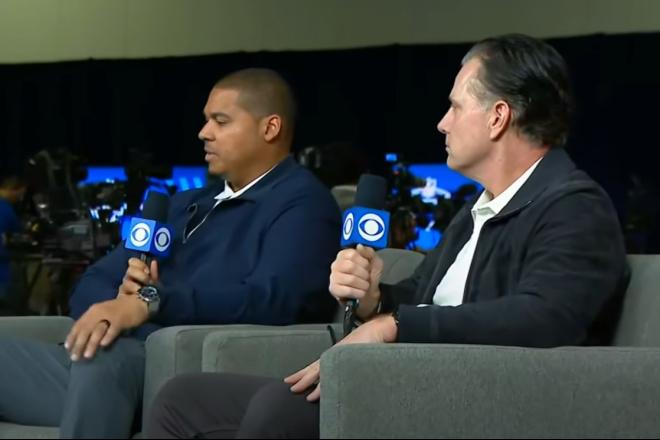 R.C. Fischer
Weekly Report
01 March 2023
Tuesday and Wednesday are non-on-field drills days at the Combine, but the team's personnel people and many coaches are in town to meet, hold press conferences, and discuss deals. There's a lot of real news and fake news/rumors going on all week, especially Tuesday-Wednesday. A lot of the general chatter is about QBs, because they are the NFL's favorite soap opera…so, too many of my notes (below) are about the QB noise -- but, I promise that I'll end this report out with Andy Reid talking about Skyy-Kadarius and lastly a trade rumor from a source that isn't really 'out there' right now (and maybe for good reason).
Here are my notes from Tuesday's news, press conferences, and general discussions I've had/things I've heard/been told from sources (reliable or not)…
*Notes, are in no particular order* 
 -- There's so much hysteria over where Derek Carr might wind up, and who he is meeting with, and how great it is that a QB like him is available, etc., etc.
What I saw of Derek Carr last year -- he would scare me to death to sign him to a big deal. He was barely reading the field last year…rather just looking in one direction and either throwing it medium or deep or checking down to that same side his eyes were at the whole time. If he didn't have Davante Adams pulling some miracle catches, God only knows what would've happened to his career (after his rookie season) worst numbers in 2022. Carr's career is starting to turn down like Matt Ryan's…the Ryan collapse was the last few years in the making, but everyone made excuses and denied it because…I don't know…nostalgia?
Thought: If Josh McDaniels is a supposed offensive/QB guru -- how is it that Carr collapsed under his watch? If you trust McDaniels' eyes/mind, then you have to trust that he saw something so bad in Carr that he benched him before the 2022 season's end. But now some desperate NFL team led by a defensive-background head coach is gonna 'fix' Carr ahead (NYJ or NO)?
There will be a team that thinks it is a contender (and maybe they are) and the coaching staff is somewhat under the gun if they don't win this year -- and they're going to be the ones to reach for Carr as a desperate lifeline, and it's likely going to fail a la the eternal chase for Carson Wentz (or the Matt Ryan debacle of 2022) the past few years.
The team that signs Derek Carr signs their own 2023 death certificate.
The Jets-Bucs-Saints-Falcons are the teams that fit the desperate + coaching hot seat bill. Tampa Bay has no money to spend, and the Falcons may stick with Desmond Ridder instead.
When has an NFL team just given up on and then releases/trade/dumps its long-time franchise QB…and then that QB goes on to a new team and is brilliant, in recent years? Wentz? Matt Ice? P. Rivers? Russell Wilson? Teddy? Baker? Deshaun?
Jared Goff is the only example of it working out. Derek Carr is not, and has never been, in Goff's league.
Who is in the lead for Carr? I will say, the Jets GM Joe Douglas was laying it on thick at the Combine on how much they loved their meeting with Carr and how great he is…yadda, yadda. The Jets in are in a bad spot to get a free agent QB, because of playing in the northeast and a high-tax area like New York AND the Jets aren't likely getting a hot QB from the draft without spending a lot to move up…so, they need to con someone like Carr to PLEASE sign with them. If Carr snubs NYJ, and I think he will (his cold weather output is not good), the Jets are really left scrambling for a QB…scrambling right into the arms of Jimmy Garoppolo most likely.
-- Buffalo D-C Leslie Frazier is taking a year away from football…it was announced. It's being framed as 'a year off'…like a 'break' for a year but it's really the Bills wanted to move on after a hot start on defense…it was a cold finish the 2nd+ half of the season…and Sean McDermott does most of the defensive calls/planning anyway.
I think Frazier wants out to try and be a head coach (but no one wanted to even interview him) and McDermott likely wanted to go in a fresh direction. Frazier will be back in 2024, if not sooner, but it won't be with Buffalo.
 -- Leonard Fournette was released Tuesday. It's now game on with Rachaad White…and if you've been with us for a bit…then you know how we feel/value White. I expected Tampa to dump Fournette and turn things over to Rachaad.
FFM's Ross Jacobs told me Rachaad is out there talking about that he's bulked up to 220+ pounds. He was 215 pounds entering the league. He's 6'0"+, so he should have room to add 5 pounds of muscle.
I will be discussing Rachaad's situation in Dynasty/Fantasy, in depth, in a week or so.
You'll see where I have Rachaad valued/ranked in our Dynasty top 600 offensive valuations/rankings coming out very-very soon. Putting the finishing touches on it for release any moment now (but I'll give a heads up as best I can…hoping for a 3/2 or 3/3 release).
Fournette will get a chance with a contender -- maybe with Buffalo to team with/undermine James Cook's FF value.
 -- Jags GM Trent Baalke seems pretty convinced he's going to re-sign Evan Engram. I'm not as confident that it will happen. The Jags have limited CAP space and a bunch of guys to address. They will cut Shaquille Griffin and save $13M in CAP space. They will possibly restructure Calvin Ridley and Rayshawn Jenkins to free up some money.
Engram is really going to try and cash in right here, as he should. I'd say it's 50-50 at best for Engram to stay. If he does, his FF value gets wobbly -- it's getting crowded in Jacksonville for targets with Calvin Ridley about to join the fray. Engram should be an easy top 3-5 TE for FF, because of his supreme talent (built for FF goodness), but Jacksonville may not have the targets for him to get there in 2023 with Ridley dropped in…so, Engram owners would want Engram out of Jacksonville -- but then him having to start up with a whole new offense/team is ripe for a slow start in 2023 (like his 2022 transition) as well.
 -- Chicago is obviously being coy about their QB situation…they are communicating a 'pro-Fields' message while also saying they have to do due diligence on the rookie QBs.
So where is Chicago really at with their QB situation?
Well, let me ask you this… If the Chargers (let's say) somehow had finagled the #1 pick in this 2023 draft (via a hypothetical trade the prior year that panned out, etc.) -- if asked about their QB situation, do you think the Chargers GM would give the same kind of comments about Justin Herbert as Chicago is about Fields right now? You could also use KC, Philly, Buffalo, Cincy, Dallas, Jacksonville (like in 2022), etc., as examples instead of LAC.
The Bears are saying words to the effect of: 'they are leaning towards Fields because he had such a breakout year last year'? There would be no 'leaning' talk for LAC, if in this situation -- they'd shut all the speculation down and endorse their elite starting QB publicly, forcefully, to send the message to the media and more importantly to Herbert.
The Bears are not fully behind Fields…just partially.
I think the Bears will ultimately do what most all NFL front offices would do…chicken out and stick with what they got, which means they'll keep Fields and then trade the pick for things. But the way GM Ryan Poles is talking, straddling the fence, maybe there is hope for a daring move…a la when Arizona dumped Josh Rosen after a year and drafted Kyler Murray? Memba that? The media cried about it for weeks/months before and after the draft. Arizona made the right call.
What I would do, as an NFL GM -- is determine to take one of these high level QBs at #1 (Stroud, Levis, Richardson…and no way I'd consider Bryce Young). I'd head down that path because the top three QBs in this draft (Stroud-Levis-Richardson…in whatever order you desire) are all better than Fields AND comes with the business benefit of resetting the contract clock in the team's favor (Fields will ask for the moon for an early extension next year). You buy more time to rebuild the whole infrastructure with a QB under your control more/longer. I would trade Fields for assets, which the Bears would get a good draft pick return for him.
 -- Atlanta is also being coy about their QB situation. They won't name Desmond Ridder as their clear starter, but the GM said today that they liked his development and yadda, yadda he could be their starter. The GM didn't definitively back Ridder (see the example I gave above about LAC/Herbert, if LAC were in the same position).
The problem Atlanta has is -- no QB worth anything in the marketplace would willingly go play for Arthur Smith…you're output/stats would go to die there. So, it means ATL would have to throw a ton of money around to Derek Carr or make a splashy/expensive trade for a Justin Fields or move up in the draft.
Fields would be perfect hope for Arthur Smith's awfully dull, run heavy offense…an offense that got worse as the 2022 season wore on. Something tells me, the Falcons will enter 2023 season with Ridder competing with some lower level free agent veteran that has no real place to go, like a Carson Wentz. I think Arthur Smith doesn't place high value on the QB…he thinks he can make/fix them (Tannehill, Mariota is his history), so ATL may be stuck with Ridder and a boring veteran that falls through the cracks in the end.
 -- Another unsure QB situation is happening in Washington. A few days+ ago, the Commanders said Sam Howell was their QB1. Today, Ron Rivera clarified that by saying Howell had a chance to be the QB1 for the team.
Washington is another situation where players with options won't want to go, and Washington will likely not make a daring move to sail up to the top of the draft, so like Atlanta…summer 2023 will be a 2022 rookie (Howell) battling with an unwanted veteran QB (Heinicke, Minshew, Mayfield) for the Week 1 job.
 -- Speaking of QBs (since that's all the media seems hyper focused on, as always) -- an interesting couple of tidbits on Tua Tagovailoa.
1) Mike McDaniel said he WAS their QB for 2023, if/when healthy.
2) Tua is taking up/going through Judo training to try and help him learn to fall better. I've been in the football news and scouting game for a while…haven't heard that one before.
 -- It felt like the new Titans GM Ran Carthon was pretty settled with Ryan Tannehill as their QB for 2023. It's the smart move to stick with the veteran leader Vrabel loves…and keep Malik Willis in development for another season.
 -- When asked about the Dallas RB situation, Steven Jones immediately lit up and talked about how great Ezekiel Elliott is and how important he is to the team. After a bit, he kinda mentioned Tony Pollard as if he was some random backup.
Tony Pollard is not going to re-sign with Dallas…no way, no how…unless he doesn't care about his career. They could franchise tag Pollard…thus suppressing Pollard's full FF value for another season.
 -- Andy Reid was asked about Skyy Moore and Kadarius Toney getting more involved in the offense in 2023. Reid reluctantly/not glowingly said that they would be. Reid is not that excitable as it is…but he was much more excited talking about Eric Bieniemy going to Washington than he was about the 2023 prospects of Skyy and KT. Not sure we can read anything into that, but it's what went through my mind during his press conference Q&A. FYI
 -- Bryce Young is not throwing at the NFL Combine…as I think I predicted (in a throw away comment in print or yammering on our video shows) a few months ago. It's smart…his agent is being smart.
Because Bryce Young is not really the top QB prospect in this draft…nor the #2 or #3 one either…the Bryce team is trying everything they can to keep his media-hyped #1 QB ranking intact. Millions of dollars are on the line if/when Young falls outside the top 5 overall or so of this NFL Draft.
If anyone were to see Young in action next to Stroud-Levis-Richardson…it would be the end of the Bryce Young #1 QB prospect nonsense. All the real top QBs would physically tower over Young…they'd be 20+ pounds thicker/bulkier framed as well…and if you saw them all throw in the same space, then people would really realize Young's arm isn't anywhere near Stroud-Levis-Richardson. Levis and Richardson's arms are so good, I might advise Stroud not to throw at the Combine either -- nothing to gain for him, and everything to lose by watching a battle of arm strength in unpressured-by-a-defense throwing while wearing shorts and a t-shirt.
Young is NOT going to be the first QB taken…his management team is trying everything they can to keep him from falling to his inevitable #3-4 QB taken in the draft destiny.
My several thousand word scouting report on the reason why Bryce Young is not the #1 (or #2-3) QB prospect in this draft, from January 2023: Jan 2023 Bryce Young Scouting Report/QB Prospect class overview
 -- Unfounded, wild rumor…
The Bengals are prepping or have been trying to trade Joe Mixon…that's not a total shock. Getting rid of Mixon saves them $7M+ in CAP space. I think Mixon is facing a deep salary cut or likely departure…I think he's going-going-gone, and that will allow the team some space to retain Tee Higgins, among other priorities. Mixon's numbers have been pretty weak in the Burrow era, for this high-end offense advantage he plays in.
The mild shocker/rumor is (something I have mentioned for 1-2 years now) -- the Bengals want Clyde Edwards-Helaire to re-team with Joe Burrow, to make Burrow happy (which is smart)…and now that CEH has failed in KC, we will see CEH leaving the Chiefs soon.
However, KC does not/will not trade CEH to their rivals in Cincinnati, so the Bengals won't even ask (most likely). Buffalo, perhaps, would want to be in play (former LSU O-C Joe Brady is their new QB coach), but again…KC isn't dealing CEH to any AFC rivals. But KC is going to deal away CEH and roll with Isiah Pacheco so that there is not any RB seriously hanging over his shoulder. It will be Pacheco + McKinnon in 2023.
KC is rumored (according to my source) to trade CEH far away from any hassle to them in 2023…and his rumor has it there is some prelim discussions of CEH going to New Orleans (back to Louisiana, as if that somehow matters…but it does to some) as the Saints get ready to deal with a possible half-season suspension of Alvin Kamara. The move depends on several factors…the AK suspension length being one of them, what happens in free agency is another.
I expect CEH to be dealt somewhere soon…where he will play out 2023 with his new team, and then become a free agent in 2024…and then can sign with Cincy. That doesn't mean he'd be the main RB for the Bengals…just a weapon to go with Burrow, and it would make Burrow happy.