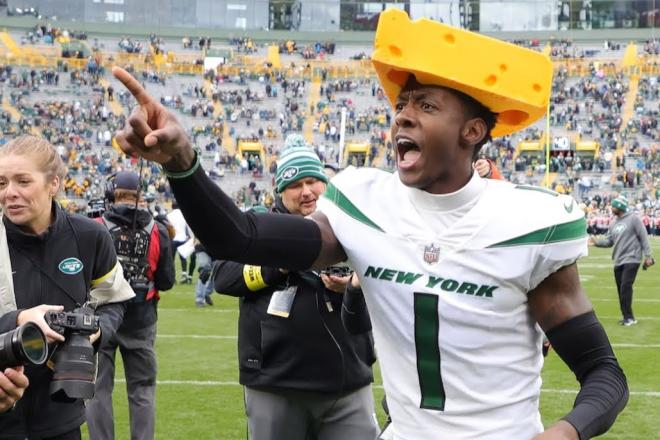 R.C. Fischer
FFM
24 January 2023
2022 Season Awards Tournament: MVP, ROY, DPOY, COY (AFC East)
Each year, I go division by division and nominate who I believe is each team's candidate for the major NFL awards and then we discuss/declare who the division's major award winner is for the season…and that player goes onto the divisional Final Four with a chance to go to the Super Bowl/Finals for a chance to be declared my seasonal award winner.
We go division-by-division each day, then to the Final Four for each conference, then the finals to name our winner the day the NFL announces their winners. *And my choices are usually different up and down the line in each category, so enjoy a different take on the NFL awards.
*MVP (any position)
*Coach of the Year (any coach on the staff, not just the head coach)
--------------------------------------------------------------------------
AFC East: 2022 Season Awards Tournament: MVP
BUF: QB Josh Allen
MIA: QB Tua Tagovailoa
NE: RB Rhamondre Stevenson
NYJ: CB Sauce Gardner
Looking at my nominee group, the first thing that jumps out is that Rhamondre Stevenson doesn't belong in the discussion. Nice enough RB, but not a serious MVP…just was NE's best option, which is sad.
Which QB was more important? Missing Tua was lethal to Miami beating Buffalo in the playoffs, potentially. However, Tua faded down the stretch and was hurt on-and-off…he had a moment of being in the MVP discussion, but ultimately left the team hanging too much.
I love Sauce Gardner…our graded #1 prospect going into the 2023 NFL Draft, and now with 2022 season hindsight that absolutely should've been the #1 overall pick…massive mistake by JAX-DET-HOU in front of NYJ. But Josh Allen was a top performer again and plays the all-important QB position, and they won the division. You have to go with Allen here.
AFC East Winner = Josh Allen moves on to the AFC Final Four.
------------------------------
AFC East: 2022 Season Awards Tournament: Rookie of the Year
BUF: RB James Cook
MIA: QB Skylar Thompson
NE: CB Marcus Jones
NYJ: CB Sauce Gardner
Skylar Thompson had an impressive journey from 7th-round pick to the main roster to starting a few games and almost winning a playoff game, but he's not a serious ROY candidate. James Cook might have had a better shot if Buffalo spent any time/effort developing him in the passing game…instead, they wasted a golden opportunity.
Marcus Jones might have had a better case if the Patriots figured out earlier that he was their best offensive player, and one of their best defensive players. Jones didn't start breaking out until the last quarter of the season.  
But it's gonna be hard to beat Sauce Gardner for this title…we have him as a candidate for not only Rookie of the Year, but Defensive Player of the Year and MVP -- not sure we've ever had that before in our Awards Tournament history. Gardner is arguably the best CB in the NFL already, so an easy choice for the win here.
AFC East Winner = Sauce Gardner, NYJ…who moves on to the AFC Final Four
------------------------------
AFC East: 2022 Season Awards Tournament: Defensive Player of the Year
BUF: LB Matt Milano
MIA: CB Xavien Howard
NE: LB Matt Judon
NYJ: CB Sauce Gardner
Everyone on this AFC East list had a great season. All worthy to be the winner. How to judge between them, considering the various roles they played? I'm just gonna go with gut feel from watching all these games, then watching them back again all year. The two guys who really stood out were Milano and Gardner.
Milano played great, but Gardner became a player who just shut off one side of the field against all comers just a few weeks into the season -- that's worth its weight in gold. So, for that reason…I go with Sauce here.
AFC East Winner = Sauce Gardner, NYJ goes on to the AFC Final Four
------------------------------
AFC East: 2022 Season Awards Tournament: Coach of the Year
BUF: HC Sean McDermott
MIA: HC Mike McDaniel
NE: HC Bill Belichick
NYJ: DC Jeff Ulbrich
First coach out of the running, for me -- Sean McDermott. He had a great team, we all thought, going into the 2022 season…and it didn't get better in 2022…I'd argue it got worse. A poor choice with his O-C replacement, and they never developed rookies Cook-Shakir enough for the playoffs and they traded for Nyheim Hines for no reason and then did nothing with him?
Jeff Ulbrich is next out…the Jets D was rocking midseason, but then sputtered and failed some down the stretch.
Somehow Bill Belichick had NE in the playoff hunt again, but they fell short and there's more despair than hope going forward for the Pats.
So, Mike McDaniel wins…he got Miami looking like the top team in the division at one point, then got lasted with key injuries down the stretch to lose his shot at the AFC East title -- but still snuck into the playoffs AND almost won a playoff game on the road with a 3rd-string rookie QB.
AFC East Winner = Mike McDaniel, Miami goes to the AFC Final Four.
------------------------------
Tomorrow, we look at the AFC West nominees and winners.