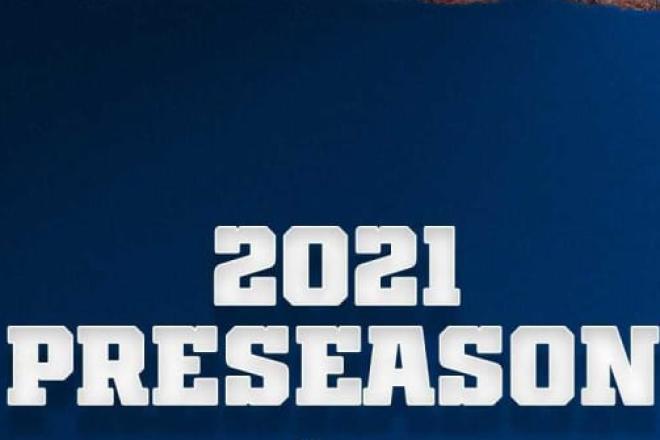 R.C. Fischer
FFM
01 September 2021
‍
2021 Dynasty/Fantasy Preseason Wk3 Game Analysis: Patriots 22, Giants 20
Cam Newton started this game, for what we all didn't realize would be his last start for the Patriots. Cam wasn't in for long, and then Mac Jones played almost the rest of the game – wrapping up a (3-0) preseason for New England and an (0-3) preseason for the Giants.
Sounds about right for where these two teams are headed…not that NE is going undefeated, but they're definitely headed in a better direction than the Giants.
As I write this, the 53-man cutdown happened today so we'll we've some of that in here as well.
Dynasty/Fantasy Player Notes…
 -- It was a strange game plan here by Bill Belichick.
Why start Cam Newton (2-5 for 10 yards, 0 TDs/1 INT) in this game if you knew you were going to cut him a few days later? You could have easily 'rested' him here and then cut him. Mac Jones (10-14 for 156 yards, 1 TD/0 INT) needs as much time with the 1st-team as he can get.
Unless Belichick didn't plan on cutting Cam until something happened in or after this game? We'll never know.
Jones was going to take over anyway, so they might as well start now. This wasn't as much about Jones seizing/commandeering this starting role…it's as much about Newton being a waste of QB time, and thus Jones is the viable alternative.
Jones has played a safe and steady preseason, against lesser/vanilla defenses – we don't know how he'll react against real 1st-team defenses flying at him. It's going to take time…and the Pats may play themselves out of the playoff picture before Jones starts to stabilize.
I like Jones OK, and he has some future prospects – but he will be one of the bottom 5-7 passers among the Week 1 starting QBs. This move almost puts the Patriots into a 'rebuild year'. There's hope long term but 2021 looks .500-ish.
 -- Who among the Patriots weapons benefits or loses from Mac Jones starting? In general, it's an upgrade for everyone in the passing game just because about anything is an upgrade from Cam.
Jones has been more comfortable working a short game, as you would expect – so Jakobi Meyers (1-6-0/3) might be OK, and you have to think James White (DNP) really gets a good PPR bump. I'm not in love with any Patriots FF option…maybe 'in like' with James White in PPR is about all.
 -- I thought Pats 2nd-year WR Kristian Wilkerson's (4-72-0/5) preseason would get him kept on the roster, as he was an effective BFF target for Jones all preseason…and then I thought that would get N'Keal Harry traded/moved to keep Wilkerson. Well, Harry is still there…and Wilkerson got inexplicably cut.
Unless there was an off-field issue, I am shocked and perplexed at how Wilkerson could be cut…and the guy who wanted to leave is still staying.
Wilkerson will probably go onto the practice squad, unclaimed by any team…and Belichick wins again.
 -- Another cut I was surprised with was on the NYG side: Corey Clement (4-24-0) was released. To me, it signals that Saquon Barkley is ready for Week 1…or worse-case Week 2. If Barkley misses any time…Devontae Booker (7-14-0, 1-3-0/1) will be the lead back with support from rookie Gary Brightwell (4-10-0, 3-20-0/3), who I think has shown a little promise this preseason.
 -- The best-looking player on the field in this game: Evan Engram (3-22-0/3) looked as fast and swift as ever. Even more encouraging…the Giants ran smart, simple, short plays to get Engram the ball and just let him run with it – he's a big boy to try and bring down in the open field with 4.4+ speed. Hopefully, Kyle Rudolph is used as the blocker TE (as he should) and they move Engram out like he's mostly a WR and let him take advantage of his size/speed advantage.
If you miss out on the top TE names in a redraft…you could do worse than getting the always explosive but too often banged up/under-targeted/under-schemed Evan Engram.
 -- Rhamondre Stevenson (5-23-1, 2-17-0/2) is up for consideration as the 2021 preseason MVP. Being a rookie and scoring several preseason TDs, including a 90-yard one, with Sony Michel getting dealt…it all adds up to a very HOT rookie right now.
He's going to be buried behind Damien Harris (4-29-0) and shutout of targets, like Harris, if he ever does get thrust in a main back role if Harris gets hurt. Things have to fall just right for Stevenson right now – he's not a threat to Harris. He only matters if Harris gets hurt, and then more non-PPR-wise.
He's a hot name to take in Dynasty Rookie Drafts, to sell hot.
 -- As I previously mentioned, Stephon Gilmore out for 6 games to start the season…that's quite a blow to using NE in a dual-DST theory. The pats don't collapse without Gilmore, in favorable matchups, but it would be much better if he were there.
Jalen Mills is supposedly the one to take over for Gilmore…that's a big difference. I hope they move Jonathan Jones there instead. We'll see.