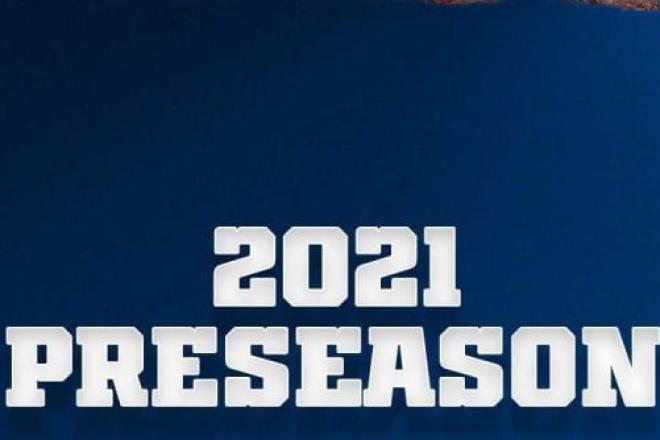 R.C. Fischer
FFM
28 August 2021
‍
2021 Dynasty/Fantasy Preseason Wk3 Game Analysis: Eagles 31, Jets 31
The Eagles took a more young players and backups approach to this game, while the Jets rolled out a mostly 1st-team offense (minus key stars sitting) for a bit…and then as this game went on it was a battle of guys about to be cut, mostly – ending with a hail mary TD by the Jets, from down 8 points, to cutting it two 2 points…then converting the 2-pointer for the vaunted preseason tie.
There were some interesting clues on backfield things here, as well as a few other nuggets.
*As I was wrapping this report up, word came across that the Eagles had traded for Gardner Minshew – very interesting. We'll discuss that in a subscriber extra note later today.*
Dynasty/Fantasy Player Notes…
 -- The battle of the middle-round draft pick RBs…
If you only used this game tape as your guide, you'd swear Kenneth Gainwell (5-32-1, 4-27-0/4) was the higher pick, brighter future RB over Michael Carter (7-12-0, 1-7-0/1).
Gainwell ran with confidence…and speed. He looked 2x faster than Carter. Very impressive outing for Gainwell, who has gotten better every week for all three weeks of preseason games. I still do not believe that Gainwell will have any real FF impact this FF season (on purpose), but there is at least some hope for the future. I was starting to think he would be an NFL also-ran/solid satellite back, but I've moved to a more 'let's keep an eye on/let's see' position as the preseason wears on.
Miles Sanders is still the #1, as sad as that is. Jordan Howard seems to have a role, as he should…he's the best runner of the ball on the team. Boston Scott (1-4-0, 2-49-1/2) was ahead of Gainwell in the rotation here…and had a sweet 49-yard catch-and-run TD to put his stamp on the 3rd-down back role…he shouldn't have to prove anything anyway. Sanders-Howard-Scott means Gainwell gets to develop quietly as the #4 and will be counted on for a bigger role in 2022.
Carter consistently runs behind Ty Johnson (13-53-1, 2-4-0/2) in the preseason rotation…and Ty looks like the best back on this roster. Tevin Coleman (DNP) is getting the veteran treatment and will be 'the starter' – but Ty Johnson could out-touch Coleman and eventually just beat him out. Of the two Jets RBs, Ty Johnson is the one I'd rather take late/chap redraft shots on.
Carter may just need more time, but he's seen way more snaps in the preseason games than Gainwell but doesn't look anywhere near as confident/impactful or quick at this stage. Carter is not dead, but the NY media hype all summer is showing to be overblown…as usual for the NY football media.
Carter has a current edge over Gainwell in value because he's closer to a main role due to the current RB depth chart, but that's fleeting…especially as Gainwell shows life and Carter shows little. If I thought Nick Sirianni was smart enough to use Gainwell as a slot WR/RB…then you'd want Gainwell today.
 -- For what it is worth, Josh Johnson (7-8 for 73 yards, 1 TD/0 INT) looked terrific as a backup QB for the Jets. The guy has played for about every team in the league as a 3rd-string guy/emergency guy/mentor QB. I'd rather run my season with Josh Johnson than Tyrod Taylor or Sam Darnold or Tua.
Likely, Johnson will be cut…but the Jets other QBs are so awful that keeping JJ as a Zach Wilson mentor might just be the right move.
 -- The Jets are going a certain direction at linebacker in 2021, somewhat forced by the injury to Jarrad Davis (expected starter)…
The Jets have converted two big (physically) rookie safeties to smaller/skinny linebackers and one of them is going to have to start Week 1…and I'm not sure either is ready to start in the NFL, but they'll have to.
Jamien Sherwood (4 tackles) appears to be the guy starting Week 1 for Jarrad Davis. He has the right feel and instinct for ILB, but he's so DB-thin framed that when he tries to make his tackle, he isn't bringing guys down with his initial hits, rather holding on to them for dear life and trying to drag them down. He's just not thick enough for ILB right now.
Neither is rookie Hamsah Nasirildeen (3 tackles, 1 TFL), but he seems to be bulked up more than Sherwood…but is the less instinctual linebacker.
I would have thought Blake Cashman (5 tackles) to be the easy choice to start, but he seems totally buried with the new regime.
 -- Random Jets notes…
Kenny Yeboah (4-100-2/5) caught the hail mary toss to help ultimately tie the game as time expired. It was his best preseason game by far. Possibly enough to make the roster but still potentially to be cut and put on the practice squad. The Jets have a lot of veteran TEs…they'll need to make some decisions to maneuver to keep Yeboah in development. Trevon Wesco will start as the H-back/TE then it's up for grabs for all the other TE roles/spots. It wouldn't shock me if the Jets traded Chris Herndon for a 7th-round pick, just to get rid of him.
WR Lawrence Cager (3-21-1/5) caught a TD pass and is making some headway to get noticed but likely he will be cut then put on the practice squad.
I think Denzel Mims has a chance to be traded before Sept. 1st, but we'll see. I still say he's their best WR, by far, but he's in some kinda way with new management.
 -- Jets PK Matt Ammendola (1/1 FG, 2/2 XP) looks terrific this preseason. I did a brief tape watch of his work a week+ ago, when it became obvious that he would be starting – he really has a very live leg.