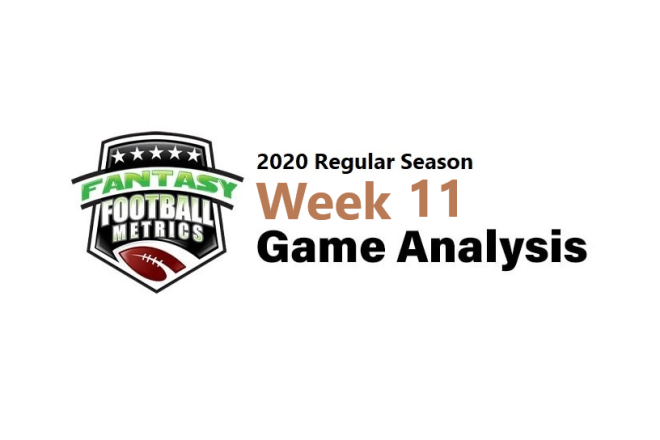 R.C. Fischer
FFM
23 November 2020
2020 Dynasty/Fantasy Week 11 Game Analysis: Seahawks 28, Cardinals 21
I take notes during the live watch. I re-watch the game on tape looking for hidden clues to report on. Here are my notes/takes on what I saw and how it related to FF 2020. I write anywhere from 1,000-3,000+ words on each game, and I must move fast to get to all of them through the week…so, please forgive any typos/grammar.
A back-and-forth game where Seattle just looked like they had the better plan/enthusiasm/luck this night…you could kinda feel it from the start. Down 23-21 with 13+ minutes left, the Cardinals got called for holding in the end zone, which resulted in a safety…and that really took the wind out of the Arizona sails.
From the point of the safety, Seattle took the ensuing free kick on a 7-minute, back-breaking drive to kick a field goal to jump ahead 28-21. Plenty of time for Kyler & Friends with 2+ minutes left.
Kyler worked it right down the field but down to the Seattle 27-yard line, Kyler threw three incompletes and then was sacked on the 4th-down and…ball game.
Good, solid division win for Seattle as they take the NFC West lead at (7-3) and now hit a schedule stretch that should launch them to the NFC West title, a possible #1 seed, and a possible Super Bowl trip (to lose to whatever team comes from the AFC). I don't think they'll get to the big dance but this win was huge with a favorable PHI-NYG-NYJ-WSH the next 4 weeks…they can get to (11-3) and be in a great spot to finish with 12-13 wins. We project they stumble somewhere in the 4-game cake stretch and end up (11-5), which could still win the West over the Rams.
Arizona loses, falls to (6-4)…a Hail Mary Week 10 away from being (5-5) and losers of three straight. Massive next two weeks for Arizona…at NE, v. LAR. If they lose both of those games, it proves they are not ready for the next level yet and an (8-8) season may emerge. If they can at least split with their next two games, they should get to (9-7), at least, and sneak into the playoffs. 10 wins isn't off the table…but considering that they might be a Week 10 Hail Mary win and a lucky OT win vs. SEA Week 7 away from being losers of their last 4 in-a-row…a collapse to 7-8 wins isn't off the table either.
Fantasy Player Notes…
 -- The Kyler Murray (29-42 for 269 yards, 2 TDs/0 INT, 5-15-0) Report…
Everything is fine.
We're so used to Murray crushing it for FF tallies, that a 20-24 point FF game seems like a letdown. I get it. He didn't add his usual 50+ yards rushing with rushing TD FF-goodness here…I was getting too used to booking it every week.
Just know:
a) everything is fine
b) his luck had to run out at some point…'luck' meaning, just that there would be a game that the script worked against him.
What hurt him here…
Early in the game, tried for a rushing TD, as he does, had the angle for a moment but got caught up and sent out of bounds short.
A 35/25 time of possession deficit for the Arizona offense.
When the penalty/safety happened in the 4th-quarter, Seattle then went on a 7-minute drive and left Kyler with just one drive for the game for final FF points, and it didn't end in a TD. Just short again. The ball kept away too much for a huge FF week.
Had Kyler converted a TD on that final drive, we probably would have got +6-8 (depending on 4 or 6pts per pass TD) more FF points…AND another OT game for more numbers.
Kyler threw Andy Isabella a perfect pass on the money in the end zone 2nd-to-last play, but Seattle made a perfect timing breakup. A second later on the DB's arrival on the throw and it might have been a sweet/long TD. A second earlier that they arrived and it would have been pass interference for 1st & goal from the 1-yard line and an OT game.
We just missed a sweet one with Kyler this week.
Everything is fine.
Next week, at potentially cold New England…that has me not doing cartwheels…
 -- Russell Wilson (23-28 for 197 yards, 2 TDs/0 INT, 10-48-0) had a similar event as Kyler for FF scoring. The thing that has me a touch worried about Wilson for FF ahead…a season low 28 pass attempts, and 31 rushing attempts here, which allowed them to control time of possession and win this game. And that 'mode' is starting to creep back into the Seattle offense.
The head coach and O-C that wants to, CRAVES to run the ball…they just did just that and it worked to perfection for them. They get Chris Carson back as early as Week 12.
…I think the Seattle HC and O-C may be taking the spatula and apron away from Wilson, and kicking him out of the kitchen at meal time. Not fully, but enough to move him away from the high-flying top 3 FF QB you got used to early.
 -- If Russ is going to reheat leftovers more than 'cook', it's going to affect their WRs for FF.
Tyler Lockett (9-67-1/9) might be at more risk because he's had more FF duds than WR1 moments…except against Arizona, where he's made a season off two games against them.
D.K. Metcalf (3-46-1/5) might have a little dip, but even though he's getting double covered more now…he's still a small 'g' god WR. He caught a 41-yard beauty in this game that got called back for offensive holding or his game would have been more fine for FF.
 -- Worse week for the Arizona WRs…
DeAndre Hopkins (5-51-0/8) got doubled quite a bit.
That meant Christian Kirk (4-50-0/6) should've had a great FF game, but he was a virtual ghost. Larry Fitz (8-62-0/10) more led the way. Smart of Kyler not to force it where it wasn't available.
I just don't trust Kirk + Kyler, in my heart of hearts…something doesn't look right with Kirk in this relationship, or lack thereof.
 -- Kyler did hit Chase Edmonds (2-13-0, 4-36-1/4) for a TD pass…as I've been noting for weeks, Edmonds survives in 2020 as a PPR back…an RB2-3 you can use even though he plays limited snaps.
I was disappointed he went right back to no/little carries (2) in this game. Gotta make way for the great Kenyan Drake (11-29-1, 4-31-0/5) and his 2.6 yards per carry.
 -- Carlos Hyde (14-79-1, 2-16-0/3) led the way for Seattle…a 2nd-half TD run saved a fantasy 'meh' week.
Bo Scarborough (6-31-0) came off the practice squad and looked good, as always. How Tennessee never signed him and made him Derrick Henry's clone/backup, I have no idea.
Next week, Chris Carson could return…and the two RBs who ran this game are done for FF. Hyde just a 'cuff you must have because of Carson's fragility…but Rashaad Penny is trying to get back soon, so that further confuses the 'cuff situation.
 -- Greg Olsen is done for the season, and probably his career (that's been over for like 2-3 years). His injury does create an opportunity that fantasy analysts will probably be chirping about this week…
Will Dissly (1-10-0/1) played the majority of snaps in Olsen's absence (43 snaps) and not Jacob Hollister (2-14-0) who had just 13 snaps.
Dissly will be one of the waiver talks of the week, in a desperate TE world…with everyone remembering when he was FF hot for a blip (before getting hurt) last season. I will be talking about it as well.
 -- IDPs that I have to mention…
D.J. Reed (11 tackles) has now registered back-to-back double-digit total tackle games (10 and 11). Reed was grabbed off waivers by Seattle several weeks ago. He became a starter Week 8, and in his four games played he's averaging 8.3 tackles, 0.75 PDs per game with a pick and a fumble recovery. Since Week 8, he's been a DB1 performer.
Carlos Dunlap (4 tackles, 2.0 sacks, 3 QB hits) loves playing for Seattle/getting away from Cincy…3.0 tackles, 1.0 sacks, 1.7 TFLs, 2.0 QB hits per game in his three games as a Seahawk.
Possible breakout performer here, I have to say it, despite all my mocking…Isaiah Simmons (10 tackles, 1.0 sacks, 2 TFLs). He's starting to play more and more snaps, and he was like a man possessed in this game. Looks like he grew two inches and added 10 pounds of muscle since Week 1. Stock is rising on Simmons, but he still can't block worth a shit.
(Some of you know what that last sentence means – Kyler was sacked a season-high 3 times this game, and held to a season low rushing tally…and lost…just sayin').
 -- My Seattle-DST advisories several weeks ago…it's turning out to be something that might save FF seasons/get teams over to and through the FF playoffs. They have looked much better with Carlos Dunlap acquired/him playing the last 3 weeks…and doing so facing Josh Allen-Goff-Kyler.
If Seattle gets back starting CB's Griffin-Dunbar from injury, with this schedule ahead…FF-gold for the DST potentially, or at least silver or copper or not-terrible. They face Wentz-Dan Jones-Flacco-A. Smith the next 4 weeks.
 -- Arizona-DST is playing much better too, and they have a nice schedule ahead as well. The next five games: Cam-Goff-Dan Jones-Wentz-Mullens. I'm starting to trust this DST more and more as 'reasonable' to use.
Snap Counts of Interest:
46 = Hyde
12 = Bo S.
07 = D Dallas
43 = Dissly
40 = Olsen
13 = Hollister
38 = Maxx Williams
26 = D Arnold
36 = CH Edmonds
33 = Drake