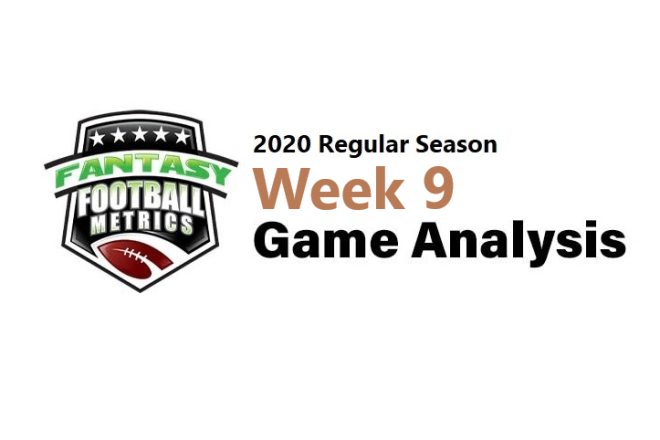 R.C. Fischer
FFM
09 November 2020
2020 Dynasty/Fantasy Week 9 Game Analysis: Packers 34, 49ers 17
I take notes during the live watch. I re-watch the game on tape looking for hidden clues to report on. Here are my notes/takes on what I saw and how it related to FF 2020. I write anywhere from 1,000-3,000+ words on each game, and I must move fast to get to all of them through the week…so, please forgive any typos/grammar.
The NFL must either be worried about getting these games in on COVID scheduling fears, or they just don't want to make COVID a storyline…because they pushed this game out there when they had plenty of reason to delay it until Saturday or Sunday or Monday. I'm not saying shutdown the season because someone got COVID, but my first thought was -- they could've at least delayed this for the 49ers' sake. However, the more I've thought about it today -- if they try to shuffle everything because of a few cases…then upcoming Sunday's could be a cluster of rescheduling ahead. This one just happened to happen, timing wise, for teams playing on a Thursday – this unfortunate timing (positives popping up without more days to test out of to see if 'false') could've easily happened to those playing Sunday.
Instead of a reschedule, we got a game with the COVID I.R. list jam packed for SF…and thus got an inferior product to watch. This wasn't even a game…it was 34-3 Packers with 6+ minutes left. How it got to 34-17 in the end, I didn't know on Thursday night because I stopped watching it closely by the 4th-quarter. Rewatching it for study…it was your garden variety garbage time ending.
It's hardly worth reviewing for FF nuggets because it's so haphazard a game, but there are things to discuss.
First, the Packers get yet another schedule break. No team has gotten more regular season schedule breaks than the Packers the past two seasons. They faced the 49ers at just the right time…a team that crushed them twice in the 2019 season, this time they got them without half+ of their offensive starting lineup and about half their Week 1 starting defense gone. What was going to be a tough game, may have become their easiest of 2020 due to 49ers' mass injuries and COVID. The schedule ahead for GB begs them to win a minimum of 12 games this season, with a chance at 13.
The 49ers have been officially wrecked. This was the dagger. All the injuries they have suffered the past two weeks came facing at SEA and GB…how unlucky. Next week they are at NO. The 49ers are likely to finish with 6-7 wins unless they really just start treating the end of the year as a training camp for 2021...then 5-6 wins likely.
Fantasy Player Notes…
 -- For weeks, the 49ers have not used Jerick McKinnon (12-52-1, 3-16-0/4) much at all…he's run/barely played behind Raheem Mostert, Tevin Coleman, Jeff Wilson and even rookie UDFA RB JaMycal Hasty (4-3-0, 2-10-0/2). In fact, in a crucial game a few weeks ago…when all the SF backs were going down, it was Hasty getting the critical touches to finish out the game.
With Mostert-Coleman-Wilson out, for sure it had to be Hasty getting the shot at a lead role here.
Nope.
When it started out with McKinnon, I was surprised. I assumed they were then going 50/50…but we barely saw Hasty all game. As the game got out of hand quickly, I was like – good, Hasty will mop up and get numbers.
Nope.
McKinnon was taking carries down to the miserable end of this game. The fact that Hasty couldn't get in some extra work late in a bloodbath beating tells me…I've over-assumed Hasty for the SF future. Next season, all these guys could/should be gone (Mostert, Coleman, McKinnon)…and with an obvious spot in this blowout to take a longer look at him, Hasty watched mostly.
Now, we'll all turn on Hasty…and then he'll take 30 carries next week. Kyle Shanahan mimics Belichickian ways at RB.
 -- Jordan Reed (1-3-0/2) returned with a thud…one catch, just 13 snaps played…that was the risk of his return – he's been so hurt for so many years, it wasn't a given he'd just 'bounceback' here with Kittle gone.
Ross Dwelley (3-52-0/3) is the clear #1 TE, with Reed as a passing game TE…and maybe not 100% ready to give much to this declining passing game. Dwelley has more experience and offers in-line blocking to this offense.
 -- Richie James (9-184-1/13) became the de facto #1 WR here with 9,000 other SF WRs out for this game. Whenever James gets shots, something good tends to happen…he just rarely gets a chance.
In his last three games, where he has had a catch or more in a game (back to 2019), he's averaging 25.5 yards per catch. He makes things happen, but he's buried on this roster normally.
The next time the top 4-5-6-7 WR/TE/RB weapons on the 49ers are all out at one time…I'll try and remember James is the FF play.
 -- Davante Adams (10-173-1/12) is always an FF-play. You didn't need me to tell you that. What I would like to get off my chest is…
What exactly do offensive and defensive coordinators in the NFL do at work every week? Why is it we're in midseason of 2020 and teams are still single covering Davante Adams, and single covering DK Metcalf AND still playing DK up in his face when that's certain death for the CB?
Yet, Tyreek Hill has three defenders chasing him all over the field?
 -- Marquez Valdes-Scantling (2-53-2/4) luckily found 2 TD passes. He's a joke that won't be funny or FF-useful the ROS when Allen Lazard is active next week.
 -- Nick Mullens (22-35 for 291 yards, 1 TD/1 INT) was garbage until late…for the second week in a row. It's all he's got. Superflex players, we could be a week away from C.J. Beathard…who is a better garbage time FF QB, in part because of his rushing skills.
Snap Counts of Interest:
51 = Cracraft
51 = R James
33 = Trent Taylor
42 = McKinnon
15 = Hasty
42 = Dwelley
13 = J Reed
40 = A Jones
22 = Ervin
04 = Dexter W