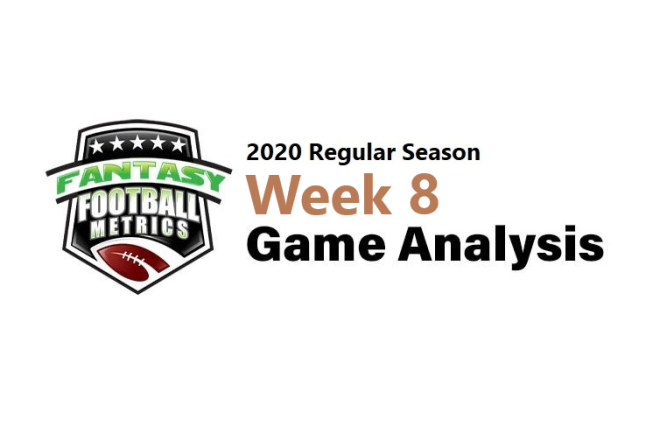 R.C. Fischer
FFM
05 November 2020
2020 Dynasty/Fantasy Week 8 Game Analysis: Bills 24, Patriots 21
I take notes during the live watch. I re-watch the game on tape looking for hidden clues to report on. Here are my notes/takes on what I saw and how it related to FF 2020. I write anywhere from 1,000-3,000+ words on each game, and I must move fast to get to all of them through the week…so, please forgive any typos/grammar.
Another messy game in the wet (light rain prior, and some during) for Buffalo, and it wasn't pretty -- but they found a way to win.
This was a fun rewatch, and old-fashioned bare-knuckle fight of a game to the finish. The wet and (light, intermittent) rainy and windy conditions played a factor and the teams played to it…less than 180 yards passing for each team, but 30+ rushing attempts and 180+ rushing yards for both teams. 328 yards passing total in the game, 378 yards rushing. It was that kind of game.
Some will remember/critique this game as…well, the Patriots were gonna win but Cam fumbled the ball in the red zone late and blew the game. A lucky fumble saved the Bills…the wet conditions saved the day. That might be true in a sense, but that negates the drive right before where Josh Allen gutted up once again and answered the Pats just having tied it up 21-21 with 9+ minutes left – Allen answered with a 5+ minute meticulous drive down to the red zone and on 3rd & goal, Allen moved out of the pocket and threw the ball to a wide open Gabriel Davis for what would have been a 7 point lead…but the ball hit Davis in the hands and it clanked off his grab attempt for an incompletion, and thus having to settle for a field goal with 4+ minutes left…and then the Pats drove down the field for a possible win but the Cam fumble ended the dream.
The Bills didn't dominate in this game like I thought they would, but with both teams playing to the conditions and duking it out…it was Allen who was the difference all throughout. Both teams ran all over each other, but Allen made more plays and set up more things and was the edge.
The Bills go to a hard fought (6-2) and open up a near insurmountable 3.5 game AFC East lead over (2-5) New England. Miami is more of a threat to Buffalo than the Patriots now. Buffalo is a top 5-6 team in the league and is going to finish with 10-11+ wins and claim the AFC East title.
The Patriots are clinging to playoff life…and they should jump up to (3-5) beating NYJ Week 9 and then have a very tough/too tough stretch to finish out. They will finish between 4-6 wins. I would be shocked if they even made a run at .500 much less the playoffs.
Fantasy Player Notes…
 -- Is Zack Moss (14-81-2, 0-0-0/1) 'the man' now? I don't think so. But he is definitely in a full split with Devin Singletary (14-86-0, 1-6-0/1). Moss had a couple nice runs early, but Singletary was still the more trusted in key spots with Moss coming in behind that…but it is going to be 50/50-ish ahead. There will not be a Moss 80%+ share and suddenly becomes 'the guy' as Singletary watches from the bench. It's 50-50 +/-, and 100% of the Bills' run game has been weak all year, so a 50/50 split of crap…is still crap.
However, because Moss is a rookie and because he scored 2 TDs in a game…and because all preseason analysts were in love with themselves talking about Moss as better than Singletary – their narrative just came true. The train is leaving the station. I see a weak split role situation for Moss…THEY see a possible RB1 hostile takeover because Moss is such a talent to them. It's a good time to sell him hot.
Talent isn't the argument, but Moss is a perfectly fine 'C' talent – working on a team that doesn't feature the RB, where the QB will lead the team in rushing TDs (and probably rushing yards), and is left splitting with a more experienced, talented in his own right RB (Singletary). I wouldn't be that excited on Moss if Singletary got hurt and was gone the rest of the year, but it would be an RB2-2.5 hopeful at that point.
Both guys ran the ball well here, successfully against the #26 run defense (by rush yds per game) in the NFL, in the wet conditions Sunday…but one of them scored 2 TDs (and I think Moss surprised the Pats D when he did get touches/they didn't pay him much mind at first) and the other RB didn't get any TDs. Next week it could be the reverse. Likely the TD count for both in games ahead will be = 0.0.
To me, they are both Flex starters at best. When Moss goes with a stat line like (8-35-0, 1-3-0/1) next week…back down a well his value will fall. How much you hated Singletary's 2020 output so far…well, now Moss is going to earn more of a split of that as the bigger/thicker runner to RBBC with. How good could it be splitting garbage for FF?
 -- I'd rather have Damien Harris (16-102-1) than Moss or Singletary.
Harris has 4 NFL starts, and two 100+ yard games.
Comparing Harris to the BUFF boys…
4.1 yards per carry (2020), and 1.3 yards before contact (a quasi-measure of blocking/space to run…2.0+ is the hope) = Singletary
4.3 yards per carry (43 carries), 2.2 yards before contact = Moss
5.7 yards per carry (49 carries), 3.8 yards before contact = Dam. Harris
Harris is the clear #1 right now, but two issues…
1) When does Sony Michel return, and how much would he then make the NE situation like the BUF situation? I fear it will be similar to Buffalo's RB split…right down to the QB who wants to run all the time/take all the rush TDs.
Harris is already playing less snaps than White and Rex in games in general as it is (for right now, could change as Harris grows).
2) Harris has 2 catches on 2 targets in his 4 games this season…he's not involved in the passing game (but he is a good receiver, just not being tapped for it). *In his last 4 games, Moss has 3 catches on 4 targets, for comparison.
All of these RBs we're discussing from this game could be rando Flex RB3s splitting by design because their coaches are smart. I'm willing to sell any of them off a hot output game, but Harris is in the best position of all of them right now…but it's not a super-strong one.
You'd think Harris rushing for two 100+ yard games would light up FF owners, but all they are talking about is Moss…because magical unicorn rookies rule!! Boring old 2nd-year RBs emerging = yaaawwwn.
Damien Harris is as talented, possibly better than his Alabama teammate Josh Jacobs. He was better than Jacobs in college…and he is starting to show it in the pros. How many 100+ yard rushing games does Jacobs have this year, compared to Harris's having two in 4 games? One 100+ yard rushing game for Jacobs this season in 7 games.
In Jacobs first 4 NFL games…zero 100+ yard rushing games.
Why aren't people more excited about Harris? Because they sense he's stuck in the Belichick RBBC hell…but he might not be as we go. He's emerging as their real, best offensive weapon.
 -- Last week, I thought/promoted the idea that Jakobi Meyers (6-58-0/10) was the new #1 WR for the Patriots…and this game confirmed it.
Solid game from Meyers and he had two other catches for 31 yards called back on penalties elsewhere. He's 'the guy' for a depleted, weak Patriots WR group. He's better than Isaiah Ford…new Patriots acquisition WR that will really change the team's fortunes (not).
It will probably be Meyers, then Byrd, then Ford to the finish for NE WR targeting…in a horrid passing game, so Meyers is a WR2.5-3.0 in PPR.
 -- As soon as I get excited about John Brown (1-21-0/2), he goes M.I.A. with injuries and games with one catch. When I hate him, he gets 5-6 catches for 110 yards and a TD and I get mad as he is on the opposite FF team. I tried to buy him low and then he got re-injured and then playing rain games and makes me look like an idiot. I'll have my day, probably starting this week vs. SEA.
Josh Allen (11-18 for 154 yards, 0 TD/1 INT, 10-23-1) the same…I get the hype train going and he starts fading for FF the past few weeks. Again, the last three weeks have been different levels of rain games, and low passer output for all involved. A season low 18 passes and 11 completions here. It's not because he's lost it…the heavy run game worked, for the first time all season for the Bills, and Allen's numbers were down off it. Easy TD to win the game late and the WR gaffed it.
I'm still all-in on Allen and buying all I can as the price fades to him as a fringe QB1 for some weak-minded holders, of which there are a lot of them. You can't get Mahomes, Herbert, Wilson reasonably but you CAN get Allen pretty easily these days. I just named the four best QBs in fantasy, in the NFL, in my opinion. Rodgers 5th…maybe should be in the top 4 discussion but all the other guys run the ball to give extra FF-juice.
Snap Counts of Interest:
31 = Moss
28 = Singletary
53 = Diggs
47 = Brown
36 = Beasley
35 = GDavis
65 = Byrd
64 = Meyers
42 = Olszewski
32 = Rex
31 = White
20 = Harris