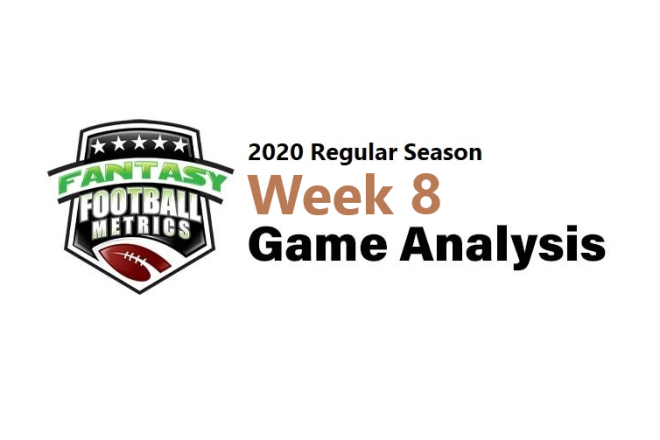 R.C. Fischer
FFM
03 November 2020
2020 Dynasty/Fantasy Week 8 Game Analysis: Dolphins 28, Rams 17
I take notes during the live watch. I re-watch the game on tape looking for hidden clues to report on. Here are my notes/takes on what I saw and how it related to FF 2020. I write anywhere from 1,000-3,000+ words on each game, and I must move fast to get to all of them through the week…so, please forgive any typos/grammar.
The debut of Tua feels pretty good on the surface…Miami got an upset win, and all seems right with the world, the football media delights in saying Tua won his debut. We'll get to Tua in the next section…because he was awful.
That's how well the Miami defense played…Tua was a disaster but a defensive score, then a punt return TD, 4 turnovers forced…mostly deep in Rams territory…helped save the day and the defense also extinguished any Rams hopes of a comeback late, stuffing, confusing, and intimidating Jared Goff most of the day.
The Dolphins are now (4-3) and could be headed to the playoffs if Tua doesn't ruin them. Miami is now (9-7) in their last 16 regular season games. The San Francisco 49ers are (9-7) in their last 16 games as well. Miami projects, for us, to be (8-7) this season going into their Week 17 game at Buffalo, which if the Bills don't need it…it could launch Miami into the wild card. I'd also not bet anything on Miami to go to the playoffs because Tua is not ready to carry this team or even go along for the ride.
The Rams fall to (5-3) as they start to sink to the .500 team that they are. They could lose their next three games in a row: SEA, at TB, SF. The Rams are a better bet to get to 9 wins and a wild card than Miami, despite the Dolphins resounding win here.
Fantasy Player Notes…
 -- Tua Tagovailoa (12-22 for 93 yards, 1 TD/0 INT, 2-0-0) made his debut and the reviews are as if Twitter or Facebook deemed a review as news you are not allowed to see for your own good. Any mainstream reports of this game gloss over Tua and go right to Miami winning and Jared Goff flopping. You're not allowed to see or think about or consider the truth of another terrible scouting position/call from the entirety of football. That flawed scouting/analysis by the media was the belief teams needed to 'Tank for Tua' (spoken of for a year+ ahead of the draft) and that he was the best QB prospect that they had all ever seen in recent years…even better than their precious Sam Darnold, if you can believe that!
If you watched Justin Herbert get thrust into a starting role 15 minutes before game time in Week 2 and nearly go and knock off the defending Super Bowl champs and if you watched Joe Burrow put the Bengals on his back and nearly win his debut vs. the Chargers Week 1, followed by a string of 300+ yard passing games since and a couple of games won already – this (Tua Week 8) was the opposite of all that from the real/good rookie QBs.
If you saw Ben DiNucci vs. the Eagles on Sunday Night Football…then you have an idea of the quality of Tua's debut Week 8. Only Tua got staked to a very quick 28-7 lead that he had 99.3% nothing to do with and hid behind it…versus DiNucci having to try and win in a deficit with a defense attacking him all game.
Miami/analysts can already start discussing the fatal, organizational crushing decision of taking Tua over Justin Herbert and the decade of impact that might have, or the 'what might have been' of it.
Tua looked exactly as I feared here – he looked like a backup who was too short with a lack of real mobility and not enough arm down the field. He actually, looked worse than I feared – most of Tua's passes were no-look/one-look reads and fire to shorts spots where someone was supposed to be, and most of them off the mark by a lot.
The decision to go to Tua right now is going to be a massive mistake, compared to just sticking with Ryan Fitzpatrick…a decision that may ruin Brian Flores' career, in a sense. This current Dolphins team had a chance to be a playoff team, but with Tua they are more likely going to fail…there's no way Tua can drive an offense and lead comebacks in deficits in 2020. There will be a point ahead where people will see this and wonder if Fitz should go back in…and I don't think Brian Flores is going to listen or change. You can't tell him what to do, you don't know football like he does. It's perfectly logical to have an offense led by Tua and Myles Gaskin and expect to compete in this highly offensive era…so, don't question it…no more than people were allowed to wonder why Flores kept insisting Kalen Ballage was a lead back of the future last year. Flores never changed off the concept last year, and he won't change off the Tua decision now…it would be too embarrassing to. In fact, he doesn't see anything wrong – I mean, they won the game…right??!!!
Tua now makes Miami one of the top offenses for your DST to face…a positive for Arizona-DST Week 9, and LAC-DST Week 10. Denver-DST will be a streamer Week 11. When a team gets Miami down, then you'll see the folly of having Tua in right now.
Could it have been nerves? Sure. There had to be nerves, but Justin Herbert shook those off at kickoff. Joe Burrow looked pretty confident and in control after his first series Week 1. Tua never kicked into another gear here, and it will become more obvious once he's put in a position of needing to carry things. He got very lucky this game that Miami's defense and special teams got to such a large lead so Tua could hide behind it.
Tua had 13 drives, and he led a TD drive after a turnover put him on the Rams 33, and later when he was on the Rams 1-yard line after a strip sack fumble by the defense. Their longest drive of the game was 7 plays, 42 yards (and resulted in a punt).
2 TDs (all short drives/set up by turnovers), 1 fumble away (by Tua), one kneel down before half, and nine punts – congrats on tanking for Tua.
I'm laying it on heavy because I was mocked by some in the scouting community for being anti-Tua back in January…that I didn't know what I was talking about pointing out his arm issues and lack of footspeed issues. Tua is left-handed Sam Darnold…smart, nice person, belongs in the NFL…but as a backup…can have decent games if they get lucky with some yards after catch by receivers or they have some powerhouse weapons. Whether Tua ends up a 'C' grade or 'D' grade QB…or even he grinds his way to a 'B' grade QB over time…he's nowhere near Herbert or Burrow, that's not even debatable, and it wasn't back in January 2020 either.
The Tua issue is a problem all 'down ballot' for fantasy…
Preston Williams (2-15-0/5) looks like he'd rather be a thousand other places right now. Tua will get chances for years, like Sam Darnold does…while Preston is about to become a backup/traded away by Miami in 2021, I suspect – he's not a grinder like Flores likes. And for Flores' part there is no development of any of his pass game weapons in two years.
I bet Flores does the typical ex-Patriots coaching thing in 2021…he'll sign a Julian Edelman, Danny Amendola, Chris Hogan, Deion Branch type…whomever he can find tied to the Patriots once, he'll sign. He'll want WRs who do things 'his way'. Playmakers need not apply.
DeVante Parker (1-3-1/2) they are stuck with because they made a massive mistake of signing him to a huge contract…because he was good for like 6 games over his first five seasons in the NFL, but they were mostly good games as his free agency was due and Miami 'saw' things and paid him huge, and it's a waste.
Williams and Parker are mostly dead for FF with Tua in. Plus, all the tight ends are more dead than before. The typical Tua game will be 150-175 yards passing and 0-1 TDs. They won't be a garbage time team because their defense will keep them in games that they'll try to win like 17-13, etc. This is bad news for FF production from the skill position players…until Ryan Fitzpatrick takes back over.
 -- Speaking of the Miami-DST…they looked great here. They hit Jared Goff 8 times, sacked him twice, forced him to cough up two fumbles, picked him twice…it wasn't so much that those are amazing pressure numbers, it was their coverage in the passing game that was key…a stunning 13 passes defended they were credited with.
This was one part an engaged, active defense playing with two excellent cover corners. And the other part, the two sacks produced fumbles that bounced their way and they had a couple nice picks…and it was all contained, mostly, to the first half. Miami was solid in the second half but that was bolstered by a strong 1st-half of turnovers, etc.
I will be interested to see how the Miami-DST fares against at ARI and LAC the next two weeks – they face two teams with higher-end QBs but also teams with O-Line issues. I've been eyeing Weeks 11-13 more with Miami-DST…at DEN, at NYJ, CIN in that stretch.
The Miami-DST is a good+ unit but will have little support from its offense…so a sketchy start vs. good offenses and nice against the bad offenses.
 -- The Rams looked like one of those 'bad' offenses at times, but it wasn't as bad as I thought. Honestly, this Miami defensive effort might have been somewhat hot air/overblown. The Rams scored early to take a 7-0 lead…they didn't seem all that rattled. Then the Dolphins forced a turnover on Goff and set up an easy score to tie it 7-7.
What gets lost is, after that 7-7 tie, the Rams went right back down the field and were in the red zone on a scoring drive when Goff was sacked, fumbled, and Miami scooped and sacred a 78-yard TD. It was almost 14-7 Rams midway through the 1st-quarter, but the key red zone turnover made it 14-7 Miami. The Dolphins D held the Rams the next series, LAR punted and Jakeem Grant returned it for a TD and it was like a 1-2 sucker punch. Before the half, Miami sacked Goff and forced another fumble, setting them up a yard away from a TD and a 28-7 shocking Miami lead.
It wasn't like the Rams couldn't move the ball…471 yards of offense, 7-of-17 on 3rd-down, a 36-to-24 time of possession (helped by all the D/ST TDs). Goff threw 61 times, like two games worth of drop backs (due to the quick 28-7 deficit) and was only sacked twice, only hit 8 times (good but he did drop back 63 times).
To Miami's credit, Goff seemed rattled at times and easily confused by coverage. In the end, I'm still not sure if this was a bad Rams performance or a great Dolphins performance or if it was just one of those weird games where things all went one way fast and it's not indicative of much of anything.
 -- The 61 pass attempts allowed Robert Woods (7-85-1/8) and Cooper Kupp (11-110-0/21) to have big games but note…this was like two games worth of attempts in one due to the nature of it. You should look at these numbers and cut them in half essentially.
If you cut in half, they fall in line with a growing trend…Woods and Kupp are part of a designed WRBC for the past several weeks…like this team's run game is RBBC. No one can be a sustained WR1 or RB1 because of touch counts. It's a spot to consider selling hot on Kupp or Woods, if you saw the window of opportunity. Not a must sale, but maybe a big opportunity to over-sell.
 -- I don't know how bad (or not) the Darrell Henderson (8-47-0, 1-11-0/2) injury is…but I know this – if Henderson had stayed healthy and this was a normal game, he would have run for 100+ yards easy. He was killing it before he went out.
I think Sean McVay is getting comfortable with Henderson as the key to his offense/ground game. But whether that will be FF-fruitful, we'll see.
 -- Miami SAF Eric Rowe (7 tackles, 5 PDs, 1 INT) had an amazing 5 PDs this game. It's rare to see 2 in a game from any defender. Getting 3 PDs is pretty unique…so, 5 is pretty eye-catching. What makes it more eye-catching is the fact that he has 8 PDs in his last three games.
Rowe is 6th in the NFL in passes defended on the season now, after this big number. He's also the #11 DB in IDP PPG (FantasyPros scoring) since Week 4.
Miscast as a CB for years, now he's a starting safety and fulfilling our nice scouting grades on him coming out of Utah.
Another Dolphin defender (that they must have used CFM for to rebuild this defense) starting to fulfill his promise/my scouting grades…Emmanuel Ogbah (2 tackles, 1 sack, 1 PD).
Ogbah has 5.0 sacks in his past 4 games. He's 6th in the NFL in sacks (6.0 sacks) on the season right now. I remember making the case as to why everyone was going bonkers over Jadeveon Clowney when Ogbah was there, much cheaper, in the same NFL Draft. Ogbah had pretty stout Combine/athleticism numbers too.
Clowney and Ogbah are in their 7th season…Clowney portrayed as a god, while Ogbah has been a non-name with three teams so far.
In their careers…
32.0 sacks = Clowney
24.0 = sacks = Ogbah
The past two seasons:
11.5 sacks = Ogbah
3.0 sacks = Clowney
Earnings:
$50M career earnings = Clowney
$13M career earnings = Ogbah (Clowney will about make as much in 2020 as Ogbah has his entire 7 years)
Don't try and tell me the NFL is bad at business decisions or bad at scouting…
 -- Lost in Tua and the Miami defense…the Rams defense didn't allow much of anything. The two offensive TDs they did give up were short field off turnovers, AND they did this without Jalen Ramsey playing most of the game (out with injury in game).
The Rams-DST has been good for FF mostly this season, but you should probably bail on them as a primary now – a bye Week 9, Russell Wilson Week 10, at Tom Brady Week 11, vs. SF Week 12 is fine, but then Arizona/Kyler Week 13.
Snap Counts of Interest:
44 = Preston Williams
29 = DeV Parker
17 = I Ford
16 = JK Grant
43 = Gaskin
08 = Breida
07 = Malcolm Perry (rookie…the old Navy QB)
57 = Higbee
52 = Everett
57 = M Brown
20 = Akers
18 = Darr Henderson